This Instant Pot Zuppa Toscana is made in the pressure cooker! This frugal one-pot meal is super quick, easy and full of flavor!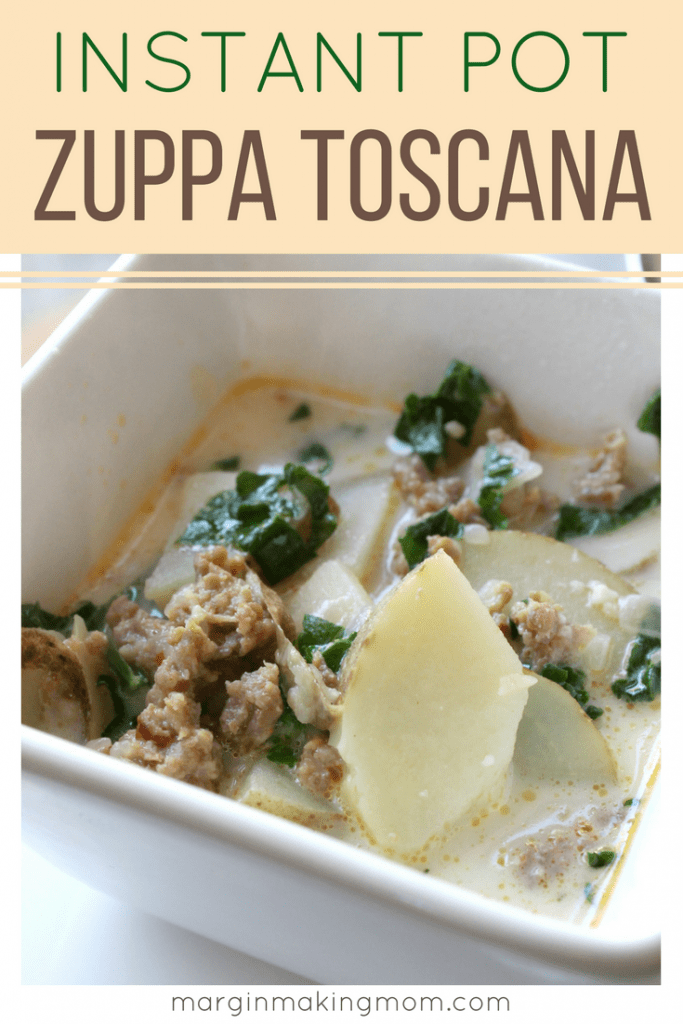 Disclaimer: This post may contain affiliate links for your convenience.  You can read my full disclosure policy here.
When I was spending summer breaks at home during college, my family and I would often go out shopping or to run errands together on the weekends.  My dad enjoyed stopping for lunch at Olive Garden for their unlimited soup, salad, and bread sticks.  These lunch stops were a favorite of mine, too!
That was my first introduction to Zuppa Toscana, and minestrone, and pasta e fagioli. Mmmmmm.
These days, I very rarely actually go to Olive Garden, though, because I've learned how to make some pretty stellar soups over the years.  Homemade soups are so much better than what you can buy in a can, and they are much less expensive than what you can buy in a restaurant!
This Instant Pot Zuppa Toscana from This Old Gal is one of the most recent soups I've made for my family, and we LOVE it.  It's been added to our meal plan rotation and I make it about once every two weeks.
I just love how easy (and fast!) it is to make this in the Instant Pot pressure cooker.  I've made a couple of slight changes to the original recipe–I don't use the bacon because I don't feel it's necessary (the soup has plenty of flavor without it!) and eliminating it also decreases the cost of the meal.  Using ground sausage that's already out of the casings is my preferred method, mostly because sausage casings kind of gross me out. 🙂  I use mild sausage and find it to be plenty flavorful, but I'm kind of a wimp when it comes to spice.  So if you prefer a spicier version, use spicy sausage.
This Instant Pot Zuppa Toscana is also a one-pot meal, which automatically makes it a winner in my book!  You can cook the onions, garlic, and sausage in the insert pot using the Saute function prior to pressure cooking the soup.
It is remarkably simple and only requires a handful of ingredients, but the flavor is out of this world.  Because it only requires a handful of common and fairly inexpensive ingredients, this is also a frugal meal option.  I'm always on the hunt for quick, easy, cheap, and tasty meals, so I'm glad I found this one!
I love making meals in the Instant Pot because it simplifies my life.  Meal prep is so much faster and easier.  What busy mom can't use more of that in their life, right?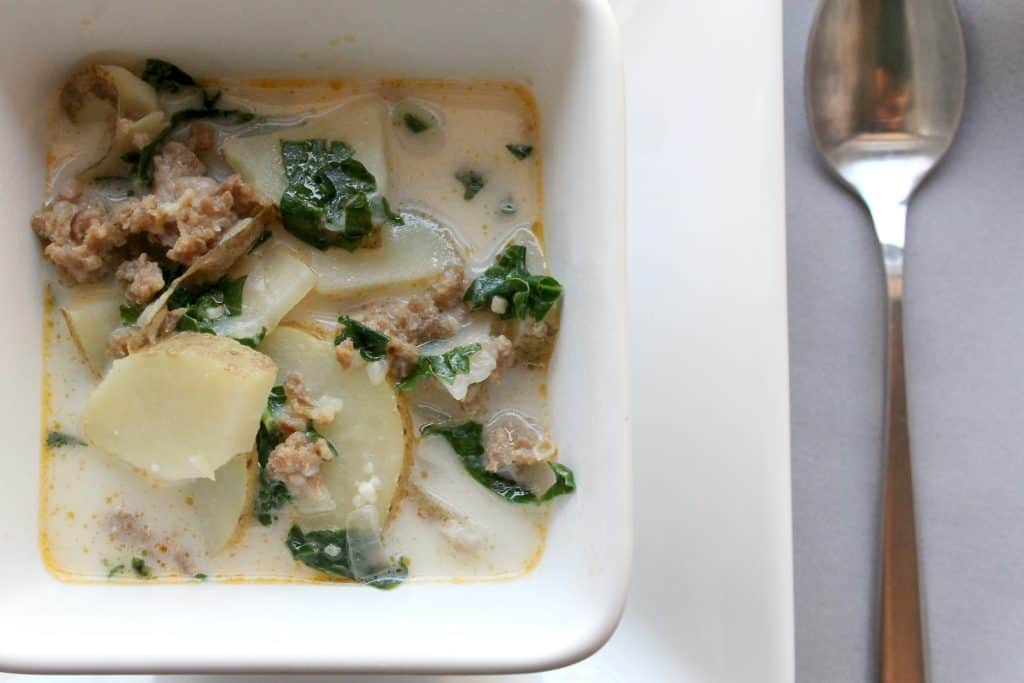 A lot of Zuppa Toscana recipes I've seen floating around use spinach as the greens, which is probably fine.  But I love using kale instead because it's a more hardy green that doesn't get so mushy.  It does wilt and get soft, but it holds up MUCH  better than spinach typically does.  The kale is chiffonade, or cut into thin ribbon-like strips.  My recommendation is to stack several kale leaves on top of each other and roll them up.  Using kitchen shears or a sharp knife, cut the roll several times, which will result in thin strips.
Recommended Equipment:
I love this soup with a sprinkle of parmesan on top and some crusty bread and a salad on the side.  It's a hearty comfort food perfect for this time of year.  Add it to your weekly meal plan and give it a try–it's a winner!
You can find more easy pressure cooker recipes here. Read about how to convert slow cooker recipes for the pressure cooker (with a FREE printable guide, including a cheat sheet!) here.  Learn more about meal planning and get a FREE weekly meal plan worksheet here.

I also recommend checking out the Electric Pressure Cooking 101 class to help you gain even more confidence with your pressure cooker.  The self-paced course will help you learn how your pressure cooker works and how to cook certain groups of food. It also includes a two-week meal plan with shopping lists!  You can check it out here.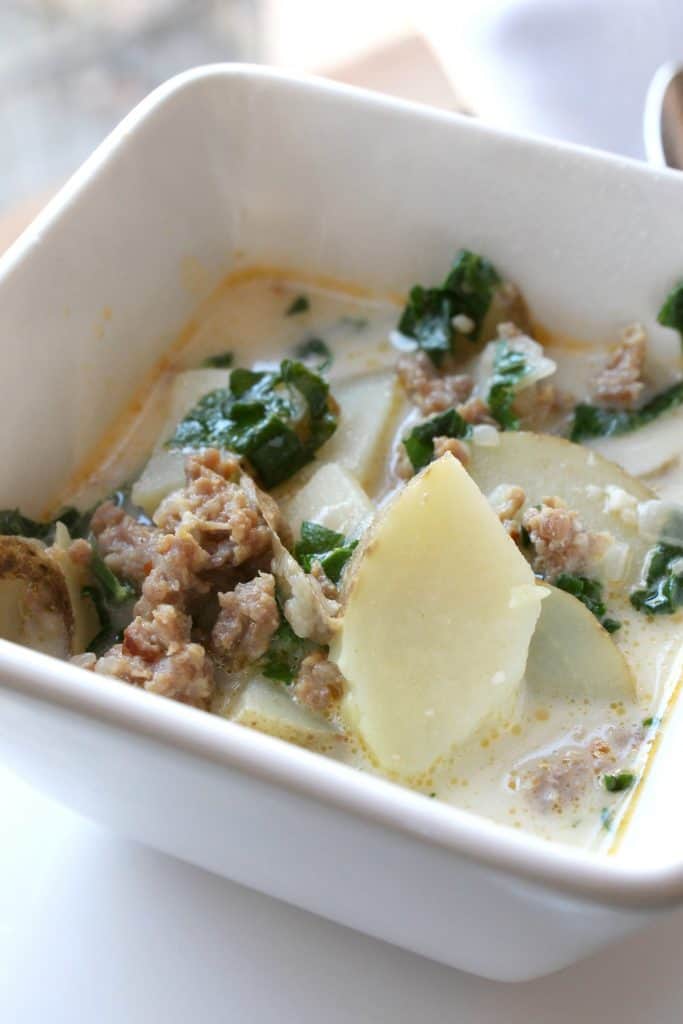 Instant Pot Zuppa Toscana
Ingredients
2 Tbs olive oil
1 medium onion, diced
1 lb ground mild Italian sausage
4 cloves garlic, minced
3 large russet potatoes, unpeeled and sliced into 1/4-inch slices.
6 cups (1 1/2 quarts) chicken broth
2 cups fresh kale, chiffonade
3/4 cup heavy cream or half and half (or milk if you want to decrease calories a bit)
Instructions
Using the "saute" function of the Instant Pot, heat the olive oil. Add onions and cook until they begin to become translucent.
Add the Italian sausage, crumbling up into smaller pieces and cooking until browned.
Add garlic and allow to cook just until fragrant, about a minute.
Drain off excess grease if desired and return to pot.
Add potato slices and chicken broth.
Lock the lid into place and set to "sealed."
Cook at high pressure for 5 minutes using the Manual setting.
When cooking is complete, allow a natural pressure release for 10 minutes, followed by a quick release.
When pressure valve has dropped, remove the lid and add kale to the pot. The heat from the soup will wilt the kale as you stir.
Pour in cream or half and half (or milk), stirring to combine.
Makes about 6 servings.
https://marginmakingmom.com/instant-pot-zuppa-toscana/
Copyright MarginMakingMom.com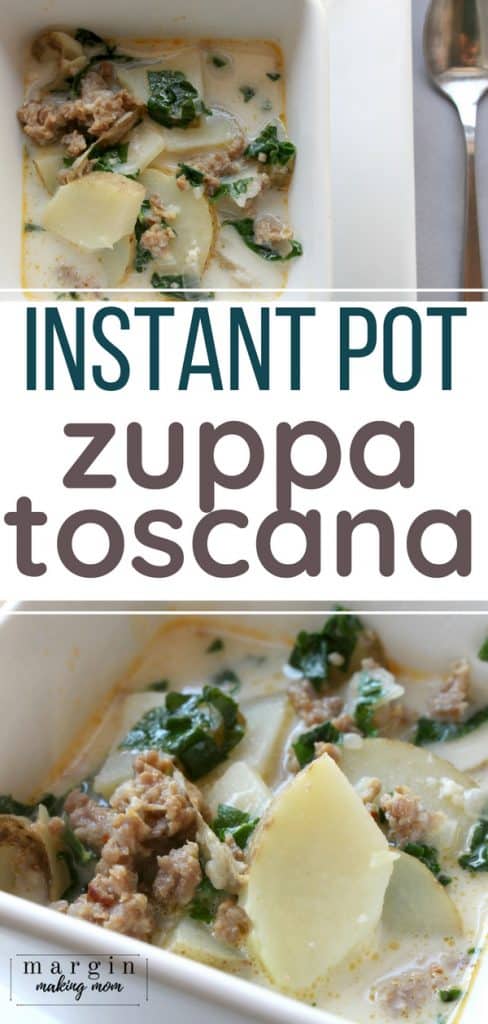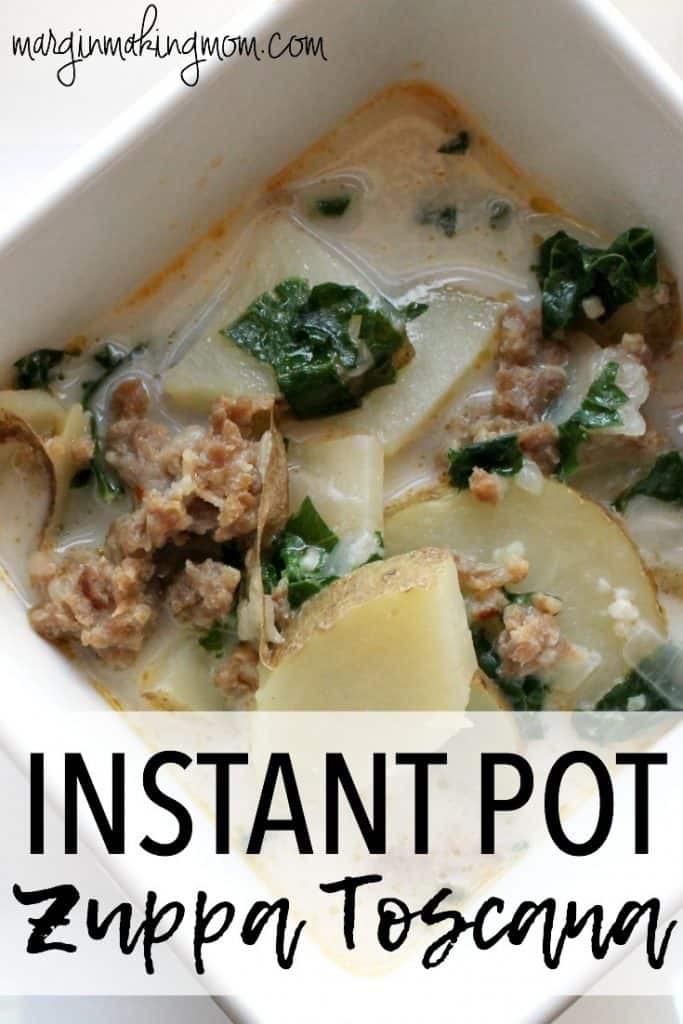 Save
Save
Save
Save
Save
Save
Save
Save
Save
Save
Save
Save
Save
Save
Save
Save
Save
Save
New to Pressure Cooking?
Subscribe to the Margin Making Mom newsletter and get instant access to a FREE printable Beginner's Guide to Getting Started with Your Pressure Cooker, which includes a printable Conversion Cheat Sheet to help you convert your favorite slow cooker meals to pressure cooker meals!
We take your privacy seriously and won't send you spam. See our privacy policy here.

Free Resource Library
Enter my
free resource library
for my latest printables and resources! Password is 'IHEARTMARGIN' -- please copy and paste that in at the link above. Thanks for being a subscriber!!