Need some extra help with your pressure cooker?
Get my printable guides and cheat sheets to make using your Instant Pot or other electric pressure cooker a breeze!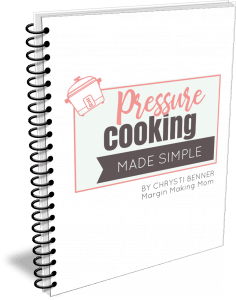 Is your pressure cooker still in the box, because you haven't figured out how to use it yet?
Do you feel overwhelmed by all the buttons and pressure cooking terminology?

Do you find yourself constantly looking up pressure cooker cook times for foods?

Would you like help figuring out how to cook your family's tried and true favorites in the pressure cooker?

Do you long to have confidence using your pressure cooker, so you can get meals on the table fast?
Are you simply afraid it's going to explode in your  kitchen?
I can relate. I've been there, too. That's why I created Pressure Cooking Made Simple.
I remember when I first unboxed my Instant Pot.  The first thought to enter my mind was, "Now what? How do I use this thing?"
Memories of the old jiggle-top pressure cookers from my childhood left me, shall we say, overly cautious.  I was afraid it could explode, spewing hot contents all over my kitchen.
But those fears primarily stemmed from lack of knowledge.  I didn't know anything about using an electric pressure cooker.  Natural release? What's that?  And what are all these buttons for?  How long do I need to cook things for?
I set out to everything I could about this machine.  I started practicing using it.  I made notes and cheat sheets with the important information I needed to pressure cook with confidence.

Then, pressure cooking became fun.  Dare I say, addictive.  I've made countless meals in my Instant Pot--I use it almost every day, and sometimes multiple times a day.
I hear from people all the time who need help getting started with their pressure cooker.  They want cheat sheets they can print off and keep in their kitchen, so they don't have to look up every single thing on the internet every time they want to use their pressure cooker.
That's why I've broken down the essential pressure cooking information for you in Pressure Cooking Made Simple.  It's designed to be a quick and helpful reference that you can use as a guide.
It includes printable informative cheat sheets that:
Highlight the most important buttons and what they can be used for
Walk you through the different types of pressure releases (including when and how to use them)
Explain important aspects of converting recipes to be prepared in the pressure cooker
List pressure cooker cook times for common ingredients.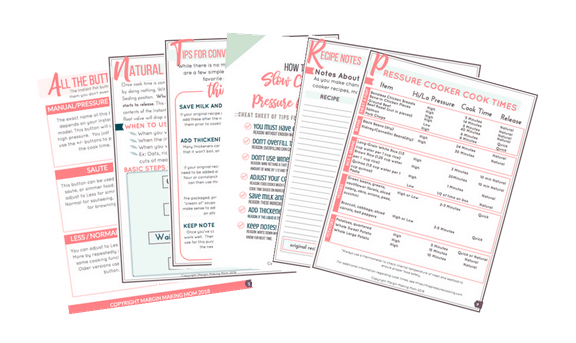 Ready to conquer your pressure cooker? SImplify pressure cooking with these printable cheat sheets and guides!