What's the difference between a stalk of celery vs a rib of celery?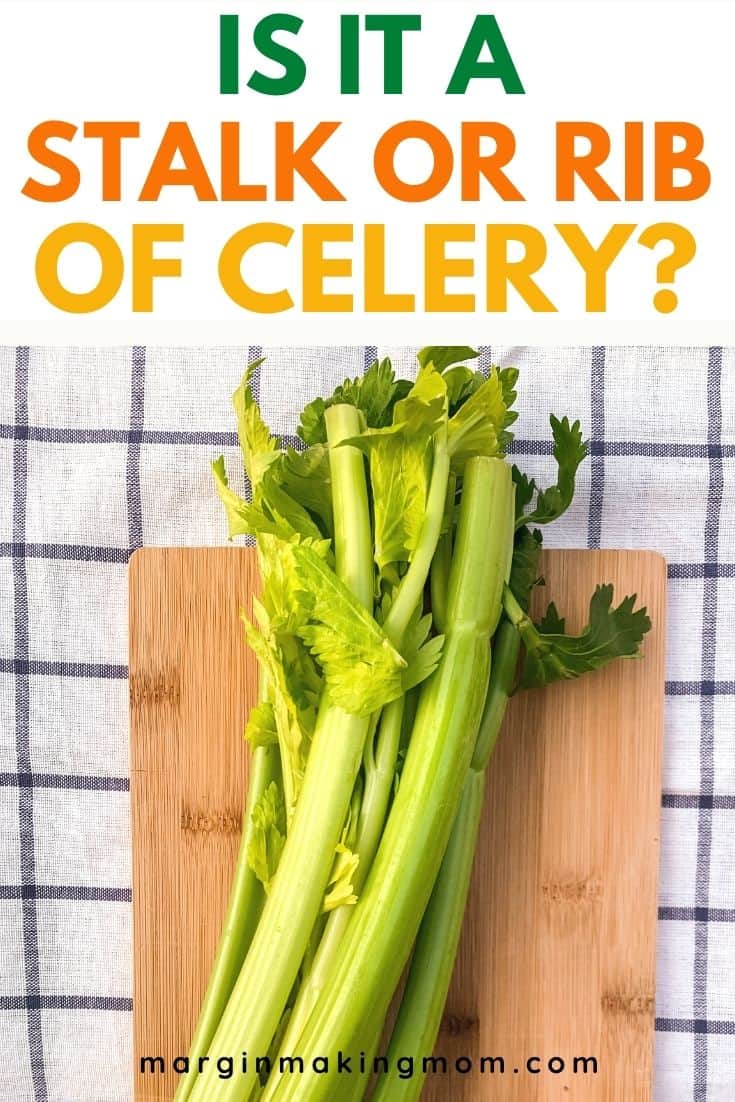 You'll see it written differently in recipes, so let's decode a stalk of celery vs a rib of celery!
Note: This post may contain affiliate links for your convenience. If you make a purchase, this site may receive a small commission at no additional cost to you. You can read my full disclosure policy here.
For years, I thought an entire "thing" of celery, like you buy bundled in a bag at the grocery store, was called a "bunch" of celery.
Likewise, I thought one individual piece of that celery plant was known as a stalk.
So for quite a while, when writing recipes, I would write the ingredient as a stalk of celery.
That is, until a discerning reader questioned my use of the term, and therefore the amount of celery called for in the recipe.
So I started doing a little bit of research.
What is a Stalk of Celery?
As it turns out, the entire celery plant is not actually a "bunch" of celery, but a stalk of celery.
Some people also refer to it as a "head" of celery, similar to the way many other cruciferous vegetables are referred to–such as a head of lettuce, head of cabbage, head of cauliflower, etc.
In the picture below, you'll see a full stalk of celery.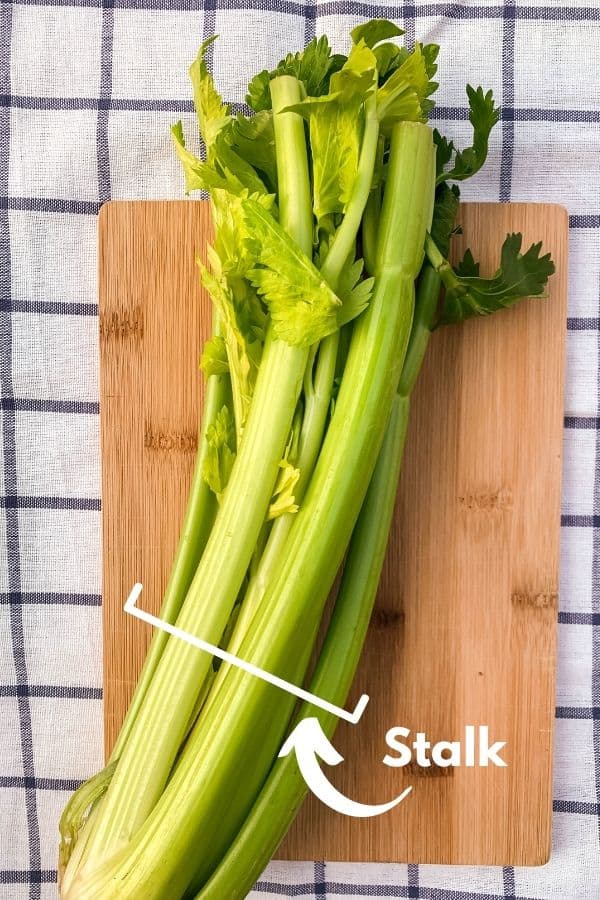 What is a Rib of Celery?
Each individual "stick" of celery, that you would break off and slice or dice for a recipe, is known as a rib of celery. As you can see in the picture below, one stalk of celery may contain around 7-9 ribs of celery.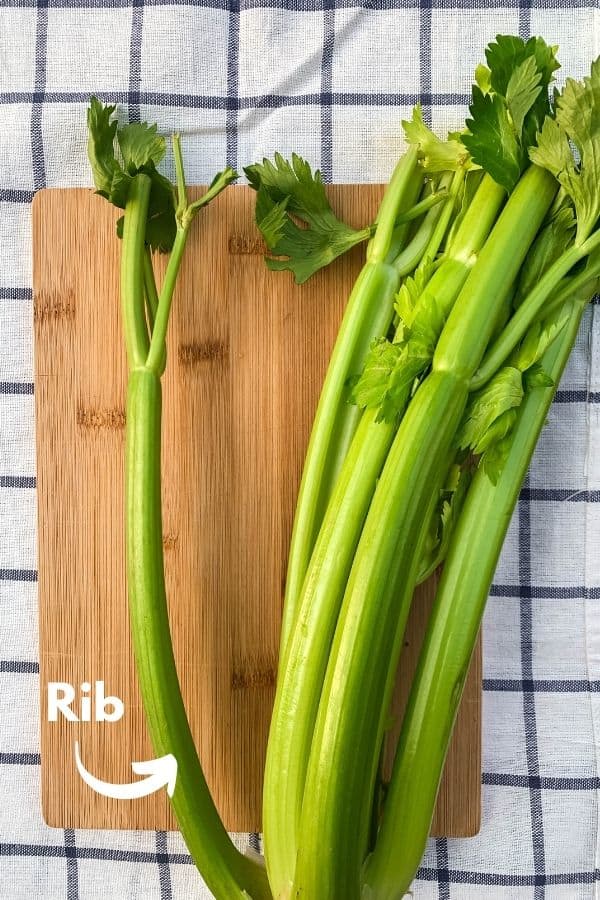 Thanks to the reader who initially questioned my ingredients, I've changed how I write it in my recipes to be accurate.
That's because I want to be perfectly clear that someone shouldn't chop up a whole head of celery.  So you'll find that I now call for "ribs" of celery, or sometimes just an amount of diced celery as measured in cups.
A Few of My Recipes that Make Good Use Celery:
More Trivia about Celery
Celery will typically stay fresh in the crisper drawer of your refrigerator for about 2 weeks.
To cut a stalk of celery, you can cut off the entire bottom portion (the root end that is whiter or lighter green in color), then slice the individual ribs. You can even use the leaves–they add great flavor to soups and stews!
You can use a vegetable peeler or small knife to remove the strings from a rib of celery if you prefer–especially useful if you're going to be eating the celery sticks raw with some dip.
Sometimes you'll see "celery hearts" in the grocery store–these are the inner ribs from the stalk. The outer ribs have been removed, leaving just the center parts of the stalk.
Things you didn't know you needed to know, right? 🙂
Get the Instant Pot Meal Plan Jumpstart
Join the free community and you'll learn simple ways to easily create tasty food for your family, as well as immediate access to the FREE Instant Pot Meal Plan Jumpstart to help you get a tasty dinner on the table in a flash!
"Thanks for sharing your knowledge and experience in such a friendly and delightful way!!! So far, I'm very impressed with the results...thanks again for your guidance into this new realm of cooking!" -Margaret
Free Resource Library
Enter my
free resource library
for my latest printables and resources! Password is 'IHEARTMARGIN' -- please copy and paste that in at the link above. Thanks for being a subscriber!!