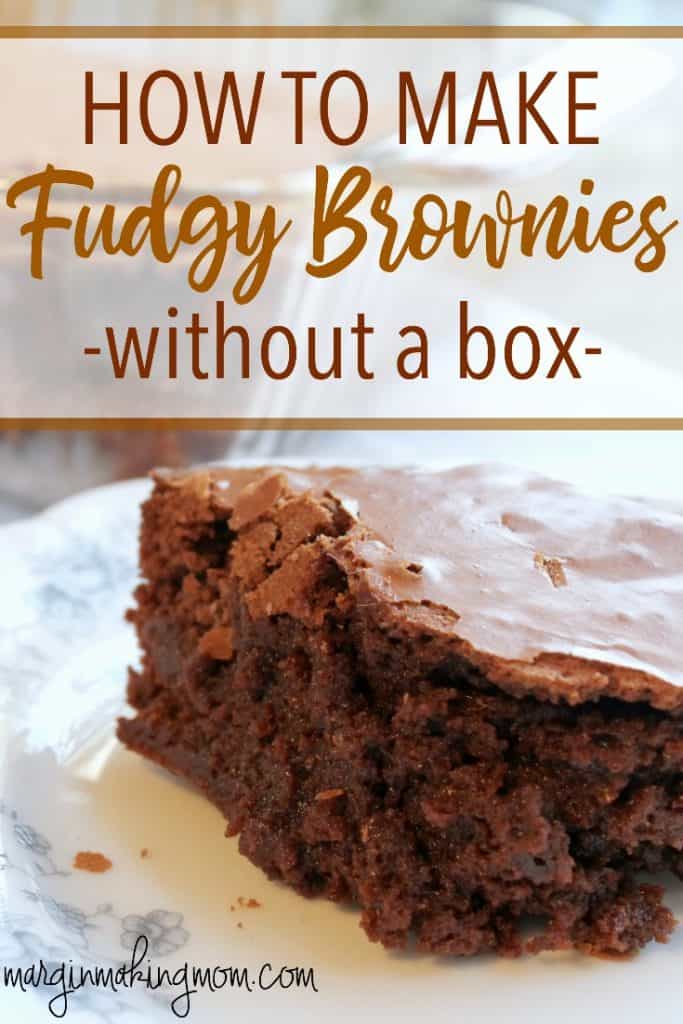 Many homemade brownie recipes are just a big let-down. But these are the best brownies from scratch! They really are better than the box!
Disclaimer: This post may contain affiliate links for your convenience. You can read my full disclosure policy here.
When I was in middle school, one of our assignments was to give a presentation to our classmates where we had to teach them how to do something. It could be anything of our choosing, it just had to be instructive and explanatory in nature.
At the time, I was deathly afraid of public speaking. You see, I was a very shy child, so getting up in front of my classmates was horrifying. I debated for a long time what I could teach them that wouldn't take a lot of time and that was something I was well-versed in.
I eventually settled on the topic of how to make brownies from a brownie mix. Because I made brownies pretty regularly at home, this was something I was comfortable with that I could explain pretty quickly. Not only that, but I could bring in some brownies to share, which was sure to win the hearts of my classmates and teacher. And hopefully allow me to earn an A. 🙂
You'll be glad to know that my presentation went well and everyone left knowing the complicated procedure of how to add egg, oil, and water to a brownie mix. Haha!
Let's be honest–preparing brownies from a mix is one of the easiest desserts to make. And honestly? I like brownies from a mix. For years and years, I would occasionally try making brownies from scratch, because I tend to believe that almost anything made from scratch is better than from a box. I mean, I finally landed on a perfect pancake recipe that didn't involve a mix, so why not brownies?
But you know what? I was consistently disappointed by my efforts. I mean, they were okay…but all of these homemade brownies weren't as tasty as brownies from a box. Sometimes they tasted too grainy or sugary. Sometimes they weren't chocolatey enough. Then other times, the texture was off and they were too dense. So I gave up for a while.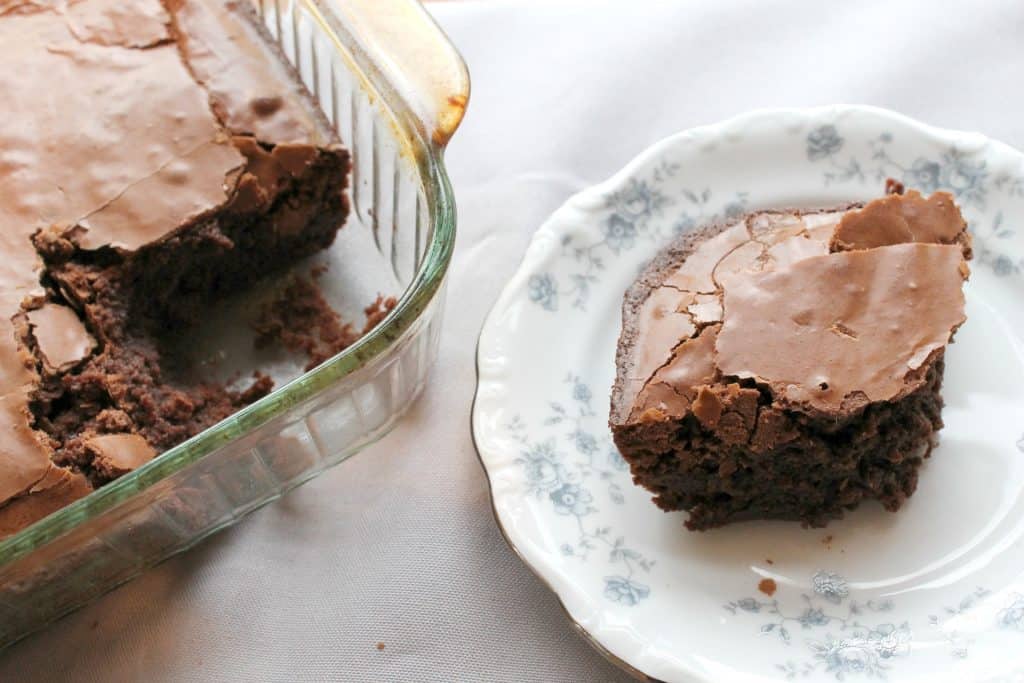 Until I found this recipe. I have been following Annie's Eats for years, and she has never steered me wrong. So when I saw this brownie recipe, I decided to give it a try. And the results?
Delicious.
They really are the best brownies from scratch that I've ever made.
Now, I will just go ahead and tell you that these take a little bit more time and effort than a boxed version. But, if you have the little bit of extra time, it's worth it.
Or, if you have a hankering for some brownies but don't have a mix in your pantry, then this recipe is going to be your lifesaver.
They're rich, chocolatey, and have the perfect consistency–soft on the inside with that shiny little crust on the top. They make the perfect little treat or dessert.
So go ahead, win some hearts with these little gems!
And once you try these, you'll need a different way to use up your brownie mixes—so make some brownie mix cookies or marbled cookie brownie bars!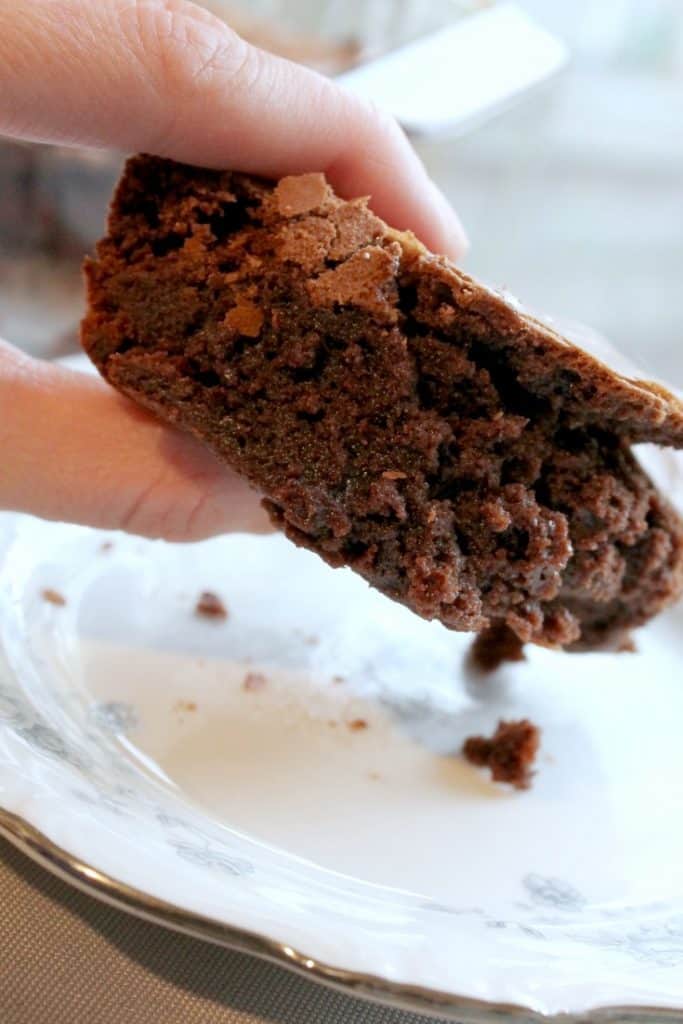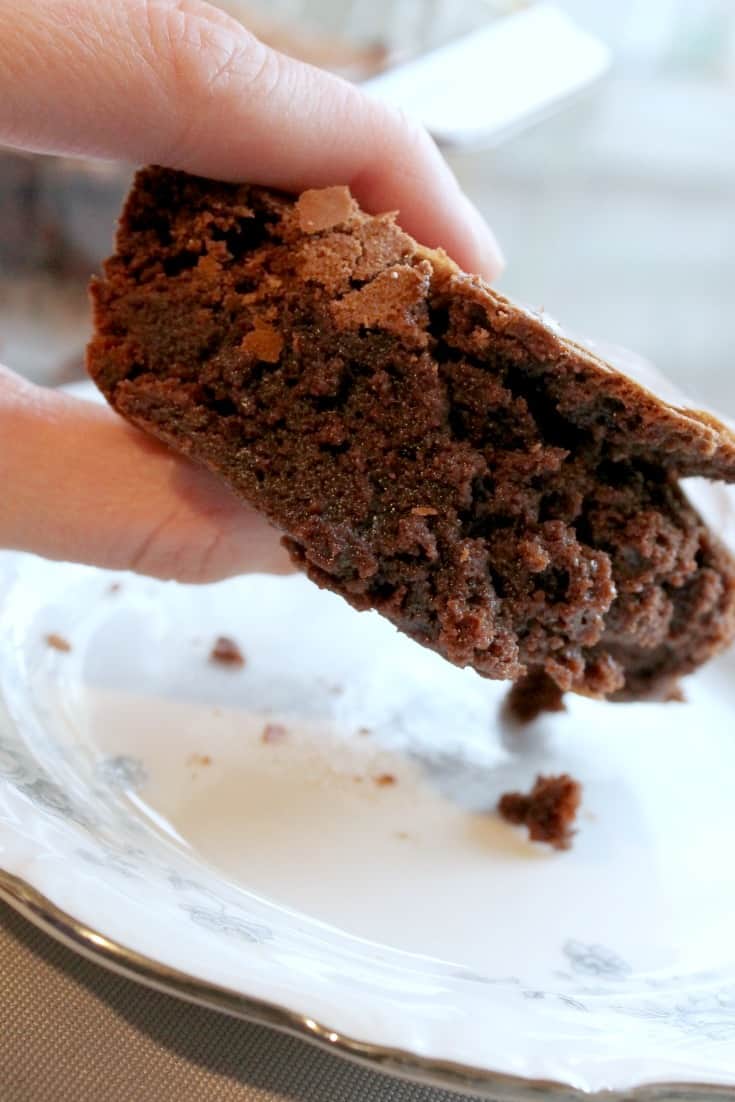 Yield: Approx. 16 brownies
Better Than the Box: How to Make Fudgy Brownies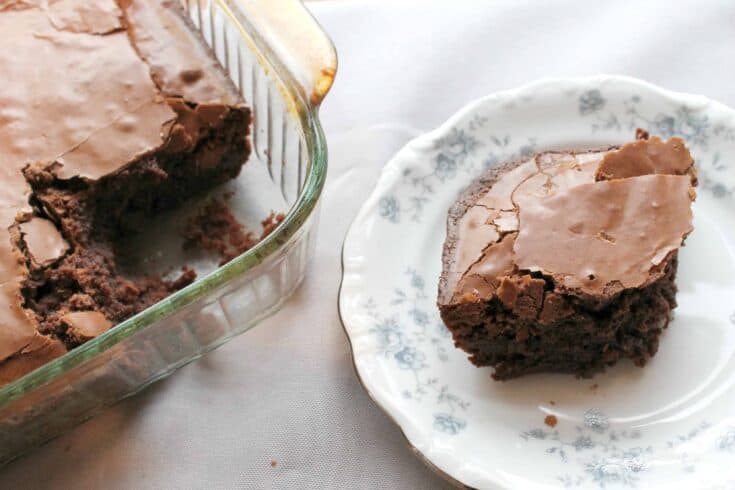 These homemade brownies are a cinch to make, and taste better than what a boxed mix would make!
Ingredients
6 oz semisweet chocolate chips
8 Tbs (1 stick) of unsalted butter, cubed
3 Tbs cocoa powder
3 eggs
1 1/4 cups granulated sugar
2 tsp vanilla extract
1/2 tsp salt
1 cup all-purpose flour
Instructions
Preheat oven to 350F. Grease an 8-inch square pan.
Place a glass bowl over a pan of simmering water. Add chocolate and butter to the bowl.
Stir often until chocolate and butter are melted and smooth.
Remove bowl from heat. Whisk in cocoa powder and set aside to partially cool.
In a separate mixing bowl, combine eggs, sugar, vanilla, and salt. Stir well to combine.
Stir in the warm chocolate mixture, combining well.
Add flour to the mixture, stirring to fully incorporate.
Pour mixture into prepared pan. Bake for about 35-40 minutes, or until a toothpick inserted in the center comes out mostly clean with just a few crumbs.
Allow the brownies to completely cool before cutting. I know this is hard to do, but they will be much easier to cut if they have cooled to room temperature.
Nutrition Information:
Yield:
16
Serving Size:
1
Amount Per Serving:
Calories:

210
Total Fat:

10g
Saturated Fat:

6g
Trans Fat:

0g
Unsaturated Fat:

4g
Cholesterol:

50mg
Sodium:

88mg
Carbohydrates:

29g
Fiber:

1g
Sugar:

22g
Protein:

3g
Nutrition information is automatically calculated and is not guaranteed for accuracy.
Save
Save
Save
Get the Instant Pot Meal Plan Jumpstart
Join the free community and you'll learn simple ways to easily create tasty food for your family, as well as immediate access to the FREE Instant Pot Meal Plan Jumpstart to help you get a tasty dinner on the table in a flash!
"Thanks for sharing your knowledge and experience in such a friendly and delightful way!!! So far, I'm very impressed with the results...thanks again for your guidance into this new realm of cooking!" -Margaret
Free Resource Library
Enter my
free resource library
for my latest printables and resources! Password is 'IHEARTMARGIN' -- please copy and paste that in at the link above. Thanks for being a subscriber!!