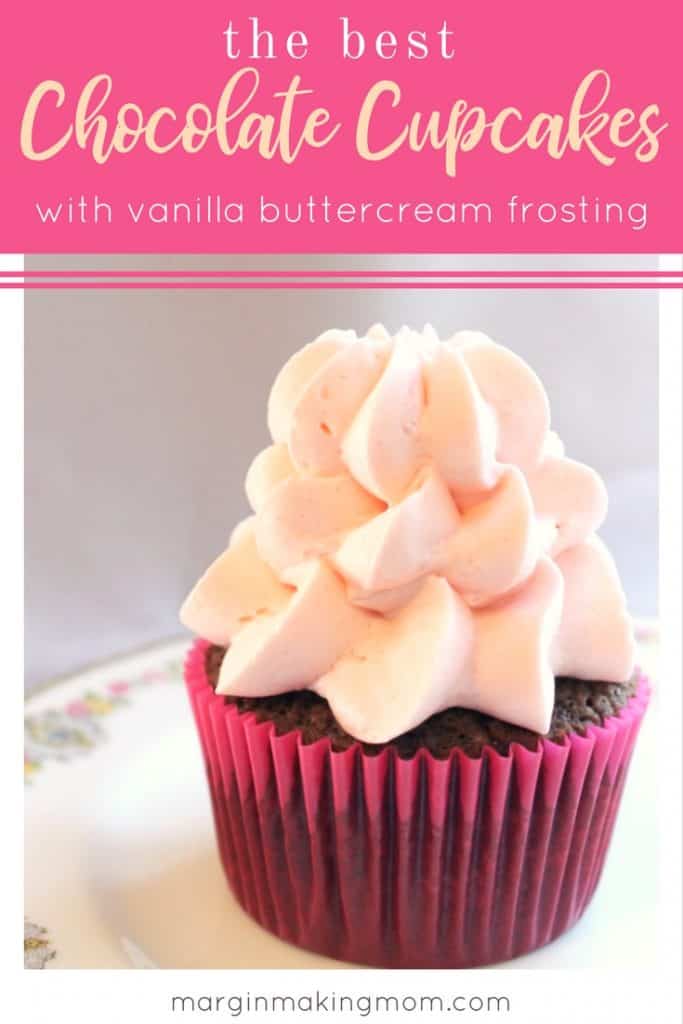 These are the absolute best chocolate cupcakes with vanilla buttercream frosting! Making lovely cupcakes at home doesn't have to be complicated. I'll show you how I create delicious, decadent cupcakes below!

Disclaimer: This post may contain affiliate links for your convenience. You can read my full disclosure policy here.
My oldest child turned 5 this month. How is that even possible? Most of the time, I'm not even sure. It seems like I was just bringing her home from the hospital a few months ago.
Sometimes life feels like a whirlwind, doesn't it? I have to continually remind myself to slow down and soak it in. My sweet girl is growing faster than I want to think about, and her two brothers aren't far behind.
She requested a princess party for her birthday, so that's what she got! Now, I will be the first to admit that we try really hard to keep birthday parties simple around here.
We invite our close family (grandparents, aunts, uncles, cousins), so it's usually no more than about 15-20 people total. I prefer to keep things simple and fairly low-budget, and since that's what we've always done, my kids don't really expect anything else. But they still have a great time, and that's what matters most.
We don't do extensive decorations or elaborate activities. There's nothing wrong with those, but neither of those are my strong suit and I think they would just stress me out.
Instead, I choose to focus my energy on the things I enjoy and can do well. So, one thing I do for each birthday is make homemade cupcakes. I love the process of baking and decorating each cupcake. Over the years, I've tried and tweaked many varieties and have landed on some pretty magical combinations.
Homemade cupcakes don't have to be a ton of effort. They do take a little bit more time than using a boxed mix or can of frosting, but it's a fun way for me to create something special for the birthday girl or boy and our guests.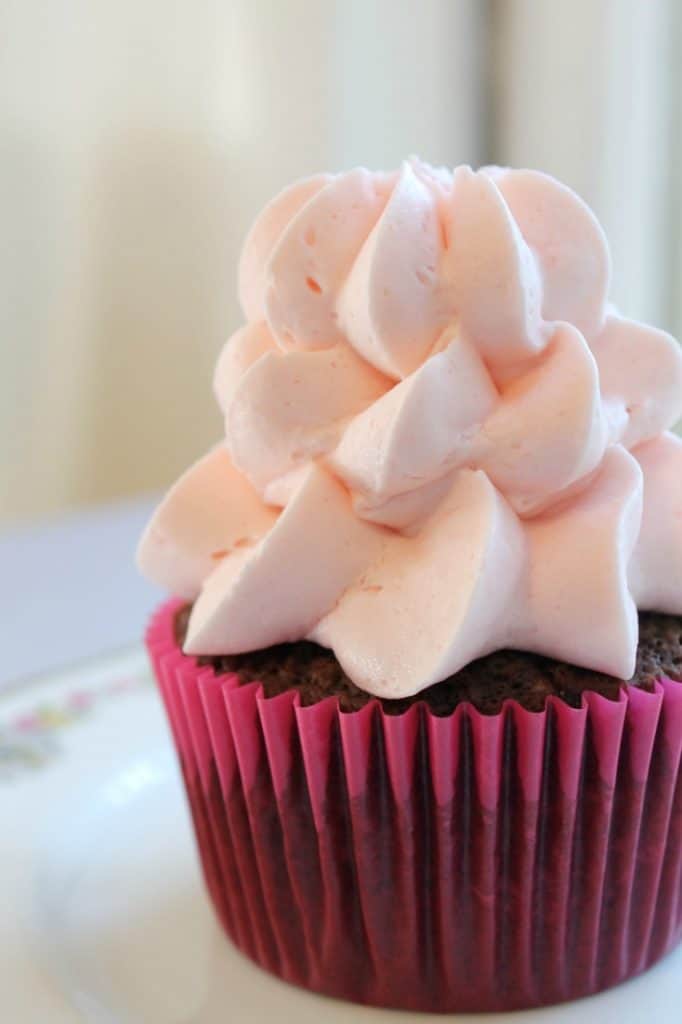 One of my absolute favorite cupcake combos is chocolate cupcakes with vanilla buttercream frosting. And because she requested pink frosting, that's what I made for my daughter's 5th birthday.
You know how some cupcakes can be sort of dry? Some fall apart easily? Not these. They are perfectly moist, soft, and rich double-chocolate cupcakes. Honestly, they're totally delicious to eat unfrosted (don't ask me how I know!). I've adapted the recipe from the Picky Palate Cookbook and these have become my go-to cupcake recipe.
They're topped with a whipped vanilla buttercream that is light and fluffy, with just the right amount of sweetness. I find that some frostings are too grainy or cloyingly sweet, but this one simply dreamy.
I added a couple of drops of red food coloring to make the frosting a light pink for the princess party, but you can leave it white or decorate it however you prefer.
Notes on Frosting Techniques:
Now, I am certainly not a professional cake decorator. I'm just a regular mom who enjoys baking. I'd love to one day take some classes or spend more time practicing legit decorating techniques, but for now I use methods that I've learned just by watching a few YouTube videos, haha!
So while I'm not formally trained, I have learned how to do some basic frosting techniques to achieve pretty cupcakes at home, and it's really not nearly as hard as you might think.
The first thing that's important is to use jumbo frosting tips, not regular tips. I have this set of tips, which I love because it contains various sizes of tips (including jumbo tips), making it really versatile. I also use a reusable plastic coated piping bag, but you can certainly use disposable bags if you prefer.
To achieve this particular billowy, rippled effect of the frosting, I piped my frosting using a jumbo open star tip (I used the Ateco 828 tip from this set). You start by holding the frosting bag and tip straight up and down, just above the center of the cupcake. Begin applying pressure to the bag, holding the tip steady as the frosting spills out toward the edges. Continue applying pressure while you gradually raise the tip as the frosting continues to spill out (your tip only moves up, not around in a swirl). Then release pressure and pull the tip straight up.
If you don't have piping supplies, you can always simply spread the frosting with a spatula.
Notes on Chocolate Cupcakes with Vanilla Buttercream Frosting:
As written, this recipe makes about 30 cupcakes. The frosting makes enough to pipe frosting onto 24 cupcakes. If you choose to spread the frosting on with a spatula instead, you'll have enough for all 30 cupcakes. I sort of like having a few extra cupcakes that I don't frost, because that gives a little leeway in case one gets messed up, or in case we want to do some sampling of the cake before the party. 🙂 Really, these cupcakes are good enough to eat plain, so don't even worry about the few that don't have frosting.
It's important to only fill the cupcake liners about half full. By following this recommendation, the cupcakes rise during baking to just the right height to allow easy piping. You don't want the cupcakes rising up out of the top of the liner and spilling over, because that creates more of a muffin-top effect.
For storage or transportation of the cupcakes, I use this Prepworks by Progressive collapsible cupcake storage container. I LOVE IT because, unlike most cupcake storage units, this one provides enough height to accommodate the taller piped frosting. I also love that it collapses for easy storage. Not only that, but you can remove the cupcake inserts and use it for a layer cake. I heart multipurpose items!!
So that's it! With the right equipment and a tiny bit of practice, these are actually pretty simple to make, yet have a big impact. Not only are they pretty, but these chocolate cupcakes with vanilla buttercream frosting are absolutely decadent. The next time you need a special treat, consider making these yummy beauties!
The cupcakes can also serve as a base for other decorative ideas, such as these Encanto cupcakes inspired by the Disney movie.
More Delicious Homemade Cake Recipes You'll Love: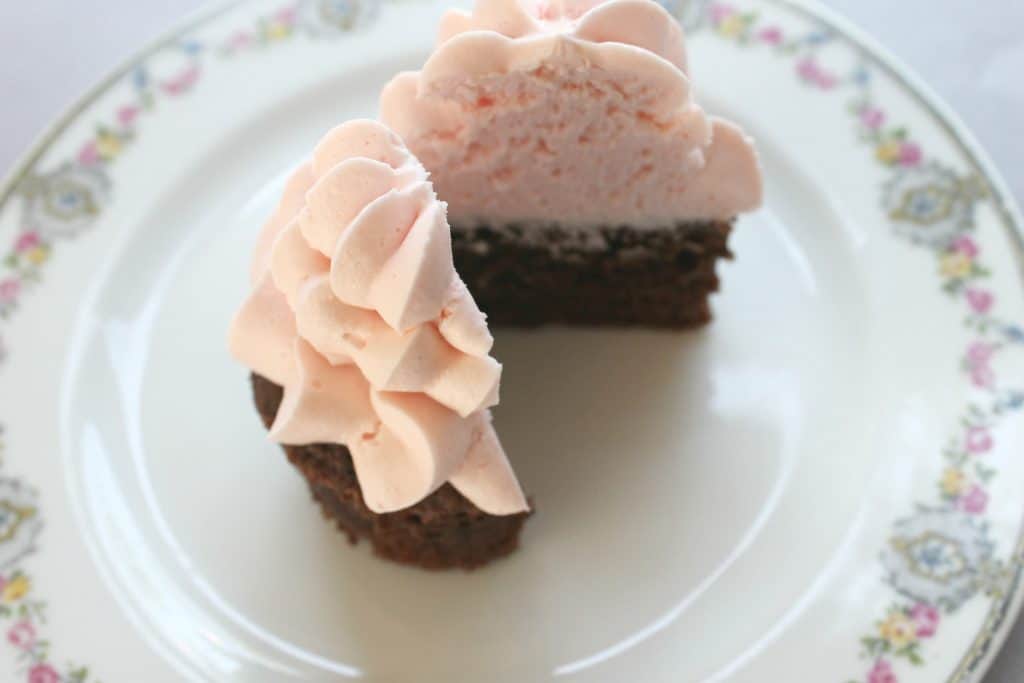 Recommended Equipment:
Yield: 30 Cupcakes
The Best Chocolate Cupcakes with Vanilla Buttercream Frosting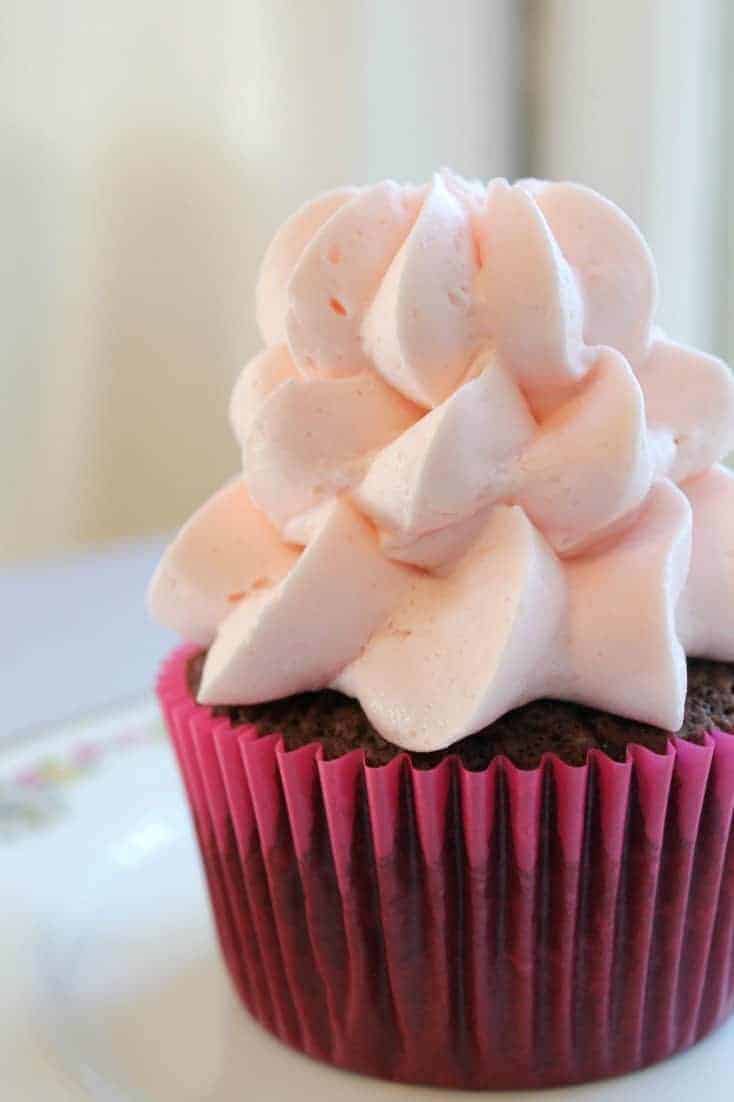 These decadent chocolate cupcakes are topped with a versatile and fluffly buttercream frosting, making a delicious treat!
Additional Time
15 minutes
Ingredients
For the Cupcakes:
1 1/2 cups semi-sweet chocolate chips
2/4 cup milk
1 cup all-purpose flour
1/2 cup cocoa powder
1 1/4 cup granulated sugar
3/4 tsp salt
3/4 tsp baking soda
3 large eggs
3/4 cup sour cream
3/4 cup oil (vegetable or canola, though I've also used up to half olive oil successfully)
For the Frosting:
1 1/2 cups + 2 Tbsp unsalted butter at room temperature
3 cups of confectioner's sugar, sifted
2 Tbsp heavy cream
1 Tbsp vanilla extract
Instructions
To Make the Cupcakes:
1. Preheat oven to 350F and line muffin pans with cupcake liners.
2. Place chocolate chips in a medium bowl.
3. In a small saucepan, heat the milk over medium-high heat until hot but not yet boiling, stirring to prevent scorching (look for tiny bubbles/froth around the edges to signal it's pretty hot).
4. Once milk is hot, pour over the chocolate chips and allow to sit for 2-3 minutes. Then stir until melted and well-combined.
5. In a large bowl, combine flour, cocoa powder, sugar, salt, and baking soda.
6. In a stand mixer fitted with a paddle attachment, mix eggs, sour cream, and oil on medium speed until well-combined.
7. With the mixer still running, slowly add the melted chocolate, mixing until combined.
8. Add the dry ingredients slowly, mixing until combined and scraping down the sides as needed.
9. Fill the cupcake liners half full. Bake for 15-17 minutes. A toothpick should come out clean from the center of the cupcake.
10. Allow to cool completely before frosting.
To Make the Frosting:
1. In the bowl of a stand mixer fitted with the whisk attachment, add the softened butter.
2. Whip on medium-high speed for about one minute, until smooth.
3. Add confectioner's sugar and mix on low speed until just combined.
4. Increase speed to medium-high and beat until smooth, about 2 minutes.
5. Return speed to low and mix in heavy cream and vanilla.
6. Increase speed to high and whip for an additional 4-5 minutes, scraping the sides of the bowl as needed, until frosting is light and fluffy.
Notes
The amount of frosting in this recipe is enough for generously piping onto 24 cupcakes or spreading thinner onto 30.
Nutrition Information:
Yield:
30
Serving Size:
1
Amount Per Serving:
Calories:

219
Total Fat:

11g
Saturated Fat:

3g
Trans Fat:

0g
Unsaturated Fat:

7g
Cholesterol:

25mg
Sodium:

102mg
Carbohydrates:

29g
Fiber:

1g
Sugar:

24g
Protein:

2g
Nutrition information is automatically calculated and is not guaranteed for accuracy.
Save
Save
Get the Instant Pot Meal Plan Jumpstart
Join the free community and you'll learn simple ways to easily create tasty food for your family, as well as immediate access to the FREE Instant Pot Meal Plan Jumpstart to help you get a tasty dinner on the table in a flash!
"Thanks for sharing your knowledge and experience in such a friendly and delightful way!!! So far, I'm very impressed with the results...thanks again for your guidance into this new realm of cooking!" -Margaret
Free Resource Library
Enter my
free resource library
for my latest printables and resources! Password is 'IHEARTMARGIN' -- please copy and paste that in at the link above. Thanks for being a subscriber!!