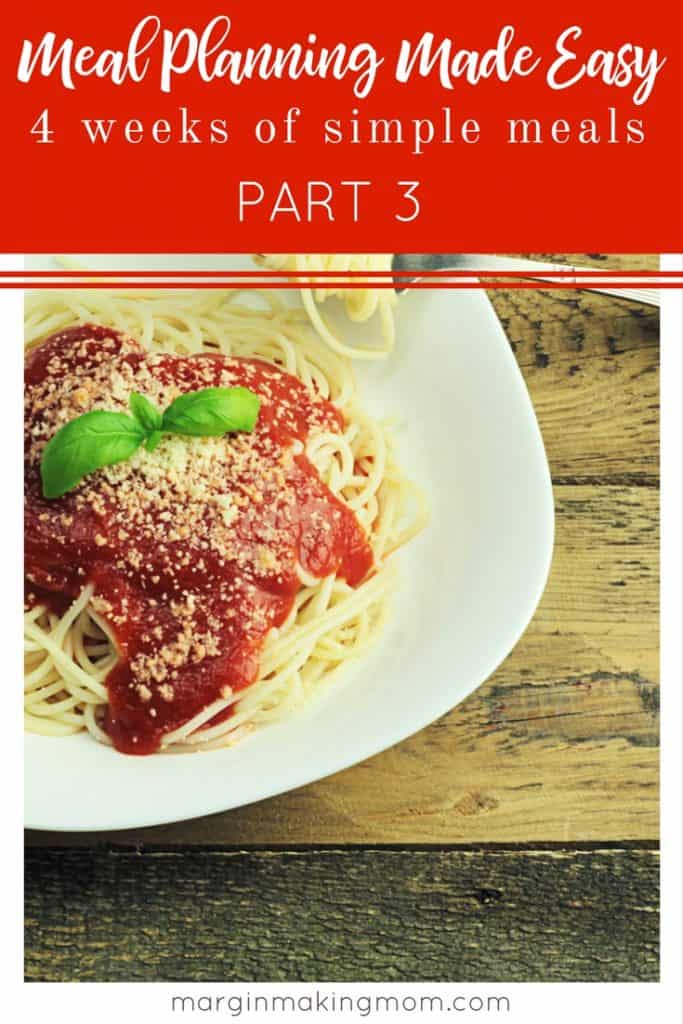 Having inspiration can make meal planning much easier! These 4 easy simple meal plans from our family are full of dinner ideas for you! Check out Part 1 and Part 2 of Meal Planning Made Easy to get eight MORE weeks of dinners for your simple meal plans!

It's one of my kids' favorite questions to ask. And honestly, it's one that I used to frequently ask myself at 5pm from the middle of the grocery store.
You know the one.
If you're anything like me, it's the question that can leave you wide-eyed, thinking, "You mean these people want to eat tonight?"
The question that manages to perplex you sometimes. The one that causes you to make unplanned trips to the grocery store, extra stops at the fast food drive-through, and last-minute calls to your favorite local takeout joint.
It's the question that wrecks your best attempts at a budget and causes you too much stress.
I know, because I've been there too many times.
One thing I've learned over the years is that I don't have to live like this! And you don't either. The solution is really so simple.
I've written before about how to create a weekly meal plan. There are different ways to meal plan, and it's a good idea to find the meal planning method that works best for you.
But no matter how you do it, the truth is, having a simple meal plan each week can reduce stress, cut down on waste in your grocery budget, and eliminate the overwhelming question, "What's for dinner?"
Having a plan means you already know what's for dinner before the day even starts.
And having inspiration makes meal planning way more fun, so I thought I'd share 4 weeks of actual meal plans from my own home.
Here are a few things to keep in mind about these 4 weekly simple meal plans:
I've found that it's easier to stick to my meal plan if the meals are simple and easy to prepare, relatively inexpensive, and if my family enjoys them. So you won't find elaborate, time-intensive meals here. There's nothing wrong with those, but they don't fit our lifestyle right now.
I only make a meal plan for our dinner meals. We typically eat the same few things for breakfast, and our lunches are simple (sandwiches, fruit, yogurt, cheese, etc.).
We are a family of 5, and our kids are currently ages 5, 2.5, and 16 months. Many of the meals I make end up feeding us twice for dinner. Obviously, if you have a family with three teenagers, you may need to adjust quantities to have enough leftovers.

Week 1:
Sunday: Takeout pizza
Monday: Cheeseburger soup with homemade rolls
Tuesday: Leftovers
Wednesday: Chicken enchiladas with beans, Mexican rice, and corn
Thursday: Leftovers
Friday: Pesto gnocchi, green beans, and potatoes
Saturday: Breakfast for dinner (eggs and bacon with these pancakes)
Week 2:
Sunday: Spaghetti with salad
Monday: Leftovers
Tuesday: Bean and corn quesadillas with Mexican rice
Wednesday: Taco baked potatoes
Thursday: Veggie fried rice
Friday: Leftovers
Saturday: Dinner with extended family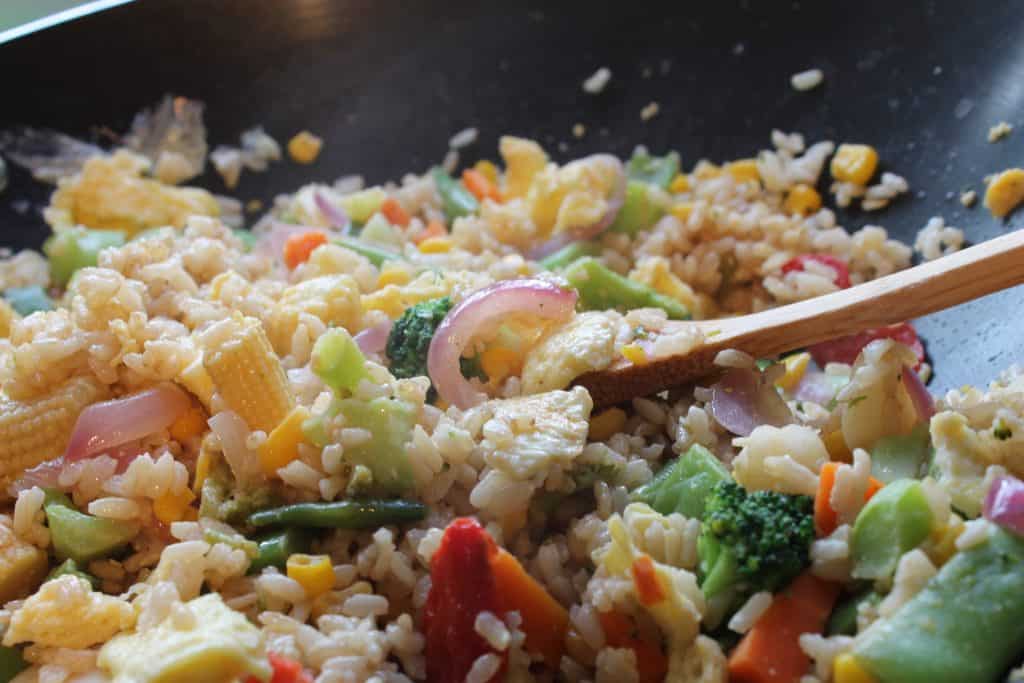 Week 3:
Sunday: Homemade pizza margherita
Monday: Hot dogs with fresh fruit and pretzels & hummus
Tuesday: Sausage with peppers and pineapple over brown rice
Wednesday: Leftovers
Thursday: Quinoa stuffed bell peppers with skillet cornbread
Friday: Beef and veggie stir fry
Saturday: Leftovers
Week 4:
Sunday: Takeout pizza
Monday: Chicken breasts with roasted onions, tomatoes, and basil
Tuesday: Leftovers
Wednesday: Instant Pot Zuppa Toscana
Thursday: Leftovers
Friday: Pot roast with Instant Pot mashed potatoes and carrots
Saturday: Leftovers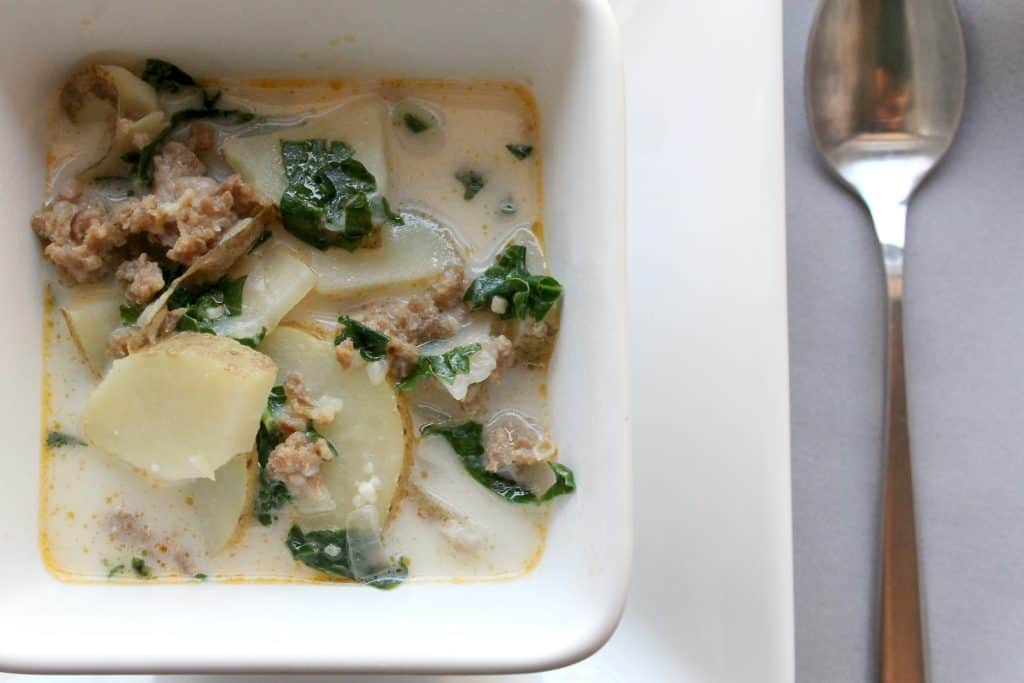 Just remember, meal planning doesn't have to be complicated! In fact, it shouldn't be. By including easy, tried and true recipes in your plan, you're setting yourself up for success. Use these easy weekly simple meal plans as a guide to get started.
Having an answer to the question, "What's for dinner" allows you to save time, money, and sanity! I hope these 4 simple meal plans give you a little bit of inspiration and show you how simple meal planning can be.
Read more about how to meal plan and get my FREE weekly meal plan printable here!
Save
Save
Save
Save
Save
Get the Instant Pot Meal Plan Jumpstart
Join the free community and you'll learn simple ways to easily create tasty food for your family, as well as immediate access to the FREE Instant Pot Meal Plan Jumpstart to help you get a tasty dinner on the table in a flash!
"Thanks for sharing your knowledge and experience in such a friendly and delightful way!!! So far, I'm very impressed with the results...thanks again for your guidance into this new realm of cooking!" -Margaret
Free Resource Library
Enter my
free resource library
for my latest printables and resources! Password is 'IHEARTMARGIN' -- please copy and paste that in at the link above. Thanks for being a subscriber!!