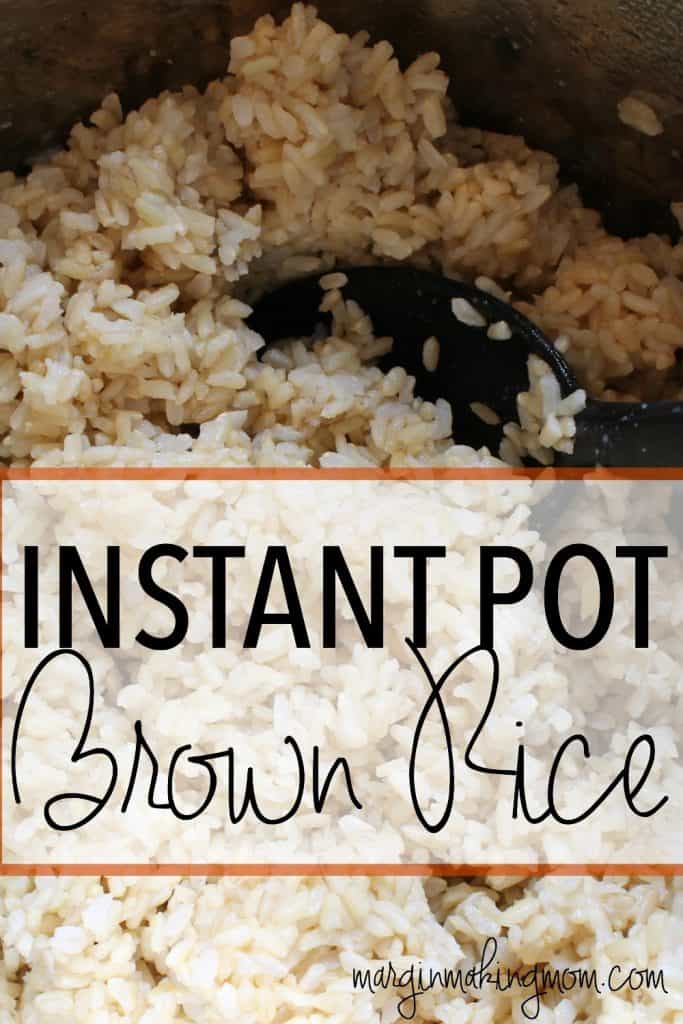 Making brown rice in the Instant Pot pressure cooker couldn't be easier! Set it and forget it, then enjoy your perfect brown rice as a quick side dish!
Disclaimer: This post may contain affiliate links for your convenience.  You can read my full disclosure policy here.
I've always had trouble making rice.  After years of cooking most of our meals at home, I consider myself to be pretty decent in the kitchen.  But making the perfect rice has never been my strong suit.  I have never owned a rice cooker, so I've always gone the stovetop route.  And it's always turned out ok, just not perfect.  Often it seemed too gummy or too sticky and just not quite right.  I've always followed the directions on the package…how hard can it be, right?
Usually if I'm making rice, it's going to be served underneath of a meat and sauce.  Sweet and sour chicken, beef and broccoli, and so forth.  If I'm making the rice as a stand-alone side dish, I always go the route of an easy and delicious rice pilaf that is baked in the oven.  Rice is such a frugal addition to meals, and there are endless tasty possibilities of meal options to make with it.
Since I bought my Instant Pot, I've been experimenting with all of the different things you can make in it.  It is such an incredibly versatile appliance and I use it several times a week.  I've written about making boiled peanuts in it, and I also have made cheesecake, hard-boiled eggs, beans, various soups, oatmeal, and so many other things.  I originally found this technique at Pressure Cooking Today, and I'm not sure why I was surprised that I could make brown rice in the Instant Pot pressure cooker, but I was.  And I was even more surprised when I discovered that it gave me perfect rice every time!
This Instant Pot brown rice barely even qualifies as a recipe (more of a how-to, maybe?), but it's come in handy many times for me.  In addition to serving it with meats and sauces mentioned above, I love to use the leftovers to make super easy veggie fried rice.
Regardless of how you serve it, you'll love just how quick and easy it is to make Instant Pot brown rice.  It really is a "set it and forget it" side item that's ready in no time.  Perfect for those evenings when you need to get dinner on the table quickly!  And if you're like me and have never been able to get stovetop rice "just right," you'll love this cooking method!
Also, did you know that you can freeze leftover rice and then steam it in the microwave later, just like those little bags of frozen rice you can buy at the grocery store?  So easy and SO MUCH cheaper!  All you have to do is put a couple of cups of rice into a zip-top freezer bag, press out excess air, and put it in the freezer.  When you are ready to warm the rice, simply open the bag, add in a couple of tablespoons of water, and put it in the microwave (with the bag open) for about 3-5 minutes.  Voila!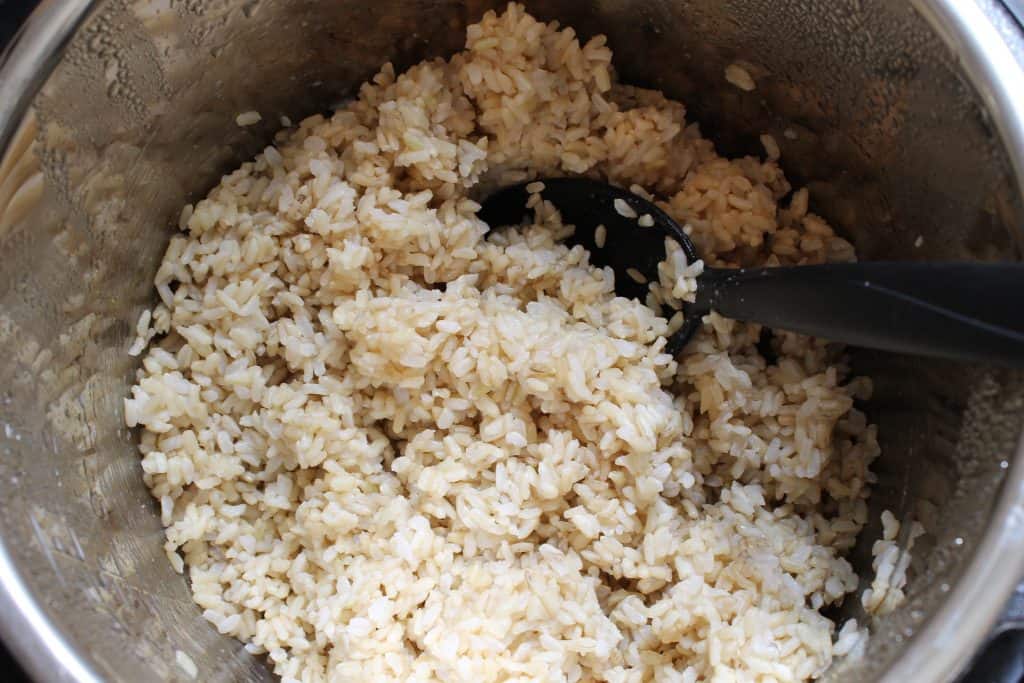 You can find more easy pressure cooker recipes here. Read about how to convert slow cooker recipes for the pressure cooker (with a FREE printable cheat sheet!) here. To learn more about creating a meal plan, including a FREE Weekly Meal Plan printable, click here!

Ingredients
2 cups brown rice
2 3/4 cups chicken broth or water
1/2 tsp salt (Omit or reduce if using broth)
Instructions
Combine rice, water or broth, and salt (if using) in Instant Pot.
Close lid and set vent to "sealed" position.
Using the manual setting, select high pressure for 22 minutes.
Use a natural pressure release after cooking. Once valve has dropped, open lid carefully and use a fork to fluff the rice.
If you want to freeze some rice for later, place 2 cups of rice in a zip-top freezer bag. Press out excess air and close bag, placing in the freezer. When ready to warm the rice, open the bag and add a couple of tablespoons of water to the bag. Place in microwave (with bag open) for 3-5 minutes or until fully warmed.
https://marginmakingmom.com/instant-pot-brown-rice/
Copyright MarginMakingMom.com
Save
Save
Save
Save
Save
Save
Save
Save
Save
Save
Save
New to Pressure Cooking?
Subscribe to the Margin Making Mom newsletter and get instant access to a FREE printable Beginner's Guide to Getting Started with Your Pressure Cooker, which includes a printable Conversion Cheat Sheet to help you convert your favorite slow cooker meals to pressure cooker meals!
We take your privacy seriously and won't send you spam. See our privacy policy here.

Free Resource Library
Enter my
free resource library
for my latest printables and resources! Password is 'IHEARTMARGIN' -- please copy and paste that in at the link above. Thanks for being a subscriber!!