These pot in pot accessories for the Instant Pot can allow you to cook even more in your beloved pressure cooker! Find out which ones are the most useful!
If you've been using your Instant Pot for even a little bit of time, you've likely discovered how versatile the appliance is.
Many people use the Instant Pot to make soup or pot roast or other foods directly in the insert pot, but using the Pot-in-Pot Method of cooking is another way to expand your pressure cooker horizons!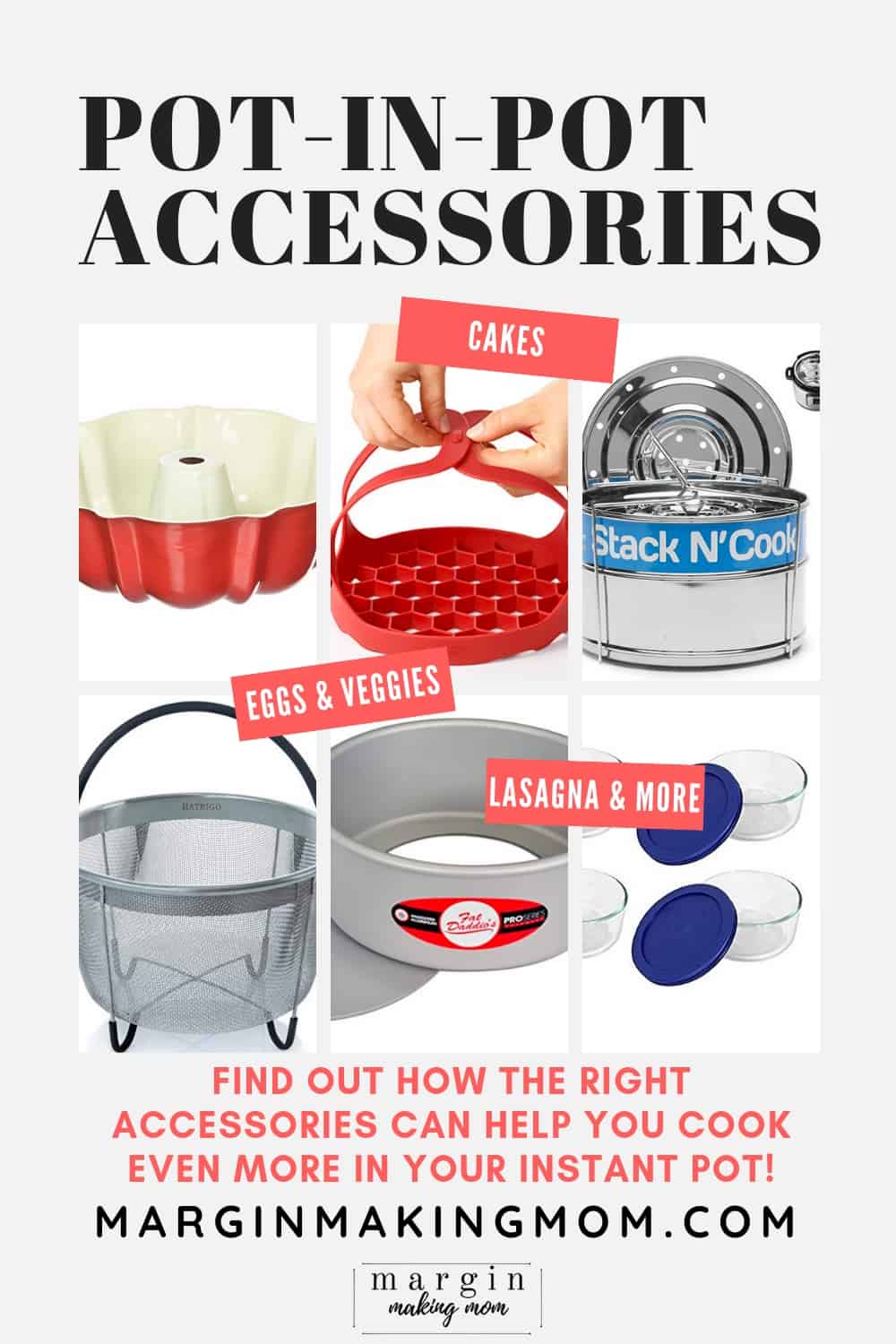 Note: This post contains affiliate links for your convenience. If you make a purchase, this site may receive a small commission at no additional cost to you. You can read my full disclosure policy here.
Pot-In-Pot Cooking in the Instant Pot
With pot-in-pot cooking, you place food in a dish or pan and place that is placed in the insert pot, instead of placing the food directly into the insert pot.
This allows you to cook different foods separately but at the same time, or allows you to cook food directly in the serving dishes.
From cooking vegetables to making a cake in the Instant Pot, having the right dishes is important for pot-in-pot cooking!
Best Pot-In-Pot Stackable Pans for the Instant Pot
Stackable pans are one way to conveniently cook more than one thing in the Instant Pot by cooking different types of foods in separate pans. You can cook fish in one pan and rice in another. Or make foods like lasagna in one pan and vegetables in another.
These stackable pans can also be used to reheat leftovers without drying out the foods.
I like these stackable stainless steel pans because they come with interchangeable lids–one steamer lid and one regular lid. They also have a rack to help lower and lift the pan in and out of the insert pot.
The handy stackable pans also available in different sizes, depending on the size of Instant Pot you own!
Best Steamer Basket for the Instant Pot
Having a steamer basket is useful for making hard boiled eggs or cooking potatoes. It would also be really helpful if you make your own chicken stock–rather than pouring hot stock through a strainer to remove bones, meat, vegetables and such, you can just lift this basket out of the insert pot and you're left with the chicken broth.
There are many different types of steamer baskets. You can check out my list of the best Instant Pot steamer baskets, but I like a mesh steamer basket because it holds everything in without having pieces fall through holes.
In particular, this mesh steamer basket has some additional features that I like, including a handle that's fully wrapped in silicone (which helps prevent burns when removing it from the Instant Pot).
There are other mesh baskets that also have silicone-wrapped feet. The silicone feet prevent scratches to the insert pot and also make it less likely to slip when you place it on your kitchen counter.
This basket also comes in different sizes, so you can get one of that will fit a 3-quart, 6-quart, or 8-quart Instant Pot!
Best Pyrex Dishes for the Instant Pot
Many people wonder, can you use Pyrex in the Instant Pot? The answer is yes! Pyrex dishes were actually designed to withstand sudden shifts in temperature, so they are ideal for cooking.
I love using these 6-oz Pyrex custard cups–they can be used to make lava cakes, creme brulee, flan, miniature cheesecakes, pots de creme, and more!
These versatile dishes can be carefully stacked, allowing you to cook multiple cups at a time.
I also often use larger Pyrex dishes for reheating food in the Instant Pot, or for cooking small amounts of food. In particular, I like these round Pyrex dishes, because you can use them for reheating or cooking, and they also come with lids for storing leftovers.
I like these 4-cup Pyrex dishes and these 2-cup Pyrex dishes.
Best Bundt Cake Pan for the Instant Pot
It was such a fun discovery to learn that I could "bake" bundt cakes in the Instant Pot! I love this Nordic Ware bundt pan, which fits beautifully in my 6-quart Instant Pot DUO.
It's a coated aluminumized steel (so it can go in the dishwasher! 🙌), so it heats evenly and doesn't warp or rust.
Cakes release wonderfully from the nonstick finish (I use a spritz of cooking spray, and I don't even flour the pan), and it's worked very well for me! Plus, it has a 10-year warranty, which is awesome! Plus, I like the pretty colors. 🙂
Best Cheesecake Pan for the Instant Pot
I have to admit, one of the things that sold me on an Instant Pot was finding out that you can make cheesecakes in it!
I love my Fat Daddio cheesecake pan. It's not a springform pan, as I was previously accustomed to using for cheesecakes. Instead, the bottom lifts up out of the pan, which I was a little skeptical about. But it actually worked very well!
It's anodized aluminum, which allows it to heat evenly and cool faster once it's out of the Instant Pot.
You can use it for cheesecake, lasagna, and more!
If you prefer a pan that isn't aluminum or is more of a traditional springform design,
this model
is very popular with Instant Pot users.
How to Remove Dishes with Pot-in-Pot Method
In some cases, dishes will fit onto the trivet that comes with the Instant pot, and you can use the handles of the trivet to lift the dish out.
However, some dishes will not fit into the insert pot if the trivet's handles are upright, so the handles must be folded down (which means you can't easily lift the pan out).
In those cases, you can use a foil sling to remove dishes from inside the Instant Pot. A reusable silicone sling works well for this purpose, too!
Get the Most Out of Your Pressure Cooker with these Stackable Dishes for the Instant Pot!
Expanding the uses of your Instant Pot not only makes it more valuable, but it can save you time in even more ways than just using it for cooking food directly in the insert pot!
By adding a few well-chosen accessories to your kitchen, you can utilize pot-in-pot cooking easily!
If you're looking for a fun way to give the gift of an Instant Pot, check out how to make an Instant Pot gift basket!


Get the Instant Pot Meal Plan Jumpstart
Join the free community and you'll learn simple ways to easily create tasty food for your family, as well as immediate access to the FREE Instant Pot Meal Plan Jumpstart to help you get a tasty dinner on the table in a flash!
"Thanks for sharing your knowledge and experience in such a friendly and delightful way!!! So far, I'm very impressed with the results...thanks again for your guidance into this new realm of cooking!" -Margaret
Free Resource Library
Enter my
free resource library
for my latest printables and resources! Password is 'IHEARTMARGIN' -- please copy and paste that in at the link above. Thanks for being a subscriber!!