Everything you need to know to choose the best Instant Pot steamer basket and put it to use!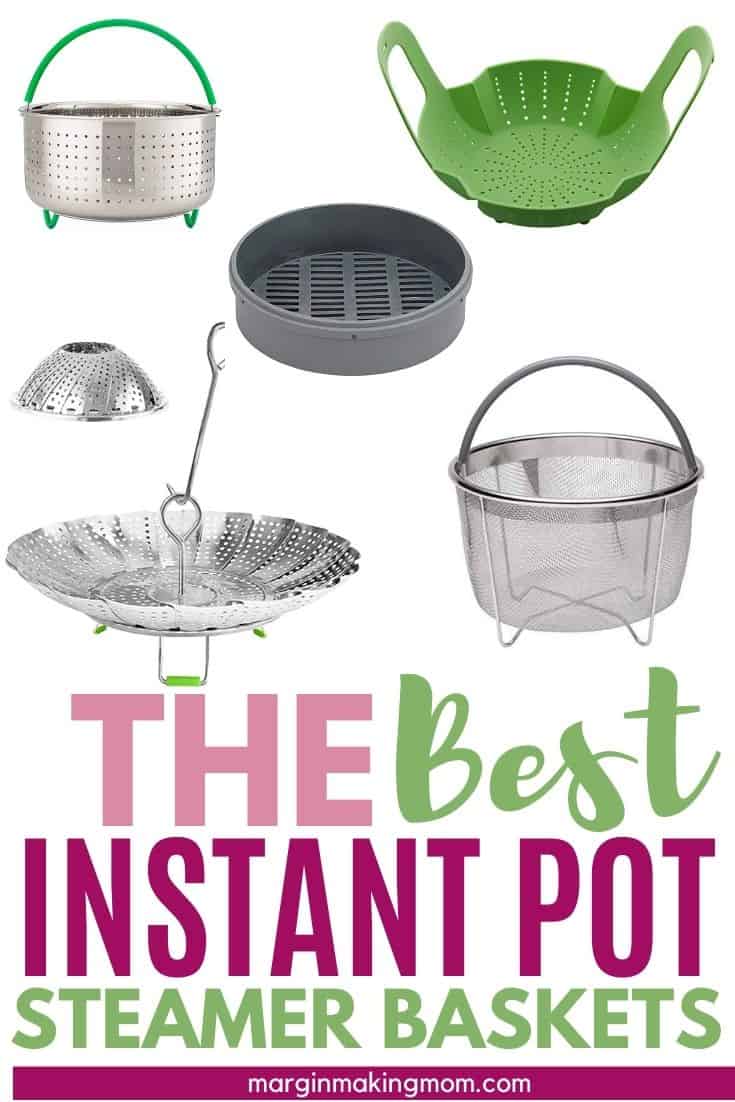 An Instant Pot steamer basket is a versatile accessory for your pressure cooker. Find out how to choose the right one and how to use it to simplify cooking!
Note: This post may contain affiliate links for your convenience. If you make a purchase, this site may receive a small commission at no additional cost to you. You can read my full disclosure policy here.
Instant Pot accessories are a great way to expand the uses of your electric pressure cooker, allowing you to go beyond the typical soups, stews, and grains.
I have entire lists of useful Instant Pot accessories and accessories for pot-in-pot cooking, including everything from bundt pans to cheesecake pans to glass dishes for reheating food in the Instant Pot.
But one of the most versatile accessories you can own is an Instant Pot steamer basket!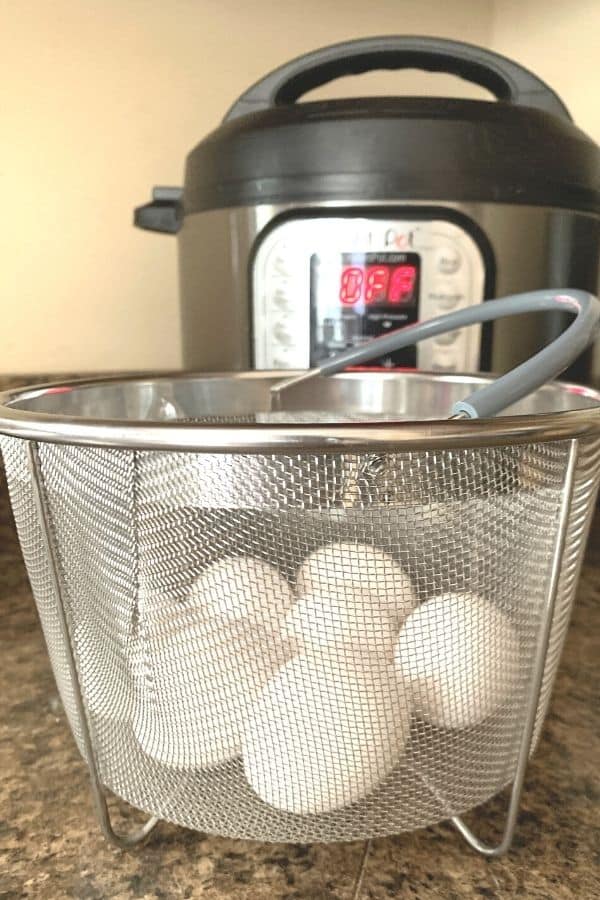 How Does a Steamer Basket Work?
A steamer basket is typically a sort of container with holes in it, which allows steam to come in contact with the food in the container. These baskets are commonly made of mesh, silicone, or stainless steel.
These steamer baskets fit inside the inner pot of your Instant Pot.
The primary purpose of a steamer basket is to keep food out of the water in a pot, while allowing the steam from the water to circulate around the food.
An Instant Pot steamer basket works on the same principles. Water in the pressure cooker heats up and creates the steam, and the food in the basket cooks in the steam while remaining elevated out of the water.
How to Use a Steamer Basket in an Instant Pot
Fill the basket. First, you'll need a steamer basket that actually fits in your Instant Pot. Then, you'll add the food you're cooking to the basket.
There are many different types of food you can steam, from your favorite veggies to frozen foods!
There are many steamer baskets manufactured and sized specifically for electric pressure cookers, including stacked steamer baskets, collapsible steamer baskets, mesh steamer baskets, and silicone steamer baskets.
I own and use this mesh steamer basket, which I've been super pleased with, but you can see a few popular steamer racks from Amazon below.
Add water. Once you have a steamer basket, you'll just need to add some water to the insert pot of your Instant Pot. This cup of water is what will heat up and create the steam.
Lower the steamer basket. You'll place the basket into the insert pot. The contents of the basket should be up out of the water.
Steam. Program the steam time according to the recipe you're using and wait for the food to cook to perfection (the cook time will vary, depending on the type of food). So easy!
Wash. Be sure to follow the care instructions specific to your model, but washing with soap or water is generally all it takes to keep them clean.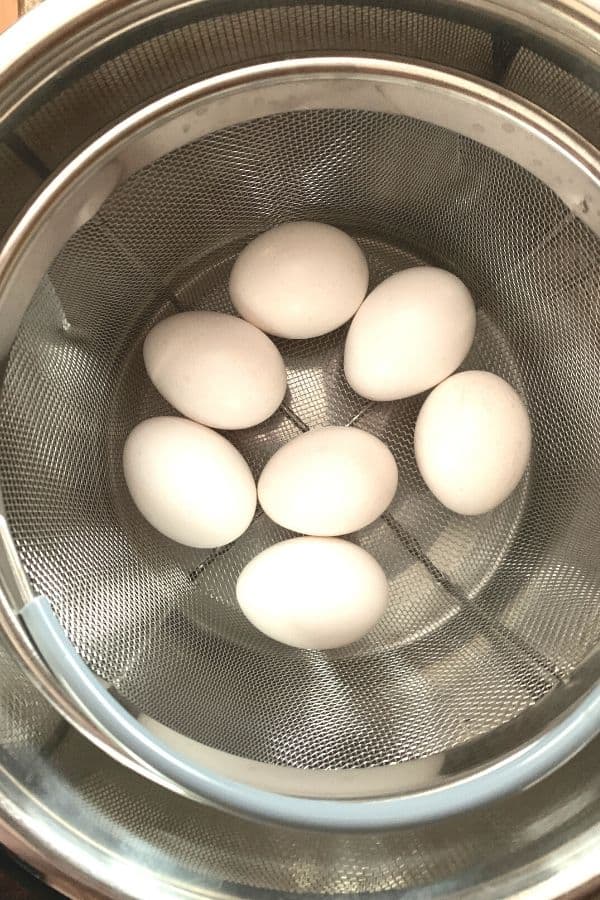 Does the Instant Pot Come with a Steamer Basket?
No, unfortunately the Instant Pot does not come with a steaming basket.
However, it does come with a trivet, which you could use for steaming some foods, if you're careful.
For instance, I've used my trivet to steam eggs in my Instant Pot and also to steam quartered potatoes for Instant Pot mashed potatoes.
The trivet won't work for small pieces of food that could fall through the rack into the water.
It's also a little tricky to lift the trivet out without spilling the food. So while it can be done, a proper steaming basket definitely makes things easier.
Is There a Steamer Basket for a 3-Quart Instant Pot?
Most Instant Pot steamer baskets won't fit in the smaller 3-quart Instant Pot mini pressure cooker.
However, there are some steamer baskets that have been specifically designed to fit in the 3-quart Instant Pot, such as this stainless steel basket and this silicone basket.
Be sure to double-check sizes before purchasing to ensure the selected steamer basket will fit within the circumference of your model!
Is there a Steamer Basket for an 8-Quart Instant Pot?
Any steamer basket that fits in a 6-quart Instant Pot will also fit in 8-quart cookers.
But if you want a larger model that fills the insert pot better, this 8-quart model is a popular choice–it's very similar to my number one pick below.
5 Best Instant Pot Steamer Baskets
Because there are so many different options available on the market, I've narrowed them down to five popular but different steamer baskets, so you can choose the one that best suits your preferences.
If you want the best Instant Pot steamer basket, these are high quality options that I feel are definitely worthwhile choices.
Some models come with a limited warranty from the manufacturer, so be sure to check the product listing for updated information.
1. Mesh Instant Pot Steamer Basket
As I mentioned, this mesh steamer basket is the one I own and use in my Instant Pot. I've had it for a long time now, and it's held up really well.
This particular model is quite durable (no flimsy mesh here) and keeps its shape well, and the silicone covered handle makes it really easy to remove from the Instant Pot. It's also a large basket with a large capacity.
I also appreciate that the "feet" of this basket aren't coated with silicone, so food won't get stuck in the crevices between silicone and metal.
I know some people have qualms with mesh material, finding it difficult to clean.
However, I've found that if you rinse the steamer basket immediately after using, it is actually very easy to keep clean. But if you allow it to become caked with dry food, it won't be such an easy job.
Plus, it's dishwasher safe, which is always a benefit, in my book!
2. Silicone Instant Pot Steamer Basket
Sale
Silicone baskets offer a bit more flexibility, and can be easier to handle without getting burned.
This silicone steamer basket features a pleated design, so it is flexible enough to fit into both 6-quart and 8-quart Instant Pots.
The handles hook together during cooking, so they are out of the way of the pressure cooker's lid. When it's time to put it away, the handles interlock around the feet of the basket, requiring less space for storage.
It's heat-resistant up to 450F and is made with BPA-free silicone.
As with any steamer basket, you'll want to rinse it shortly after cooking, so food doesn't collect in the holes. Then, pop it in the dishwasher for easy cleanup.
If you prefer to avoid metal baskets or want one with some flexibility and easy storage, this Instant Pot silicone steamer basket model could be a good fit for you.
3. Collapsible Instant Pot Steamer Basket
The nice thing about a collapsible steamer basket is that it opens and closes to accommodate different sizes of pots.
The downside is that they can be somewhat shallow in depth, reducing their ability to accommodate much food.
This particular model is made with stainless steel and includes a safety hook tool to use when removing the basket from the Instant Pot.
However, in my opinion, that's just one more thing to fumble with when trying to remove hot food, and one more thing to keep up with in a sea of kitchen tools. But, it does help to keep your hand away from the steam.
The manufacturer says the steamer can expand to fit 3-quart, 5-quart, 6-quart, and 8-quart models, as the steamer can have a diameter between 5.5″ and 9.5″, depending on how far it is expanded.
I appreciate that it collapses down, giving it a small footprint for easy storage.
It does have silicone wrapping around the feet of the basket. Silicone feet can sometimes be difficult to keep clean.
But if you want a flexible option that can fit more than one size pot, this collapsible model could be the best steamer basket for you.
4. Stackable Instant Pot Steamer Baskets
Stackable steamer baskets allow you to steam more than one thing at a time, each in its own separate compartment.
This food-grade silicone basket made by Instant Pot can fit inside a 5-quart, 6-quart, and 8-quart Instant Pot, and it's essentially the silicone counterpart of a traditional bamboo steamer.
Because it doesn't have feet of its own, you'll have to place this one on top of a trivet to keep it up out of the water.
And while you can just use one of these if desired, you can also stack two of these on top of the trivet in order to cook more than one food at a time. This can be useful if you're cooking different foods that you don't want touching each other.
One steamer basket isn't very deep on its own, but it will accommodate a small amount of food. Stacking one steam rack on top of the other increases your cooking capacity.
This silicone model is dishwasher safe, too!
5. Stainless Steel Steamer Basket
This stainless steel steamer basket is similar to the mesh one I recommend, but in a more solid stainless steel. This makes it particularly sturdy.
Fitting both 6-quart and 8-quart Instant Pots, it has a fold-down handle that's covered with heat-resistant silicone that makes it easy to remove from the Instant Pot.
Because it's 5″ tall, it has a greater capacity than many smaller steamer baskets.
The solid construction allows this basket to double as a strainer, so it could be particularly useful for other purposes beyond steaming.
For instance, if you want to make a big batch of broth in your Instant Pot, you can keep the bones and scraps within the basket, then you can easily pull those out of the broth after cooking.
This stainless steel basket is dishwasher safe, too! As with all steamer baskets, rinse shortly after cooking to prevent food from sticking to the holes.
Usefulness of an Instant Pot Steamer Basket
A steamer basket can greatly enhance the usefulness of your Instant Pot, expanding the options of what you can cook in it.
Adding this helpful accessory to your kitchen can help save you time, simplify clean-up, and make it easier to enjoy healthier foods at home!
Different Types of Foods You Can Cook in an Instant Pot Steamer Basket
There are many uses for an Instant Pot steamer basket. Here are a few of our favorites: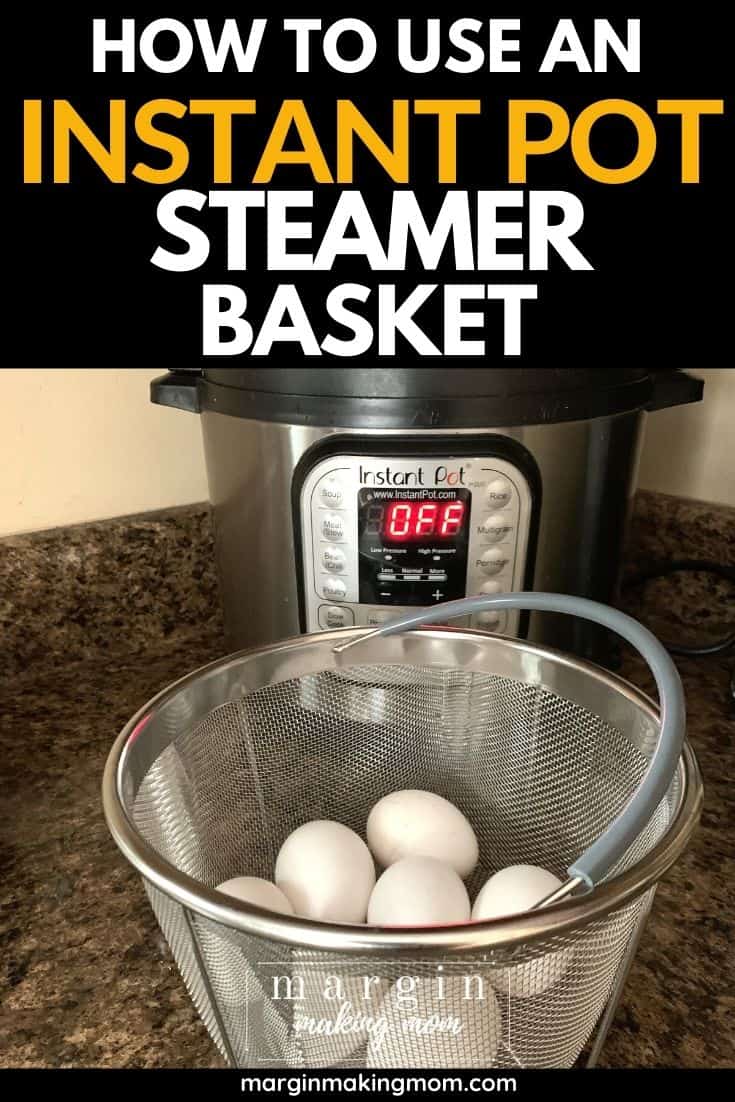 Get the Instant Pot Meal Plan Jumpstart
Join the free community and you'll learn simple ways to easily create tasty food for your family, as well as immediate access to the FREE Instant Pot Meal Plan Jumpstart to help you get a tasty dinner on the table in a flash!
"Thanks for sharing your knowledge and experience in such a friendly and delightful way!!! So far, I'm very impressed with the results...thanks again for your guidance into this new realm of cooking!" -Margaret
Free Resource Library
Enter my
free resource library
for my latest printables and resources! Password is 'IHEARTMARGIN' -- please copy and paste that in at the link above. Thanks for being a subscriber!!