It's so easy to reheat leftovers in the Instant Pot pressure cooker!  This is a great way to warm food easily, especially without a microwave!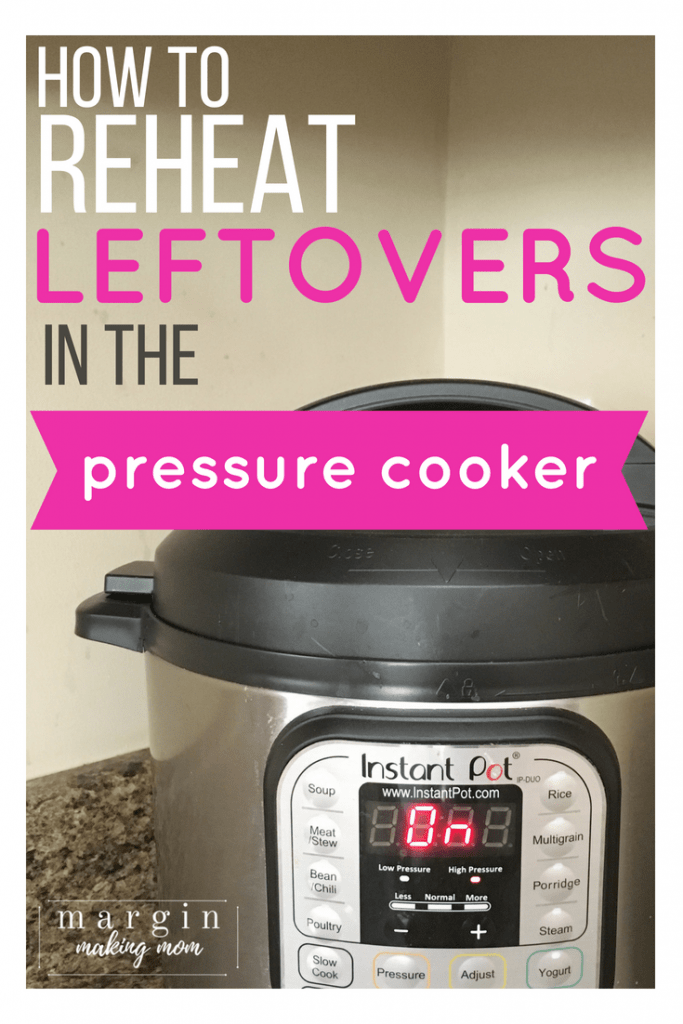 Disclaimer: This post may contain affiliate links for your convenience.  You can read my full disclosure policy here.
The Dilemma
I've written before about how my husband and I have been on a journey to get out of debt.  Recently, the microwave we received as a wedding gift nearly ten years ago gave out.  It would not work at all.  No big deal, I thought…we can just buy a new one.  Ummm….have any of you priced microwaves lately?  I was absolutely floored at the cost of a new microwave.  Even used and refurbished microwaves were way more expensive than I expected.  Because I really didn't want to shell out the money for an appliance I only occasionally used, I decided not to replace it.  After all, anything you can do in a microwave can be done on a stove, in an oven, or in the toaster oven.
Really, I surprised myself by not missing the microwave at all.  It did take a little bit of getting used to, though.  I learned how to make my oatmeal in the Instant Pot, began steaming food on the stove top for homemade baby food, and started boiling water on the stove top for my morning tea.  That took care of the things I had most commonly used the microwave for.
The one thing that was a little inconvenient though was reheating leftovers.  Without the microwave, I would typically remove the leftovers from the refrigerator, take them out of their storage container and put them in a pan or pot on the stove to reheat.  This worked fine, but it obviously took longer and dirtied another dish.  Seeing as how we don't have a dishwasher, I try to dirty as few dishes as possible.
The Instant Pot Pressure Cooker Saves the Day
As I've been learning just how versatile my Instant Pot pressure cooker is, I decided to do some research to figure out if I could use it to easily reheat food.  And I found out that YES, you CAN reheat food in the Instant Pot!  Not only does the Instant Pot help me make easy pressure cooker recipes, but it also reheats my leftovers!
In my case, this was a huge discovery in terms of kitchen convenience.  I know there are other people who avoid using microwaves due to health concerns.  The Instant Pot is a valuable option for reheating food for anybody who doesn't have access to or desires not to use a microwave!
How to Reheat Leftovers in the Instant Pot Pressure Cooker
There are a few different options for reheating food, depending on your needs.  If you want to warm something slowly over a longer period of time, you can use the Slow Cook function or the Keep Warm function.  But if you want to reheat food faster, the Steam function is the one!
Keep in mind that this is not an exact science, but these are a few tips for reheating food with your Instant Pot's Steam function:
First of all, you have to use some water.
This may seem like a no-brainer, but you need water to make steam.  So add at least a cup of water to the bottom of the insert pot of your Instant Pot.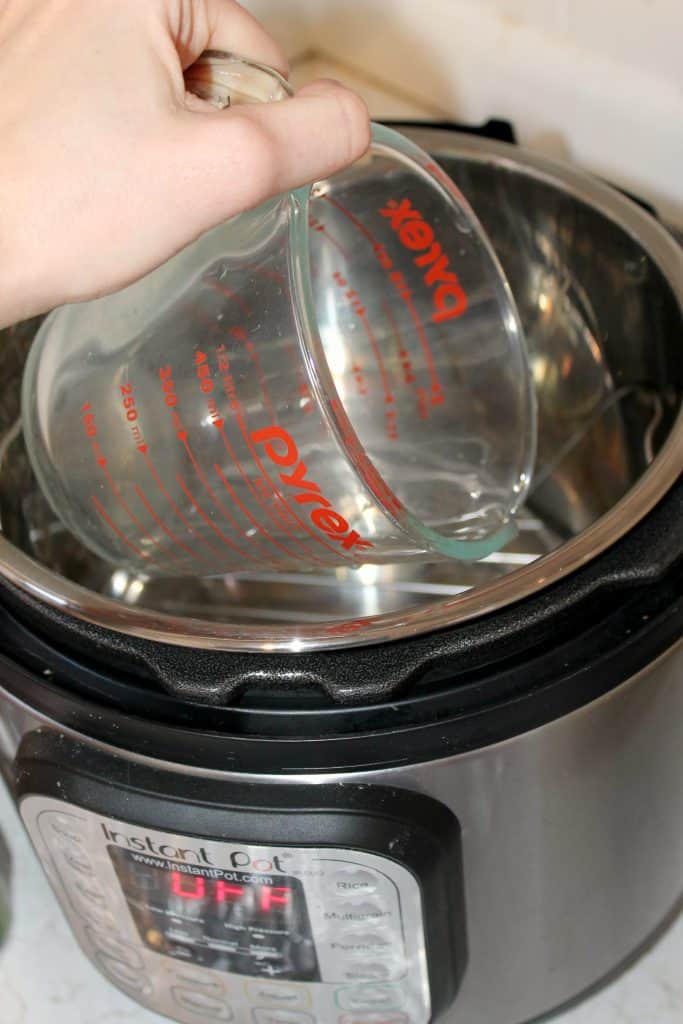 Next, put your trivet in place in the insert pot.
Depending on what kind of container you use for reheating, you may need to use a foil sling.  If the container will not be easy to remove with potholders or tongs, definitely use a foil sling, as that will make it easier to lift the container out of the insert pot.  Which brings me to the next point….
Use heatproof containers.
Some of my favorites are ones I already had on-hand and include pint-size Mason jars and Pyrex storage bowls.  When you have leftovers, simply go ahead and put them in these types of containers to store them in the refrigerator.  Then they'll be ready to reheat whenever you want them.  No extra dirty dishes (Happy Dance!)!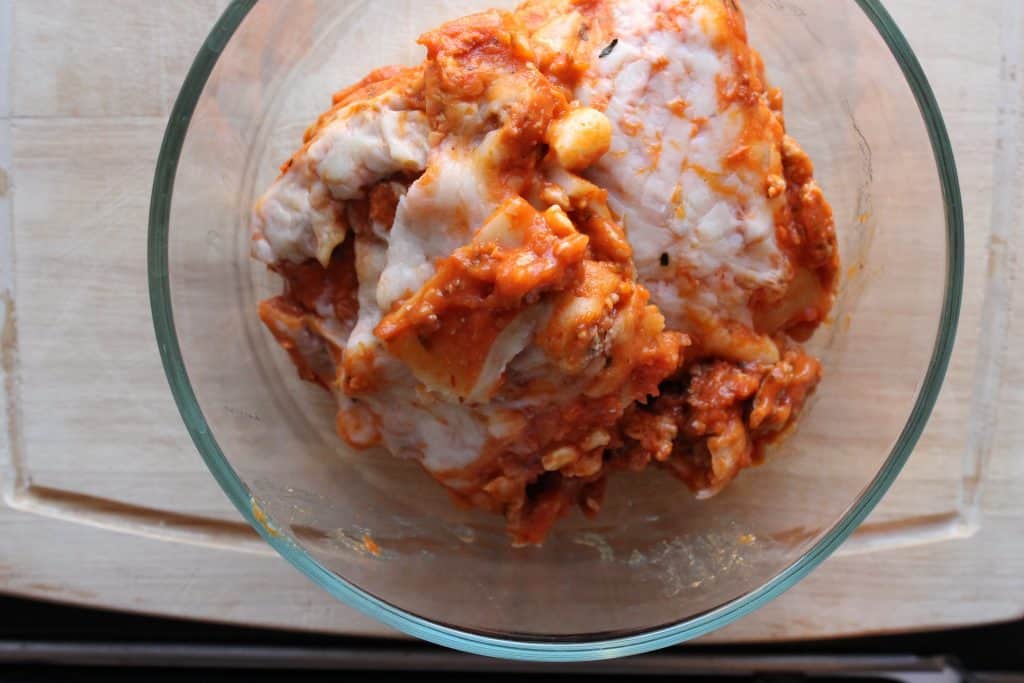 Add a bit of water or fat, if needed.
Depending on what type of food you are reheating, you may need to add a bit of water or fat to the food.  This is especially true if it's something that is prone to become sticky, such as pasta or rice.  Depending on the amount of food being reheated, I add 1/2 – 1 Tablespoon of water to the contents of the jar or bowl.  Something like macaroni and cheese may also benefit from a small drizzle of olive oil to keep it from sticking.  Food that already has a good bit of liquid in it, such as a soup, will likely not need water or oil added.
Next, cover your container with a piece of foil.
This helps to ensure that condensation from the steam doesn't drip into your food.  Depending on the size of your containers, you may be able to stack more than one in the insert pot.

Set your steam time.
Place the container into the insert pot.  Close the lid to the Instant Pot, and set the vent to "sealed."  Using the Steam function, select your time.  I generally use 5 minutes for most things.  However, remember that this is not an exact science.  If you are reheating something pretty delicate, like pasta or vegetables, you can probably use a steam time of 2-3 minutes.  Likewise, if you are stacking a few containers full of pretty cold food, you may need a longer time, such as 8-10 minutes.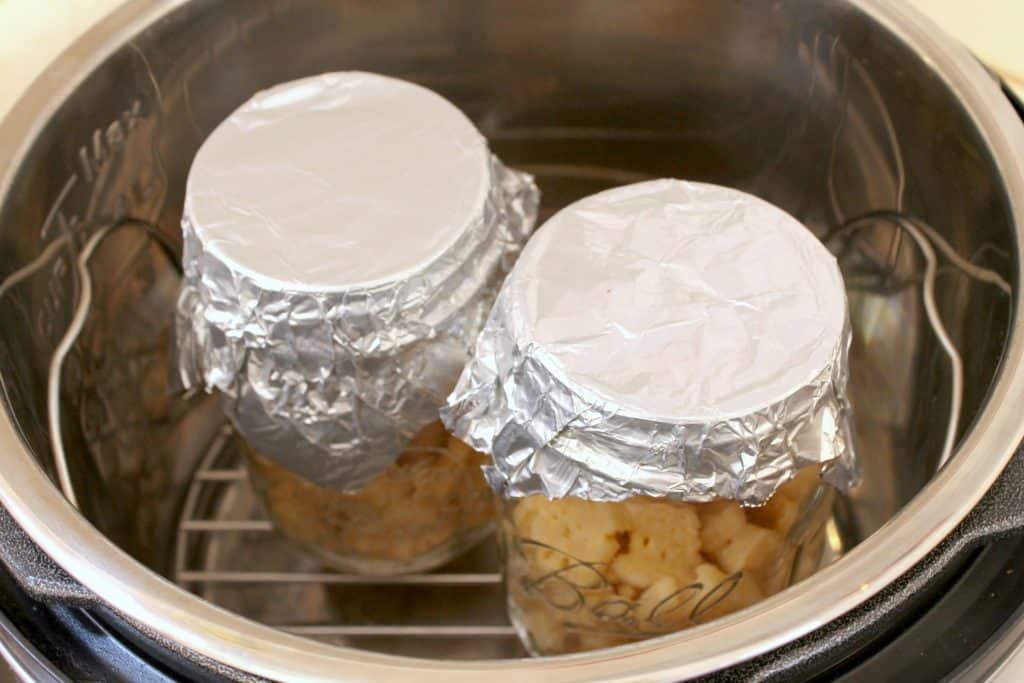 After the steam time is complete, allow a natural pressure release.  Once the valve has dropped, you can open the vent and lid to test your food's temperature.  If needed, you can steam for 1-2 more minutes.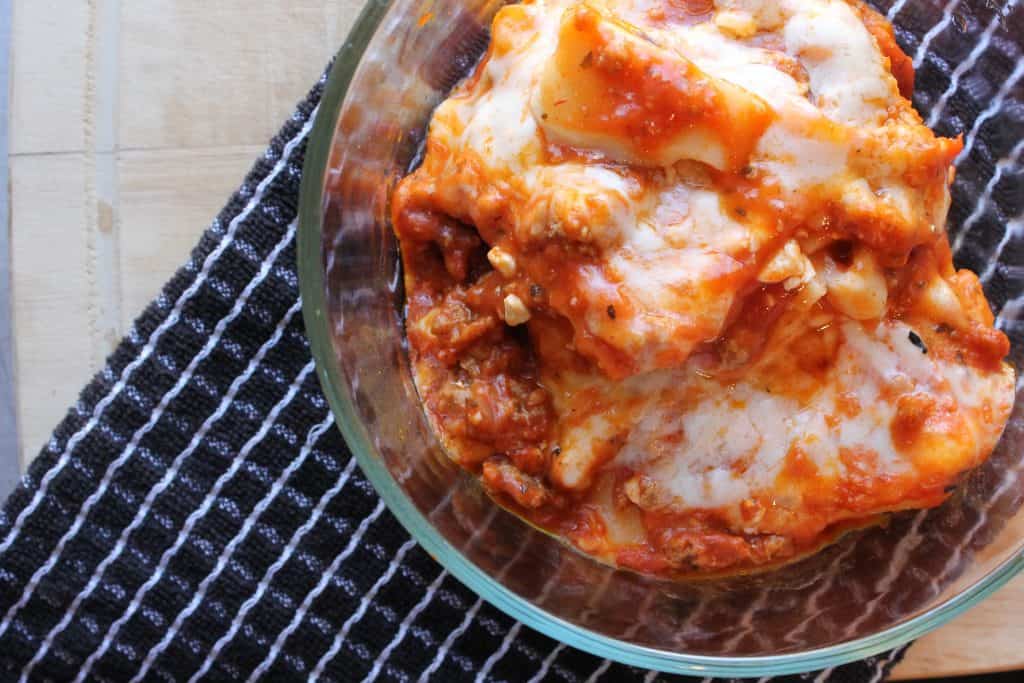 Just look at this warm, melted goodness!  There's no way this food would have been as evenly heated in a microwave.

Recommended Equipment:
Reheating leftovers in the Instant Pot is such an easy way to warm food without using a microwave.  Who knew there could be so many uses for an electric pressure cooker?  I continue to find more and more reasons to love this versatile appliance!
Have you used your Instant Pot to reheat food before?  What's your favorite use of your pressure cooker?  Leave a comment below!
You can find more easy pressure cooker recipes here. Read about how to convert slow cooker recipes for the pressure cooker (with a FREE printable cheat sheet!) here.
See everything you need to know about getting started with easy pressure cooker recipes here!
I also recommend checking out the Electric Pressure Cooking 101 class to help you gain even more confidence with your pressure cooker.  The self-paced course will help you learn how your pressure cooker works and how to cook certain groups of food. It also includes a two-week meal plan with shopping lists!  You can check it out here.

Save
Save
Save
Save
Save
New to Pressure Cooking?
Subscribe to the Margin Making Mom newsletter and get instant access to a FREE printable Beginner's Guide to Getting Started with Your Pressure Cooker, which includes a printable Conversion Cheat Sheet to help you convert your favorite slow cooker meals to pressure cooker meals!
We take your privacy seriously and won't send you spam. See our privacy policy here.

Free Resource Library
Enter my
free resource library
for my latest printables and resources! Password is 'IHEARTMARGIN' -- please copy and paste that in at the link above. Thanks for being a subscriber!!