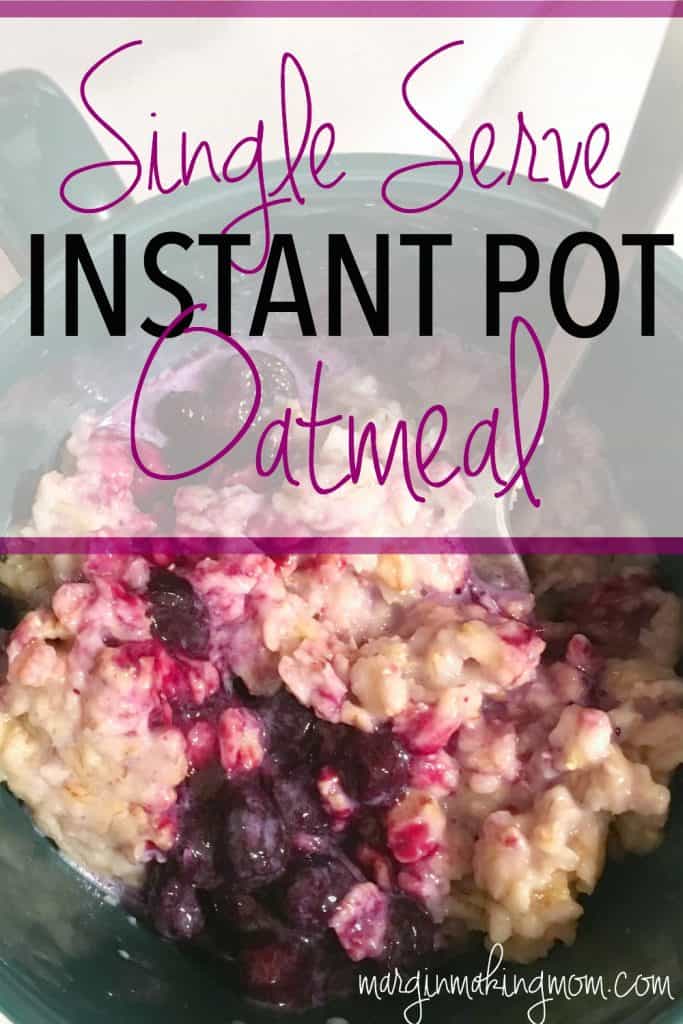 Single serve oatmeal in the Instant Pot pressure cooker is the easiest, creamiest oatmeal! It makes a wonderfully easy and frugal breakfast option!
Disclaimer: This post may contain affiliate links for your convenience.  You can read my full disclosure policy here.
I must confess, I haven't always loved oatmeal.  Back when I was in the fifth grade, my class was selected to participate in a commercial for instant oatmeal.  So a camera crew came to our classroom and filmed us eating oatmeal.  And eating more oatmeal.  And more oatmeal, until they had all of the footage that they needed to create a commercial that would air on our local television station.  Needless to say, eating so much instant oatmeal sort of turned me against it for a while.
But now?  I love a warm bowl of oatmeal in the morning.  It is such a comforting way to start the day, especially when there's a chill in the air outside.  I still don't care much for the packets of instant oatmeal, but I learned the simple act of making rolled oats in the microwave and topping them with a splash of milk and fruit sauce.  Not only is it tasty, but it's also an extremely frugal and healthy breakfast.  I've been eating oatmeal this way for quite a while now.
So when our 10-year old microwave bit the dust a couple of months ago, my first thought was, "How am I going to make my oatmeal every morning?"  I know you can make oatmeal on the stove top, but I wanted something a little more hands-off (and since we don't have a dishwasher, I try not to dirty more dishes than necessary!).  Because we are working on getting out of debt, I really did not want to spend money on a new microwave, especially since we rarely use it for anything other than my morning oatmeal.
I had heard that you could make oatmeal in the Instant Pot, but I thought you could only make a large pot of oatmeal at a time.  However, after some research and experimenting, I learned from Hip Pressure Cooking it is possible to make single serve oatmeal in the Instant Pot pressure cooker!  The result?  The creamiest, easiest oatmeal I have ever made.  Seriously!  Cooking oatmeal at high pressure squeezes out some extra creaminess and makes the oats so tender.  WAYYY better than what I had been making in the microwave.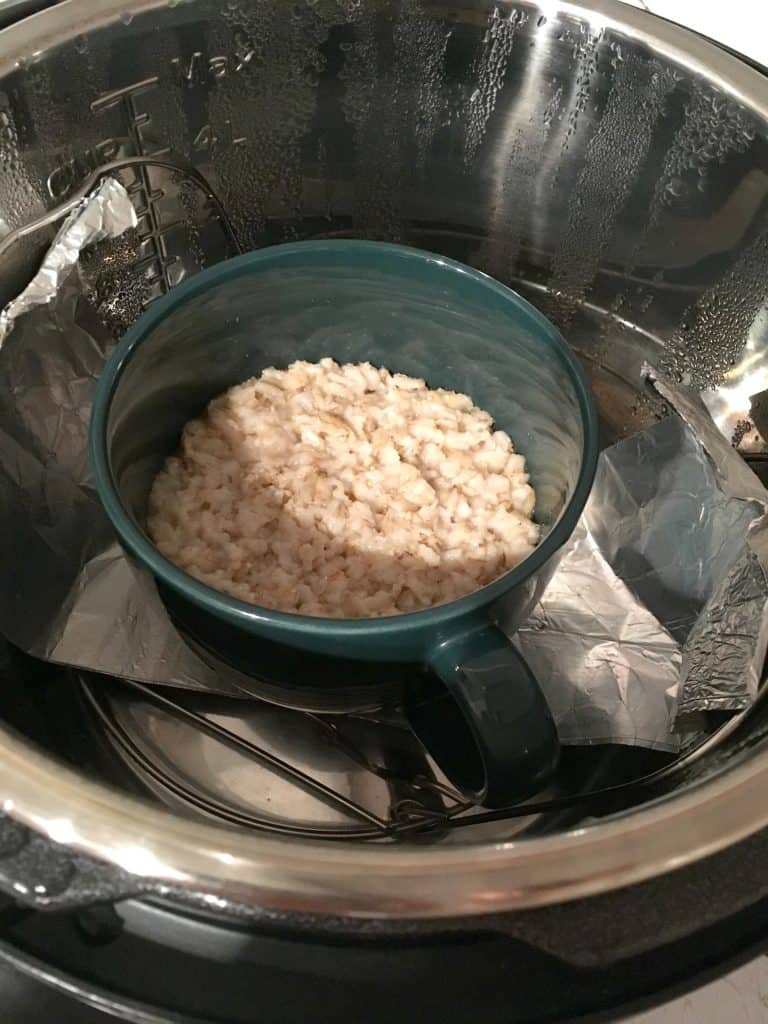 I ended up using a basic heat-proof soup mug very similar to this one to cook a single serving of oatmeal in the Instant Pot. You simply add water to the bottom of the pot and place the trivet inside.  Then, use a foil sling to lower your mug down into the pot, resting it on the trivet.  The foil sling allows you to easily remove the oatmeal after cooking, as the mug will be very hot.  I reuse the same foil sling over and over.  If you don't have a mug, you can use any heat-proof bowl that will fit into the Instant Pot.
Now, the caveat here is that it does take longer to make, because it takes some time for the Instant Pot to achieve pressure and cook the oats.  But, the great thing about my Instant Pot Duo 60 is that it has a timer function, allowing you to program it the night before so that it will begin cooking at the time you specify.  So I set mine to start cooking while I am still asleep.  That way, when I wake up, the pressure has released from the Instant Pot and the oatmeal is still warm and ready for me to eat.  It is so simple!
This is a great breakfast to add to your weekly meal plan.  Even if your microwave still works, give this method a try!  You'll never go back! 🙂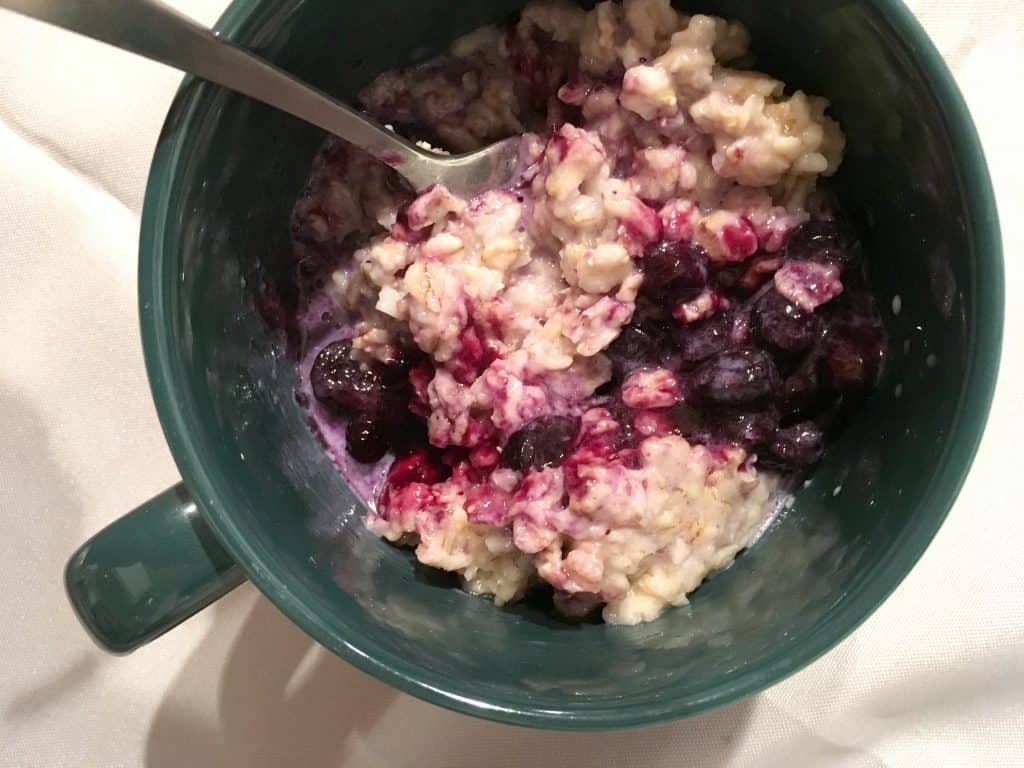 You can find more easy pressure cooker recipes here. Read about how to convert slow cooker recipes for the pressure cooker (with a FREE printable cheat sheet!) here.
Single Serve Instant Pot Oatmeal
Ingredients
1/2 cup rolled oats
3 cups water, divided
pinch of salt
milk
fruit sauce mix-in or other desired toppings
Instructions
Pour two cups of water into the bottom of the Instant Pot.
Place trivet in bottom of Instant Pot.
In a heat-proof mug or bowl, combine rolled oats, 1 cup of water, and pinch of salt. Stir to combine.
Using a foil sling, lower the mug or bowl into the Instant Pot.
Close lid and set vent to "sealed" position. Using the manual setting, select a 10 minute cook time at high pressure. If needed, use the Instant Pot's timer function to program cooking to begin at your predetermined time.
After ten minute cook time is complete, turn pressure cooker off and allow pressure to release naturally.
Once valve has dropped, open lid and use foil sling to remove mug or bowl.
Top with a splash of milk and fruit sauce mix-in or other desired toppings. Stir to combine.
https://marginmakingmom.com/single-serve-instant-pot-oatmeal/
Copyright MarginMakingMom.com
Save
Save
Save
Save
Save
Save
Save
Save