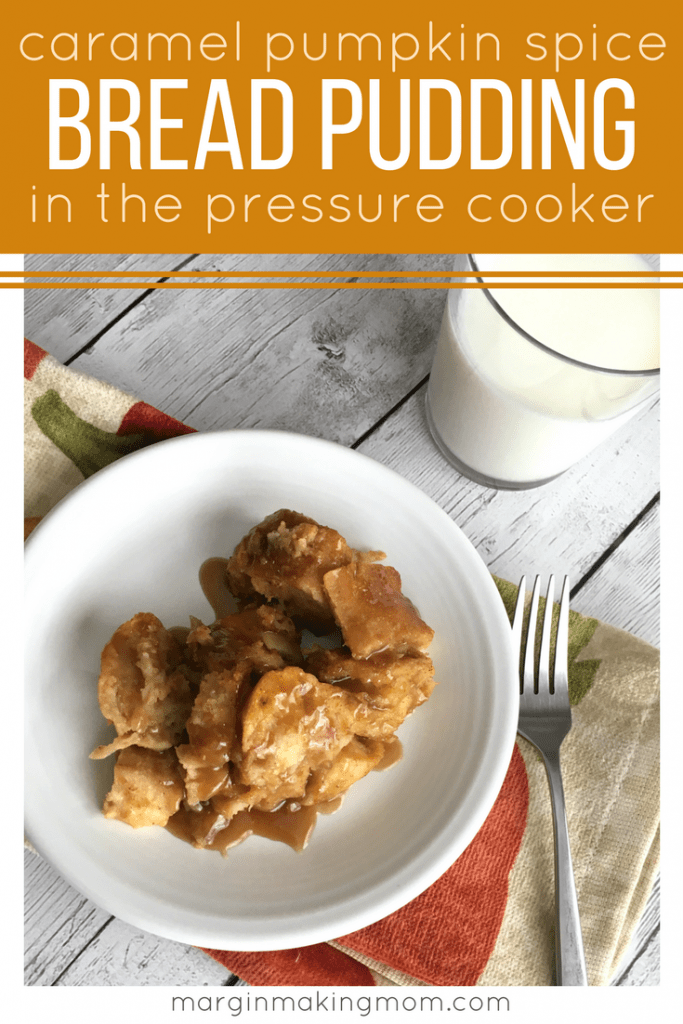 You'll love how easy it is to make this caramel pumpkin spice bread pudding in the pressure cooker! It saves time and the result is warmly decadent!
Cooking and baking are like therapy to me. I feel disjointed and out of sorts when I go more than a day or two without making food with my own two hands.
After more than a decade of renting, our little family recently bought our first house and this past weekend we made the big move across town. To reduce the chaos and streamline life as much as possible, the days surrounding the move were filled with take-out and fast food.
Now, don't get me wrong…I definitely enjoy a break from cooking every now and then, and this was a time that it made sense to not be cooking at home. But after a few stressful days, I needed some kitchen therapy. I couldn't wait to get my new kitchen in order so I could get back into my routine.
So even while the rest of the house was still full of boxes, I decided the kitchen needed to be one of the first projects tackled. And as soon as it was up and running, I took advantage of naptime one day to spend some quality time doing what I love–creating easy and delicious food.
I immediately felt at home and in my element, and that day's creation has been a hit in our home–caramel pumpkin spice bread pudding in the pressure cooker.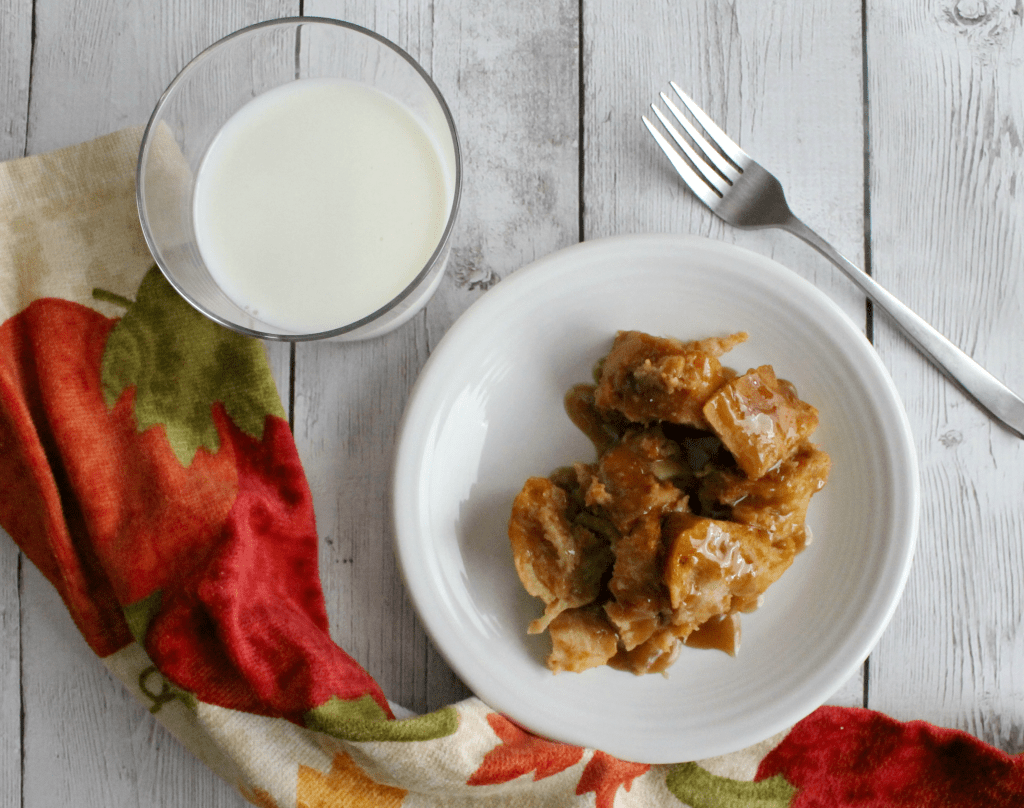 Why You'll Love This Instant Pot Pumpkin Spice Bread Pudding
I don't think I ever had bread pudding before meeting my husband. In fact, I didn't even know what bread pudding was. Quite frankly, the name didn't sound all that appetizing to me. But when I first tried it, I realized bread pudding is pretty much the same thing as baked french toast. AKA delicious.
Traditionally, bread pudding is made by combining bread cubes with a custard-like mixture, then baking it in the oven. After realizing you can make bread pudding in the pressure cooker, I decided to experiment a bit with flavors, which is how this little gem was born.
When you make bread pudding in the pressure cooker, you save some time and free up your oven for other things, which makes this pumpkin spice bread pudding perfect for the holiday season. Of course, if you don't have a pressure cooker (what are you waiting for?!), you can always bake this in the oven as well.
The result is a sweet and soft bread pudding that is full of warm and comforting pumpkin pie flavors, then drizzled with an easy but decadent caramel sauce before serving.
It's one of the best Instant Pot pumpkin recipes for fall!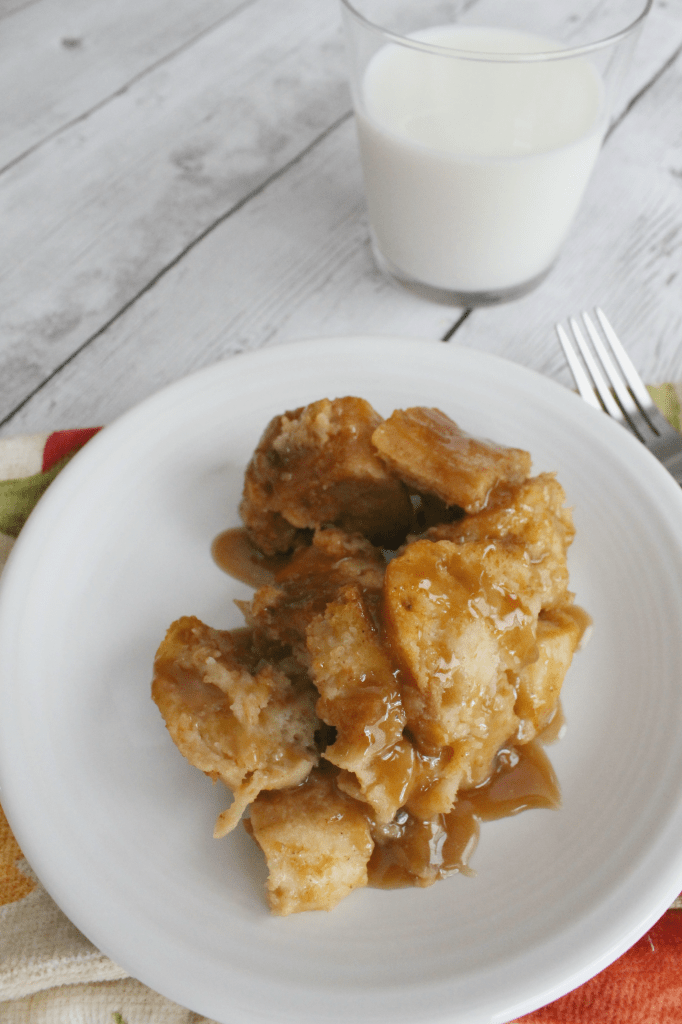 You Might Also Like:
How to Make Caramel Pumpkin Spiced Bread Pudding in the Pressure Cooker
The process is similar to when I made pressure cooker eggnog french toast and Instant Pot baked french toast.
You'll begin by toasting some cubed French bread, then combining it with a mixture of eggs, milk, pumpkin, vanilla, and spices. The bread soaks up the liquid and the mixture is transferred to a greased pan.
You'll need to use a pan that will fit in your pressure cooker. I use a Fat Daddio pan that I originally purchased for making pressure cooker cheesecake. Note: For this recipe, I recommend lining the outside of the pan with aluminum foil to prevent seepage of the liquid.
Create a foil sling by folding an 18-inch piece of aluminum foil lengthwise three times. This will help you lower and raise the pan into and out of the pressure cooker.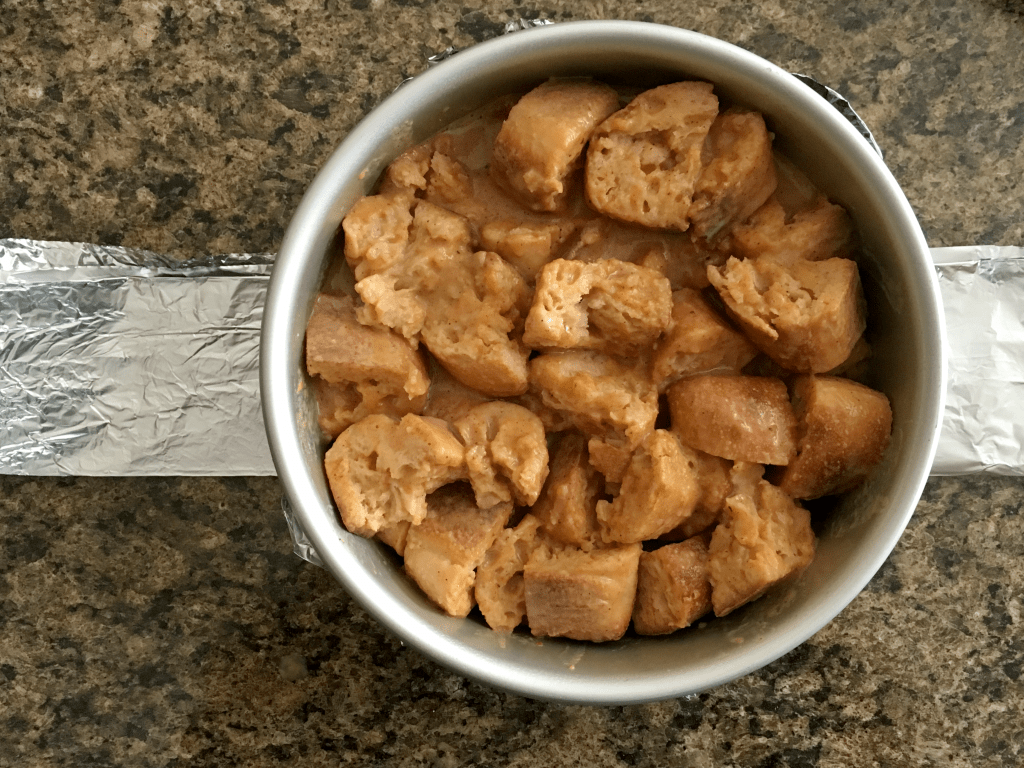 Cover the pan with foil. After adding water to your pressure cooker, place the trivet in the insert pot and lower your pan into the pot.
Close the lid and set the vent to closed. Using the Manual or Pressure Cook setting, select a 20 minute cook time with high pressure.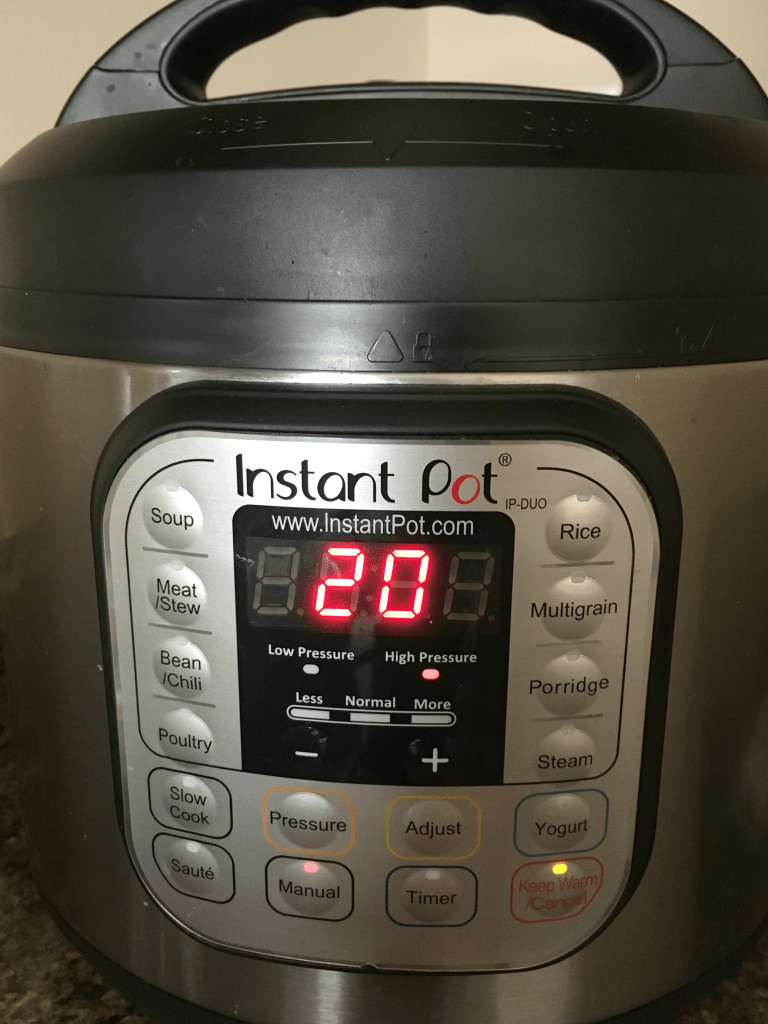 While the bread pudding is cooking, go ahead and make the caramel sauce. Note: You can use warmed caramel from a jar if you are really short on time, but homemade caramel sauce really is SO yummy.
Once the cook time is complete, perform a quick release of the pressure. After the valve has dropped and pressure has released, carefully open the lid. Use the foil sling to remove the pan from the pot.
Serve warm, drizzled with caramel.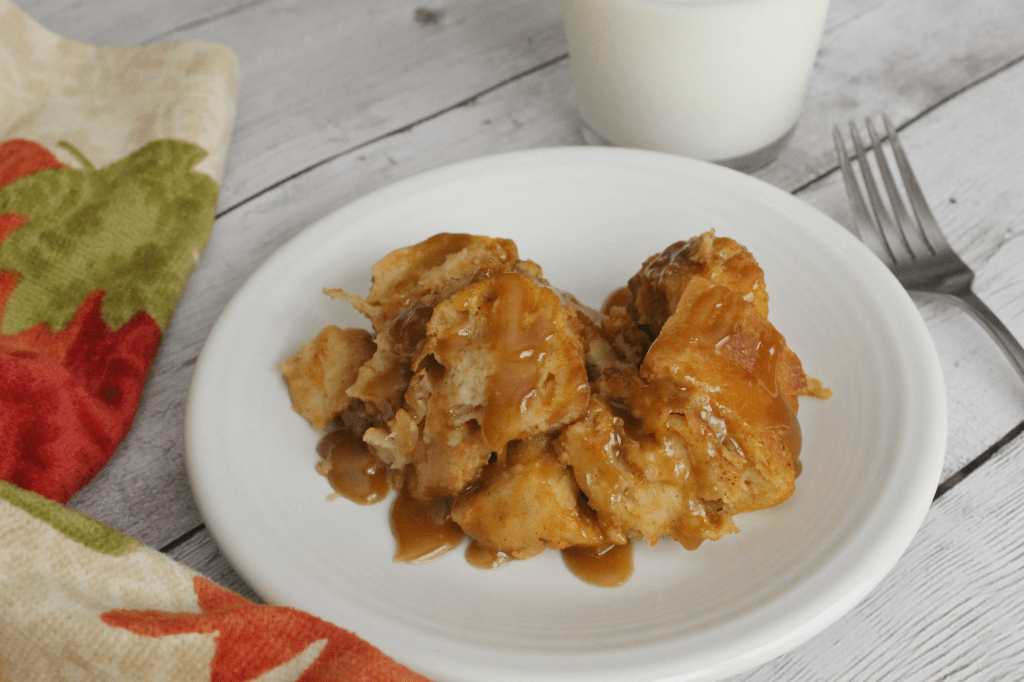 This bread pudding really is easy and delicious, and it would be fabulous as either a dessert or a breakfast dish. It's perfect for fall as the weather turns colder and we crave warm and comforting foods.
Go ahead, enjoy some kitchen therapy! 🙂
Recommended Equipment
Instant Pot (I have the IP DUO60 model and love it)
An extra silicone ring– Silicone rings can absorb flavors (and then impart them to other foods, so it's a good idea to have one ring for "sweet" and one for "savory," so that your desserts don't end up having the flavor of the chili you made yesterday. 🙂 If you don't have an extra one yet, that's ok, but if you do, go ahead and use it.
Baking dish to fit inside Instant Pot– There are different options here, but you just need a pan that will fit into your model of pressure cooker. I use this Fat Daddio pan, but you could also use a small bundt pan.
Yield: 6 servings
Caramel Pumpkin Spice Bread Pudding in the Pressure Cooker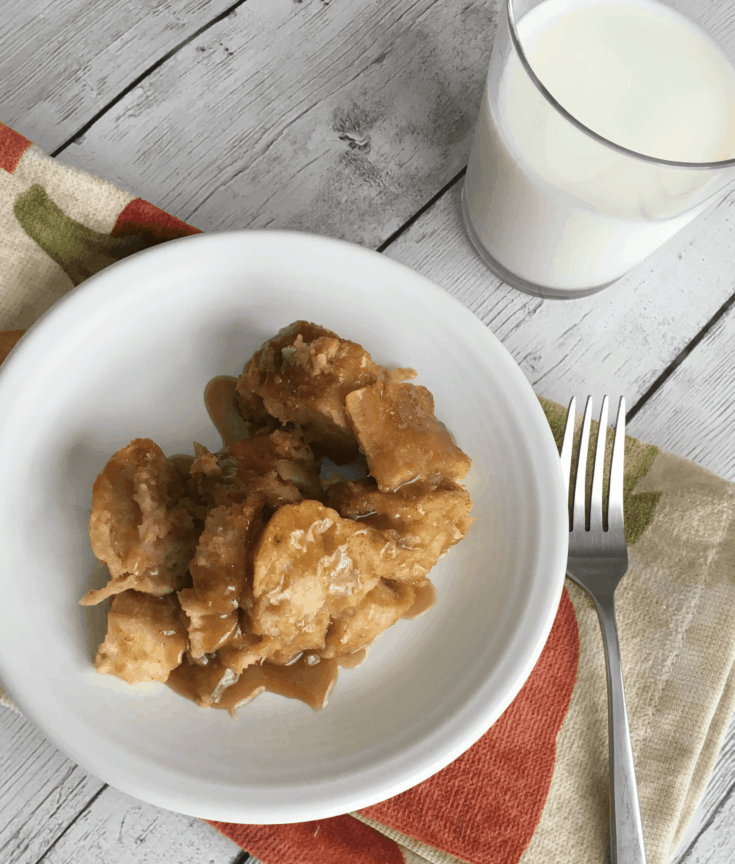 Instant Pot caramel pumpkin spice bread pudding is a delicious treat that could double as dessert or breakfast!
Additional Time
20 minutes
Total Time
1 hour
20 minutes
Ingredients
For the Bread Pudding:
12-15 oz French Baguette
2 Tbs butter, melted
1/4 cup packed brown sugar
1 1/2 cups milk
1/2 cup canned pumpkin puree (not pumpkin pie filling)
2 eggs, beaten
1/2 tsp vanilla extract
1/4 tsp cinnamon
1/4 tsp pumpkin pie spice (if you don't have pumpkin pie spice, allspice works as well)
For the Caramel Sauce:
3/4 cup packed brown sugar
1/4 cup light corn syrup
2 Tbs heavy cream
2 Tbs butter
1 tsp vanilla extract
Instructions
Preheat oven to 350F.
Cut baguette into 1-inch cubes and arrange on a baking sheet.
Toast bread cubes in the oven for 20 minutes, stirring once.
While bread is toasting, whisk together melted butter, brown sugar, milk, pumpkin puree, eggs, vanilla, cinnamon, and pumpkin pie spice (or allspice).
Grease a baking dish (be sure it will fit into your pressure cooker).
When bread cubes are toasted, remove from oven and add to the liquid mixture, stirring well to combine.
Allow mixture to rest for about 20 minutes, stirring occasionally, allowing the bread to soak up as much liquid as possible.
Pour 1 1/2 cups of water into the insert pot of your pressure cooker. Place trivet in the insert pot.
Pour bread pudding into prepared baking dish and cover with foil.
Use a foil sling to lower baking dish into the insert pot. Close lid and set vent to the sealed position.
Select a cook time of 20 minutes at high pressure.
While bread pudding is cooking, you can make caramel (directions below).
When cook time is complete, perform a quick pressure release. When the valve drops, remove the lid carefully.
Use the foil sling to remove baking dish. If desired, you can place the dish in a preheated 350F oven to crisp up the top, about 5-10 minutes.
Serve warm and drizzled with caramel sauce.
For the Caramel Sauce:
Combine brown sugar, corn syrup, heavy cream, butter, and vanilla in a small saucepan.
Over medium heat, stir the mixture constantly until it comes to a boil.
Reduce the heat and continue to stir constantly while the mixture simmers. Simmer and stir until sugar is dissolved (you don't want it to be grainy).
Once the sugar is dissolved, remove from heat. It may still seem a little runny at this point, but that's ok--the caramel will thicken as it cools.
Nutrition Information:
Yield:
6
Serving Size:
1
Amount Per Serving:
Calories:

488
Total Fat:

14g
Saturated Fat:

8g
Trans Fat:

0g
Unsaturated Fat:

5g
Cholesterol:

93mg
Sodium:

525mg
Carbohydrates:

82g
Fiber:

2g
Sugar:

48g
Protein:

11g
Nutrition information is automatically calculated and is not guaranteed for accuracy.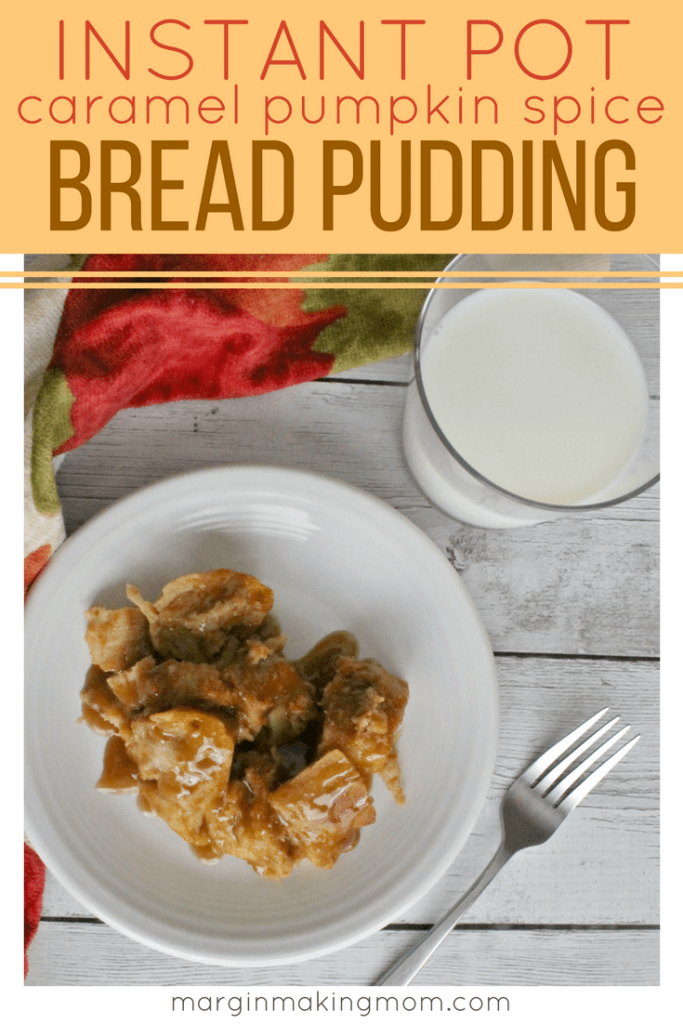 Save
Save
Save
Get the Instant Pot Meal Plan Jumpstart
Join the free community and you'll learn simple ways to easily create tasty food for your family, as well as immediate access to the FREE Instant Pot Meal Plan Jumpstart to help you get a tasty dinner on the table in a flash!
"Thanks for sharing your knowledge and experience in such a friendly and delightful way!!! So far, I'm very impressed with the results...thanks again for your guidance into this new realm of cooking!" -Margaret
Free Resource Library
Enter my
free resource library
for my latest printables and resources! Password is 'IHEARTMARGIN' -- please copy and paste that in at the link above. Thanks for being a subscriber!!