Pressure cooker pumpkin spice bundt cake is an incredibly easy way to prepare a fall favorite recipe without even heating the oven!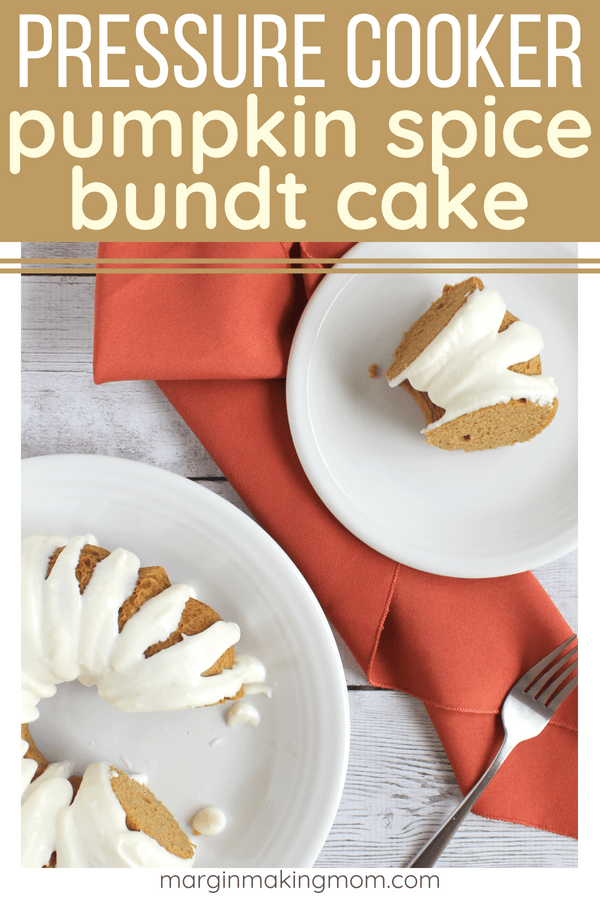 Note: This post may contain affiliate links for your convenience.  You can read my full disclosure policy here.
Cool, crisp weather ushers in one of Mother Nature's finest transitions.  Bright hues of gold and orange drip from the trees.  Football lights emit their Friday night glow and we turn to the comforts of warm goodies to celebrate.
Chief among those are the array of pumpkin spice treats that hearken autumn's arrival and keep us warm past fall into winter's dreary cold days.
Pumpkin spice is one of fall's most popular flavors, and for good reason.  Something about the spicy aroma paired with decadently sweet goodies is absolute perfection.
One of our fall favorites is Grandma Wilhelm's pumpkin bread.  I am also a big fan of caramel pumpkin spice bread pudding in the pressure cooker.
Really, I'm a fan of making almost anything in the pressure cooker, because it's a great way to make things easier and faster.
Ever since I made a red velvet bundt cake in my Instant Pot, I've been thinking about other varieties to try.  That's where this  Instant Pot pumpkin spice bundt cake was dreamed into being.
Now, I will say that you don't necessarily save a whole lot of time by making a cake in the Instant Pot.  But it's perfect for those situations when you don't want to heat up your kitchen by using your oven, or for those instances when your oven is already in use (such as holidays–I'm looking at you, Thanksgiving and Christmas).
Also, I know a lot of people travel with their Instant Pots, using them in vacation rentals and RVs.  How convenient to be able to make a cake when there is no oven available!  Plus, it's just kind of fun to make a cake in a pressure cooker. 🙂
How to Make Pressure Cooker Pumpkin Spice Bundt Cake
This pressure cooker pumpkin spice bundt cake is made extra simple by using canned pumpkin puree and cake mix from a box.  It doesn't get much easier than this, folks!
To start, add half of a boxed spice cake mix to the bowl of a stand mixer (or a regular mixing bowl if you're using a hand mixer).  Add in some water, oil, eggs, pumpkin puree, and pumpkin pie spice.
Once that's all mixed together, pour it into a greased 6-cup bundt pan that will fit into your pressure cooker's insert pot.  Cover the pan with a paper towel and then cover tightly with foil.
Add some water into the insert pot, place the trivet in the bottom, and use a foil sling to lower the pan into the pot.
After the lid is closed and the vent is sealed, cook at high pressure for 28 minutes.  Once cook time is complete, allow a 10 minute natural release followed by a quick release.  Carefully remove the pan and let it cool for a few minutes before inverting the cake onto a plate.
Then, top with some cream cheese icing and you have a positively amazing dessert with very minimal effort.
Related Posts You Might Enjoy:
You'll love how incredibly soft and moist this cake is, with the perfect amount of warm spices mingled throughout.  The cream cheese icing offsets the spices with delicate sweetness, making it the quintessential fall dessert!
This is a great dessert for any day of the week, but I also think it would be a lovely addition to a Thanksgiving or Christmas menu.
Enjoy!
Recommended Equipment:
Pressure Cooker Pumpkin Spic Bundt Cake
Ingredients
For the Cake:

1/2 of a 15.25-oz boxed spice cake mix (approx. 1 3/4 cups dry mix)
1/4 cup water
1/4 cup vegetable oil
2 eggs
1/2 cup pumpkin puree (not pumpkin pie filling)
1/2 tsp pumpkin pie spice
For the Cream Cheese Icing:

2 oz cream cheese, softened to room temperature
1 Tbs butter, softened to room temperature
1/2 cup powdered sugar
3 Tbs milk (or more for desired consistency)
optional: 1/4 tsp maple flavoring
Instructions
To Prepare Cake:

Use cooking spray to grease a 6-cup bundt pan well.
Combine all ingredients for the cake in a mixing bowl. Using an electric mixer, beat on low speed for 30 seconds. Increase speed to medium and beat for 2 more minutes.
Pour batter into prepared pan.
Cover pan with a paper towel and then cover tightly with aluminum foil.
Pour 1 1/2 cups of water into the insert pot of an Instant Pot. Place the trivet in the insert pot.
Use a foil sling to lower the bundt pan into the insert pot.
Lock lid in place and set the vent to the sealed position.
Using the Manual/Pressure Cook button, select a 28 minute cook time at high pressure.
When cook time is complete, allow a 10 minute natural release, followed by a quick release.
When valve has dropped, carefully remove lid. Use foil sling to raise pan out of the insert pot carefully.
Remove foil and paper towel. Allow cake to cool in pan for about 5 minutes before inverting onto a serving plate.
Once cake is completely cool, drizzle with cream cheese icing.
To Prepare Icing:

In a small mixing bowl, use an electric mixer to combine cream cheese, butter, and powdered sugar.
Drizzle in milk, continuing to mix until glaze is smooth.
(This should result in a glaze that is thin enough to drizzle but thick enough to stay on the cake. You can use more or less milk to adjust consistency, if desired)
Optional: Stir in maple flavoring to combine.
https://marginmakingmom.com/pressure-cooker-pumpkin-spice-bundt-cake/
Copyright MarginMakingMom.com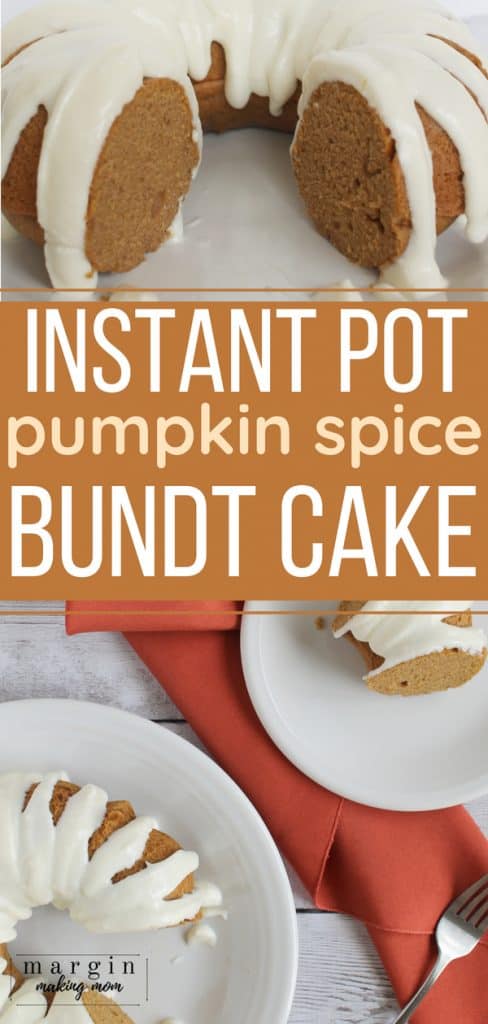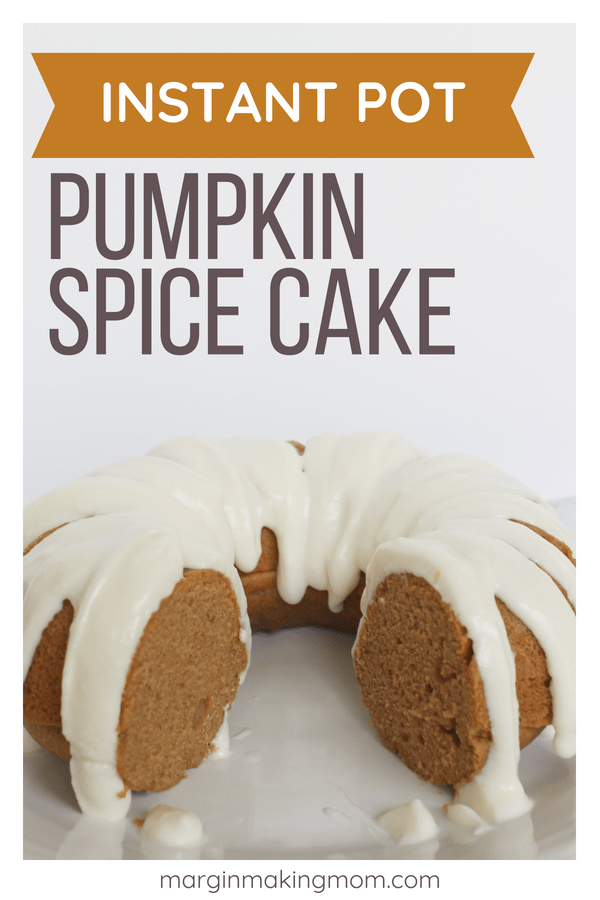 New to Pressure Cooking?
Subscribe to the Margin Making Mom newsletter and get instant access to a FREE printable Beginner's Guide to Getting Started with Your Pressure Cooker, which includes a printable Conversion Cheat Sheet to help you convert your favorite slow cooker meals to pressure cooker meals!
We take your privacy seriously and won't send you spam. See our privacy policy here.

Free Resource Library
Enter my
free resource library
for my latest printables and resources! Password is 'IHEARTMARGIN' -- please copy and paste that in at the link above. Thanks for being a subscriber!!