Making a red velvet bundt cake in the Instant Pot is incredibly easy, not to mention delicious!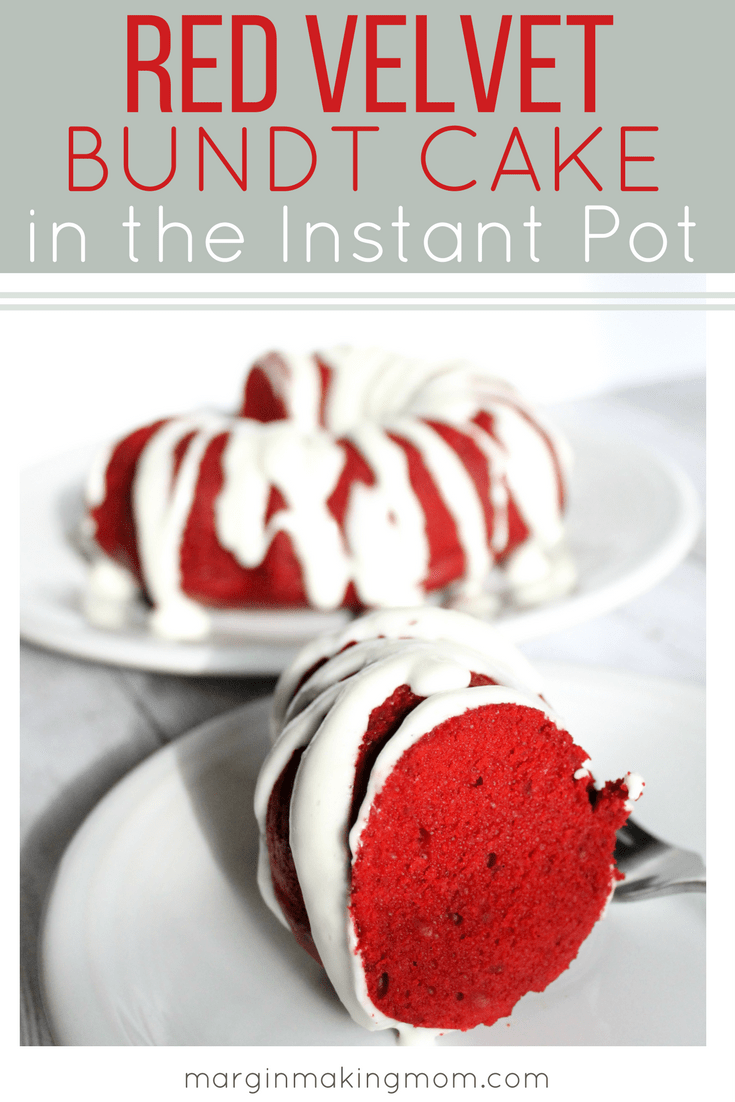 This Instant Pot red velvet bundt cake is moist, tender, and perfect for your next celebration!
Note: This post may contain affiliate links for your convenience. You can read my full disclosure policy here.
By now, it should come as no surprise to any of you that I love my Instant Pot. I make so many things with it. Beyond the standard rice and beans uses, I make oatmeal, yogurt, soups, bread pudding, and more in this bad boy. It is my most-used appliance, followed closely by my beloved KitchenAid stand mixer.
For the last few days, we've been snowed in here in Nashville. Around here, it only takes a couple of inches of snow to shut down the city. When I'm cooped up in the cold weather, one of my favorite things to do is bake!
So I decided to try "baking" a cake in my Instant Pot! Having successfully made a handful of other desserts in the Instant Pot, including cheesecake and bread pudding, I figured it was time to give a cake a try.
Honestly, I wasn't sure exactly what to expect. Would it rise well? Would it stick to the pan? More importantly, would it be any good?
Well, friend, I'm happy to report that making a cake in the pressure cooker is, in fact, a great idea. It turned out wonderfully!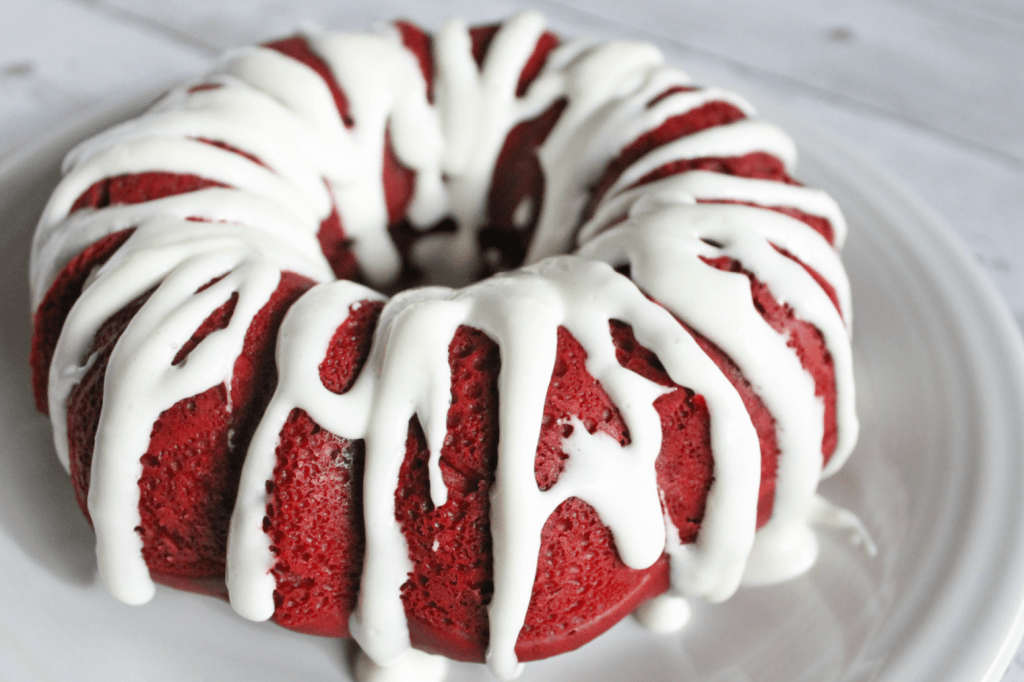 Making a Red Velvet Bundt Cake in the Instant Pot
When my husband came home and saw the cake cooling on the counter, he said, "Whatcha got there?" I said, "Just the most adorable little red velvet bundt cake made in the Instant Pot!" To which he replied, "Is there anything that thing can't do?"
Making a cake in the Instant Pot will always be a little different than baking one in the oven (because ovens are "dry" environments). But I was very pleasantly surprised by the texture of the cake. It was moist and tender, and it rose just fine!
The biggest difference that I noticed is that you don't get any slightly crispy edges on a pressure cooker cake. But that puppy popped right out of the bundt pan like a dream, so I don't mind at all (who else has had their cake dreams shattered when a traditionally-baked bundt cake doesn't come out of the pan easily? *ugh*).
To keep things simple, I started with a red velvet cake mix. The batter is mixed as usual and transferred to a greased bundt pan for "baking" in the Instant Pot.
What Kind of Bundt Pan to Use in the Instant Pot
To make the cake, I used a cute little 6-cup bundt pan that fits into my Instant Pot (you can also find it on my list of must-have affordable gifts for the Instant Pot lover–check it out to see what your next accessory should be!).
Icing for a Red Velvet Bundt Cake
In my opinion, any red velvet cake would be incomplete without some cream cheese frosting.
Now, I know some red velvet purists will scoff and say that traditional red velvet cakes are NOT topped with cream cheese frosting. But I happen to love cream cheese frosting, so that's what I went with. Feel free to change it up if you want.
I thinned the glaze just to the point that it was easy to drizzle but thick enough to stay on the cake. You can add more or less milk depending on your preference.
And just look how pretty it is! Not only that, but it was delicious! It would make a lovely dessert for Valentine's Day or Christmas, thanks to its lovely red hue. But really, any day is a good day for red velvet cake, amiright?
Benefits of Instant Pot Bundt Cakes
As I already mentioned, these cakes release from the pans beautifully and their texture is perfect!
I will say, you don't necessarily save a lot of time by making a cake in the Instant Pot. But, Instant Pot cake recipes are perfect for those situations when you don't want to heat up your kitchen by using your oven, or for those instances when your oven is already in use (such as holidays).
Also, I know a lot of people travel with their Instant Pots, using them in vacation rentals and RVs. How convenient to be able to make a cake when there is no oven available!
Plus, it's just kind of fun to make a cake in a pressure cooker. 🙂
Enjoy, friend!
More Instant Pot Bundt Cake Recipes:
You can learn more about making easy pressure cooker recipes here!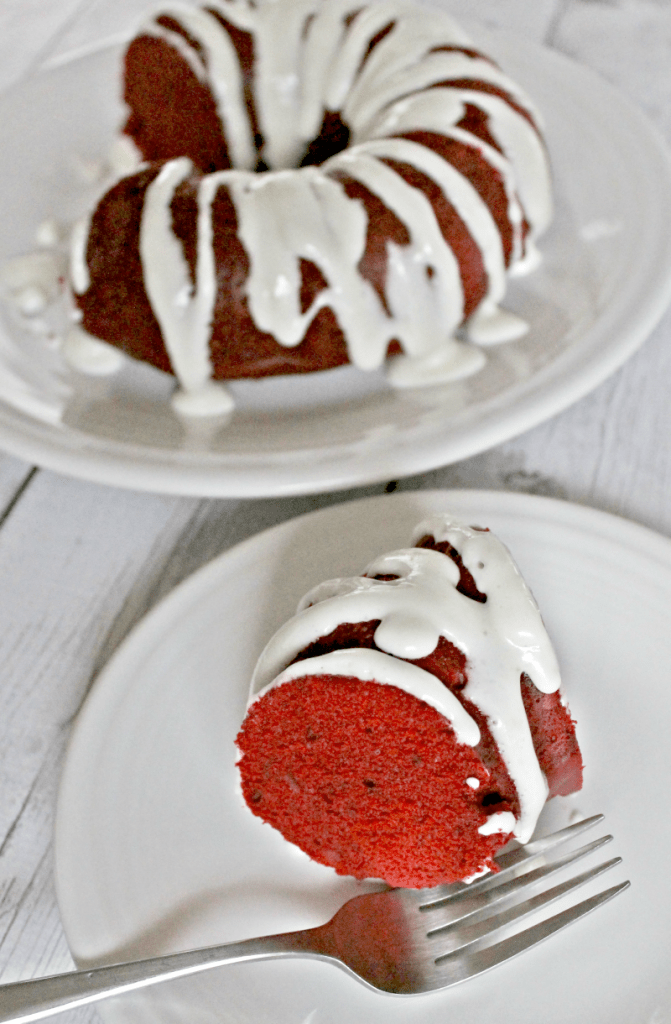 Recommended Equipment:
Yield: 8 servings
Red Velvet Bundt Cake in the Instant Pot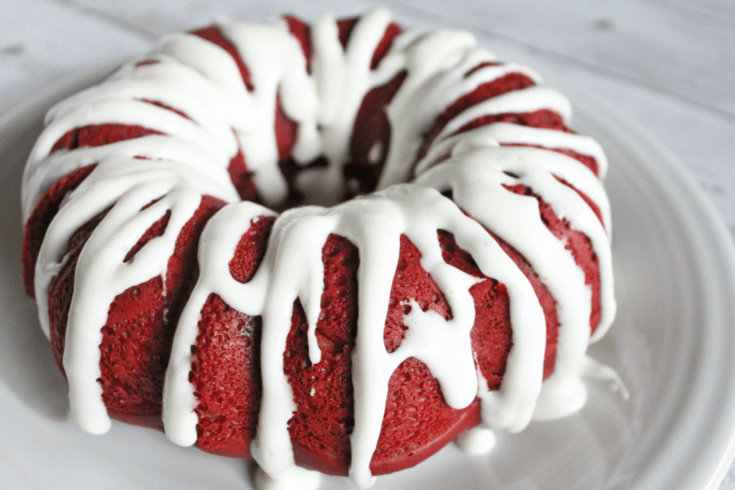 Instant Pot red velvet cake is a super easy but lovely and delicious dessert that "bakes" in your pressure cooker!
Additional Time
25 minutes
Ingredients
For the Cake:
1/2 of a red velvet cake mix (about 1 3/4 cups of dry mix)
1/4 cup water
1/4 cup vegetable oil
2 eggs
3 Tbs sour cream
For the Cream Cheese Glaze:
2 oz cream cheese, softened to room temperature
1 Tbs butter, softened to room temperature
1/2 cup powdered sugar
3 Tbs milk (or more for desired consistency)
Instructions
To Prepare Cake:
Use cooking spray to grease a 6-cup bundt pan well.
Combine all ingredients for the cake in a mixing bowl. Using an electric mixer, beat on low speed for 30 seconds. Increase speed to medium and beat for 2 more minutes.
Pour batter into prepared pan.
Cover pan with a paper towel and then cover tightly with aluminum foil.
Pour 1 1/2 cups of water into the insert pot of an Instant Pot. Place the trivet in the insert pot.
Use a foil sling to lower the bundt pan into the insert pot.
Lock lid in place and set the vent to the sealed position.
Using the Manual/Pressure Cook button, select a 25 minute cook time at high pressure.
When cook time is complete, allow a 10 minute natural release, followed by a quick release.
When valve has dropped, carefully remove lid. Use foil sling to raise pan out of the insert pot carefully.
Remove foil and paper towel. Allow cake to cool in pan for about 5 minutes before inverting onto a serving plate.
Once cake is cool, drizzle with cream cheese glaze.
To Prepare Glaze:
In a small mixing bowl, use an electric mixer to combine cream cheese, butter, and powdered sugar.
Drizzle in milk, continuing to mix until glaze is smooth.
(This should result in a glaze that is thin enough to drizzle but thick enough to stay on the cake. You can use more or less milk to adjust consistency, if desired)
Nutrition Information:
Yield:
8
Serving Size:
1
Amount Per Serving:
Calories:

191
Total Fat:

16g
Saturated Fat:

5g
Trans Fat:

0g
Unsaturated Fat:

9g
Cholesterol:

70mg
Sodium:

88mg
Carbohydrates:

10g
Fiber:

0g
Sugar:

9g
Protein:

3g
Nutrition information is automatically calculated and is not guaranteed for accuracy.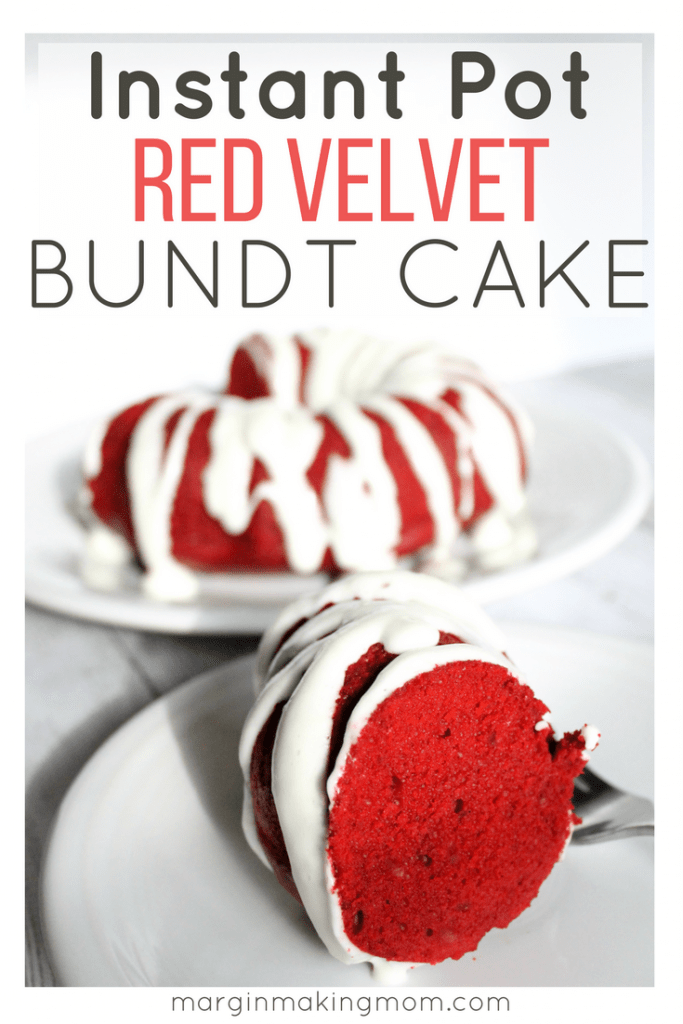 Get the Instant Pot Meal Plan Jumpstart
Join the free community and you'll learn simple ways to easily create tasty food for your family, as well as immediate access to the FREE Instant Pot Meal Plan Jumpstart to help you get a tasty dinner on the table in a flash!
"Thanks for sharing your knowledge and experience in such a friendly and delightful way!!! So far, I'm very impressed with the results...thanks again for your guidance into this new realm of cooking!" -Margaret
Free Resource Library
Enter my
free resource library
for my latest printables and resources! Password is 'IHEARTMARGIN' -- please copy and paste that in at the link above. Thanks for being a subscriber!!