These Instant Pot party foods will save you loads of time and effort! They are perfect for Super Bowl game day, holidays, or any get-together when you need to feed a crowd easily.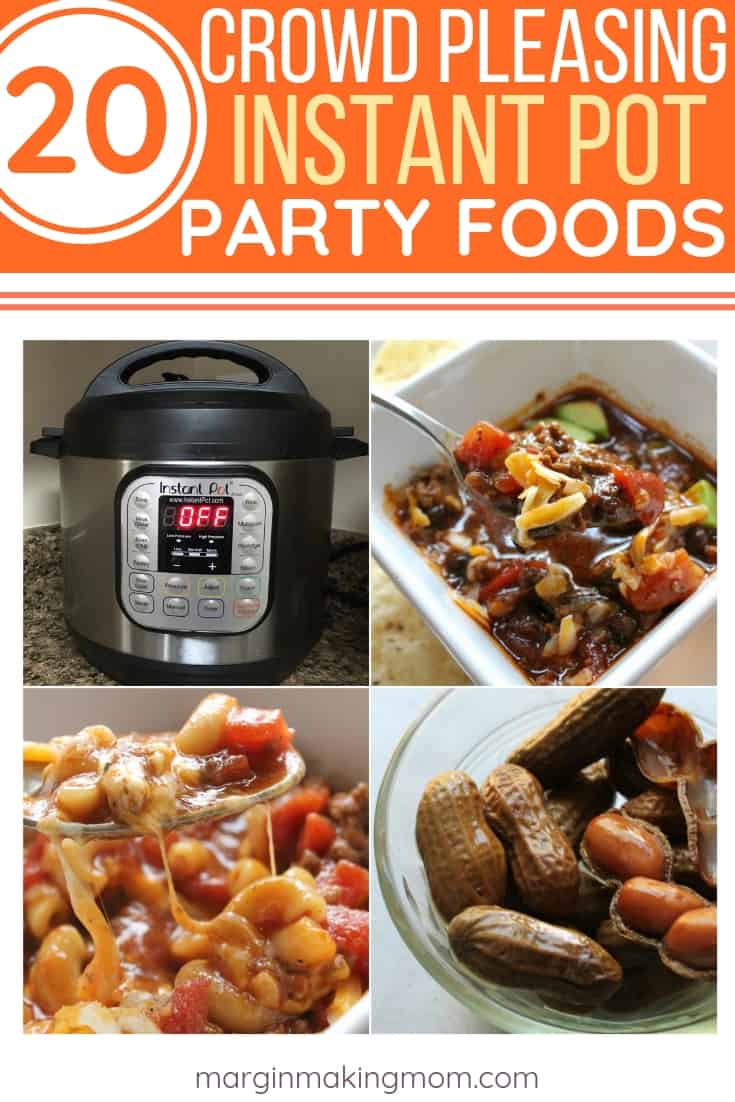 If you're hosting a party soon, these Instant Pot party foods will help you serve tasty favorites to your guests without spending all day in the kitchen!
Note: This post may contain affiliate links for your convenience. If you make a purchase, this site may receive a small commission at no additional cost to you. You can read my full disclosure policy here.
Ok, I admit it. I'm not a big fan of football. Anyone else?
I grew up in a sports-loving home, and I will gladly watch baseball, hockey, or basketball. But football is a different story. Mostly because I have never really understood all of the rules and terms.
What is a down, anyways? Off sides? Forget about it. I know what a field goal and touchdown are and that's about it.
But, like most people, I do enjoy the Super Bowl for the commercials and the halftime show.
And of course, the best part of all is the food that comes with it! Ooh, there's a break in the commercials. Let me go refill my plate with chips and dip.
Instant Pot Party Foods
Sometimes preparing a lot of party food for a crowd can be a lot of work when you add it all up. Appetizers, dips, something salty, something sweet, etc. etc.
One way to simplify party food prep is by using your Instant Pot! There are so many tasty options of party foods that can be made in the pressure cooker.
Whether your oven is already in use for other food or you just want to save some time, I've rounded up some great ideas for Instant Pot party foods.
Instant Pot Recipes for Football Games
They're perfect for your Super Bowl or New Year's Eve party, or really any get-together! Just click on any of the links to head to the recipe.
Recommended Equipment for Instant Pot Party Foods:
Instant Pot Chili Recipes
When talking about game day foods that can be made in the Instant Pot, there's no way I can leave chili off the list! Chili is one of my favorite foods to serve a crowd. It's a pretty inexpensive meal and almost everyone loves chili.
You can serve it with various toppings, add some corn chips or cornbread, and you're good to go!
There are several variations of this quintessential game-day food, so there's something for everyone!
Instant Pot Dips
Instant Pot Appetizers
Instant Pot Desserts
Instant Pot Super Bowl Recipes are a Game Day Win!
By making some of your party foods in the Instant Pot, you can save yourself time and keep everyone's bellies happy.
Because in my opinion, the Super Bowl isn't about the football anyway. 🙂 Enjoy!
To learn more about making easy pressure cooker recipes, check out this helpful resource!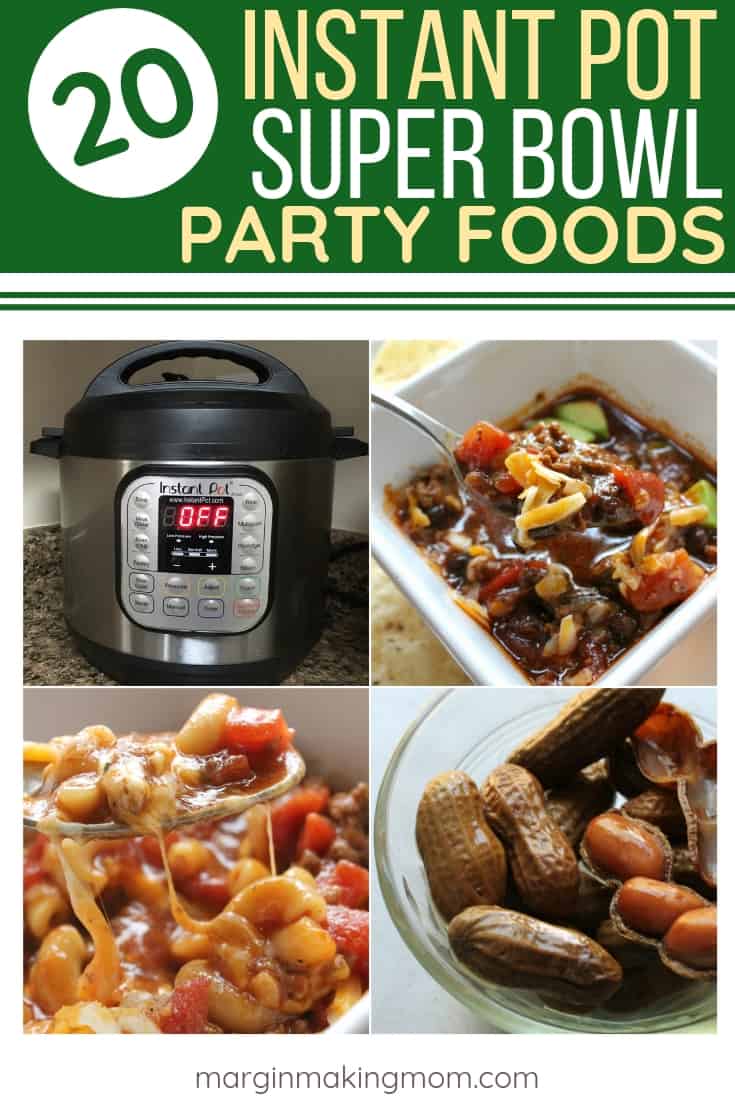 Get the Instant Pot Meal Plan Jumpstart
Join the free community and you'll learn simple ways to easily create tasty food for your family, as well as immediate access to the FREE Instant Pot Meal Plan Jumpstart to help you get a tasty dinner on the table in a flash!
"Thanks for sharing your knowledge and experience in such a friendly and delightful way!!! So far, I'm very impressed with the results...thanks again for your guidance into this new realm of cooking!" -Margaret
Free Resource Library
Enter my
free resource library
for my latest printables and resources! Password is 'IHEARTMARGIN' -- please copy and paste that in at the link above. Thanks for being a subscriber!!