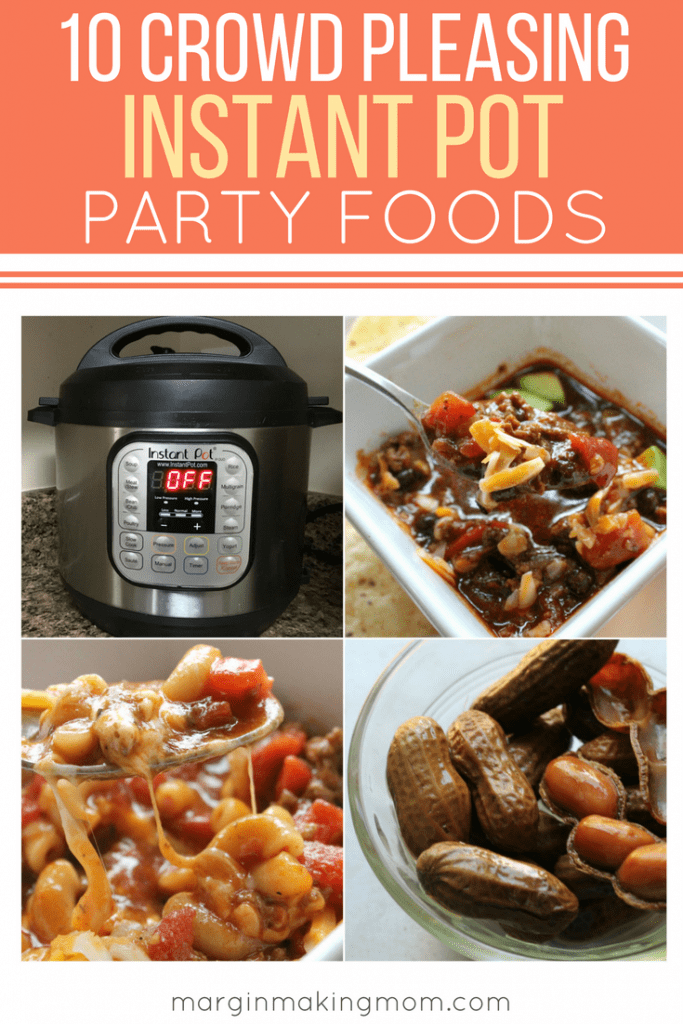 These Instant Pot party foods will save you loads of time and effort! They are perfect for game day, holidays, or any get-together when you need to feed a crowd easily.
Note: This post may contain affiliate links for your convenience.  You can read my full disclosure policy here.
Ok, I admit it. I'm not a big fan of football. Anyone else?https://marginmakingmom.com/delicious-pressure-cooker-chili/
I grew up in a sports-loving home, and I will gladly watch baseball, hockey, or basketball.  But football is a different story.  Mostly because I have never really understood all of the rules and terms What is a down, anyways? Off sides? Forget about it. I know what a field goal and touchdown are and that's about it.
But, like most people, I do enjoy the Super Bowl for the commercials and the halftime show. And of course, the best part of all is the food that comes with it! Ooh, there's a break in the commercials. Let me go refill my plate with chips and dip.
Sometimes preparing a lot of party food for a crowd can be a lot of work when you add it all up. Appetizers, dips, something salty, something sweet, etc. etc.
One way to simplify party food prep is by using your Instant Pot! There are so many tasty options of party foods that can be made in the pressure cooker. Whether your oven is already in use for other food or you just want to save some time, I've rounded up some great ideas for Instant Pot party foods.
They're perfect for your Super Bowl or New Year's Eve party, or really any get-together!  Just click on any of the links to head to the recipe.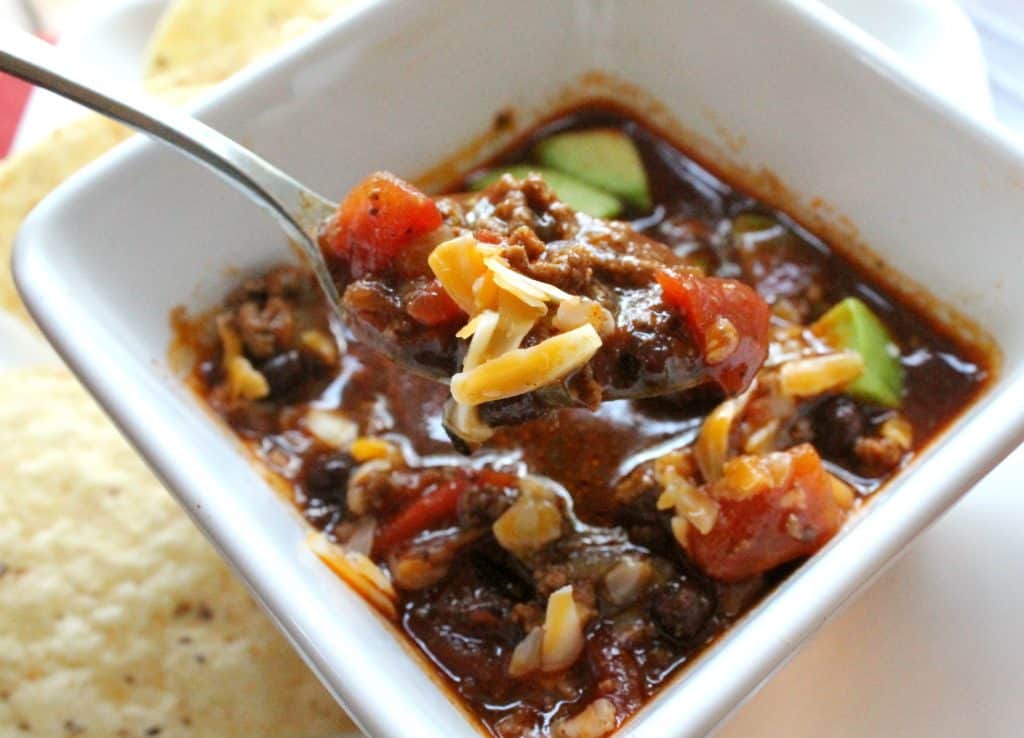 Chili is the quintessential game-day food! Some of my favorites include this BBQ Chicken Chili, White Chicken Chili, or Classic Chili that everyone will love.  Throw in some Fritos or corn muffins and you're set.
Or, if you want something a bit more substantial, try this cheesy chili mac!
Who doesn't love gooey spinach dip with a bag of tortilla chips? And spinach makes it healthy, right?
This is basically bacon chicken ranch dip, and it looks heavenly! Perfect for some tortilla chips!
Also known as grape jelly meatballs, I grew up eating these at our holiday family get-togethers. They are a classic party favorite!
I love good hummus with veggies, pita wedges, or pita chips. And it's a healthier alternative for people who are still sticking to their New Year's Resolutions. 🙂
Wings are classic party food and this sweet sauce looks delicious!
Everyone loves pizza! I think this would be delicious with some breadsticks or those little Hawaiian rolls for dipping.
Cheesecake is the perfect treat for those of us with a sweet tooth!  Making it in the pressure cooker is SO easy!
Make your deviled eggs even easier by cooking the eggs in the Instant Pot.  Perfection!
These are a great salty snack made famous in the South. I could eat them all day long!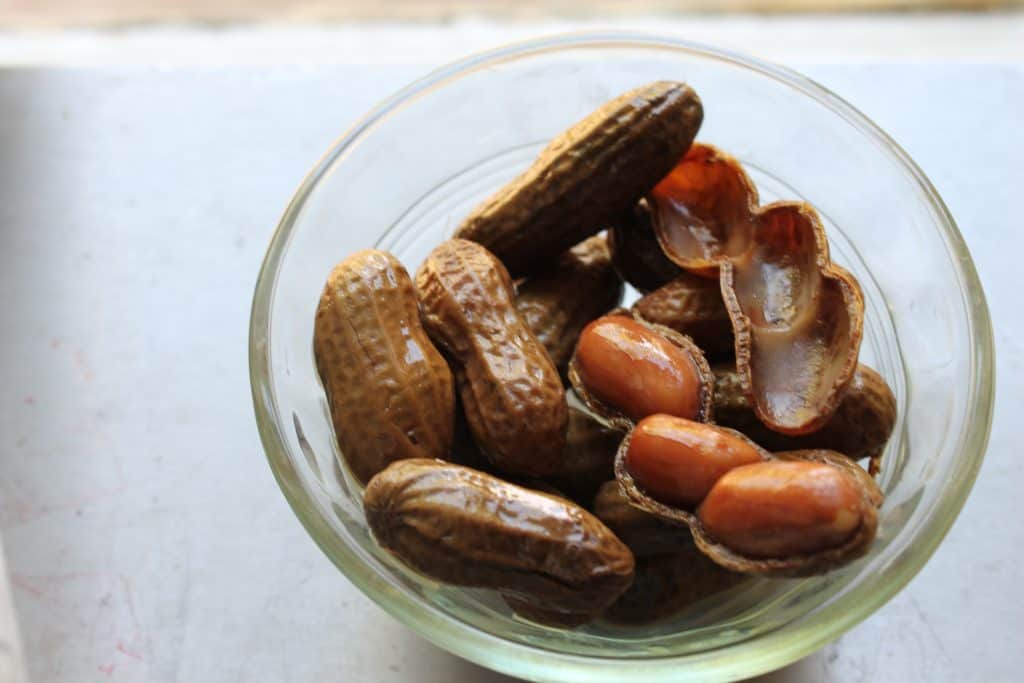 By making some of your party foods in the Instant Pot, you can save yourself time and keep everyone's bellies happy.  Because in my opinion, the Super Bowl isn't about the football anyway. 🙂 Enjoy!
To learn more about making easy pressure cooker recipes, check out this helpful resource!  You can also get my free guide to getting started with your pressure cooker here.  I also recommend checking out Electric Pressure Cooking 101 as a great way to learn more about how to use your pressure cooker.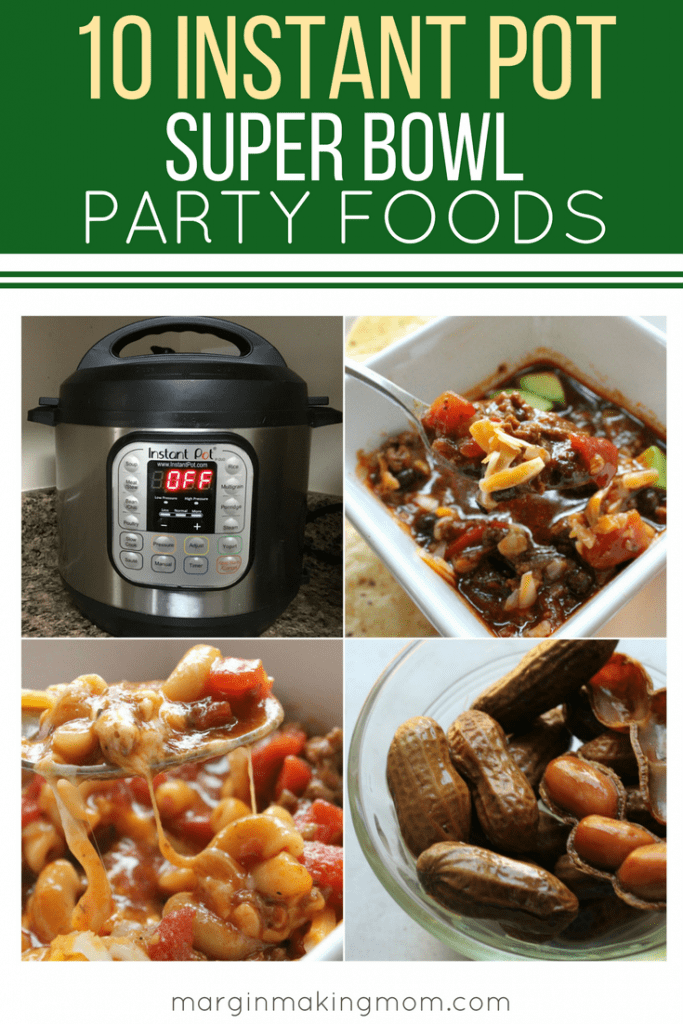 New to Pressure Cooking?
Subscribe to the Margin Making Mom newsletter and get instant access to a FREE printable Beginner's Guide to Getting Started with Your Pressure Cooker, which includes a printable Conversion Cheat Sheet to help you convert your favorite slow cooker meals to pressure cooker meals!
We take your privacy seriously and won't send you spam. See our privacy policy here.

Free Resource Library
Enter my
free resource library
for my latest printables and resources! Password is 'IHEARTMARGIN' -- please copy and paste that in at the link above. Thanks for being a subscriber!!