These easy weeknight Instant Pot dinner ideas are sanity-savers for busy moms!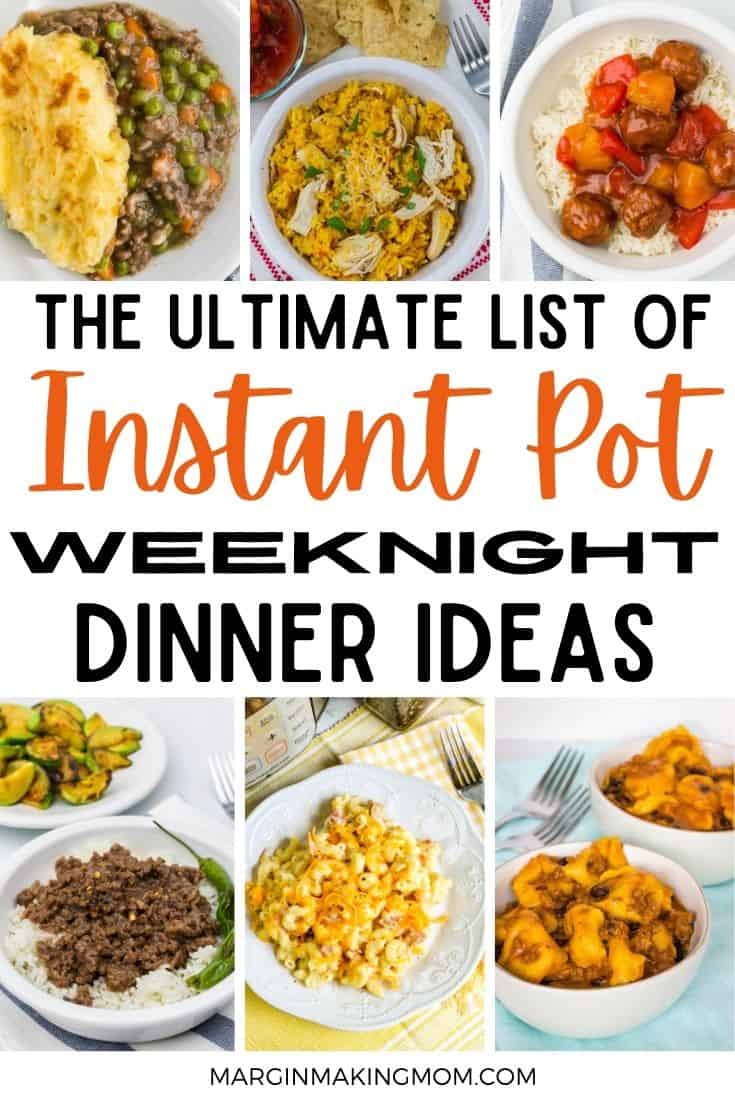 Get your weeknight dinner game on point with these Instant Pot dinner ideas!
Note: This post may contain affiliate links for your convenience. If you make a purchase, this site may receive a small commission at no additional cost to you. You can read my full disclosure policy here.
Even though we eat several times each day for our entire lives–figuring out what to make for dinner is still a mystery for many of us.
Weeknights are busy, and coming up with meal ideas that are healthier than take-out and just as fast to prepare can be a challenge.
Imagine standing in the kitchen in the early morning. You're frustrated because the kids aren't ready yet and the bus is rolling down the road and you're about to be late for a meeting when you realize you have nothing planned for dinner.
We've all been there before.
That's why I regard my Instant Pot as one of the best tools in my kitchen!
When you get home tonight, won't it be nice if you can do just a few minutes of prep work and then walk away to focus on something else until dinner is ready to be served? Yes, please!
Having a great list of weeknight Instant Pot meals that you can pull from makes the task of getting dinner on the table even easier. No matter what's in the fridge or pantry, there's a pressure cooker recipe on this list that can be on the table fast!
Making Weeknight Instant Pot Meals Fast
I keep several staples in my pantry, fridge and freezer that, in addition to these great Instant Pot dinner ideas, make getting dinner on the table possible.
Rice, pasta, chicken, and beef are the stars of many of these recipes. Mix in some fresh veggies or cheese and you can make a great meal in a hurry.
Dinner doesn't have to be difficult or overly fancy. Chicken doesn't have to be boring. Eating a healthy dinner doesn't have to be a chore.
Enjoy These Instant Pot Weeknight Recipes
Weeknight cooking has never been easier or more flavorful. These easy Instant Pot dinner ideas are perfect for when you're running short on time and low on energy!
Instant Pot Weeknight Dinners
These Instant Pot weeknight dinners will help you get a meal on the table, and fast!
Keeping Dinner Simple
If you'd like more help getting an easy Instant Pot meal on the table, sign up for the Instant Pot Meal Plan Jumpstart!
You'll get easy Instant Pot recipes for your meal plan (plus a grocery list), as well as an Instant Pot guide. Sign up below to get yours sent straight to your inbox!
More Helpful Resource Guides for Easy Meals: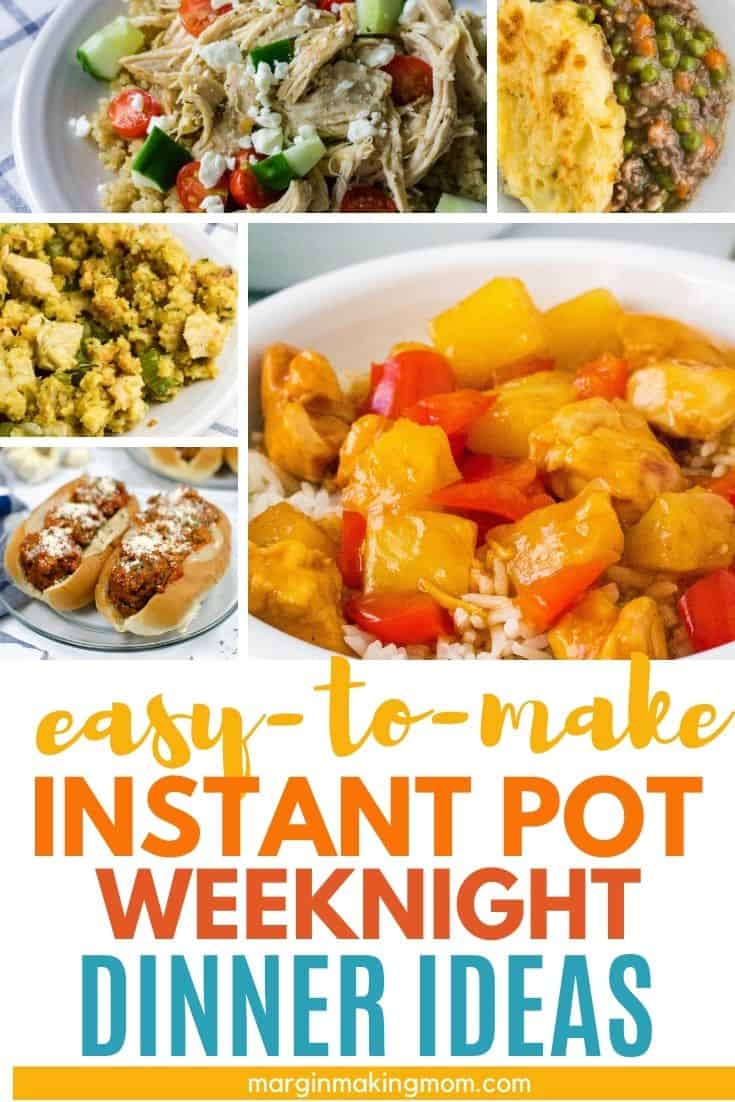 Get the Instant Pot Meal Plan Jumpstart
Join the free community and you'll learn simple ways to easily create tasty food for your family, as well as immediate access to the FREE Instant Pot Meal Plan Jumpstart to help you get a tasty dinner on the table in a flash!
"Thanks for sharing your knowledge and experience in such a friendly and delightful way!!! So far, I'm very impressed with the results...thanks again for your guidance into this new realm of cooking!" -Margaret
Free Resource Library
Enter my
free resource library
for my latest printables and resources! Password is 'IHEARTMARGIN' -- please copy and paste that in at the link above. Thanks for being a subscriber!!