Easy and cheap Instant Pot recipes are a fabulous way to save both time and money! Feed your family well without going over budget with these tasty options!
When you're trying to save money on groceries but still need quick and easy ways to feed your family, these cheap Instant Pot recipes are just the ticket!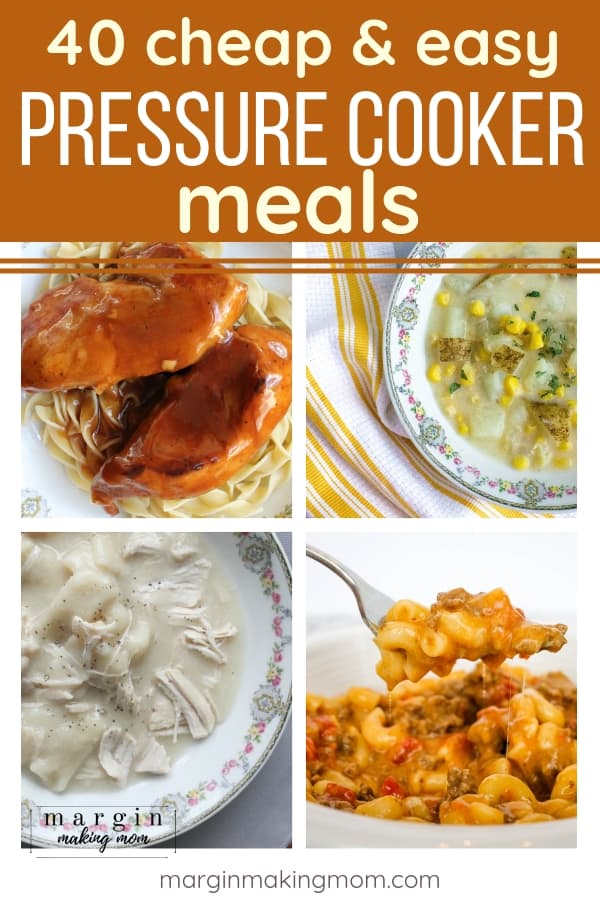 Note: This post may contain affiliate links for your convenience. You can read my full disclosure policy here.
When my husband and I first began our debt payoff journey, we had to find ways to cut our expenses so we would have more money to put toward our debt.
One of the ways we did that was by slashing our grocery expenses. I started meal planning each week, began cooking the majority of our meals at home, and used coupons.
All of those things made a big dent in our grocery bill, freeing up money to put toward our goals.
Once we started having kids, we still needed to keep our grocery budget low, but it was a little harder for me to make as much food as before, simply because of other responsibilities.
I didn't realistically have time to clip coupons and go to multiple stores every week anymore, and I couldn't make every loaf of bread from scratch.
As our family has grown, it has become even more important to be able to make quick and easy meals during the week, so that we can have dinner on the table without going through the drive-thru or ordering pizza all the time.
We still have a relatively low grocery budget, thanks to the power of meal planning and having simple meals we can prepare!
A couple of years ago, I invested in an Instant Pot, and I've been loving it ever since! I've been surprised at the many ways my Instant Pot saves me money.
Many of our favorite slow cooker meals have been converted to be made in the pressure cooker, which is a fabulous way to save time! And with so many frugal meal options, it's easy to save money with an Instant Pot, too!
Cheap Instant Pot Recipes for Dinner
Having an arsenal of frugal Instant Pot meals at your fingertips can really help to save your grocery budget without requiring a lot of effort on your part!
This list includes several different budget-friendly options, separated by category, so you're sure to find several ideas that your family will love!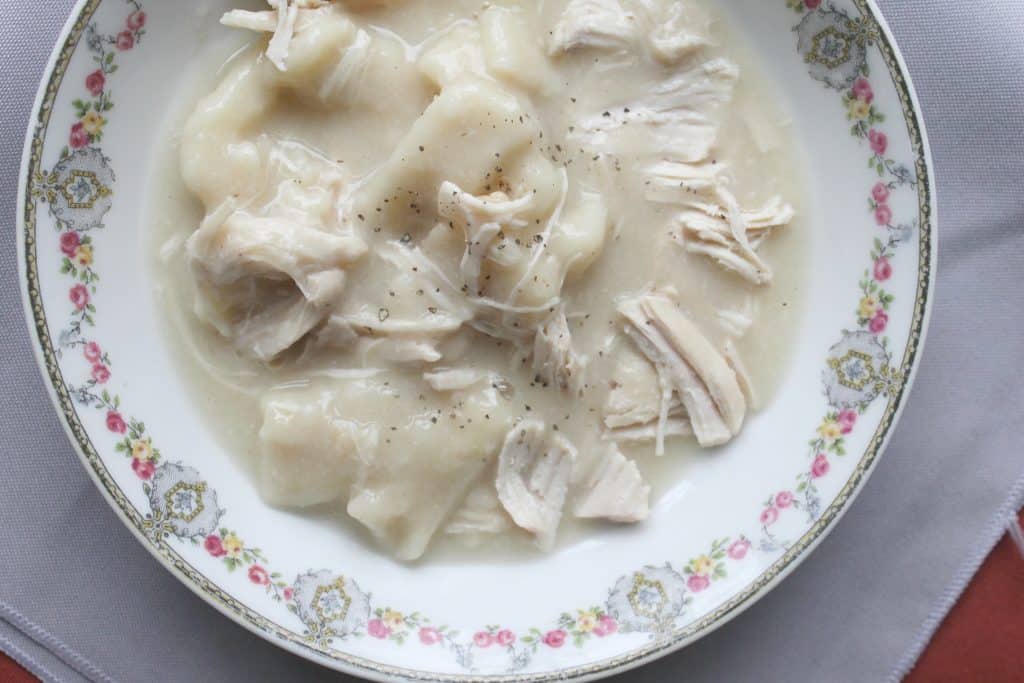 Frugal Instant Pot Chicken Recipes
Chicken breasts go on sale often, making them a budget-friendly meat to include in your dinners! You can often use just one or two chicken breasts to feed an entire family when it isn't the main feature of a meal.
Pressure Cooker Chicken and Dumplings
Instant Pot Buffalo Chicken Pasta (from We Are Not Martha)
Pressure Cooker Chicken Fettucine Alfredo
Pressure Cooker Balsamic Ginger Chicken (from This Old Gal)
Taco Chicken in the Instant Pot
Instant Pot Hawaiian Chicken (from Aileen Cooks)
Creamy Instant Pot Chicken and Rice
Chicken Cacciatore in the Instant Pot

Frugal Instant Pot Pork Recipes
Less expensive cuts of pork, such as country style ribs or pork shoulder, are a tasty way to include "the other white meat" in your meal plan.
Pressure Cooker BBQ Country Style Ribs
Instant Pot Pulled Pork (from Confessions of a Mommyaholic)
Instant Pot Ground Pork Casserole (from Mommy Kat and Kids)

Frugal Instant Pot Beef Recipes
Some cuts of beef can be expensive, but ground beef is usually a more budget-friendly way to incorporate beef into your meals.
Instant Pot Cheeseburger Macaroni
Instant Pot Hamburger Stroganoff (from Julie's Eats and Treats)
Chili Mac in the Pressure Cooker
Instant Pot Beef and Noodles (from Recipes that Crock)

Frugal Instant Pot Meatless Recipes
Having meatless meals is a great way to reduce your grocery expenses, as meat is typically more expensive than vegetables, grains, potatoes, etc.
Parmesan Basil Risotto in the Instant Pot
Instant Pot Mac and Cheese (from Build Your Bite)
Instant Pot Smoky Lentil Sloppy Joes (from Delightful Adventures)
Instant Pot Cauliflower Chickpea Curry (from Food Faith Fitness)
Creamy Instant Pot Cauliflower and Pasta Alfredo (from Rebooted Mom)

Frugal Instant Pot Soup, Stew, and Chili Recipes
Soups can be a great way to save money, especially if you make soup with leftovers or the ingredients you have on hand! You can stretch your grocery budget and reduce food waste while still feeding your family well.
I also have some tips for making the best Instant Pot soups with the recipes you already know and love!

Taco Soup in the Pressure Cooker
Pressure Cooker Sweet Potato, Chickpea, and Red Lentil Soup (from Super Golden Bakes)
White Chicken Chili in the Pressure Cooker
Instant Pot Ground Beef Stew (from Cooking with Karli)
The Most Delicious Chili in the Pressure Cooker
Instant Pot Stuffed Pepper Soup (from Salt and Lavender)
BBQ Chicken Chili in the Instant Pot
Pressure Cooker Vegetable Beef and Rice Soup (from Pressure Cooking Today)
Instant Pot Italian Sausage Stew (from Raising Generation Nourished)

Frugal Instant Pot Meatless Soup, Stew, and Chili Recipes
Many soups, stews, and chilis can also be made without meat! Adding more vegetables or some grains, potatoes, or pasta is a great way to bulk up a soup without the cost of meat.
Instant Pot Minestrone (from Creating My Happiness)
Pressure Cooker Sweet Potato, Chickpea, and Red Lentil Soup (from Super Golden Bakes)
Instant Pot Mushroom Barley Soup (from Midlife Healthy Living)
Creamy Instant Pot Potato Soup
Instant Pot Black Bean Soup (from A Pinch of Healthy)
Instant Pot Potato Curry (from A Virtual Vegan)
Instant Pot Butternut Squash Soup (from Curry Trail)
Instant Pot Corn Chowder with Potatoes
Instant Pot Chipotle Pumpkin Vegan Chili (from Mother Would Know)
Instant Pot Chickpea and Sweet Potato Stew (from Skinnytaste)

So Many Inexpensive Options!
Whether you prefer hearty, meaty dishes or vegetarian dishes, there are SO MANY options for cheap Instant Pot meals for your family's next dinner!
Put your Instant Pot to work and save yourself some time and money by adding some of these inexpensive dinner ideas to your meal plans in the coming weeks!