Christmas on a budget doesn't have to mean you're a scrooge! By creating a budget for your holiday spending, you can enjoy the season without having your expenses follow you into the New Year!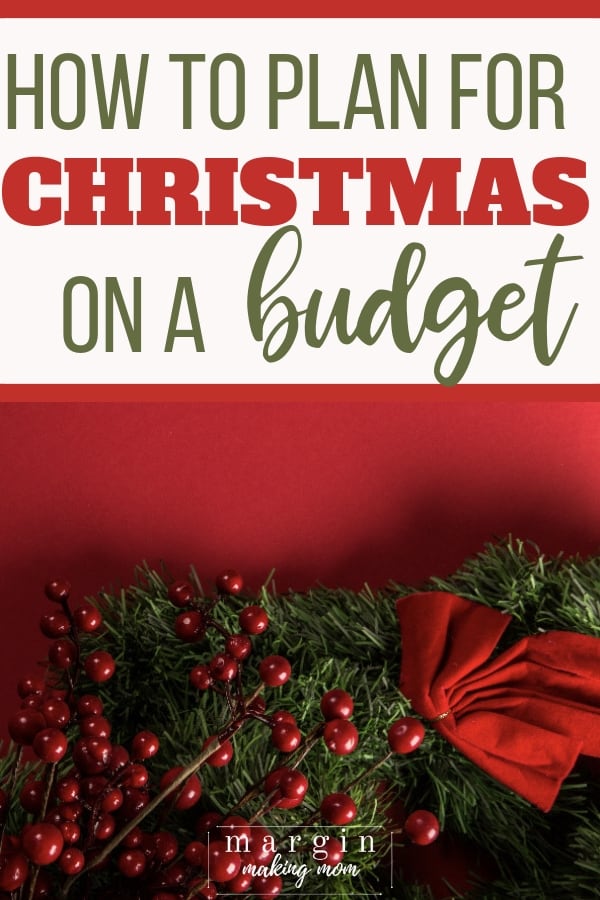 Note: This post may contain affiliate links for your convenience. You can read my full disclosure policy here.
We've all been there before. Christmas rolls around and we haven't saved any money for gifts. We know we want to buy gifts for several people, but we're scrimping and scraping together any extra money we can.
Then, all of those little holiday expenses start creeping up. You know what I'm talking about. Everything in addition to the gifts. Wrapping paper. Christmas cards. Stamps for the Christmas cards. Food for entertaining company.
Before you know it, you're drowning in more expenses than you bargained for, and you reach for the credit card you resolved to quit using.
All of that adds up to some serious stress during a period that's supposed to be full of joy and peace.
But it doesn't always have to be that way.
Just as with all things financial, a little planning can go a long way. Doing Christmas on a budget allows you to enjoy the holiday season more, because the costs of the holidays won't haunt you into the New Year.
How to Do Christmas on a Budget:
1. Determine a realistic amount for your holiday budget.
It's important to figure out what you have to work with, so you can allocate it toward your priorities. This knowledge is empowering, even if the amount isn't as much as you would prefer.
Look at your income and expenses for the month. Will you have any income left over after paying your expenses? Are there expenses you can cut this month? Do you have any money set aside in savings for Christmas?
Determine how much you can feasibly spend on holiday expenses so you won't go overboard.
2. Make a list of people.
Gifts tend to make up the biggest chunk of the holiday budget for most folks. In this case, knowing how many people you want to buy gifts for is helpful, and it will help you not to forget anyone.
Making a list can also be eye opening, as you determine that you may not be able to buy gifts for everyone on this list (and that's ok–keep reading to find out other options!).
3. Consider miscellaneous expenses.
We often focus on the amount we are spending on gifts, but we forget to factor in all of the other expenses. Travel costs, shipping and postage fees, Christmas cards, wrapping supplies, food for entertaining, and more.
Consider how much you can reasonably expect to spend on these expenses.
4. Determine cost per person.
Chances are, you will spend more money on someone in your immediate family than you'll spend on your child's teacher. Amounts don't have to be equal!
Here's where you get to decide how much money you can spend on each person on your list, based on the amount of money you have available in your holiday budget.
5. Look for DIY or inexpensive gifts when possible.
It's possible that you will want to buy gifts for more people than you are able to afford. I've certainly been in this boat!
I truly want to bless others with a gift as a way to show them I care, but I simply can't afford to buy expensive gifts for every person on my list.
Think about low cost gifts and homemade gifts that others will appreciate.
I also like to remember that many people don't actually need more "stuff." Sometimes, homemade consumable gifts are actually preferred!
Related:
6. Keep track of your spending.
In order to actually stay within your budgeted amount, it's important to keep track of how much you are spending.
Otherwise, there's no point to even having a budget. Keep a list of how much you've spent in different categories and for different people. This will help you know how much of your budget remains for additional purchases.
7. Be open to alternatives.
Things can get a little tricky here, because I know every family's traditions and gift culture are different. Some families go all out with gifts, while others do simple gift exchanges.
If your budget doesn't allow for buying multiple expensive gifts, it may be important to have an honest discussion with your family. Sometimes, others are feeling the same way, but nobody wants to buck tradition.
Often, as families grow over time, the cost of buying gifts for everyone becomes financially burdensome. It may be that your suggestion to change things up will be well-received and provide relief to other budgets as well.
I'm not saying you need to nix gift-giving all together. But some less expensive options could include:
Buying gifts for only the children in the family, instead of adults and children (we do this on one side of my family, and it works well).
Drawing names, so that each person only buys a gift for one other person (we do this on another side of my family, and we enjoy it).
Make a game of it–consider a white elephant exchange, or check out this list of 28 ideas for exchanging gifts to get some inspiration.
The point is, be open to doing things a little bit differently. And it could be that your family may be more willing to adapt than you think!
Set Yourself Up for Holiday Budgeting Success
With some intentional planning, you can enjoy a debt free Christmas this year! By considering your budget and committing to stay within that budget, your purchases won't follow you into the New Year.
I've created a holiday budget worksheet you can download for FREE. Get a jumpstart on the holidays by setting up your budget so you can enjoy this season with no regrets!
Christmas Decorating Ideas on a Budget: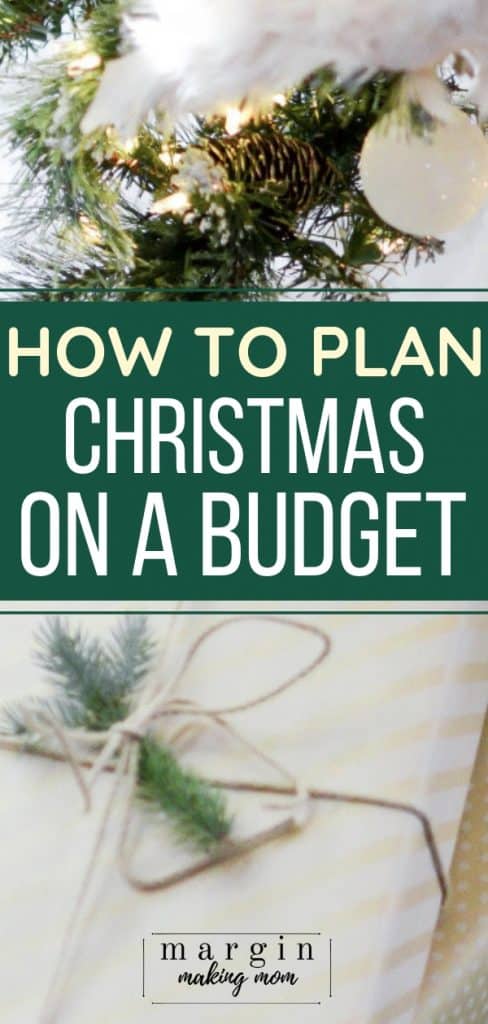 Get the Instant Pot Meal Plan Jumpstart
Join the free community and you'll learn simple ways to easily create tasty food for your family, as well as immediate access to the FREE Instant Pot Meal Plan Jumpstart to help you get a tasty dinner on the table in a flash!
"Thanks for sharing your knowledge and experience in such a friendly and delightful way!!! So far, I'm very impressed with the results...thanks again for your guidance into this new realm of cooking!" -Margaret
Free Resource Library
Enter my
free resource library
for my latest printables and resources! Password is 'IHEARTMARGIN' -- please copy and paste that in at the link above. Thanks for being a subscriber!!