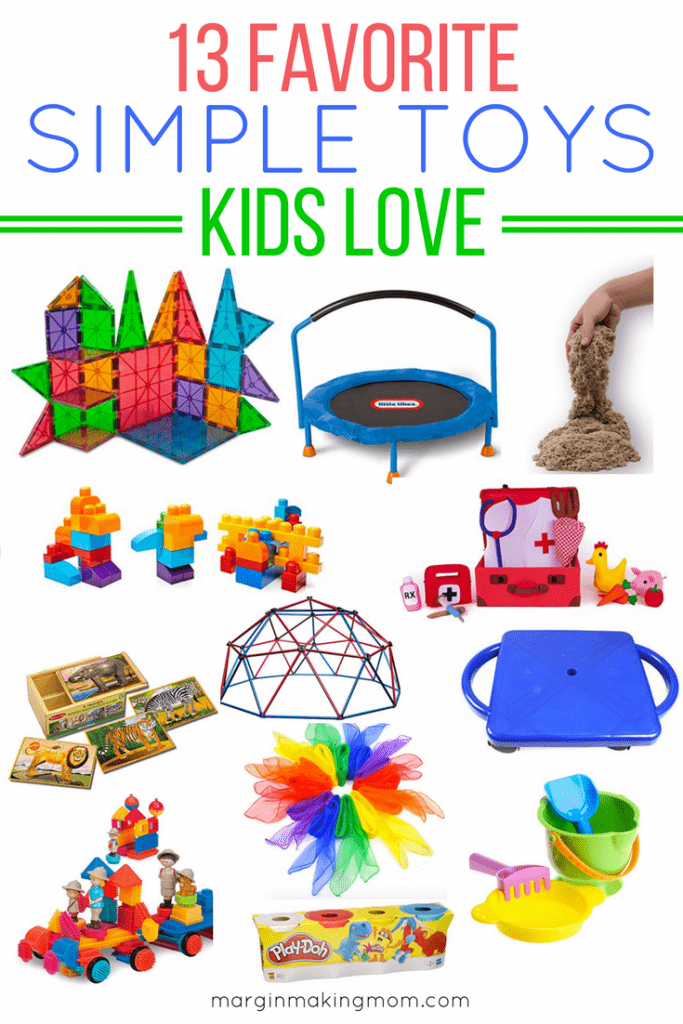 Open-ended toys inspire more creative play and often have more staying power than complicated toys. These favorite simple toys for kids are sure to be hits!
Note: This post may contain affiliate links for your convenience. You can read my full disclosure policy here.
The sheer volume of kids toys available in stores today is absolutely staggering. Every time I walk through a toy store or even past the toy department in my local Target, I find it to be completely overwhelming.
There are thousands of toys, many of which play music and have flashing lights and buttons to press and more.
Since becoming a parent, I've become more keenly aware of the sheer quantity of toys and the different ways my kids interact with particular toys. I noticed that some toys quickly became obsessions, but those obsessions faded fast. My kids would really want something, and maybe play with it for a day or two, then it would be set aside, never to be picked up again.
Then there were other toys that all three of my children have loved and played with nearly everyday for months or even years on end. But you know what? Most of these beloved toys were things they never asked for.
Being the science nerd that I am, I decided to do some informal research on the way kids play, how their brains develop, and so forth.
I found that, in general, my observations are nothing unusual. Kids typically do enjoy playing with simple, open-ended toys more, and for longer periods of time. Flashy, noisy, figure-it-out-and-be-done-with-it toys may draw their attention at first, but they lose their luster pretty quickly. Kids ultimately grow bored of them.
Also, kids tend to play better with toys when they aren't overwhelmed by too many toys to choose from.
Our Family's Toy Evolution
Over the past few years, I've been on a mission to decrease the overall number of toys we have and increase our selection of open-ended toys. Because I have three kids, both genders, and multiple ages, I try to find toys that they can all play with in their own way. Having toys that can be played with in different ways and by different kids means we don't need as many toys. And having less toys means less to clean up. 🙂
I took an online course called The Toy Detox, which helped me learn what kind of toys promote "open" play, meaning they can be played with over and over again in multiple ways.
I also learned about "closed" toys, or toys that kids figure out quickly or that otherwise lose their interest pretty fast. Having that knowledge has helped me choose toys that our kids have loved and played with for long periods of time!
And of course, the Toy Detox is very helpful for decluttering toys. It's always a good idea to clear out some toys before your kids receive more for Christmas, birthdays, etc. (You can check out the Toy Detox here).
Many of these open-ended simple toys allow them to exercise their creativity and imagination, as well as hand-eye coordination and other valuable skills.
I try to find toys that different ages of kids can play with, because I want all three of my kids to mostly enjoy the same toys, rather than having toddler toys, preschool toys, and elementary aged toys (my kids are currently 5, 3, and 1).
While we certainly aren't perfect in this area (and I'm okay with that), we have made huge improvements in the amount and type of toys we have. We also try to give some non-toy gift ideas each year, too! When you're doing Christmas on a budget, it is important to get the most bang for your buck by purchasing gifts that have staying power.
If you're looking for gift ideas for your own children or for the little ones in your life, the following are some of our absolute favorite simple toys for kids that we either personally own or are on my list to add to our collection!
Favorite Simple Toys for Kids:
If I could only have one toy item in our home, this would be it. Our kids received these for Christmas last year and they have played with them almost every single day. They continually come up with new creations and ways to play with them. Our oldest can obviously build pretty detailed structures, and our youngest enjoys putting them together and tearing them down. They make homes for their other toys, pretend they are tools and utensils, and the list goes on. We love these and I highly recommend them! There are different brands available. The Magna-Tiles brand is a common and highly-recommended brand (but typically the most expensive). We bought the Shape Mags brand and they have worked wonderfully!
Building blocks are another great way for kids to build things with their own two hands. They quickly learn about how to best stabilize structures and how to use the pieces to create whatever their imagination desires. Our kids love their classic Mega Bloks!

What can I say, my kids really love building things! Bristle blocks are different from traditional blocks because they stick together in a unique way, using bristles similar to what you'd find on a comb. Our kids have really enjoyed these.

Puzzles aren't "technically" open-ended toys, because there's really only one way to put a puzzle together. I suppose some kids might put a puzzle together and consider it mastered, at which point they'd be done with it. But in our family, we do puzzles over and over and over again. The kids never seem to tire of them, and I think it's a great way to exercise problem-solving. We love these wooden Melissa and Doug puzzle sets, which come with four durable puzzles.
You certainly don't need to buy dress-up clothes in order for kids to role-play. Sometimes the best dress-up clothes are the old ones you already have lying around your house. A cape, some old hats and coats, scarves or lengths of fabric can go a long way! If you don't have any lying around the house, you can always stop by your local Goodwill or other thrift store to pick some up on the cheap. If you want a prepackaged gift, these Props in a Box kits are lots of fun.
Play silks are on our list this year. These simple pieces of fabric can provide endless options for creative play–capes, streamers, picnic blankets, fort-building, and more!
This was another Christmas gift our kids received last year, and they have loved it! An indoor trampoline is a great way to get out some energy when it's too cold or rainy to play outside. Our kids have jumped on it, practiced various tricks on it, and even turned it on its side to create a puppet stand!

Oh my goodness, this stuff is so cool! Kinetic sand doesn't dry out and it flows freely, yet can be packed for shaping. My kids love burying stuff in it, excavating things out of it, and forming it into shapes. It's not crazy messy like regular sand is. I'm not really sure how to explain it, other than to say it is really fun and the kids love it!

I picked our set of Imagination Magnets at a consignment sale a few years ago and our kids have really enjoyed creating pictures with the many different shapes of magnets. As they grow older, they are more adept at forming images, but they still like experimenting with how the shapes go together even when they're young.

Our kids love making things with Play-doh! However, Play-Doh has many sets that allow come with tools and presses to make different things (think cupcake shop, ice cream parlor, etc.). But honestly, my kids just get frustrated with all of those accessories. They are much happier with some classic Play-doh, a plastic spatula to cut it with, and maybe a cookie cutter or two. So skip the fancy "Fun Factory" gadgets and just go with old-fashioned Play-Doh!

My kids could play for hours with shovels and buckets. Whether it's finding rocks, sticks, and leaves to fill them or using them to build sand castles at the park, they have no shortage of ideas.

These fun scooter boards are fun to sit or lay on and then roll around. It requires some coordination and balance, and our kids have used them indoors and outdoors. They're also easy to store–just slide under a bed or into a closet.

I've been wanting to get one of these climbing domes for our backyard. Climbing helps kids become more aware of their physical abilities and limitations, gives them spatial awareness, and helps them get some energy out. 🙂 They can also use it for pretend play, making it a cave or an igloo or mountain or whatever they want!
Keep it Simple
Finding fun gifts for the kiddos in your life doesn't need to be difficult. Many of these simple toys are great for kids of varying ages and abilities, and because they promote open play, it's much more likely that they'll be enjoyed for longer periods of time.
What are some of your favorite simple toys for kids?
To learn more about clearing out the toy clutter and choosing lasting toys for your kids, check out The Toy Detox here!

You Might Also Like:
Get the Instant Pot Meal Plan Jumpstart
Join the free community and you'll learn simple ways to easily create tasty food for your family, as well as immediate access to the FREE Instant Pot Meal Plan Jumpstart to help you get a tasty dinner on the table in a flash!
"Thanks for sharing your knowledge and experience in such a friendly and delightful way!!! So far, I'm very impressed with the results...thanks again for your guidance into this new realm of cooking!" -Margaret
Free Resource Library
Enter my
free resource library
for my latest printables and resources! Password is 'IHEARTMARGIN' -- please copy and paste that in at the link above. Thanks for being a subscriber!!