This list of the best Christmas books for kids includes meaningful, heartwarming, and funny selections you'll want to read every year!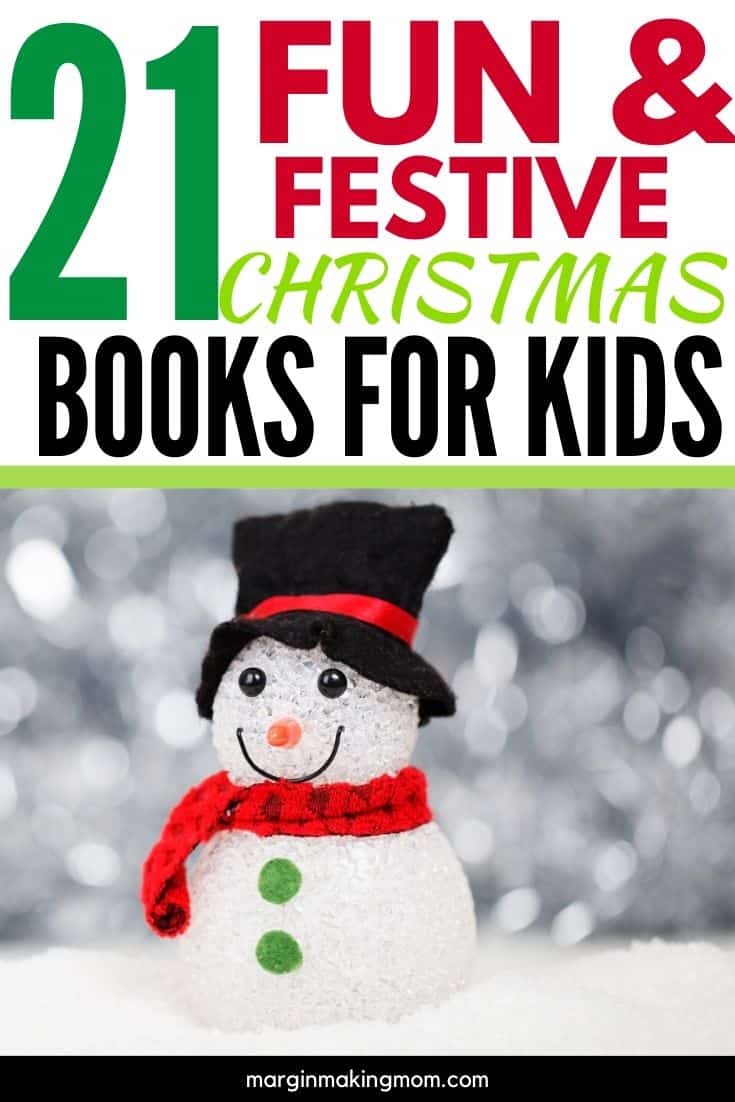 Create a fun holiday tradition by enjoying these Christmas books for kids together as a family, soaking in the joy of the season.
Disclaimer: This post contains affiliate links for your convenience. You can read my full disclosure policy here.
One of my favorite aspects of the Christmas season involves watching my children experience the wonder and merriment of this time of year. They love the excitement, the decorations, and the stories.
While our youngest kiddos can't read yet, they love thumbing through books and having books read to them. We've found several Christmas-themed books that have become favorites.
I keep our Christmas books put away during the year, and then we pull them out around the holidays to enjoy together. We also visit our local library often and check out different Christmas books to explore.
Christmas books also make a fabulous non-toy gift idea for kids, and can become something you enjoy year after year!
I'm happy to share with you today what I think are some of the best Christmas books for kids. I've added to this list over time, and will continue to add more selections as we discover them!
Whether you are wanting to add to your own family's library of books or find a gift idea for a special child in your life, I hope this list will provide some inspiration! These are all books that we have personally read and loved.
Many of them are on sale during the holiday season, and your local library probably has several of them as well! I've tried to group them together within some overarching themes, too!
How to Create a Christmas Book Advent Calendar
One idea for enjoying Christmas books with your kids is to create a Christmas book Advent calendar.
To create a Christmas book Advent calendar, simply select 24 Christmas books that you want to enjoy with your children. These can be books you already own, books borrowed from the library, or new books purchased to add to your own library.
If desired, wrap each book with wrapping paper and place them all in a basket. Each day, you'll unwrap a book and read it together! If you're low on steam this holiday season, you can totally skip the wrapping part and just pull out a new book each day.
There are also packaged advent book sets you can buy, like this set of books from the list of the best Disney advent calendars.
But if you want to select your own books, there are some super fun ones to choose from!
Advent Books for Kids

First of all, this book is STUNNING. I love it so much. This will be our third Christmas using this book, and it is outstanding.
The book (it's actually part book, part calendar) opens up to reveal a gorgeous pop-up tree, and for each day of Advent, there is a small flap that holds an ornament for the pop-up tree. A small book contains a reading that corresponds to the ornament of the day. Written by Ann Voskamp, this is truly a beautiful work that we will use for years to come.

This book is new to us this year. Each daily reading focuses on a wild animal and how they adapt to cold and darkness and wait for new beginnings. The black and white pictures are beautiful, and the readings are quite interesting.
I don't think this book would be as enjoyable for very young children or toddlers, but I think most elementary aged children would really enjoy it.

We started reading The Donkey in the Living Room a few years ago, and it has been so much fun!
While not a full 24-day Advent book, this book tells the story of Jesus' birth through the viewpoints of different characters, including both animals and people. It is designed to be read for the 9 days leading up to Christmas, and each day focuses on one character.
I love this set because it comes with small wooden characters that make up a little Nativity set that is safe for little hands. The characters match those in the book. We "hide" each day's character and give our little ones clues to find the character at night before bedtime.
After they find the character, we read from the book to hear about Jesus' birth through that character's eyes. In this way, we were slowly building the nativity each day, leading up to Christmas Day when Jesus is born.
We found this to be a simple yet fun way to reiterate the Christmas story and to build the anticipation of Jesus' arrival on Earth.
Kids' Christmas Books that Focus on the Birth of Jesus
These books focus on the traditional religious aspect of Christmas, sharing the nativity story.

We love the Berenstain Bears. Their books are classic and timeless, each teaching positive lessons or stories.
In this book, the bears learn about the Christmas story, as Papa Bear reads to the cubs from the Bible. Our kids love this one—we've read it over and over!

I love how this book focuses on how all of creation celebrated the birth of Jesus—the skies, seas, animals, and so on, all celebrating and praising, shouting, "It's time, it's time!" Our children enjoy seeing how all of nature proclaimed his birth. The pictures are inspiring and the story is beautifully poetic.

This book is new to us this year, and the children really enjoy the rhyming story about the humble stable where Jesus was born. The book tells about everyone who came to the stable to witness the exciting birth of Christ.

This cute book has flaps for little hands to lift up as it retells the story of Christ's birth.

This sweet story shows how little animals come to the stable, one by one, and later welcome the baby Jesus into the stable as well.
Non-Religious Christmas Books for Kids
These are fun Christmas books that don't necessarily focus on the nativity story, but still offer heart-warming or silly stories, sometimes including Santa or other classic Christmas characters.

We read this book for the first time this year and love it! The illustrations are lovely and the story tells the story of how Dasher came to be one of Santa's reindeer. Such a fun book!

We added this book to our collection last year and love it! Beautifully illustrated, the each page has a button to press that plays a selection from The Nutcracker Suite. The quality of the music recording is impressive, and we have read this book over and over again!

The heartwarming story in this book shows that the blessings of Christmas aren't tied to expensive gifts and material goods. It's also a good lesson in finding contentment in tough times.

The fun rhyming story in this book is simply darling! Mr. Willoughby's tree is passed along through various forest animals, bringing them Christmas joy. One of our favorites!

Our kids love Corduroy. This book tells about how Corduroy wishes he could be a gift for a child, and how he came to be the Corduroy that we all love.
The plot of this book leads up to the classic story of how he left the department store to go home with a little girl.

This beautifully illustrated classic version of the old poem we all know and love. Even though some of the language is not familiar to our children, they still love reading this book!

Our kids love reading about George's wild and crazy adventures, and this book is no exception. This time, he finds himself in a children's hospital during Christmas. By simply being himself, he is able to bring joy to the children there.

This is another book that is new to us this year, but one that has quickly become a favorite. Our kids are a little mesmerized by it!
The photos are absolutely stunning, and the story is about a sweet girl who wants to be one of Santa's elves. The story also encourages being kind and helpful to others, values that I definitely hope to instill in my children.

Our kids LOVE pretty much any Jan Brett book, and this is the first of many of her holiday books to appear on this list. In this book, a young girl is charged with getting Santa's reindeer ready for Christmas Eve. She quickly realizes she will need to treat the animals with respect and kindness if she wants to earn their cooperation.

Another lovely Jan Brett book, this story shares about two trolls who wanted to enjoy Christmas themselves, but weren't sure of the meaning of it. A young girl helps them understand.

In this story by Jan Brett, trolls show up every Christmas Eve to eat the Christmas feast prepared by a young girl. This particular year, an ice bear helps to scare them away in a fun and suspenseful story.

This book is actually more than just a Christmas book. It's a compilation of four parables, one for each season of the year.
My children love each one of the stories, and the Christmas story is a wonderful parable about the blessing of giving. The pages include applicable scripture references. All four parables are wonderful, and our children enjoy reading them again and again. This beautiful book would make a wonderful gift.

Another Berenstain Bears favorite! In this book, Brother Bear and Sister Bear learn how much fun it can be to give to others.
This is an especially important lesson during the holidays, when children are inundated with messages about receiving gifts. Helping my children learn to be generous is one of our family's core values, and this book helps to reinforce that idea on a basic level.

This is a cute rhyming book about everyone's favorite Little Blue Truck, following him as he delivers Christmas trees.
Christmas Board Books for Kids

Our kids love lift-the-flap books! This large board book is filled with flaps on every page, giving little ones lots to discover! The simple rhyming story is fun, but the real fun is finding the various surprises hidden under the flaps.

Elmo's version of the 12 Days of Christmas involves lots of the Sesame Street monsters, making it a fun variation of the original classic. It is a small board book that would make a great stocking stuffer.

What a hit this little board book has been with all three of our kids! It is just a very simple rhyming book, but they have all been enthralled with the way Santa "moves" and "talks" to them.
This would be a great stocking stuffer or gift for a baby or toddler this year…it's perfect for chubby little hands!
Enjoying Christmas Books with Kids
Choosing great Christmas books for kids ensures that you will have wonderful stories to treasure together each year!
Christmas books can be a fun tradition and also a great tool to help them understand the meaning of Christmas. We have certainly found that to be true in our home.
Which Christmas books are your on your family's list of favorites?
If you need a fun gift idea for the children in your life, send them a monthly book subscription! Bookroo is perfect for this, and you can read my full Bookroo review to show why it's a great option.
Looking for more Christmas gift ideas for kids? Check out this list of my favorite simple toys for kids!
Need book ideas for other seasons? Check out these favorite fall books for kids, Halloween books for kids, and these books that teach kindness!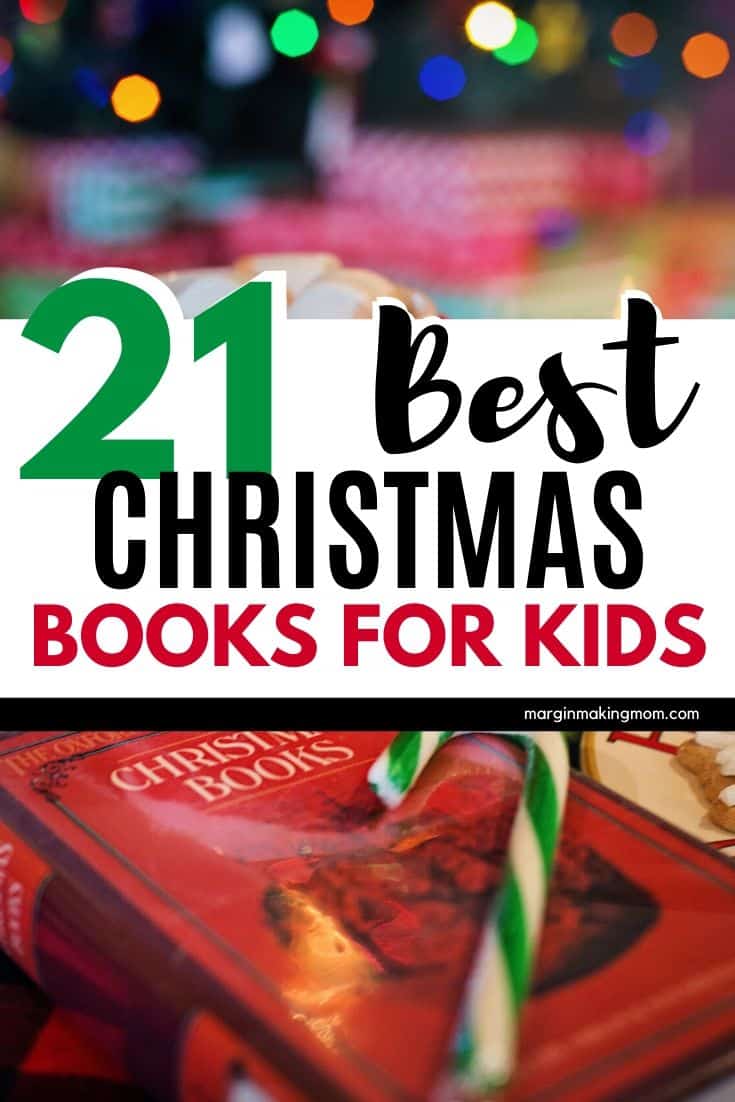 Save
Save
Save
Save
Save
Save
Save
Save
Save
Save
Save
Save
Get the Instant Pot Meal Plan Jumpstart
Join the free community and you'll learn simple ways to easily create tasty food for your family, as well as immediate access to the FREE Instant Pot Meal Plan Jumpstart to help you get a tasty dinner on the table in a flash!
"Thanks for sharing your knowledge and experience in such a friendly and delightful way!!! So far, I'm very impressed with the results...thanks again for your guidance into this new realm of cooking!" -Margaret
Free Resource Library
Enter my
free resource library
for my latest printables and resources! Password is 'IHEARTMARGIN' -- please copy and paste that in at the link above. Thanks for being a subscriber!!