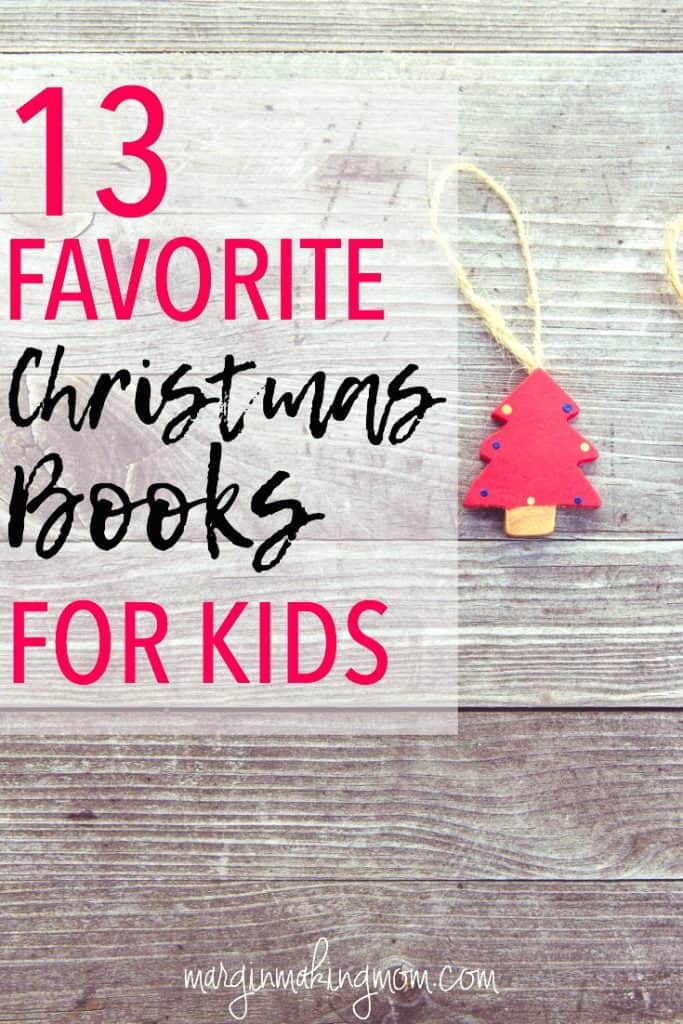 This list of 13 of the best Christmas books for kids includes great options for teaching children the meaning of Christmas and the joy of giving. Check it out!
Disclaimer: This post may contain affiliate links for your convenience.  You can read my full disclosure policy here.
One of my favorite aspects of the Christmas season involves watching my children experience the wonder and merriment of this time of year.  They love the excitement, the decorations, and the stories.  While they can't read yet, they love thumbing through books and having books read to them.  We've found several Christmas-themed books that have become favorites.  I keep our Christmas books put away during the year, and then we pull them out around the holidays to enjoy together.  We also visit our local library often and check out different Christmas books to explore.  I'm happy to share with you today what I think are some of the best Christmas books for kids.
I've written here about how Truth in the Tinsel is one of my favorite resources to teach children the real meaning of Christmas.  While some of the books on our list of favorites are merely "fun" Christmas-themed books (such as Elmo's 12 Days of Christmas), many of them do reiterate the real reason we celebrate this season in a fun and meaningful way.  I have placed an asterisk (*) by the books that I find to be great accompaniments to the Truth in the Tinsel activities.  These would be fun supplemental books to include in your own holiday activities and traditions.
Whether you are wanting to add to your own family's library of books or find a gift idea for a special child in your life, I hope this list will provide some inspiration!  These are all books that we have personally read and loved.  Many of them are on sale during the holiday season, and your local library probably has several of them as well!

We started reading The Donkey in the Living Room last Christmas season, and it was so much fun! The book tells the story of Jesus' birth through the viewpoints of different characters, including both animals and people. It is designed to be read for the 9 days leading up to Christmas, and each day focuses on one character. I love this set because it comes with wooden characters that make up a little Nativity set that is safe for little hands. The characters match those in the book. We "hid" each day's character and gave our little ones clues to find the character at night before bedtime. After they found the character, we read from the book to hear about Jesus' birth through that character's eyes. In this way, we were slowly building the nativity each day, leading up to Christmas Day when Jesus is born.
We found this to be a simple yet fun way to reiterate the Christmas story and to build the anticipation of Jesus' arrival on Earth.

We love the Berenstain Bears. Their books are classic and timeless, each teaching positive lessons or stories. In this book, the bears learn about the Christmas story, as Papa Bear reads to the cubs from the Bible. Our kids love this one—we've read it over and over!

Another Berenstain Bears favorite! In this book, Brother Bear and Sister Bear learn how much fun it can be to give to others. This is an especially important lesson during the holidays, when children are inundated with messages about receiving gifts. Helping my children learn to be generous is one of our family's core values, and this book helps to reinforce that idea on a basic level.

This book is new to us this year, and the children really enjoy the rhyming story about the humble stable where Jesus was born. The book tells about everyone who came to the stable to witness the exciting birth of Christ.

Our kids love Corduroy. This book tells about how Corduroy wishes he could be a gift for a child, and how he came to be the Corduroy that we all love.  The story of this book leads up to the story of how he left the department store to go home with a little girl.

What a hit this little board book has been with all three of our kids! It is just a very simple rhyming book, but they have all been enthralled with the way Santa "moves" and "talks" to them. This would be a great stocking stuffer or gift for a baby this year…it's perfect for chubby baby hands!

This beautifully illustrated classic version of the old poem we all know and love. Even though some of the language is not familiar to our children, they still love reading this book!

Our kids love lift-the-flap books! This large board book is filled with flaps on every page, giving little ones lots to discover! The simple rhyming story is fun, but the real fun is finding the various surprises hidden under the flaps.

Elmo's version of the 12 Days of Christmas involves lots of the Sesame Street monsters, making it a fun variation of the original classic.  It is a small board book that would make a great stocking stuffer.

Our kids love reading about George's various adventures, and this book is no exception. This time, he finds himself in a children's hospital at Christmas time. By being himself, he is able to bring joy to the children there.

This is another book that is new to us this year, but one that has quickly become a favorite.  Our kids are a little mesmerized by it! The photos are absolutely stunning, and the story is about a sweet girl who wants to be one of Santa's elves. The story also encourages being kind and helpful to others, values that I definitely hope to instill in my children.

I love how this book focuses on how all of creation celebrated the birth of Jesus—the skies, seas, animals, and so on, all celebrating and praising, shouting, "It's time, it's time!" Our children enjoy seeing how all of nature proclaimed his birth. The pictures are inspiring and the story is beautifully poetic.

This book is actually more than just a Christmas book. It's a compilation of four parables, one for each season of the year. My children love each one of the stories, and the Christmas story is a wonderful parable about the blessing of giving. The pages include applicable scripture references. All four parables are wonderful, and our children enjoy reading them again and again.  This beautiful book would make a wonderful gift.
Choosing great Christmas books for kids ensures that you will have wonderful stories to treasure together each year!  Christmas books can be a fun tradition and also a great tool to help them understand the meaning of Christmas.  We have certainly found that to be true in our home.  Which Christmas books are your on your family's list of favorites?  Leave me a comment below so I can check them out! 🙂
Save
Save
Save
Save
Save
Save
Save
Save
Save
Save
Save
Save