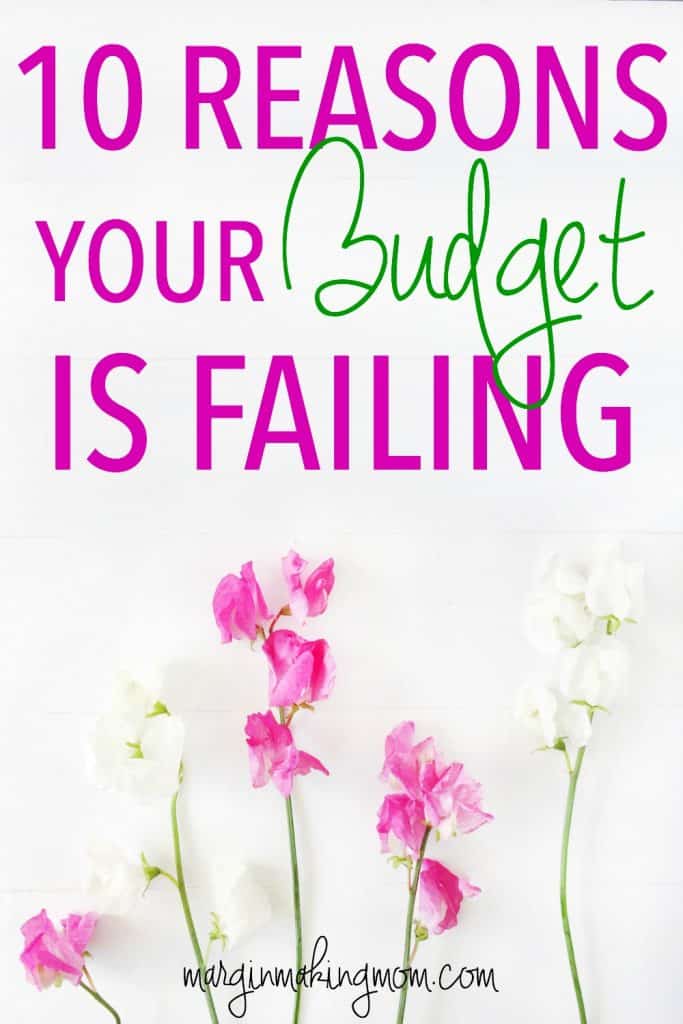 Has budgeting been a frustrating process full of mistakes and failures? Let's look at 10 reasons why your budget is failing!
Note: This post may contain affiliate links for your convenience. You can read my full disclosure policy here.
I've written creating a basic monthly budget and about how to budget with an income that fluctuates from month to month. But maybe you have tried budgeting in the past and it just hasn't worked for you. Maybe it has been a frustrating process full of mistakes and failures that leaves you unhappy with the results. Today we are going to look at 10 reasons why your budget is failing.
1. You don't like your budget type.
This is actually one of the most important aspects of budgeting. If you don't like the type of budget you're using, or if it seems cumbersome of difficult to use, then you either won't use it at all or you won't use it correctly. Both of those are no good. In this case, you simply need to find a budget type that you like. There are several types to choose from: the 50/20/30 Budget, the Cash Envelope Budget, Reverse Budgeting, the Bi-weekly Budget, and my personal favorite: the Zero-Based Budget that I discuss here (including a free printable!).
There is no one-size-fits-all when it comes to budgeting. The bottom line is, find a type that you understand and feel comfortable using. You can even try a few different types to discover what you like best. Once you are comfortable with a paper and pencil budget type that you like, you can move on to a budget software or mobile app budgeting tool. You can read my post about budgeting with Every Dollar, which I use and love.
2. Your budget process isn't organized.
I realize that organization does not come naturally to everybody. You don't have to be super-organized to successfully budget, but you do need to have a few basic things in order. Specifically, you need to know what your expenses are and when they are due. This might seem simple, but you would be surprised how often people don't really know this information. They just sort of pay bills as they come in the mail. Take the time to sit down and organize your expenses and their due dates. If necessary, go back through your bank statements for the past month or two in order to refresh your memory of what you spent where. This should give you a pretty good starting point. Having this information will help your budgeting process to go more smoothly and will help you to remember various expenses.
3. You don't have any goals for your money.
It's important to have some goals to work toward when it comes to your money. If you don't have any goals, you won't have any focus or direction for your monthly budget. Feeling a sense of accomplishment each month will help you to move forward financially. Maybe you have a particular savings goal, or a goal to pay off a certain debt, or maybe your goal is to decrease a particular budget line item by a certain amount. Whatever your goal is, write it down. Make it specific and measurable. Give yourself a time frame in which to accomplish this goal. When you create your monthly budget, refer to this goal and adjust your budget in order to make progress toward your goal.
4. You don't include savings in your budget.
If you are spending everything you make every month, without setting anything aside, you are sort of setting your budget up to fail. You should definitely have an emergency fund in place or be saving for one. You should also be saving for large purchases that will arise down the road and for things like retirement, children's college funds, etc., depending on which stage of life and financial health you are in.
5. You aren't prepared for unexpected or irregular expenses.
Having a list of your regular monthly expenses is a great starting point for your budget, but what happens when an annual subscription or membership fee comes due? What happens when your six-month premium for your auto insurance is due to be paid? What happens when your car needs a repair? It is a fact of life that these things are bound to happen. If you aren't planning for the unexpected or even for the expected irregular expenses, they will totally throw a wrench in your budget. Make a list of these items, total them up, and divide by 12. Each month, set aside this money into another account or otherwise earmark it so that it will be available when those expenses do come up. Because they will.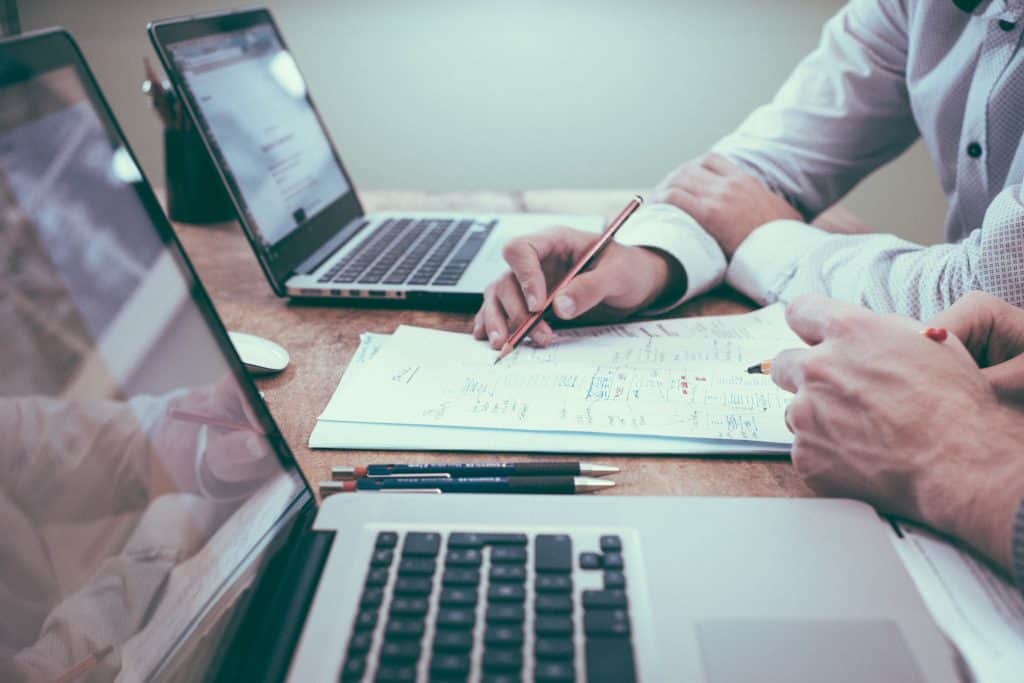 6. You are living above your means.
No matter what, in order for a budget to be successful, your expenses cannot exceed your income. It is not sustainable to keep living off of savings or, worse, racking up additional debt to cover your basic living expenses. If the numbers just aren't working every month, you will either need to decrease your living expenses or increase your income. I know this is not a pleasant topic, but really take some time to examine your expenses. Are there areas you can cut back in? If not, how can you increase your income?
7. Your budget is leaking.
Does your money just keep "disappearing?" Are you frequently spending money that doesn't really fit into any of your budget categories? I think it's important to have a "miscellaneous" category that you budget some money into for those random purchases and expenses that don't fit nicely elsewhere. This is your catch-all category to help stop-up those leaks that threaten to sink your budget.
8. You have no buffer for mistakes.
Here's the thing: we are all human. Even the most detailed budget is not infallible. Sometimes we forget certain expenses, or maybe one category ends up costing a bit more than we budgeted. For times like these, it's important to have a buffer. If you are doing a zero-based budget, that doesn't mean you should budget your checking account down to zero each month. It's important to keep a little extra in the account purely for the sake of having a buffer for mistakes. I suggest having a cushion of $100 that stays in your account at all times, that isn't a part of your monthly budget. Ideally, that money does not get touched. Just because it's there doesn't mean you can spend it. It is your buffer, or safety net, in case of a minor mistake.
9. Your expectations are unrealistic.
It takes some time to get "good" at budgeting. If you are expecting everything to work out beautifully the first time you make a budget, you will likely be very disappointed. Don't give up, though! Typically, after about 3 months of routinely doing a budget, the process will get easier and you will tweak the various categories to work well for you. You also need to be mindful of your expectations for your money…your income can only go so far. So while it is important to set goals and tell your money where to go, realize that you likely will need to set priorities for your money, since you can't do everything. For example, if you are trying to get out of debt as quickly as possible, you may need to contribute less to your retirement accounts temporarily. Be realistic with your expectations.
10. You aren't reevaluating your budget regularly.
This is absolutely imperative. Life seasons change, goals and priorities change, expenses change, and income changes. It's important to reevaluate all of these things on a regular basis. Adjust your budget according to these aspects of your life and money. For instance, perhaps you were able to coupon and spend $50/week on groceries when you were married without kids. But now that you have a larger family, you may not have the time to coupon, and you likely need more food. So budgeting $50/week for your growing family may not be feasible at this time. Routinely reevaluate your budget and change areas that need to be altered.

Make Your Budget Work For You
Budgeting does not have to be a drudgery, nor does it have to be a task that causes you endless frustration. By knowing these 10 reasons that budgets can fail, you can set yourself up for budgeting success! The key is to make your budget work for you, whether that means changing the type, adjusting your expectations, or altering categories and their amounts. A budget is designed to be a tool to help you win with your money. Put it to work so you can do just that!
What pitfalls have you experienced with budgeting? How have you turned those into successes?
Save
Save
Save
Save
Save
Get the Instant Pot Meal Plan Jumpstart
Join the free community and you'll learn simple ways to easily create tasty food for your family, as well as immediate access to the FREE Instant Pot Meal Plan Jumpstart to help you get a tasty dinner on the table in a flash!
"Thanks for sharing your knowledge and experience in such a friendly and delightful way!!! So far, I'm very impressed with the results...thanks again for your guidance into this new realm of cooking!" -Margaret
Free Resource Library
Enter my
free resource library
for my latest printables and resources! Password is 'IHEARTMARGIN' -- please copy and paste that in at the link above. Thanks for being a subscriber!!