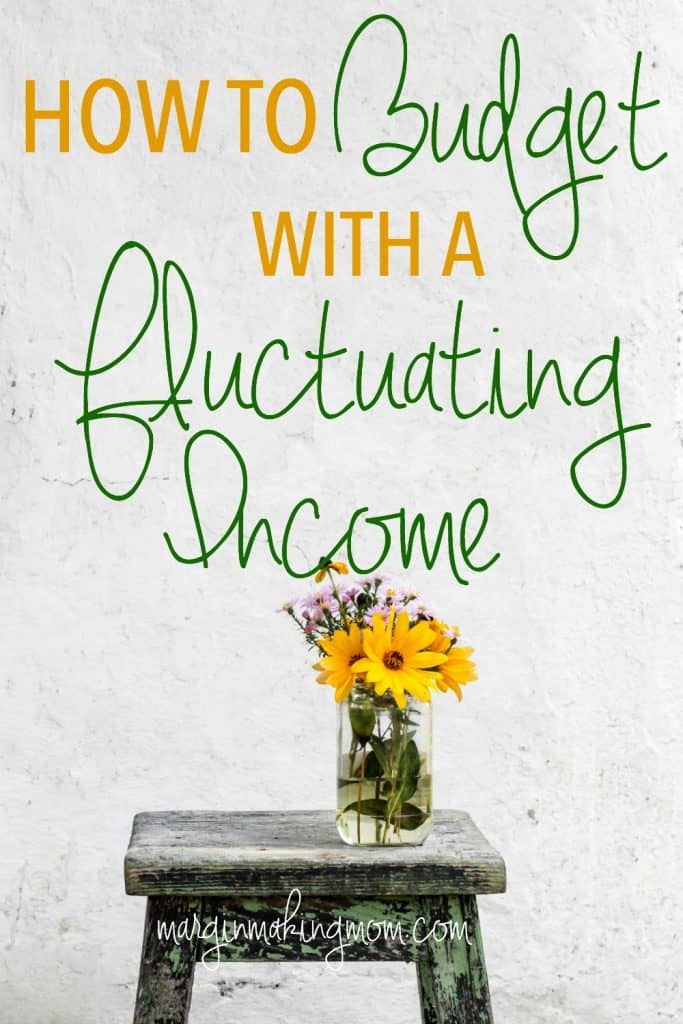 Even if your income is irregular, it is possible to create a budget. These simple steps show you how to budget with a fluctuating income.
Note: This post may contain affiliate links for your convenience. You can read my full disclosure policy here.
I recently wrote about basic budgeting for the busy mom. Those tips for creating a zero-sum budget work really well for most people. But one of the more common excuses I've heard in regards to budgeting is, "I can't do a monthly budget because my income is different every month." I get it, I really do. For the first several years of our marriage, my husband had an irregular income. It varied pretty significantly from month to month, which required a change in how we approached our monthly budget.
Ever since discovering Dave Ramsey's Financial Peace University and determining to get out of debt, my husband and I create a monthly budget as part of our normal routine. I'm going to walk you through the very basic steps of how to budget with a fluctuating income.
Many individuals and families earn an income that fluctuates from month to month. Many times, this includes individuals who are self-employed or work in a commission-based business. Other times, this may include employees who are paid a set hourly rate, but whose hours are not guaranteed to be the same from week to week. Whatever the reason, know that it is possible to have a budget that suits your unique situation. Simply follow the easy steps below to get started! Download your FREE Irregular Income Budget printable here.
Budgeting on an Irregular or Fluctuating Income
Using the Irregular Income Budget printable, list your monthly expenses in order of importance.

Consider the question, "If I only had enough money to pay one thing, which one thing would I pay first?" That should be at the top of your list. Then ask yourself, "If I only had enough money to pay one more thing, which thing would I pay next?" In this post, I discuss the most important items on your budget that should be taken care of before anything else. That same principle applies here, too. You should not list credit cards or other debts as a top priority above food, shelter, clothing, and transportation. Continue down the list, writing all of your expenses according to their priority. You should still include giving and saving on this list.

In order to have a complete list of your financial obligations, it's important to organize your bills, which I discuss in detail here.

As you get paid during the month, use your money to pay for the items on your list, starting at the top and moving your way down.

Pay the most important things first, as you get paid. Once you have spent your money, you are done until you get paid again.

It's important to note here that you should remain vigilant in discerning what is really the most important.

It's easy for things to "seem" important that really aren't. Something may come up that you really want to do or buy, but if it is not at the top of your list, you can't spend money on it until you have taken care of the higher-priority items.
That's it! Pretty simple, isn't it?
An Alternative Method
If you are a dual-income family, with one income that is fixed and one income that is irregular, you may opt to create a regular Monthly Budget based on the fixed income and create an Irregular Income Budget based on the fluctuating income. In this case, your highest priority items can be included on the regular Monthly Budget, with lower-priority items listed on the Irregular Income Budget. This is what my husband and I did.
Stick With It
As you can see, the process for budgeting with an irregular income is a little different, but actually quite simple. Keep in mind that it may take a few months to really get the hang of things, just as it does with the regular monthly budget process. Creating a budget for a fluctuating income will ensure that you take care of the most important things every month and will help you to have a plan for your money.
Do you have an irregular income? What type of budgeting method have you used?
Save
Save
Save
Save
Save
Get the Instant Pot Meal Plan Jumpstart
Join the free community and you'll learn simple ways to easily create tasty food for your family, as well as immediate access to the FREE Instant Pot Meal Plan Jumpstart to help you get a tasty dinner on the table in a flash!
"Thanks for sharing your knowledge and experience in such a friendly and delightful way!!! So far, I'm very impressed with the results...thanks again for your guidance into this new realm of cooking!" -Margaret
Free Resource Library
Enter my
free resource library
for my latest printables and resources! Password is 'IHEARTMARGIN' -- please copy and paste that in at the link above. Thanks for being a subscriber!!