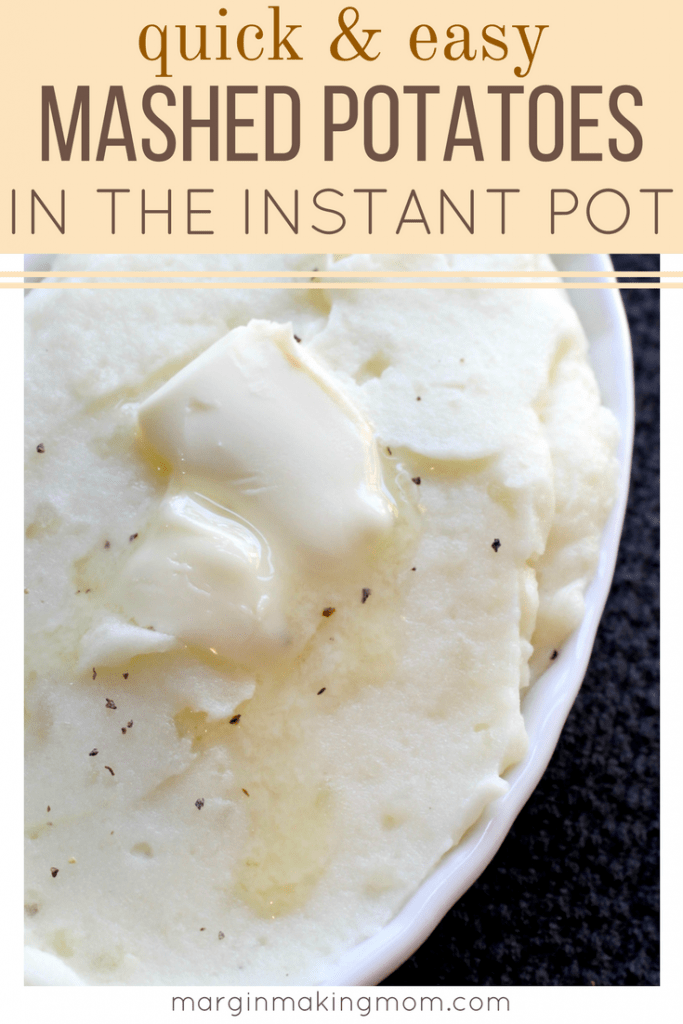 Quick and easy Instant Pot mashed potatoes made in the pressure cooker can save so much time and effort! Add these to your Thanksgiving menu!
Disclaimer: This post may contain affiliate links for your convenience.  You can read my full disclosure policy here.
Are you hosting a Thanksgiving dinner this year?  If so, then this recipe needs to be on your menu.  I typically really enjoy hosting Thanksgiving dinner, but it can be a little tricky to get the timing of everything just right.  Can I make anything ahead of time?  What all needs to be baked in the oven?  What all needs to be cooked on the stove top?  Can I make anything in the slow cooker?  And this year, what can I make in my Instant Pot pressure cooker?  By now, it's no secret that I love my Instant Pot.  I've posted recipes for everything from oatmeal to chicken chili to brown rice and boiled peanuts.  Most recently, I slightly adapted a recipe from Pressure Cooking Today and made these quick and easy Instant Pot mashed potatoes, which were delicious!
I have to say, these were seriously quite possibly the quickest and easiest mashed potatoes I've ever made (instant powdered mashed potatoes don't count!).  Normally, I feel like it takes forever to make homemade mashed potatoes.  Peeling all of the potatoes, dicing them into cubes, boiling them, blah blah blah.  Too time consuming for me these days.  But now that I've discovered this method, I won't think twice about making homemade mashed potatoes.  There were a couple of tricks that made this process a breeze.
First, you may remember me raving about this gadget when I made slow cooker apple butter.  It turns out that it also peels potatoes like a boss.  Really.  A few quick cranks and the job of peeling is done.  No more sore wrists from peeling those babies by hand!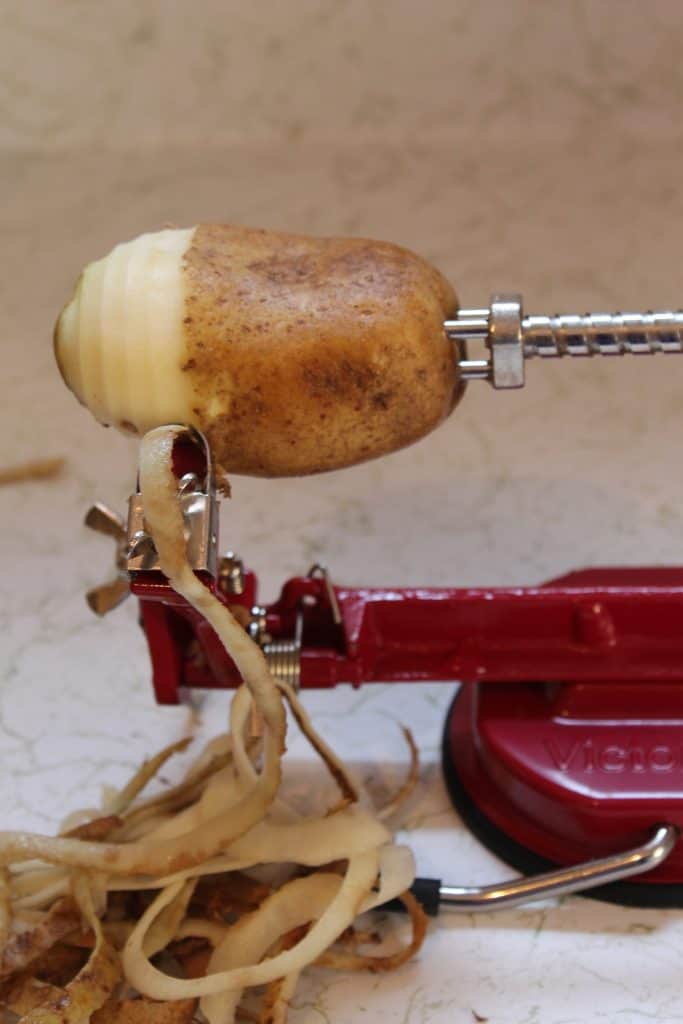 Second, cooking the potatoes in the Instant Pot is a so.much.easier.  No more boiling water and babysitting the pot while the potatoes cook.  You just pour a bit of water into the Instant Pot, put the quartered potatoes onto the trivet, lock the lid and cook for 8 minutes.  While that is happening, you can be doing something else!  After 8 minutes, do a quick pressure release and your potatoes should be perfectly cooked and ready to mash.
Mashing by hand does typically result in a better texture, in my opinion.  It takes a few minutes, but since these are cooked so nicely, it's actually pretty easy.

Recommended Equipment:
The other magnificent thing is that once your potatoes are mashed, you can keep them in the Instant Pot on the "Keep Warm" function until you are ready to serve. You should definitely add these to your Thanksgiving dinner repertoire!  Because they're so easy, you can also add these to your regular weekly meal plan.
You can find more easy pressure cooker recipes here. Read about how to convert slow cooker recipes for the pressure cooker (with a FREE printable cheat sheet!) here.  To learn more about meal planning, including a FREE Weekly Meal Plan printable, click here.

Quick and Easy Instant Pot Mashed Potatoes
Ingredients
6 medium russet potatoes
1 cup of water
2 Tbs sour cream (optional)
2/3 cup milk
1/2 stick butter
salt and pepper to taste
Instructions
Peel and quarter the potatoes.
Pour water into the bottom of the Instant Pot pressure cooker.
Place potatoes onto the trivet within the Instant Pot.
Close lid and set vent to "sealed."
Using the manual setting, cook at high pressure for 8 minutes.
While potatoes are cooking, combine the sour cream, milk, and butter and warm either on the stove top or in the microwave.
At the end of the 8 minute cook time, do a quick pressure release.
Remove potatoes to a bowl and add in the warmed milk mixture. Mash by hand until desired consistency is reached.
Add salt and pepper to taste.
Serve immediately or use the "Keep Warm" function of the Instant Pot until ready to serve.
https://marginmakingmom.com/quick-easy-instant-pot-mashed-potatoes/
Copyright MarginMakingMom.com
Read about getting started with easy pressure cooker recipes here!
Save
Save
Save
Save
Save
Save
Save
Save
Save
Save
New to Pressure Cooking?
Subscribe to the Margin Making Mom newsletter and get instant access to a FREE printable Beginner's Guide to Getting Started with Your Pressure Cooker, which includes a printable Conversion Cheat Sheet to help you convert your favorite slow cooker meals to pressure cooker meals!
We take your privacy seriously and won't send you spam. See our privacy policy here.

Free Resource Library
Enter my
free resource library
for my latest printables and resources! Password is 'IHEARTMARGIN' -- please copy and paste that in at the link above. Thanks for being a subscriber!!