Simplify the work of making Easter dinner by using your Instant Pot! I'm sharing the best Instant Pot Easter recipes to save you time and energy, allowing you to wow your guests without slaving away in the kitchen.
These Instant Pot Easter recipes are tried and true classics that your family loves, only they are made a little easier with help from the Instant Pot!  Simplify your holiday meal prep by putting your pressure cooker to work!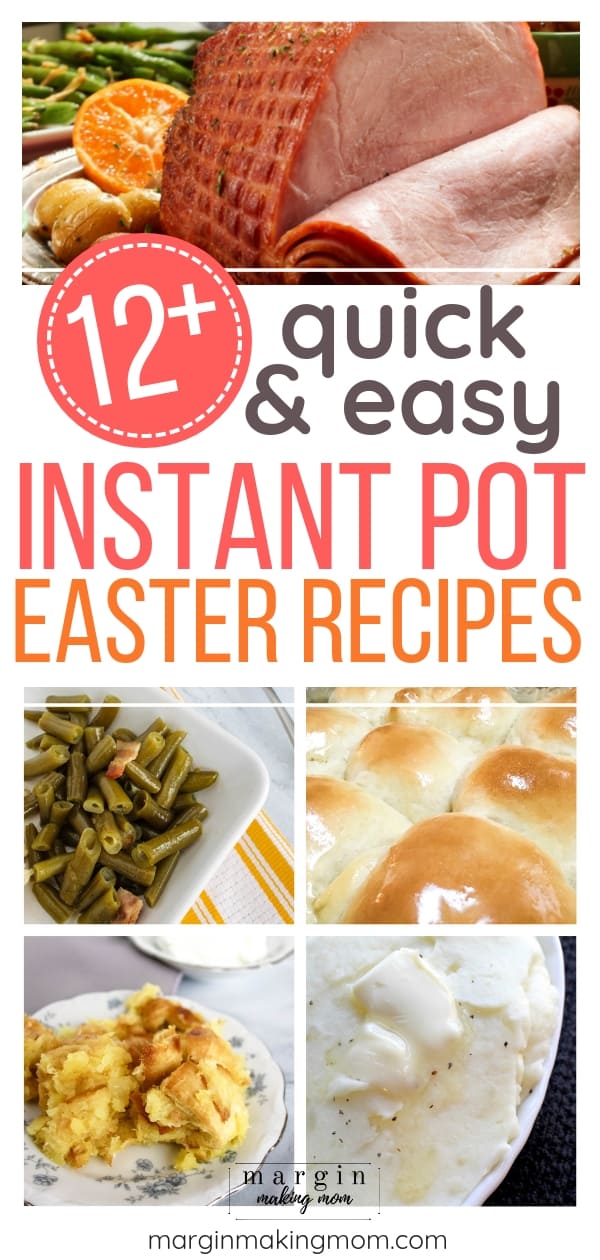 Note: This post may contain affiliate links for your convenience. You can read my full disclosure policy here.
Easter dinner is always a special time to be shared with family and friends, not spending every last minute of the day in the kitchen!
The Instant Pot can help to save you time and also free up your oven. To make your Easter dinner preparation a bit simpler, I've rounded up some incredible Instant Pot versions of your favorite traditional Easter fare!
Whether it's main dish, side dishes, or dessert you're after, be sure to check out these delicious ideas.
15 of the Best Instant Pot Easter Recipes
You can click on any of the recipe titles to go directly to the web site for that recipe!
First, let's talk main dish. Ham is probably the most common meat served on Easter dinner tables, and for good reason! This Honey Ham by Dana Vento looks delicious! If you prefer a boneless ham, this one's for you!
If a spiral sliced ham is more your style, this Instant Pot Honey Ham from Adventures of a Nurse has you covered.
Some people call it corn casserole, some call it corn spoonbread, cornbread casserole, and more. No matter what you call it, this recipe from The Typical Mom looks delightful!
You'll love this pressure cooker cheesy potato casserole–it pairs perfectly with ham for a delicious, crowd-pleasing side dish!
I love green beans of all types, but frozen green beans cooked "southern style" is one of my favorite ways to enjoy them! These taste like they've cooked for hours, but they're ready in a fraction of the time with the Instant Pot! If you prefer fresh, try these Instant Pot fresh green beans.
Potatoes are one of my love languages. Drench them in cheese sauce and I might drift into a food coma and never wake up. These Instant Pot Scalloped Potatoes from Joanie Simon look like absolute perfection, amiright? Do yourself a favor and add these to your Easter menu PRONTO!
For a quick and easy shortcut, you can make boxed au gratin potatoes in the Instant Pot! This allows you to focus more on the main dish, desserts, or other side dishes!
There's never a bad time to have homemade mashed potatoes, but they are especially welcome at a holiday meal!  The Instant Pot cooks potatoes to perfection, and you can prepare them directly in the insert pot and keep them warm until dinner time!
And just in case we don't already have enough cheese from the corn casserole and scalloped potatoes, it's probably a good idea to add some more to the menu. This Instant Pot Mac and Cheese is the best kind of creamy goodness, and it's a great way to use up leftover ham, too. 🙂
Sweet potatoes pair perfectly with ham, and these Instant Pot Sweet Potatoes from A Pinch of Healthy would be a cinch to make!
This sweet pineapple stuffing pairs perfectly with ham, lamb, turkey, or chicken!  It is one of my favorite parts of a holiday meal, and I've been known to top it with whipped cream and enjoy it as dessert, too! 🙂
It's a cinch to proof your bread dough in the Instant Pot to make soft and fluffy homemade rolls! Or, if you want a make-ahead recipe, use this frozen dinner rolls recipe, then thaw and bake when you need them!
These easy Instant Pot crescent rolls are buttery, soft, fluffy perfection!
Even if you don't want to make homemade rolls from scratch, you can proof frozen Rhodes rolls in your Instant Pot–it cuts the rise time in half!
If you're like me and prefer a sweet potato casserole (because why not add a sweet and crumbly topping?), this Pressure Cooker Sweet Potato Casserole from Pressure Cooking Today is more our style!
When you're prepping your eggs for decorating, cooking them in the Instant Pot makes the process so easy! These eggs peel so easily and have perfectly cooked centers, making them ideal for deviled eggs for your Easter dinner!
Instant Pot potato salad is a great accompaniment to ham, and this version is super easy to make.
This Instant Pot carrot cake starts with a box of cake mix, then is doctored up into a beautiful and show-stopping bundt cake! Nobody will guess it isn't made from scratch!
You might be surprised that you can make a pecan pie in the Instant Pot, but it's true! No holiday dinner is complete without one.
Making Easter Dinner in the Pressure Cooker
By making some of your Easter dinner dishes in the Instant Pot, I hope you'll be able to enjoy more time with the people who mean the most to you!
You can make your family's favorite classic Easter recipes, but with a little less time and effort.  I call that a win! 🙂
Happy Easter!
Scroll down below to sign up to receive my free Beginner's Guide to Getting Started with your Pressure Cooker!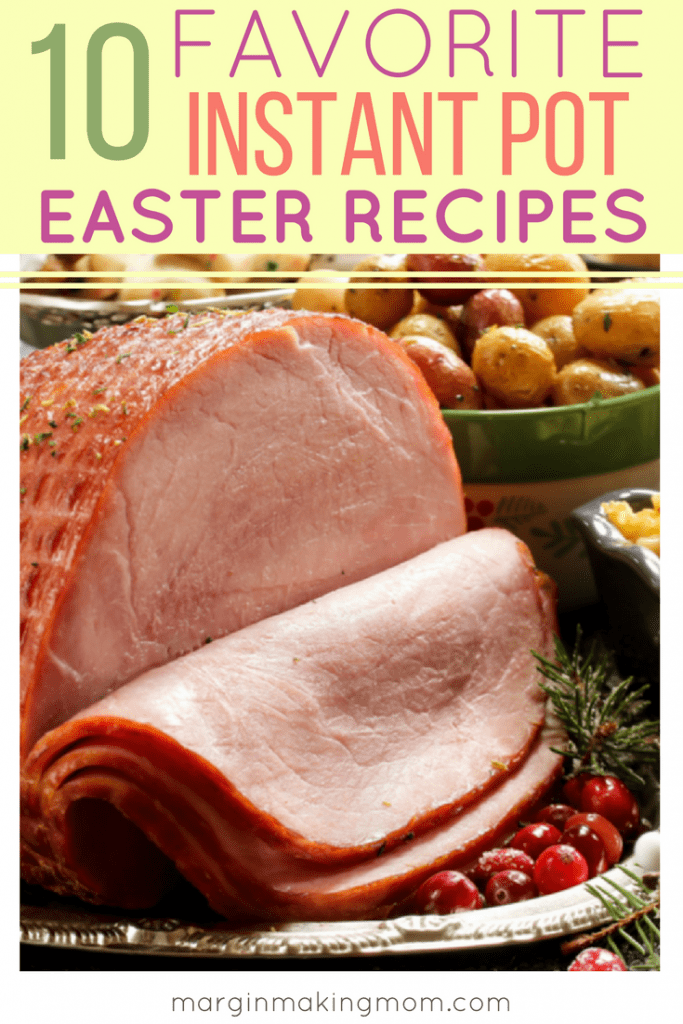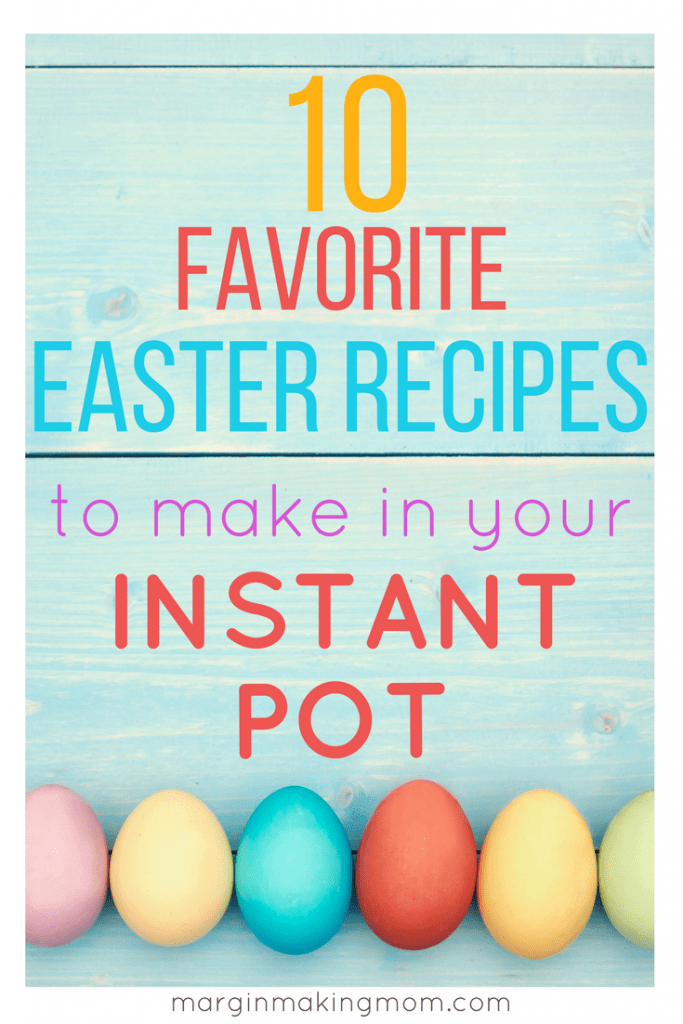 New to Pressure Cooking?
Join the free community and you'll learn simple ways to easily create tasty food for your family. Plus, you'll get instant access to a FREE printable Beginner's Guide to Getting Started with Your Pressure Cooker!
Free Resource Library
Enter my
free resource library
for my latest printables and resources! Password is 'IHEARTMARGIN' -- please copy and paste that in at the link above. Thanks for being a subscriber!!