Did you know you can reheat mashed potatoes in the Instant Pot? Not only is it quick and easy, but it keeps their texture fluffy and creamy!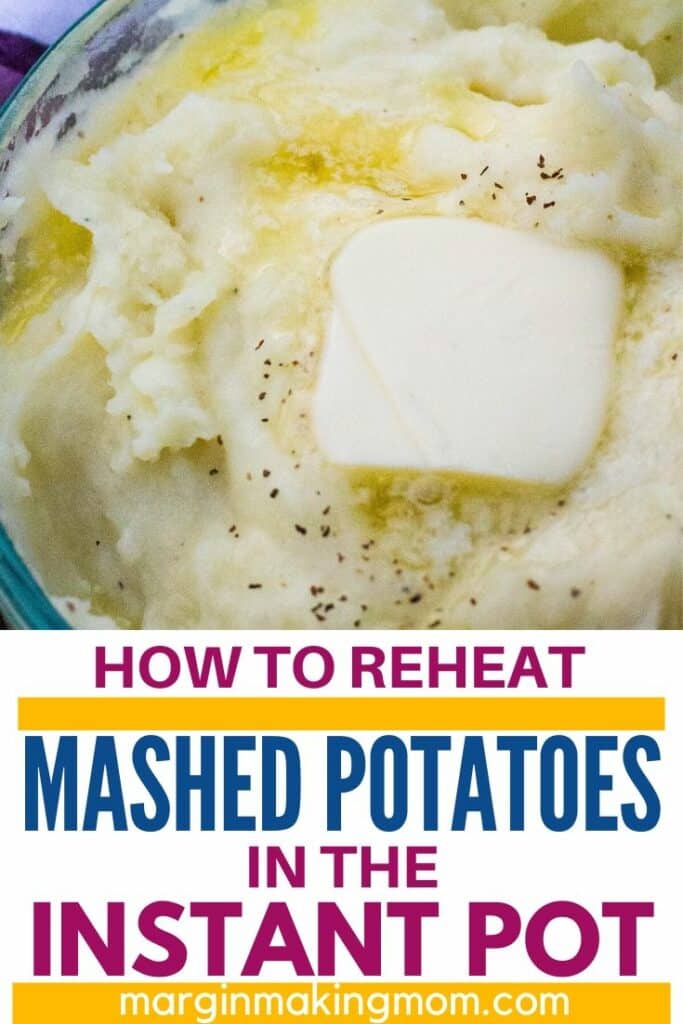 Learn how to reheat mashed potatoes in the Instant Pot! If you've taken the time to create perfect homemade mashed potatoes, why not enjoy the leftovers without them turning into a gummy, gluey mess!
Note: This post may contain affiliate links for your convenience. If you make a purchase, this site may receive a small commission at no additional cost to you. You can read my full disclosure policy here.
Homemade mashed potatoes is one of the most delicious and versatile side dishes–it goes with practically everything!
And what's not to love about a serving of fluffy, creamy potatoes with rivulets of melted butter and a sprinkle of salt and pepper?
Well, sometimes the leftovers leave a little to be desired.
What was once a hot, creamy, smooth dish can become a less appealing dry and gluey conglomeration.
While there are many ways to reheat the leftovers, the best way is to reheat mashed potatoes in the Instant Pot!
In fact, I reheat leftovers in the Instant Pot all the time! I reheat soup in the Instant Pot, reheat rice in the Instant Pot, reheat pulled pork in the Instant Pot, reheat tamales in the Instant Pot…well, you get the picture! 😂
Not only that, but you can keep food warm in the Instant Pot!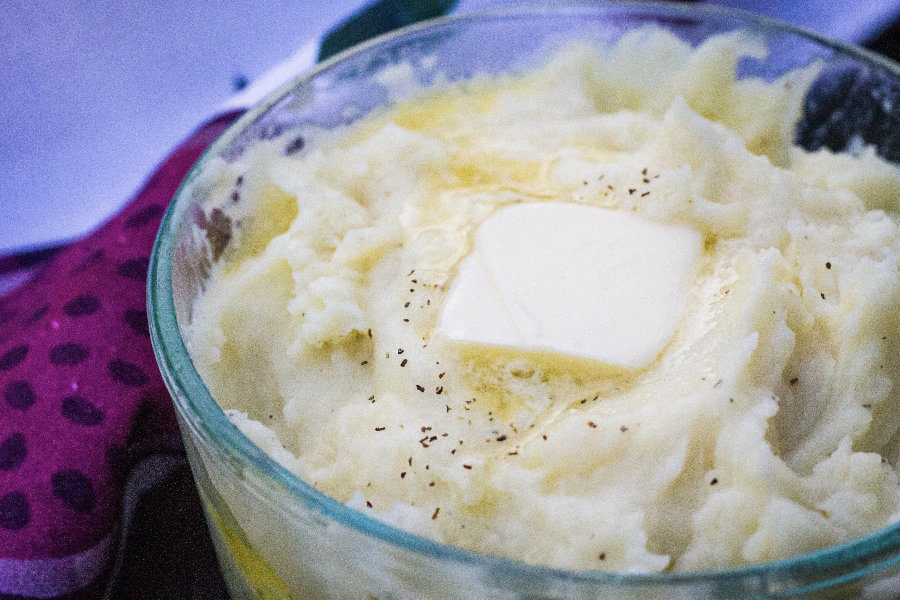 How to Reheat Mashed Potatoes
The trouble with reheating mashed potatoes lies in the simple ingredients.
Because of the starch in potatoes and the dairy commonly included in mashed potatoes, leftovers can become dry and crumbly or gluey after they've been refrigerated.
Many people simply reheat mashed potatoes in the microwave, because it's a relatively quick method. But the high heat of the microwave tends to suck out the moisture.
If you go that route, you'll have to add some additional liquid (such as broth or milk) to help improve the texture.
Still others like to reheat mashed potatoes in the oven. Because of the dry environment of the oven, you'll want to add some liquid and keep the dish covered with foil.
Baking at 350F for the 30-40 minutes required to reheat the potatoes takes longer than the microwave, and you have to stir occasionally to keep the edges from crisping.
Some people reheat mashed potatoes in the slow cooker, but because this can take 3-4 hours to warm the potatoes, you'll need to plan ahead.
Because of the drawbacks of these methods, I prefer to use the Instant Pot to reheat mashed potatoes!
The Best Way to Reheat Mashed Potatoes
I love making Instant Pot mashed potatoes, and in my opinion, the best way to reheat mashed potatoes is to also use your Instant Pot!
You have options for reheating a large batch of mashed potatoes or just a serving or two, depending on your needs.
This method is usually faster than some of the other methods, but more importantly, the texture is not negatively impacted!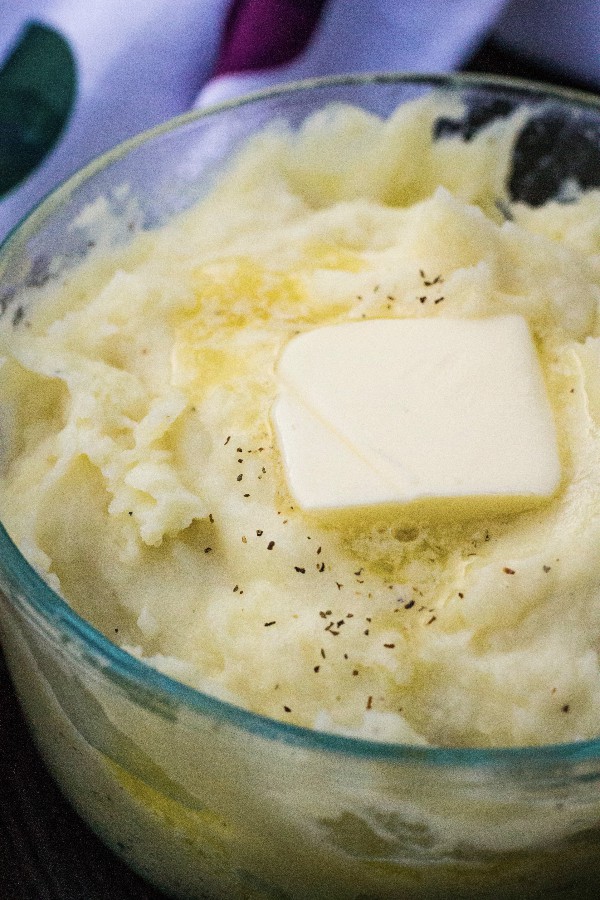 Reheating Mashed Potatoes in the Instant Pot
The method you use for reheating mashed potatoes in the Instant Pot depends on how much you are warming up.
Reheating a Large Batch of Make Ahead Mashed Potatoes
If you are reheating a large amount (perhaps you made the mashed potatoes ahead of time and now just need to warm them up for serving), I'd recommend using the Keep Warm function.
This setting is not as hot as Saute or Slow Cook, so you won't dry them out as much this way. This is also a lower temperature than your microwave, oven, or slow cooker.
In this case, you will have the mashed potatoes directly in the insert pot, close the lid, and press Keep Warm. You will need to stir them occasionally so they heat evenly.
You may need to add a bit of liquid (start with a tiny bit and add more as needed). I also like to add a few pats of butter on top to melt into the potatoes.
Reheating a Smaller Amount of Leftover Potatoes
If you are reheating 1-4 servings or so (perhaps you have leftovers from a larger batch), my favorite way to reheat them is using the pot-in-pot method.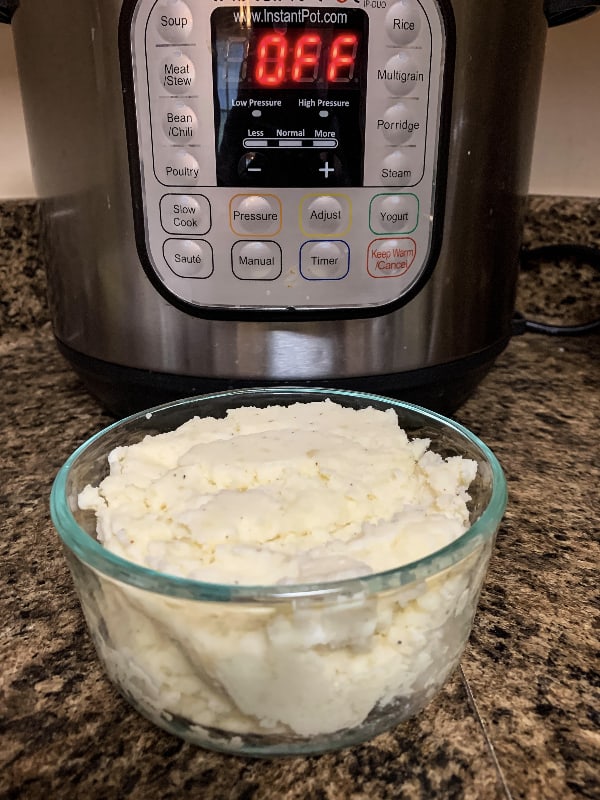 In this case, you can put the mashed potatoes in a heatproof container. I use these Pyrex bowls all the time!
I have a list of recommended pot-in-pot accessories that you can check out–you might already have something on hand that would work well!
I'd recommend fluffing them just a bit with a fork, so it's not just one big mass of compacted potatoes.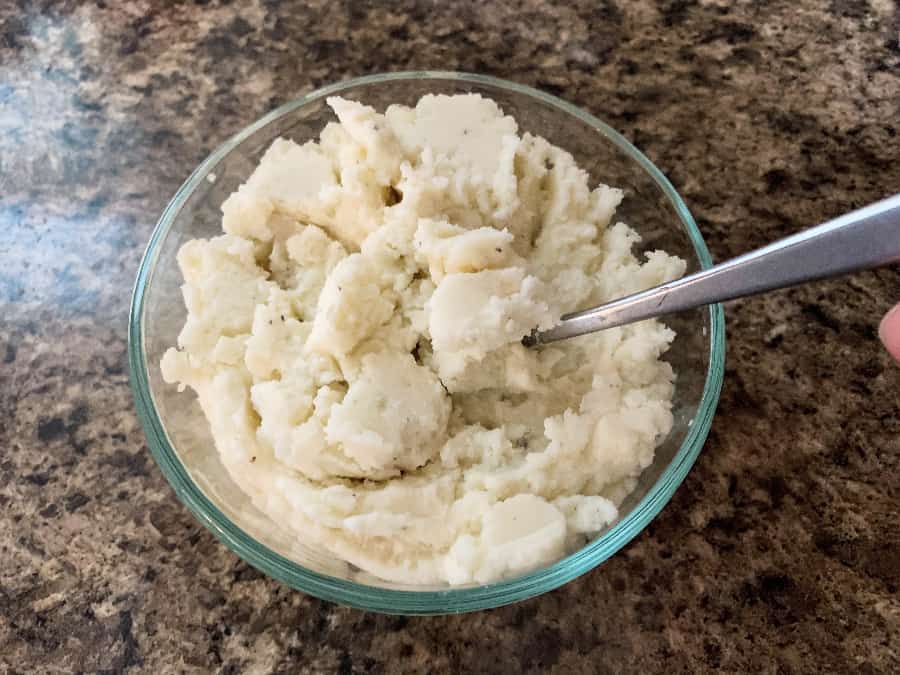 You'll pour a cup of water into the insert pot of your Instant Pot and set the trivet in place. Then, lower the dish of potatoes onto the trivet.
Close the lid and set the vent to the sealed position. Use the Steam button, starting with a time of 5 minutes.
When reheating leftovers, I almost always start with 5 minutes. Afterward, if the food isn't heated through all the way, I add a couple more minutes.
There's no way to know exactly how long it will take. It really depends on the temperature of the potatoes to start out, how much potatoes you're reheating, etc. But 5 minutes is a good starting point.
The wonderful thing about this method is that the steam inside the Instant Pot creates a moist environment. This means the potatoes aren't getting dried out as they reheat!
If you want, you can cover the dish with foil to prevent liquid from coming into contact with the potatoes. But I actually prefer to leave it uncovered. The steam provides just the right amount of moisture without needing to add liquid to the potatoes before heating.
After the steam time is up, you can release the pressure by opening the valve or wait for the pressure to release on its own.
Carefully lift out the dish and give it a little stir. Add some butter on top to melt in while it's hot.
How Long Can You Keep Mashed Potatoes in the Fridge?
To store leftover mashed potatoes in the refrigerator, you should ideally store them within two hours of cooking.
They should be stored in a tightly covered container. I like to store the leftovers in a heatproof container. That way, I can easily transfer them to the Instant Pot for reheating!
Once stored in the refrigerator, mashed potatoes should stay good in the fridge for up to four days.
When you're ready to enjoy them again, simply reheat the mashed potatoes in the Instant Pot!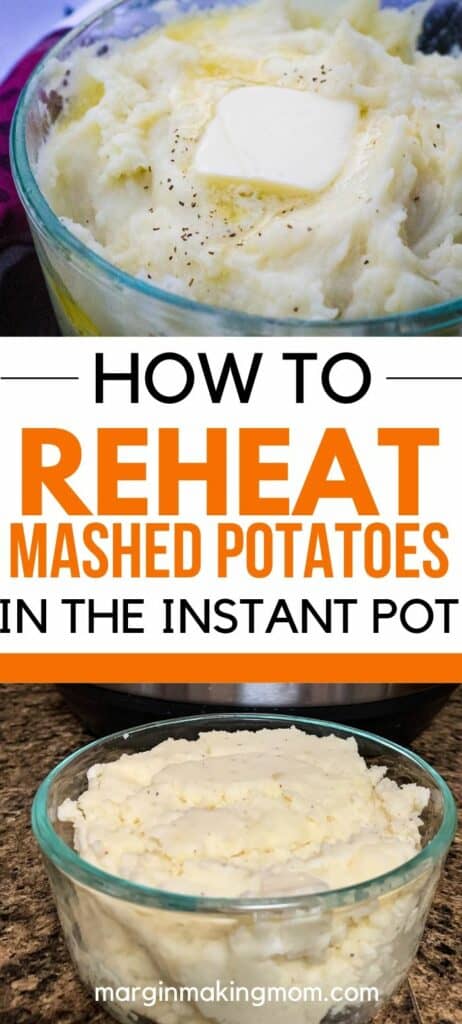 Get the Instant Pot Meal Plan Jumpstart
Join the free community and you'll learn simple ways to easily create tasty food for your family, as well as immediate access to the FREE Instant Pot Meal Plan Jumpstart to help you get a tasty dinner on the table in a flash!
"Thanks for sharing your knowledge and experience in such a friendly and delightful way!!! So far, I'm very impressed with the results...thanks again for your guidance into this new realm of cooking!" -Margaret
Free Resource Library
Enter my
free resource library
for my latest printables and resources! Password is 'IHEARTMARGIN' -- please copy and paste that in at the link above. Thanks for being a subscriber!!