It's so easy to make boiled peanuts in the slow cooker! All you need is a few ingredients to enjoy this simple snack!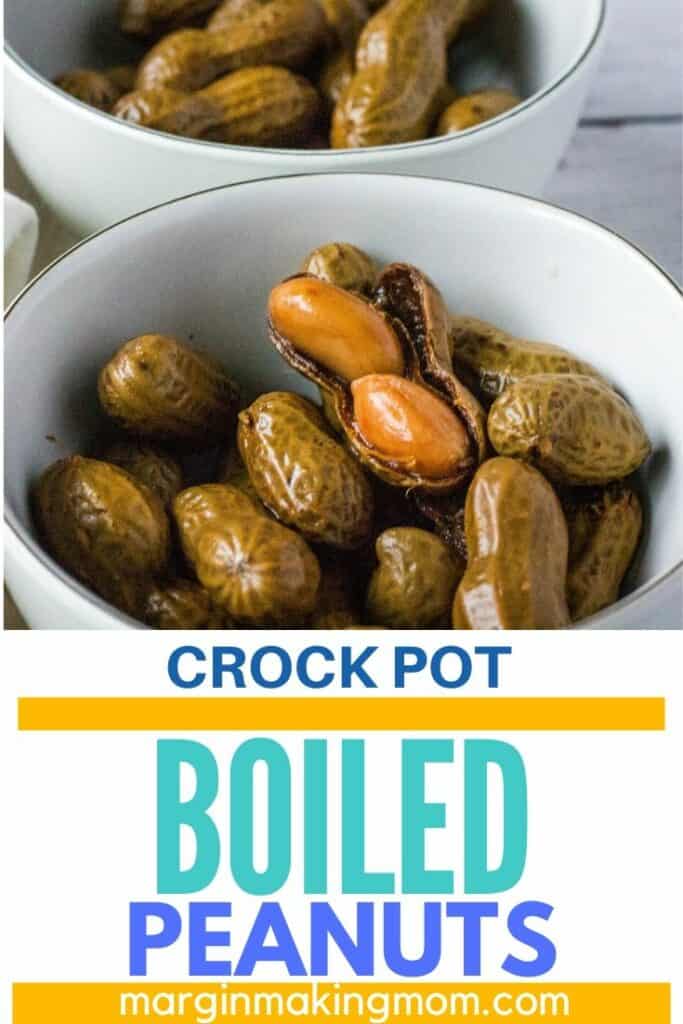 These Crock Pot boiled peanuts are a salty snack made famous in the south–and they are ridiculously easy to make!
Note: This post may contain affiliate links for your convenience. If you make a purchase, this site may receive a small commission at no additional cost to you. You can read my full disclosure policy here.
Growing up in the south, particularly in Charleston, South Carolina and Jacksonville, Florida, boiled peanuts were a staple snack for our family.
Boiled peanut stands were a common sight, and we could easily buy a paper bag or Styrofoam cup full of the salty, tender peanuts–usually hot out of the large pot or kettle at roadside stands or farmers markets.
Sometimes we'd find them on road trips at local gas stations.
We would sit on the front porch and eat them as the brine dripped down our arms. It's a southern tradition!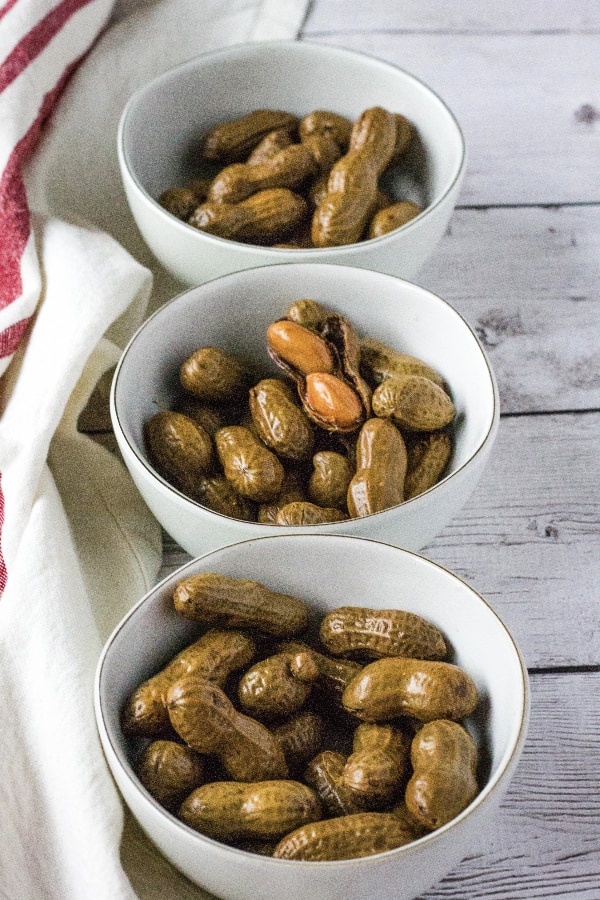 Since I now live in Nashville, TN, I don't have any roadside stands to visit, so I learned how to make a few boiled peanuts recipes at home!
I most often make Instant Pot boiled peanuts (I also have a boiled peanuts recipe for Instant Pot Hawaiian boiled peanuts for something unique, as well as Instant Pot Cajun boiled peanuts and Crockpot Cajun boiled peanuts if you like things a little spicy with some Cajun seasoning!).
But I realize not everyone has a pressure cooker at their disposal, so I wanted to share how to make Crock Pot boiled peanuts!
Boiling peanuts in the crockpot is super easy to do, and you'll love the results.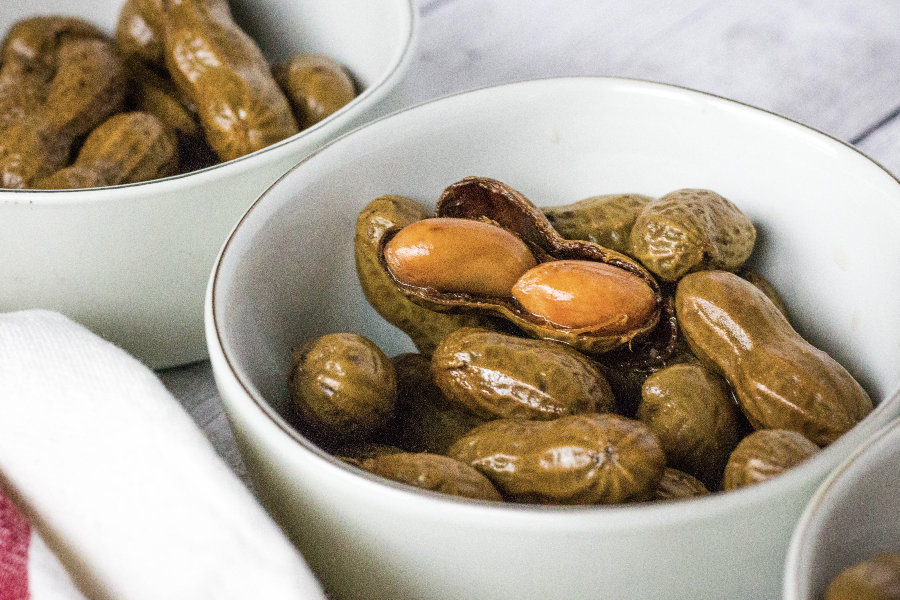 What Kind of Peanuts to Use for Crockpot Boiled Peanuts
You need to use raw peanuts in the shell, NOT roasted peanuts, when making boiled peanuts.
When it comes to raw peanuts, there are two types: green peanuts and regular raw peanuts.
Green Peanuts
Green peanuts are fresh, raw peanuts that haven't been dried. So they have more moisture and therefore have a shorter shelf life.
From my research, it seems it is easier to find green raw peanuts if you live in an area where peanuts are grown and harvested locally.
If you have access to green peanuts in your area, feel free to use those!
Regular Raw Peanuts
In my area, I haven't been able to find green peanuts.
Instead, I use regular raw peanuts. These have been dried to make them more shelf-stable, but they haven't been roasted. So they are raw, but not green.
I've been able to find these at Walmart in the nuts section. I've also found them at some grocery stores, such as Publix grocery store, in the fresh produce section.
If you can't find them locally, you can order them from Amazon.
Should You Eat Boiled Peanuts Hot or Cold?
This boils down (haha!) to personal preference. Most roadside stands serve them hot, but I eat them both ways.
After they initially cool to room temperature, I store the Crockpot boiled penauts in their brine in the refrigerator (in an airtight container), and I don't reheat them. I just eat them cold.
I think both ways of enjoying this perfect snack are delicious!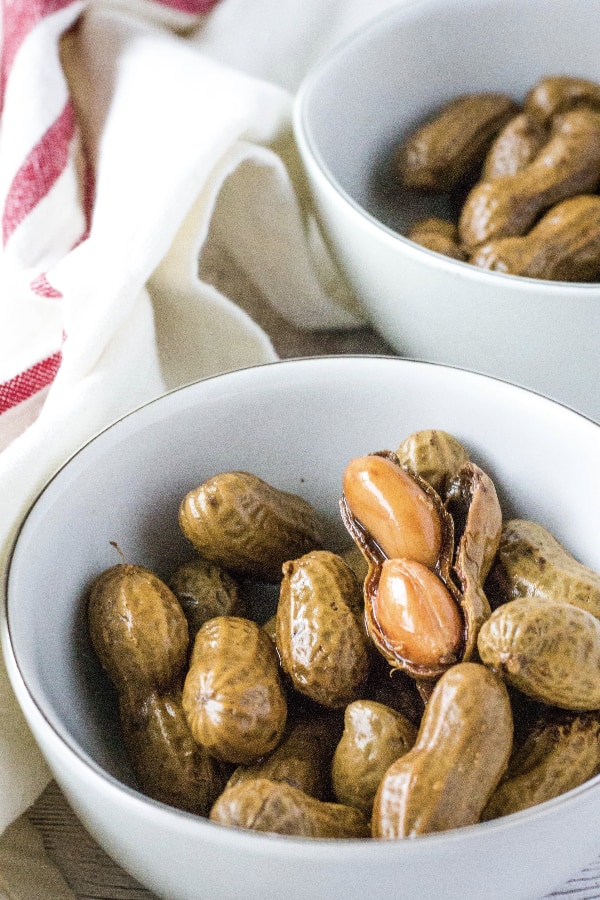 How to Make Boiled Peanuts in a Crock Pot
To start, you'll rinse and sort through some raw peanuts. Remove any debris or pieces of shells that need to be discarded.
Add the peanuts to the slow cooker and top with some coarse sea salt.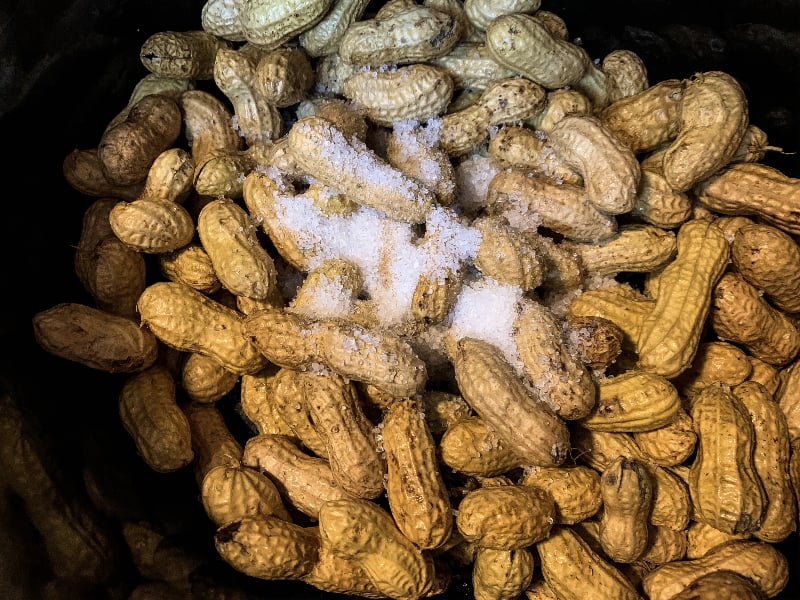 Next, you'll cover the peanuts with cold water and cook on high for a cooking time of about 5-7 hours, or until the peanuts are as tender as you'd like.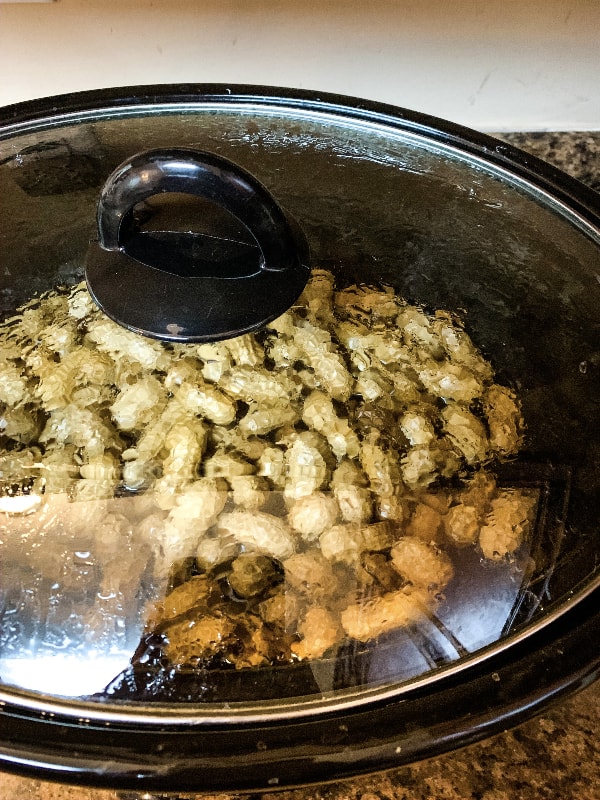 I recommend stirring them every so often to ensure they all get exposed to the salty brine. You may also need to add some water along the way, depending on how much evaporates.
Use a slotted spoon to scoop them out into bowls or cups. Enjoy this southern favorite!
Notes and Adaptations:
This is a great recipe as is, but you're welcome to add seasonings to taste, if you'd like! Some people add dry crab boil or other cajun spice (such as Old Bay seasoning), hot sauce, red pepper flakes, liquid smoke, garlic powder, etc.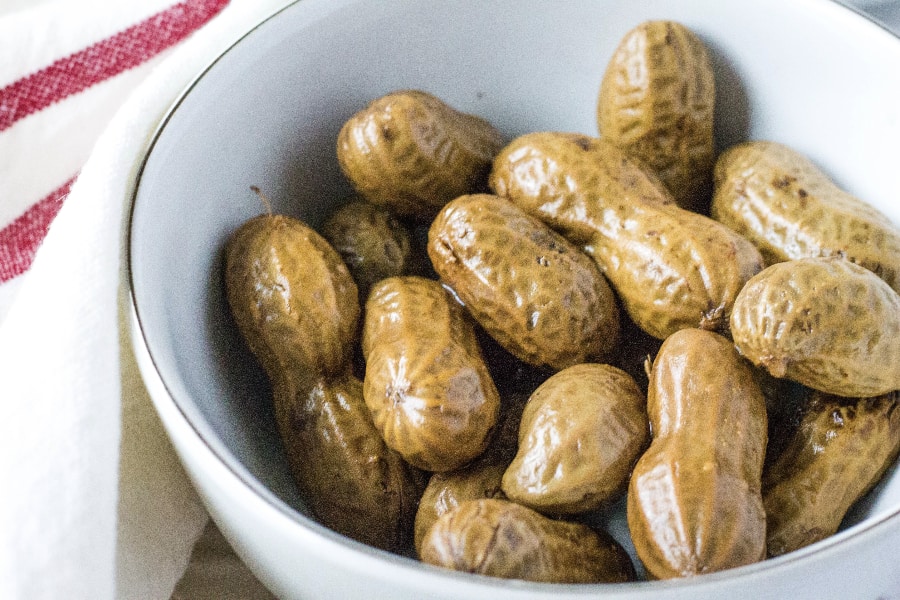 Yield: 10 Servings
Crock Pot Boiled Peanuts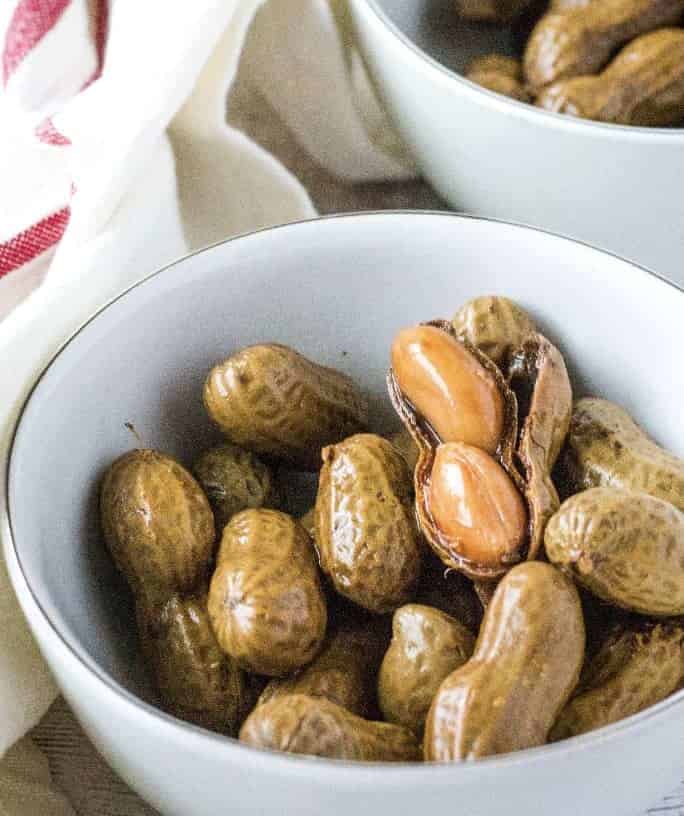 These southern boiled peanuts cook in the Crockpot, so it's a simple way to enjoy the salty snack!
Total Time
5 hours
5 minutes
Ingredients
1 lb raw peanuts in the shell (not roasted)
1/4-1/3 cup coarse sea salt, depending on your preference
6 cups of water (or more, as needed)
Instructions
Rinse and sort peanuts, discarding any debris or peanuts that are cracked or broken.
Combine peanuts, salt, and enough water to generously cover the peanuts in the slow cooker.
Cook on the high setting for 5-7 hours, or until the peanuts are tender. Stir occasionally during cooking, and add more water as needed to keep the peanuts covered.
Notes
I have found raw peanuts at Walmart in the nuts section and at some grocery stores (such as Publix) in the fresh produce section. You can also order them from Amazon if you can't find them locally.
Nutrition Information:
Yield:
10
Serving Size:
1
Amount Per Serving:
Calories:

274
Total Fat:

22g
Saturated Fat:

3g
Trans Fat:

0g
Unsaturated Fat:

18g
Cholesterol:

0mg
Sodium:

6578mg
Carbohydrates:

11g
Fiber:

4g
Sugar:

2g
Protein:

12g
Nutrition information is automatically calculated and is not guaranteed for accuracy.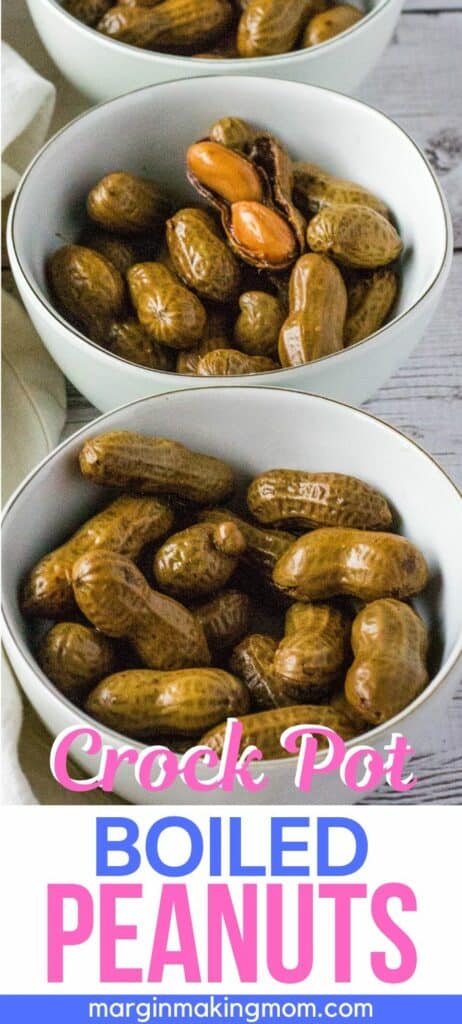 Get the Instant Pot Meal Plan Jumpstart
Join the free community and you'll learn simple ways to easily create tasty food for your family, as well as immediate access to the FREE Instant Pot Meal Plan Jumpstart to help you get a tasty dinner on the table in a flash!
"Thanks for sharing your knowledge and experience in such a friendly and delightful way!!! So far, I'm very impressed with the results...thanks again for your guidance into this new realm of cooking!" -Margaret
Free Resource Library
Enter my
free resource library
for my latest printables and resources! Password is 'IHEARTMARGIN' -- please copy and paste that in at the link above. Thanks for being a subscriber!!