It's super easy to use the Instant Pot to keep food warm! Read on to learn how.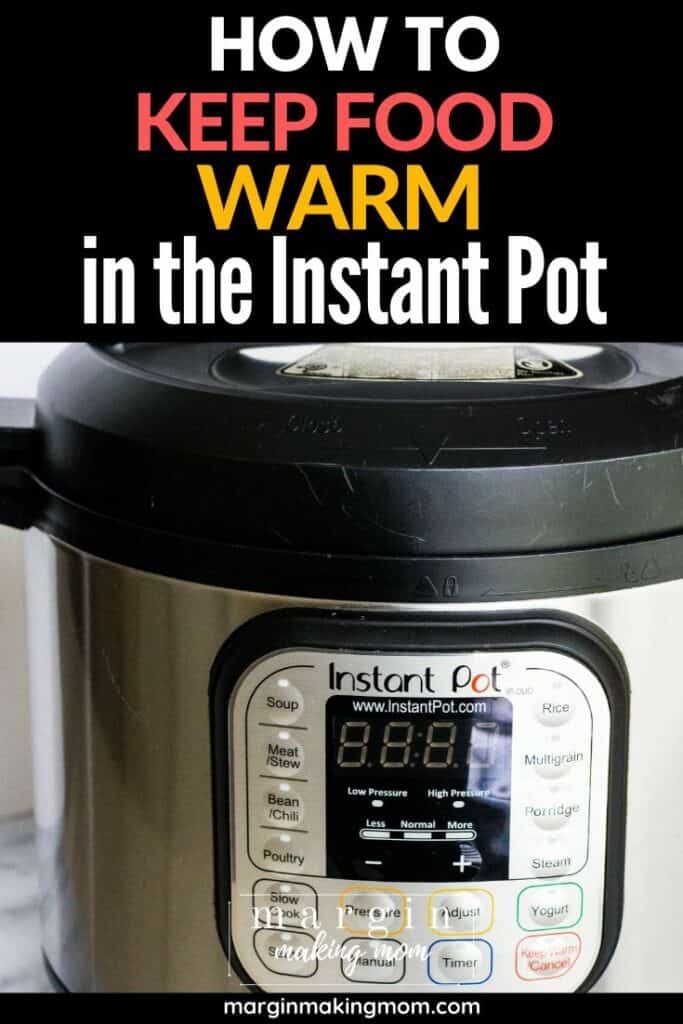 It's possible to cook a dish ahead of time and then keep food warm in the Instant Pot!
Note: This post may contain affiliate links for your convenience. If you make a purchase, this site may receive a small commission at no additional cost to you. You can read my full disclosure policy here.
The Instant Pot is one of my favorite appliances for cooking. It makes practically everything faster, which is perfect when you're busy and can't stay in the kitchen all day!
I also reheat leftovers in the Instant Pot, because it's a great way to preserve texture (and eliminates the need to use a microwave if you don't have one!).
But not only can you reheat and cook in the Instant Pot, but you can also use it to keep food warm!
The Best Way to Keep Food Warm in the Instant Pot
The best way to keep food warm in the Instant Pot is to simply use the Keep Warm setting!
The Keep Warm button turns on automatically when something finishes cooking, which means it will keep your food hot until you're ready to eat it.
You can also program the Keep Warm setting. If the Instant Pot is already "off" or in standby mode, you can simply press the Keep Warm/Cancel button to activate the Keep Warm function.
Is the Keep Warm Setting Safe?
The temperature of the Keep Warm setting ranges between 140-172 degrees Fahrenheit, according to the Instant Pot manual.
There are actually three Keep Warm levels, which you can adjust between depending on if you want the temperature to be on the low, medium, or high end of that range.
Since it's recommended to keep hot foods at 140F or higher to decrease the risk of bacterial proliferation and contamination, the Keep Warm setting on the Instant Pot should be sufficiently safe.
Can You Leave the Instant Pot in Keep Warm Mode Overnight?
You're probably wondering, "So how long can I keep my Instant Pot on the Keep Warm setting?"
Theoretically, you could leave the Instant Pot in Keep Warm mode all night, but I wouldn't recommend it.
Most foods would not hold up well at a hot temperature for that long. They could dry out, lose their texture, or be otherwise less appetizing over time.
Usually the only time I leave my Instant Pot on overnight is if I'm making Instant Pot yogurt.
In general, I'd recommend only keeping it in the Keep Warm mode for a few hours, if needed.
For instance, if you make mashed potatoes for Thanksgiving dinner and want to keep them warm for a few hours while the turkey cooks, that's a great use of the Keep Warm function!
Can You Use the Keep Warm Setting with a Dish of Food?
If you have a dish of food you'd like to keep warm, you can use the Keep Warm setting to do that!
Simply put the food in a heatproof dish that will fit into the Instant Pot. Place the trivet into the insert pot and lower the dish onto the trivet.
The Keep Warm button will maintain a warm temperature in the pot! If the food is something that could dry out over time, you may want to add a small amount of water in the bottom of the insert pot, which will create more of a steamy environment and keep food moist.
What Kinds of Foods Can You Keep Warm in the Instant Pot?
Many foods would work well with the Keep Warm function. Things like soups, stews, or foods that would otherwise simmer for a long time on the stove would work great.
More delicate foods, such as pasta or some vegetables, could become mushy over time and lose their appeal.
There are also some foods that could dry out or have their texture compromised if they stay warm for too long, especially if they are directly in the insert pot.
One example of this is rice. The prolonged exposure to a hot environment could dry out the rice.
In this case, I'd recommend following the suggestion above and putting the food in another dish, where it isn't directly in contact with the insert pot, and adding some water to the pot to create some steam.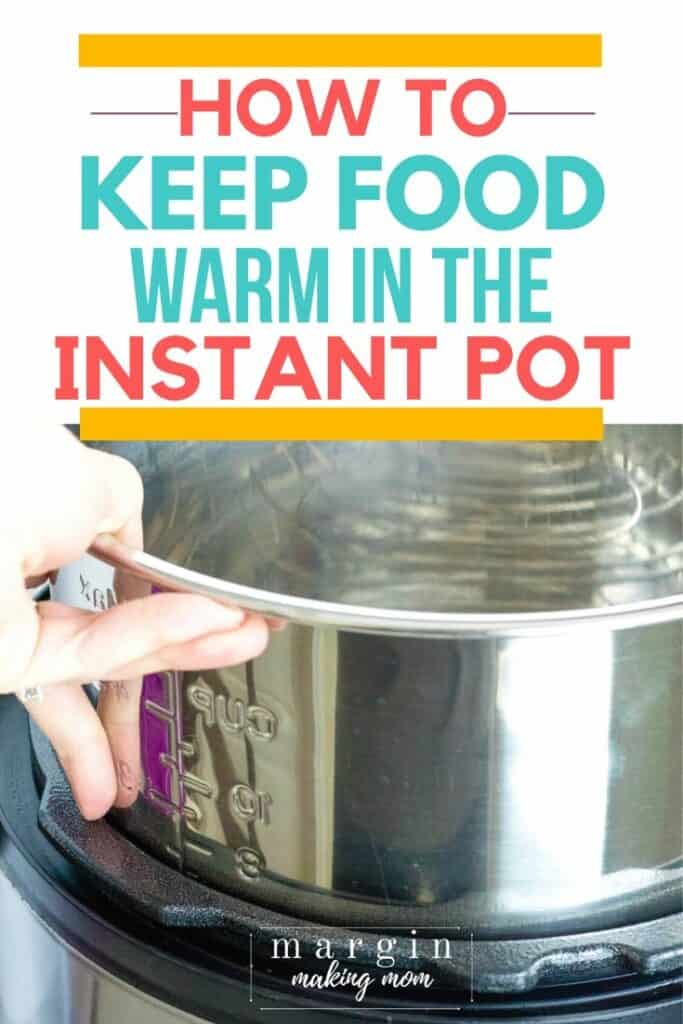 Get the Instant Pot Meal Plan Jumpstart
Join the free community and you'll learn simple ways to easily create tasty food for your family, as well as immediate access to the FREE Instant Pot Meal Plan Jumpstart to help you get a tasty dinner on the table in a flash!
"Thanks for sharing your knowledge and experience in such a friendly and delightful way!!! So far, I'm very impressed with the results...thanks again for your guidance into this new realm of cooking!" -Margaret
Free Resource Library
Enter my
free resource library
for my latest printables and resources! Password is 'IHEARTMARGIN' -- please copy and paste that in at the link above. Thanks for being a subscriber!!