Once you know how to reheat rice in the Instant Pot, you'll want to use this method all the time!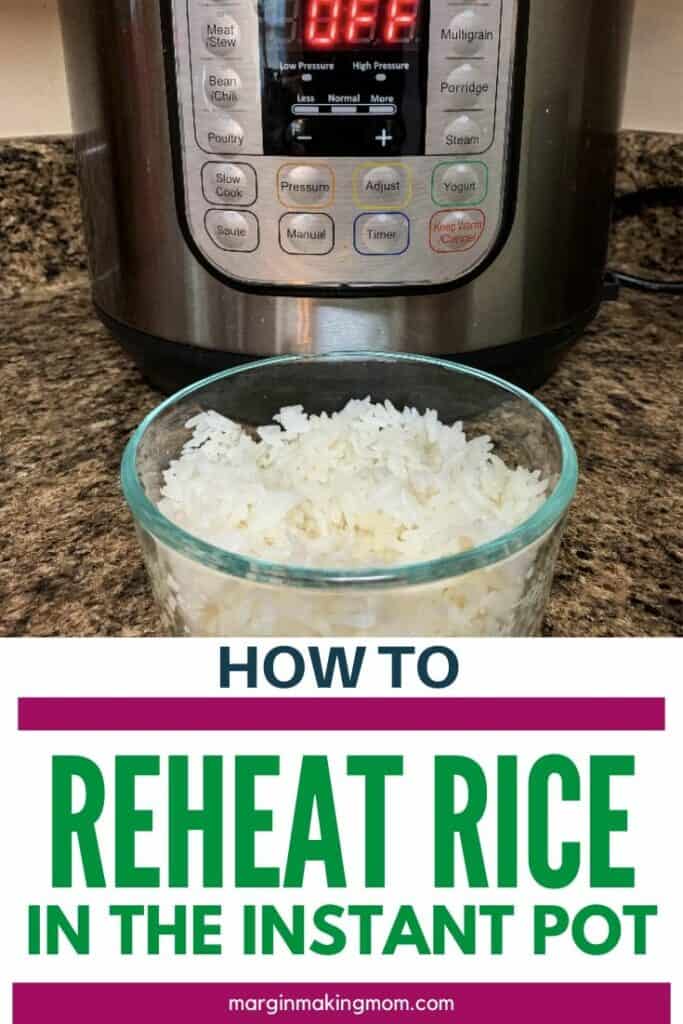 Find out the easy process to reheat rice in the Instant Pot–you won't believe how simple it is to heat up leftover rice this way!
Note: This post may contain affiliate links for your convenience. If you make a purchase, this site may receive a small commission at no additional cost to you. You can read my full disclosure policy here.
By now, I'm sure you have realized the power of the Instant Pot. This glorious appliance can do so many things!
One often overlooked function of the Instant Pot is its ability to heat up food. Did you know that you can not only cook in the Instant Pot, but also reheat leftovers in the Instant Pot?
It's true! I discovered this out of necessity when my microwave bit the dust a few years ago.
What I've found is that many foods actually heat better in the Instant Pot than with other methods, such as stove top or microwave, because they retain their textures better in the moist environment of the Instant Pot.
Take rice, for example. I'm sure we've all had a bowl of leftover rice, sticky and clumped together.
Reheating it in the microwave can leave it dry instead of fluffy. Reheating it on the stove requires the addition of liquid so it doesn't burn, but then it can end up a little soupy if you aren't careful.
But reheating rice in the Instant Pot actually results in a very desirable texture!
So not only can you cook easy Instant Pot white rice, failproof Instant Pot brown rice, perfectly easy basmati rice, Instant Pot Spanish rice, fragrant Instant Pot jasmine rice, Instant Pot yellow rice, Instant Pot wild rice, and Instant Pot Rice-a-Roni, but you can use the same appliance to reheat the leftovers! 🙌
Related Articles: Find out how to reheat soup in the Instant Pot and how to reheat pulled pork in the Instant Pot. I also reheat tamales in the Instant Pot, and I reheat whole rotisserie chickens in the Instant Pot!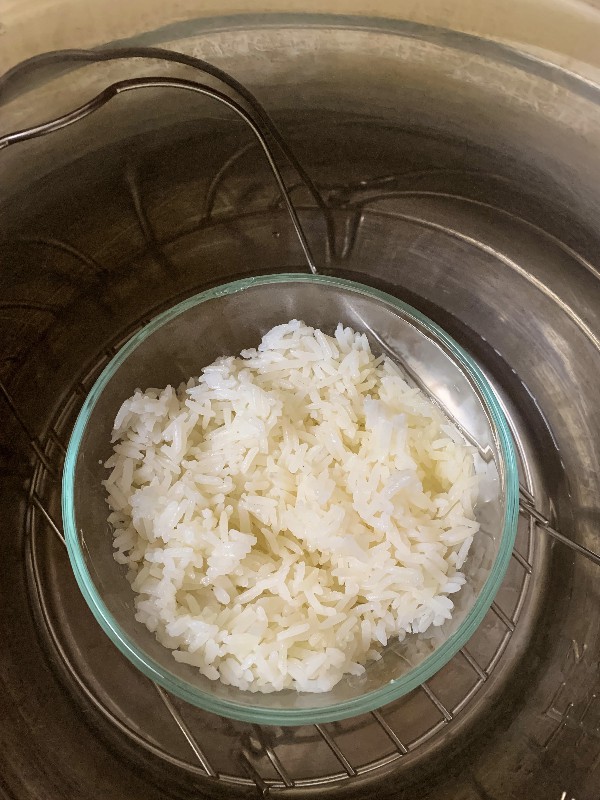 How to Reheat Rice in the Instant Pot
My absolute favorite way to use the Instant Pot to heat up rice is to use the pot-in-pot method, and here's why.
If you reheat the rice directly in the insert pot, you'd have to use the Keep Warm function to reheat it slowly, and you'd have to add some liquid and maybe even a little oil to keep everything from sticking too terribly as it reheats.
Can you imagine the mess?? No thank you!
Instead, I store leftover rice in a heatproof dish (I most often use one of these), that way I can simply reheat the rice in its dish. If I have a larger amount of rice to reheat, I use a bundt pan that fits in my Instant Pot.
I have an entire list of the best pot-in-pot accessories for the Instant Pot that you can check out to see what other options could work well for you!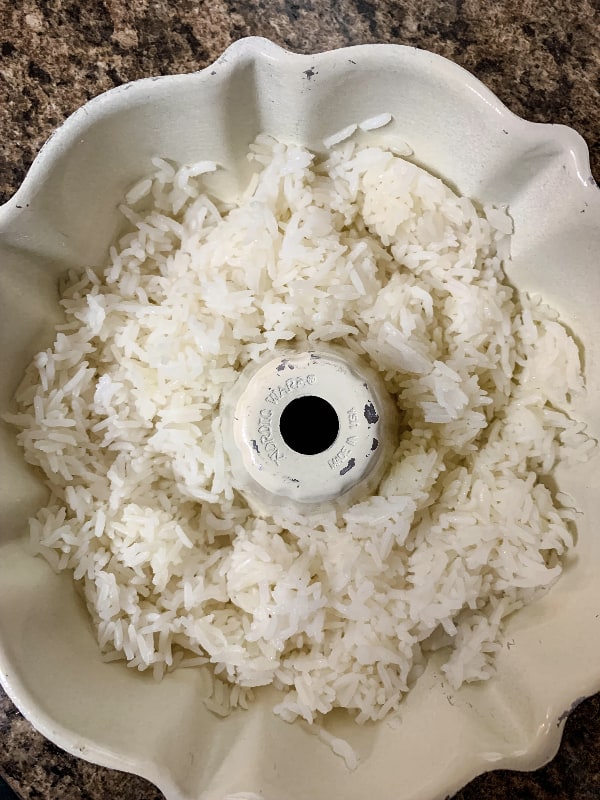 To do this, you'll place the trivet into the insert pot of the Instant Pot. Pour some water into the insert pot, then lower the dish onto the trivet (you may want to fluff the rice a bit so the heat can be distributed throughout).
You can always add a drizzle of water if desired, but I usually don't find it necessary.
Instead, I keep the dish uncovered while reheating, because the steam helps to keep the rice moist.
Then, put the lid on, close the vent, and use the Steam function to heat it up!
How Long Do I Reheat Rice in the Instant Pot?
I generally start with a time of 5 minutes. I usually wait a couple of minutes after the time is up before I release the steam, but you don't have to.
Now, 5 minutes is just a ballpark number, rather than an exact science. The amount of time needed will depend on how much rice you have and how cold it is.
So you can start with 5 minutes, and if the rice isn't heated through to your liking, just add another minute or two.
And voila! You have perfectly reheated rice, courtesy of the Instant Pot! Enjoy! 🙂
You can also keep food warm in the Instant Pot, which is handy if you're cooking now but won't be eating it for a little while.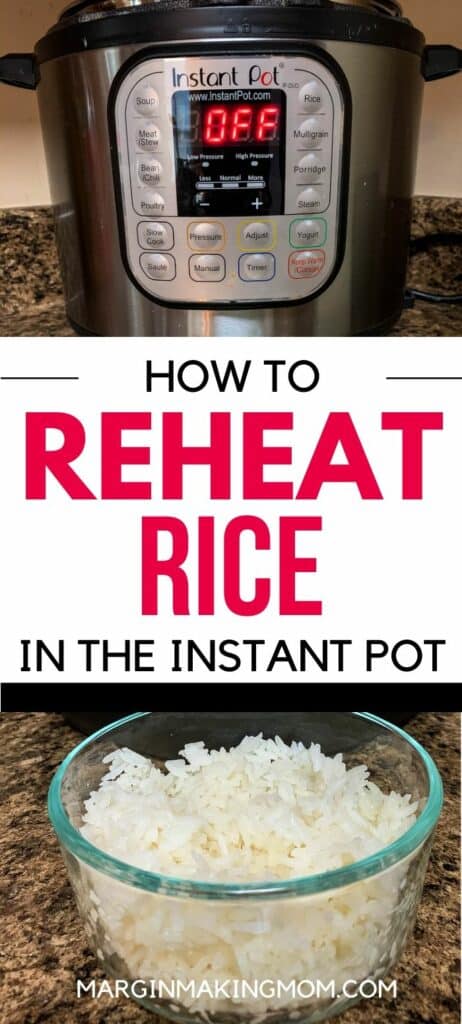 Get the Instant Pot Meal Plan Jumpstart
Join the free community and you'll learn simple ways to easily create tasty food for your family, as well as immediate access to the FREE Instant Pot Meal Plan Jumpstart to help you get a tasty dinner on the table in a flash!
"Thanks for sharing your knowledge and experience in such a friendly and delightful way!!! So far, I'm very impressed with the results...thanks again for your guidance into this new realm of cooking!" -Margaret
Free Resource Library
Enter my
free resource library
for my latest printables and resources! Password is 'IHEARTMARGIN' -- please copy and paste that in at the link above. Thanks for being a subscriber!!