Learn how to reheat pulled pork the easy way, by heating the leftovers in your Instant Pot!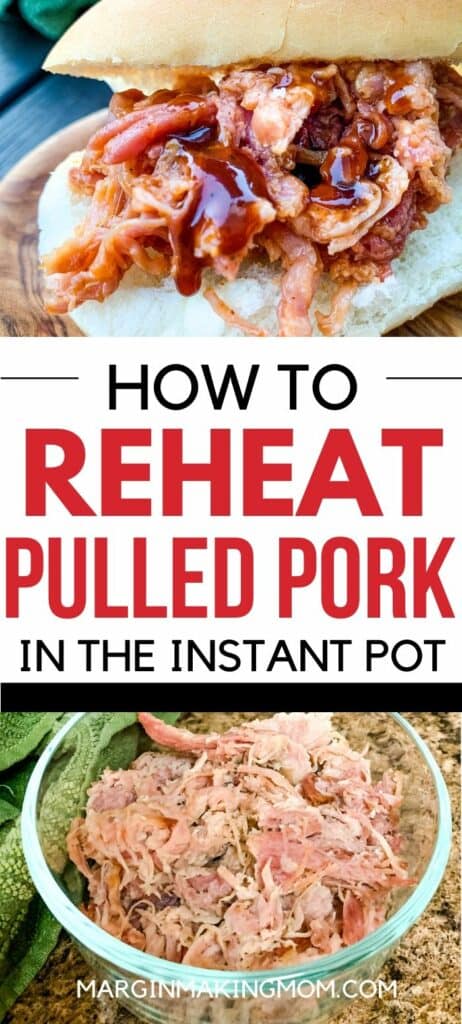 Did you know you can reheat pulled pork in the Instant Pot? The result is tender and moist meat, and it's a cinch to do it! Keep reading to get the tips and tricks for using this method.
Note: This post may contain affiliate links for your convenience. If you make a purchase, this site may receive a small commission at no additional cost to you. You can read my full disclosure policy here.
It doesn't take long to realize just how useful the Instant Pot is! It is one of the most versatile appliances.
Many people have discovered that you can cook pulled pork in the Instant Pot, but did you know it's possible to reheat leftovers in the Instant Pot as well?
And, you can keep food warm in the Instant Pot, which is great if you're cooking now but won't be eating it until a little later.
I've found that reheating pulled pork in the microwave can leave it dry and tough, which is such a shame when you spend so long cooking it to perfection.
Related Articles: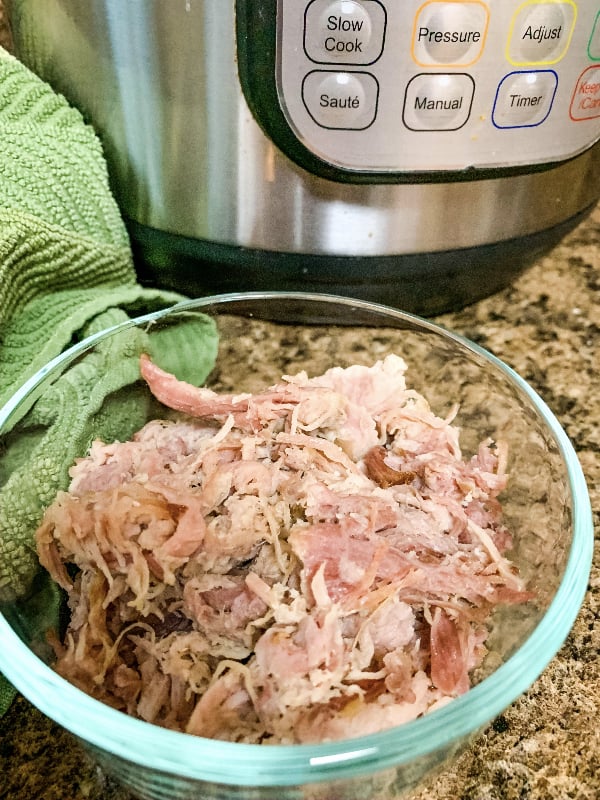 The Best Way to Reheat Pulled Pork
But when you reheat pulled pork in the Instant Pot, the moist environment helps to keep the meat juicy and tender, exactly as it should be!
In fact, I think using the Instant Pot is the best way to reheat pulled pork, because it preserves the texture of the meat so well.
Today I'm sharing how I use the Instant Pot to reheat pulled pork, including the tips and tricks and tweaks that make this method SO easy!
You may want to use some of your leftover shredded pork in this easy recipe for bola de carne!
How to Reheat Pulled Pork
There are a couple of ways you can go about reheating pulled pork in the Instant Pot, depending on how much you have, whether it's in sauce, etc.
How to Reheat a Large Amount of Pulled Pork in Juices
If you have a large amount of pulled pork to reheat and it's still in its juices, one option is to reheat it directly in the insert pot of the Instant Pot.
You can opt for a slower reheating process by using the Keep Warm function. Or, you can reheat it more quickly by selecting a 0 minute cook time at high pressure.
When you use the 0 minute cook time method, the Instant Pot will bring the food to a boil to achieve pressure, but it doesn't continue maintaining the pressure for a cook time. This is a great way to heat it up quickly, but it requires that the meat still be in the liquid (because liquid is required to achieve high pressure).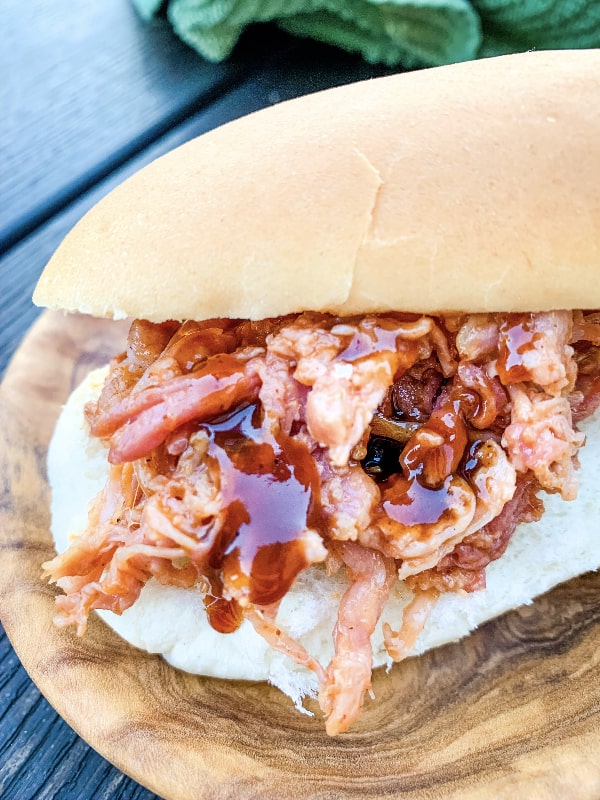 How to Reheat A Smaller Amount of Pulled Pork Not in Juices
If you have a smaller amount of pulled pork that isn't in juices anymore, I love using the pot-in-pot method to reheat it.
You'll place the leftover pork into a heat-safe dish (I use these ALL the time!). Then, add some water to the insert pot of the Instant Pot and put the trivet in place.
Chances are, you already have some kind of heatproof dish you can use. I also have a list of pot-in-pot accessories that you can check out!
Lower your dish of pork onto the trivet. Use the Steam button to select a 5 minute cook time.
Once the steam time is complete, you can do a quick release of pressure or a natural release.
The 5 minute time is just a ballpark amount–the actual time needed will vary, depending on how much pork you're reheating and how cold it was to begin with.
If the pork isn't completely heated through to your liking after 5 minutes, steam it for another minute or two.
When I use this method, I leave the dish uncovered, because the steam helps to keep the pork moist. A small amount of condensation may drip into the dish, so if you want to avoid that, go ahead and cover the dish with some foil. But I personally feel that it is a negligible amount of liquid.
If you are reheating pork that has sauce on it, you'll use the same pot-in-pot method. I do not cover mine, even when it has sauce on it, but you're welcome to if you prefer.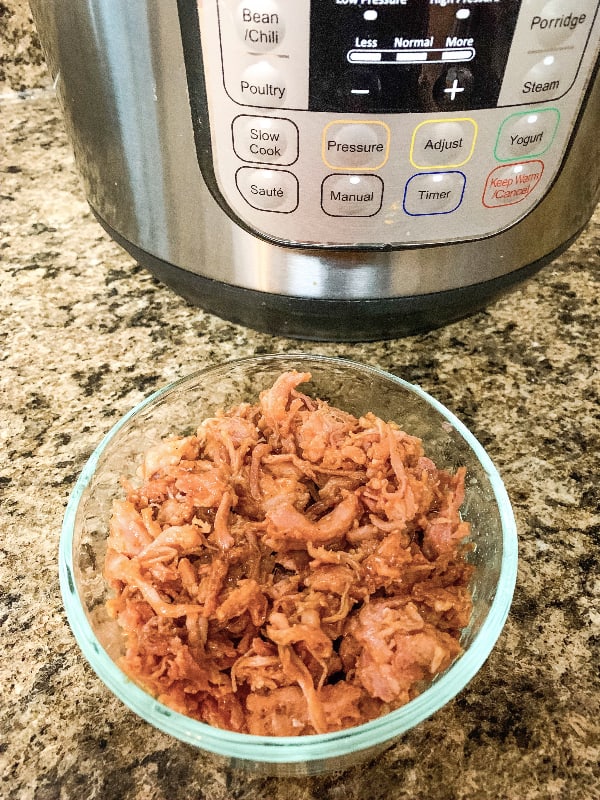 Benefits of Reheating Pulled Pork in the Instant Pot
You'll love how the texture of the pulled pork is so similar to when it's freshly cooked!
The other great thing is that the pot-in-pot method of reheating minimizes dirty dishes, since you're probably reheating the leftover pork in the same dish you stored it in.
I also love that this process is pretty much hands-off. No need to stir it in a pot on the stove!
If you've taken the time to make delicious pulled pork, you want to be sure you're reheating the leftovers in the best way!
Psstt….did you know you can freeze pulled pork? Once it's thawed, you can reheat it in your pressure cooker!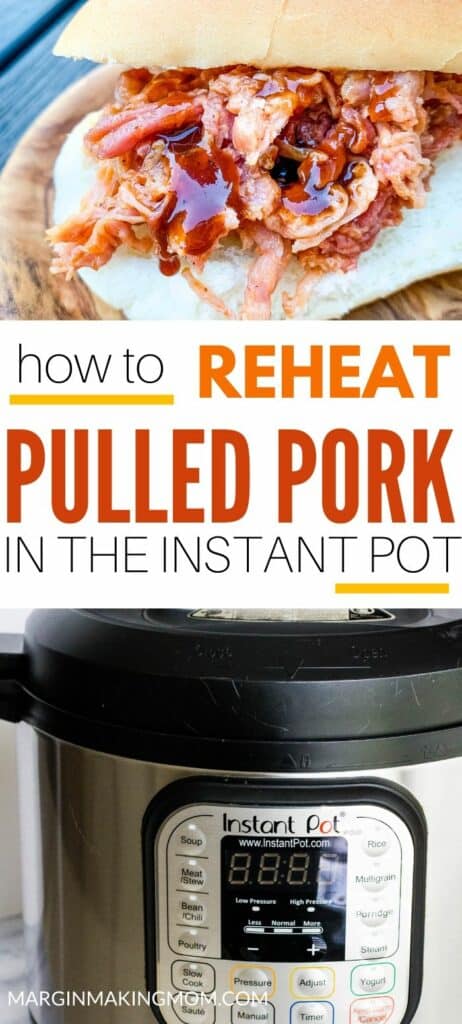 Get the Instant Pot Meal Plan Jumpstart
Join the free community and you'll learn simple ways to easily create tasty food for your family, as well as immediate access to the FREE Instant Pot Meal Plan Jumpstart to help you get a tasty dinner on the table in a flash!
"Thanks for sharing your knowledge and experience in such a friendly and delightful way!!! So far, I'm very impressed with the results...thanks again for your guidance into this new realm of cooking!" -Margaret
Free Resource Library
Enter my
free resource library
for my latest printables and resources! Password is 'IHEARTMARGIN' -- please copy and paste that in at the link above. Thanks for being a subscriber!!