There are several ways an Instant Pot saves money! If you're wondering if an Instant Pot is worth it, check out these ways I personally use mine to save money.
Note: This post may contain affiliate links for your convenience. You can read my full disclosure policy here.
Although Instant Pots go on sale every now and then, I personally still consider buying one to be a pretty significant investment, even when it's a "good deal."
In fact, I was on the fence about purchasing one for months before I finally took advantage of a Prime Day sale. Honestly, I wasn't sure if I would use it enough to justify the cost. I thought it might just sit in a cupboard, collecting dust. I couldn't have been more wrong!
Over the years, I've found so many ways to use my Instant Pot, and it's one of my most-used appliances.
Although there are so many things you can do with an Instant Pot, it's important to decide whether or not the investment makes sense for you. I personally have found my Instant Pot to be extremely worthwhile, not only because it simplifies meal prep around here, but because it has saved me a good bit of money over time.
How Do Instant Pots Save Money?
Well, I'm so glad you asked. 🙂 Today, I'm sharing some of my favorite ways that an Instant Pot saves money!
Money Saving Instant Pot Recipes
With the Instant Pot, it's easier and faster to cook so many things from scratch, which means I'm more likely to actually do the cooking instead of buying more expensive pre-packaged items and ingredients.
For instance, it's crazy easy to cook up a big batch of quinoa, beans, or brown rice in the Instant Pot. Homemade soups, which are WAY cheaper than canned soups, are a cinch to cook in the pressure cooker.
And, I make my own yogurt in the Instant Pot, which is significantly less expensive than buying yogurt from the store.
Sure, there are other ways to make all of those things, but I've found I'm more likely to actually make them now because my Instant Pot makes it easier and faster to do it.
If you need ideas of money saving Instant Pot recipes, check out my ultimate list of 40 of the best easy and cheap instant pot recipes for dinner that will help you save time and money!
My Instant Pot saves money by allowing me to make frugal meals more quickly and easily.
The Instant Pot Saves Time
Family and friends will often ask me, somewhat incredulously, "Does an Instant Pot really save time?" And my answer is a resounding, "Yes!" And since we all know time is money, this is one way the Instant Pot makes a difference.
The reality is, I don't have to spend as much time in the kitchen when I'm using my Instant Pot, which frees me up to do other things. In general, the Instant Pot is a pretty hands-off appliance, so I can leave it to do its thing while I work on something else.
Whether that frees up some time for you to make some extra money, or if it allows you to just have time to relax or enjoy being with your family, it makes a difference.
Prevent the Mealtime Scramble with the Instant Pot
If you're anything like me, I'm sure you've had a day where you forgot to set out the meat to thaw, or you forgot to put all of the ingredients in your slow cooker in the morning. Don't you hate it when that happens?
So then you ended up ordering pizza or pulling through the drive-through at a nearby restaurant.
Having an Instant Pot means I can cook many ingredients straight from frozen (frozen chicken breasts, anyone?), saving the dinnertime hour.
Not only that, but if it's getting late in the day and I haven't started making dinner yet, I know I can throw something together quickly and it won't take long to cook in the Instant Pot.
This ability to make a quick and easy dinner, even at the last minute, prevents us from spending money unnecessarily on eating out.
Instant Pot Energy Efficiency
I have often wondered if the Instant Pot is energy efficient, so I did a little bit of research and found that using an electric pressure cookers can save as much as 70% of energy compared with boiling, steaming, oven cooking, or slow cooking. The lower Instant Pot energy consumption is due to the decreased amount of water necessary when cooking (so it requires less energy to heat up), as well as the insulated exterior (heat stays in better). Plus, it doesn't stay on as long as something like a slow cooker might, because it cooks faster.
And if you're wondering how much electricity a pressure cooker uses, the Instant Pot company says it uses less energy than any other appliance except for a microwave. Pretty crazy!
Over time, using an energy efficient appliance can really add up to some savings!
Not only that, but cooking with the Instant Pot doesn't heat up your kitchen the same way your oven or stove top would. So by cooking more with the Instant Pot, you experience the indirect benefit of your kitchen staying cooler, which lowers your home energy bill.
Cheaper Cuts of Meat in the Instant Pot
Another great feature of the Instant Pot is that cheaper, tougher cuts of meat come out nice and tender when cooked under pressure. Think things like chuck roasts and shoulder roasts.
Yes, you can also cook these "low and slow" in your Crock Pot to get them nice and tender, but it is much faster in the Instant Pot (and you'll save energy!).
For instance, I love using chuck roast to make pressure cooker beef stew, because it takes a fraction of the time compared to when I used to make it in the oven or slow cooker.
Purchasing these less expensive cuts and utilizing them in your weekly meal plan can help cut grocery expenses!
Is an Instant Pot Worth It?
As you can see, there are a lot of ways the investment in an Instant Pot can allow you to save money in different areas. For me personally, my Instant Pot has paid for itself many times over, even if only for the fact that it's easier to eat at home more often. If you don't have one yet, you can get yours here!
However, it's only worth it if you're actually going to use it. I hear from people all the time who have an Instant Pot, but it's still in the box. They don't know where to start, they feel overwhelmed, and they're intimidated by all of the buttons.
I've helped thousands of people overcome their fear and overwhelm and actually get started using their pressure cooker! Don't let your Instant Pot be a waste of money. I'd love to help you, too. Sign up below to get a free video course for Instant Pot beginners!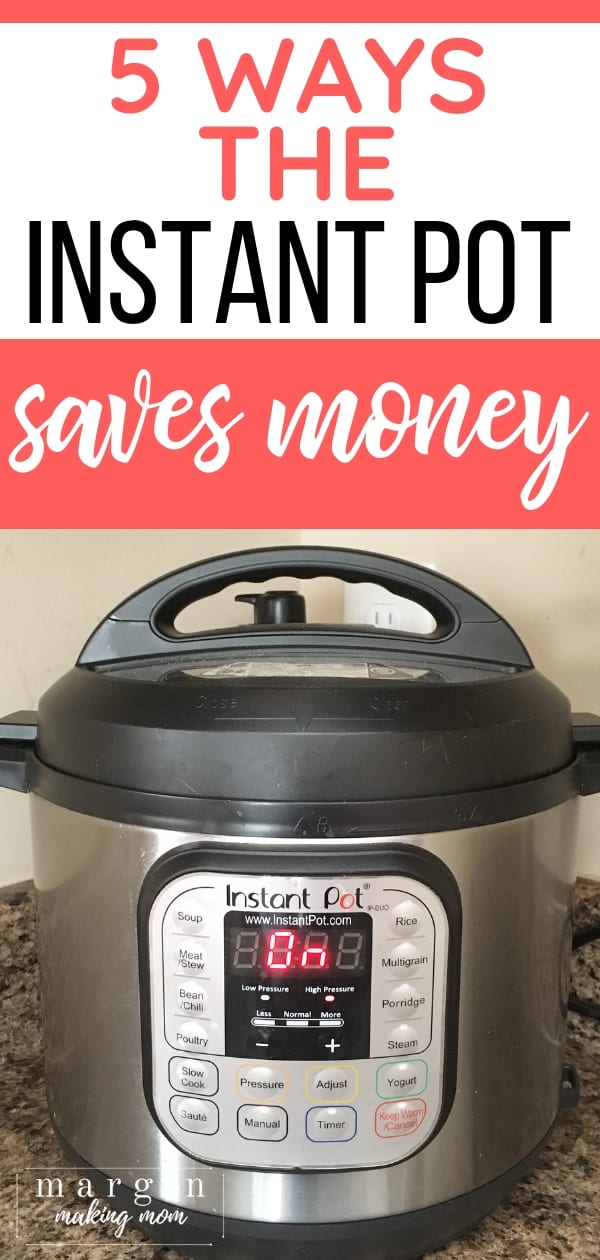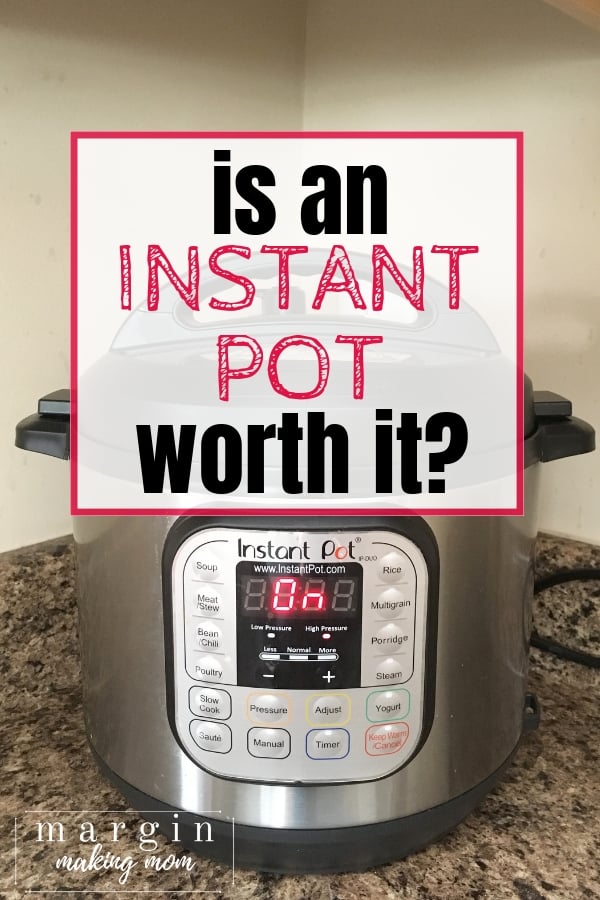 Get the Instant Pot Meal Plan Jumpstart
Join the free community and you'll learn simple ways to easily create tasty food for your family, as well as immediate access to the FREE Instant Pot Meal Plan Jumpstart to help you get a tasty dinner on the table in a flash!
"Thanks for sharing your knowledge and experience in such a friendly and delightful way!!! So far, I'm very impressed with the results...thanks again for your guidance into this new realm of cooking!" -Margaret
Free Resource Library
Enter my
free resource library
for my latest printables and resources! Password is 'IHEARTMARGIN' -- please copy and paste that in at the link above. Thanks for being a subscriber!!