Easily solve the dinnertime dilemma of frozen chicken! Learn how to cook frozen chicken breasts in the Instant Pot pressure cooker!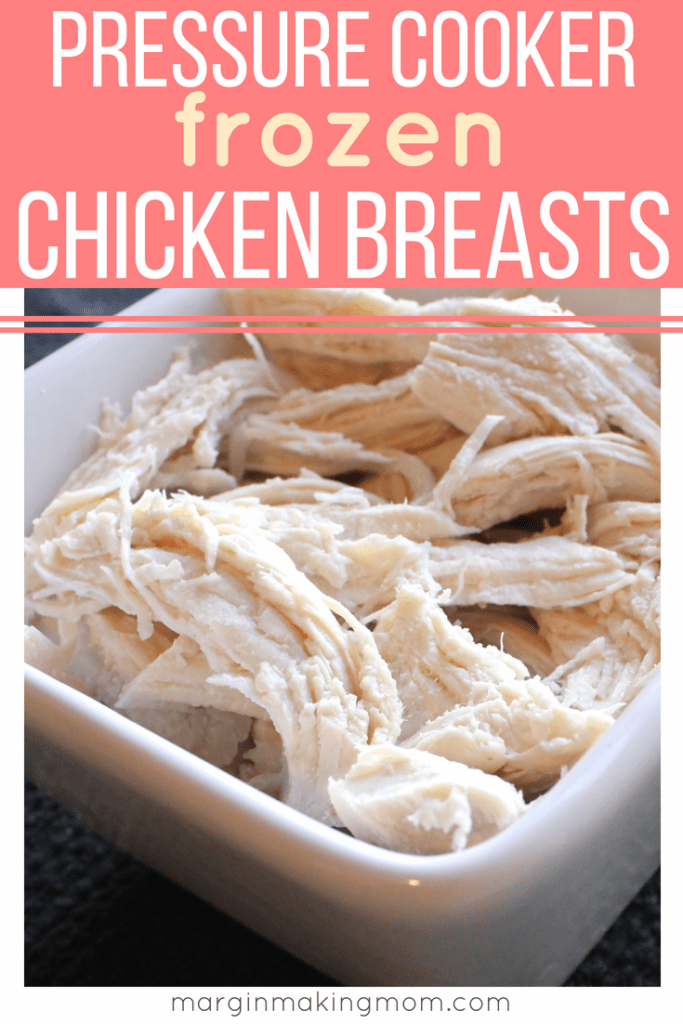 Disclaimer: This post may contain affiliate links for your convenience.  You can read my full disclosure policy here.
Have you ever experienced the age-old mealtime dilemma?  You know the one.  It's time to start making dinner, but -GASP- the chicken breasts you were planning on using are still frozen!!
I'm a big fan of meal planning, which can help eliminate this problem.  BUT, sometimes life happens, and it's 5pm but you forgot to thaw out the chicken.

Sure, you could throw them in the microwave (if you have one…we don't), but I've always felt like that alters the texture of the meat in a not-so-tasty way.  And, you're really only thawing the meat that way, so you still have to cook it.  Enter: the Instant Pot.
If you've been around this blog for 2.7 seconds, you know that I LOVE my Instant Pot.  Truly.  I use it all.the.time and it's one of the reasons I didn't bother to replace my microwave when it went kaput.
Let's look at how to cook frozen chicken breasts in the Instant Pot–this is such a great way to simplify mealtime!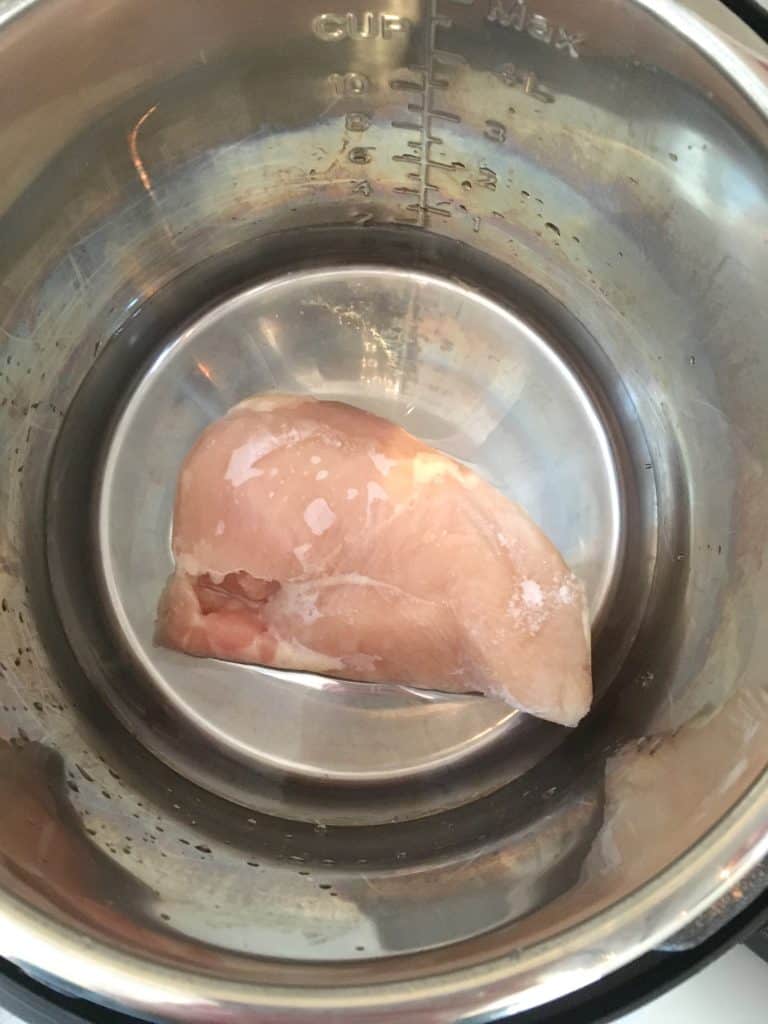 How to Cook Frozen Chicken Breasts in the Instant Pot Pressure Cooker:
The process couldn't be easier.  I have only tried this technique with up to two medium-large chicken breasts, so you would likely need to tweak the cook time for more than that.  You simply place one or two frozen breasts in the Instant Pot, along with one cup of water.  Lock the lid and place the vent in the "sealed" position.  Select the Poultry setting and a 10-minute cook time (Note: If you are using very large chicken breasts, like the ones that are nearly a pound each, you will probably need to increase cook time to 12-13 minutes).  While the chicken is cooking, you can prep any other ingredients you need for your meal.
After the cook time is finished, allow a natural pressure release.  When the valve has dropped, voila!
The chicken is tender and not dry at all, ready for you to prepare your meal.  You can shred or slice it and add it to soups, casseroles, pasta, or salad greens.  You can dice it and make chicken salad.  Whatever your heart desires. 🙂
By knowing this simple kitchen hack of how to cook frozen chicken breasts in the Instant Pot, you can simplify your meal prep and eliminate the mealtime blues!
What is one of your favorite ways to use your Instant Pot?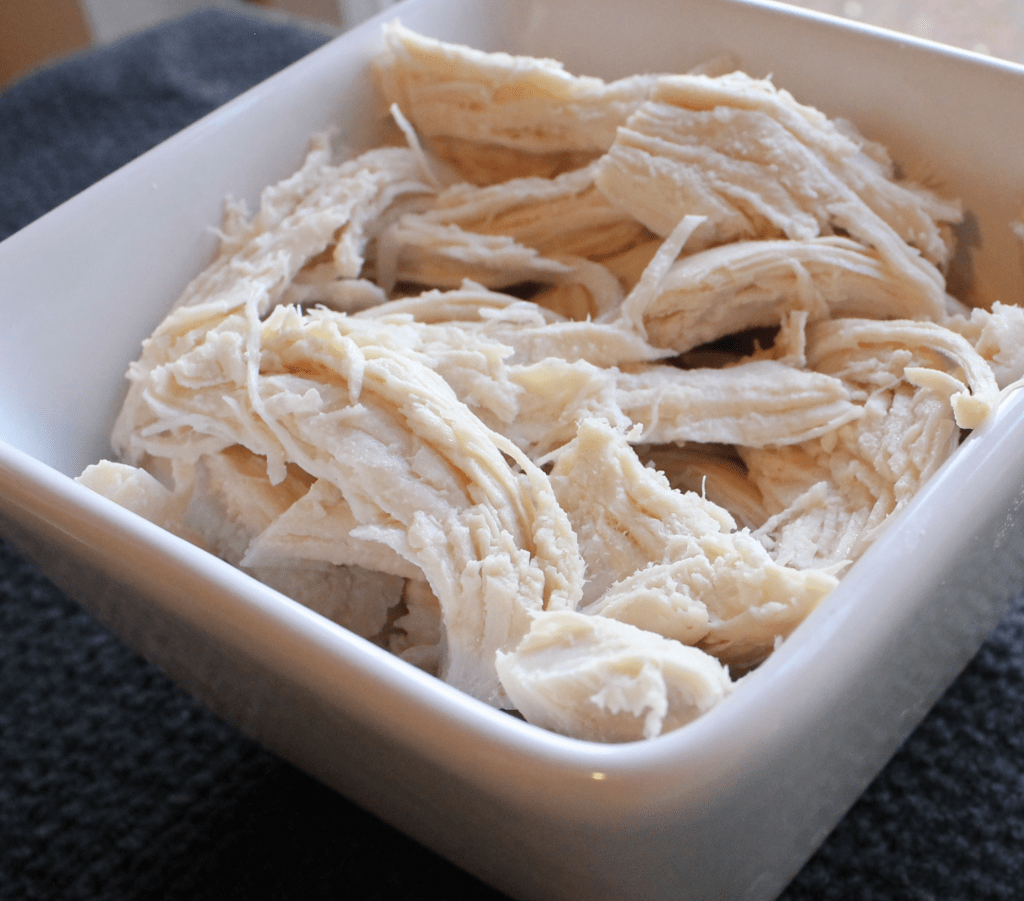 More Pressure Cooker Chicken Recipes You Might Love:

Mealtime Made Easy – How to Cook Frozen Chicken Breasts in the Instant Pot
Ingredients
1 or 2 medium-large boneless skinless chicken breasts
1 cup water
Instructions
Place chicken breasts in Instant Pot and add water.
Close lid and set vent to "sealed."
Use the Poultry setting and select a 10 minute cook time. (Note: For very large chicken breasts, I'd recommend increasing cook time to 13 minutes).
After cook time, allow pressure to release naturally.
Once valve has dropped and pressure has released, open lid and remove chicken breasts. Slice, shred, or chop if desired.
https://marginmakingmom.com/frozen-chicken-breasts-instant-pot/
Copyright MarginMakingMom.com
Save
Save
Save
Save
I also recommend checking out the Electric Pressure Cooking 101 class to help you gain even more confidence with your pressure cooker.  The self-paced course will help you learn how your pressure cooker works and how to cook certain groups of food. It also includes a two-week meal plan with shopping lists!  You can check it out here.
Save
Save
Save
Save
Save
Save
Save
Save
New to Pressure Cooking?
Subscribe to the Margin Making Mom newsletter and get instant access to a FREE printable Beginner's Guide to Getting Started with Your Pressure Cooker, which includes a printable Conversion Cheat Sheet to help you convert your favorite slow cooker meals to pressure cooker meals!
We take your privacy seriously and won't send you spam. See our privacy policy here.

Free Resource Library
Enter my
free resource library
for my latest printables and resources! Password is 'IHEARTMARGIN' -- please copy and paste that in at the link above. Thanks for being a subscriber!!