Love chicken and dumplings but don't have a lot of time? These pressure cooker chicken and dumplings are quick, easy, and delicious!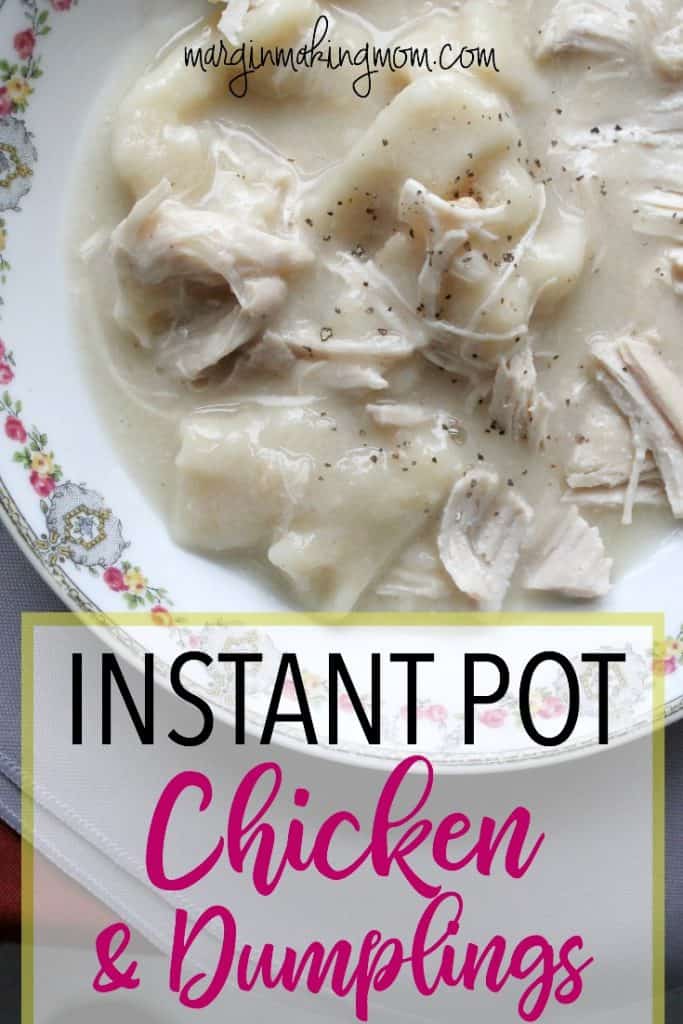 This post may contain affiliate links for your convenience.  You can read my full disclosure policy here.
I have a lot of memories of eating at Cracker Barrel.  When I was growing up, my grandma would often take my sister and I to the beach for a few days.  Cracker Barrel was one of our "old standby" restaurants.
The one where we were guaranteed to like the food.  And also one where we could be easily occupied by perusing the store full of fun toys and gifts. 🙂
One of my favorite meals to order at Cracker Barrel is their chicken and dumplings.  There seem to be a couple of different camps when it comes to dumplings.  Some folks like their dumplings more biscuit-like, and others prefer the flat almost-noodle type.
Honestly, I like both, but I prefer the flat noodle type that Cracker Barrel sells.  I mean, really– tender dumplings and chicken wrapped in a savory creamy broth–does it get much better than that?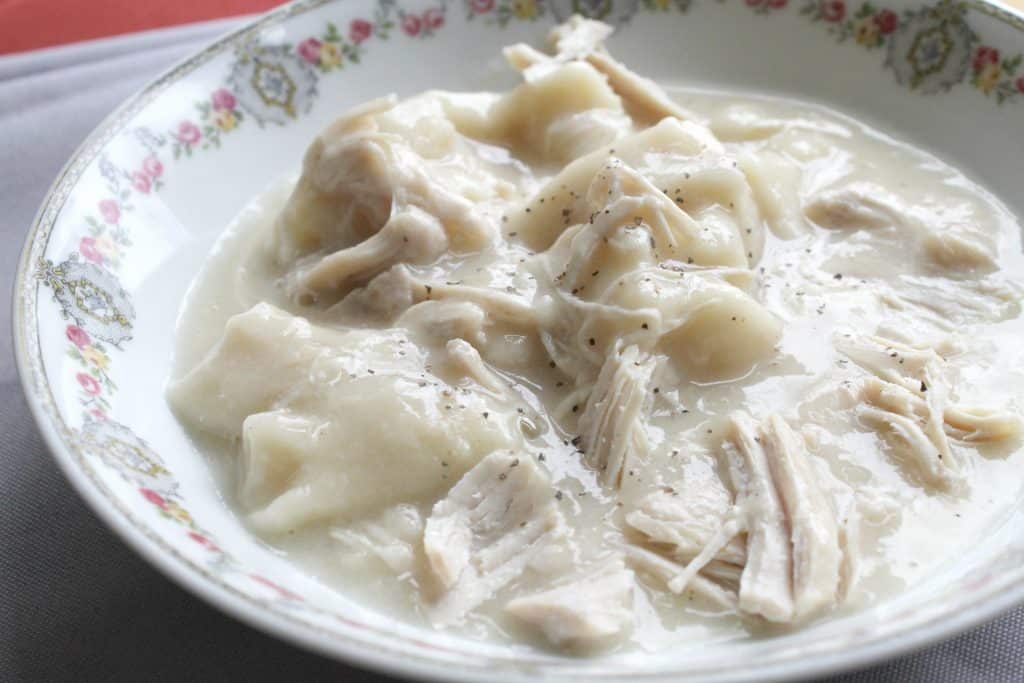 Several years ago, when I was a newlywed looking for new meals to prepare, I came across this recipe for dumplings.  I wrote it down and put it in my recipe book.  I didn't write down where I found it, so I have no clue where it originated from.
It's a family favorite that I've made for years, and it's somewhat similar to my favorite chicken and dumplings from Cracker Barrel.
Originally, I would cook the chicken, then let some broth and aromatics simmer for a while, then cook the dumplings in the broth, then add the chicken.   Recently, I decided to try making this dish in my Instant Pot, and it worked! A quick and easy meal that's also incredibly delicious?  Yes, please!
More Easy Pressure Cooker Dinner Recipes You're Sure to Love:
How to Make Chicken and Dumplings in the Pressure Cooker:
Start by adding some chicken, broth, celery, and onion to the insert pot of your Instant Pot (or other electric pressure cooker).  Cook those at high pressure for 3 minutes.
While those cook, prepare the dumplings. Now, I don't want you to be intimidated by these homemade dumplings.
Really, they are so easy.  So easy, in fact, that my 4 year old and 2 year old helped make them.  They helped stir the dough, roll it out, and cut it into strips.  So don't think that homemade dumplings are difficult or labor intensive…they're not.
Once the cook time is complete in the pressure cooker, perform a quick release of pressure.  Remove the celery and onion and discard.  Remove the chicken and set aside.
Add the strips of dumpling dough to the hot broth in the insert pot.  Use the Saute function to keep the broth simmering until the dumplings are cooked and the broth begins to thicken a bit, about 15-20 minutes or so.
Stir the dumplings occasionally as they cook.  While they're cooking, shred or chop the chicken and return it to the insert pot, stirring to combine.  Turn off the Saute function when desired consistency is achieved.
The broth will continue to thicken as it cools, but you're welcome to add a cornstarch slurry to the hot broth if you want to speed up the process a bit.  Add some salt and pepper to taste, and you're all set!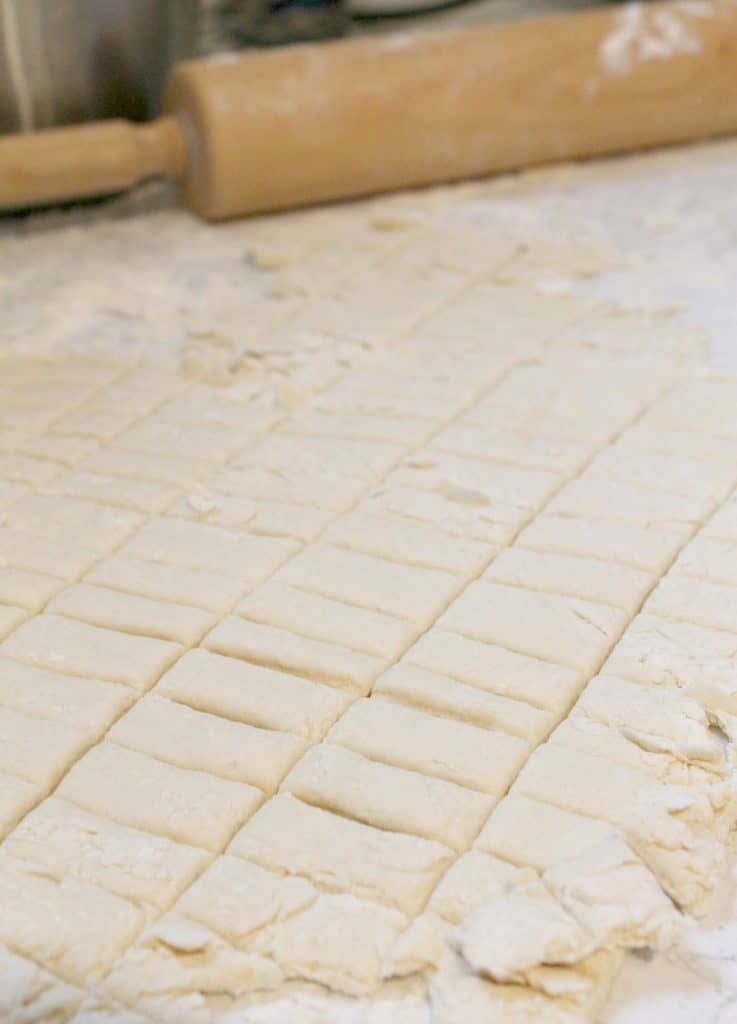 If you're looking for comfort food made easy, this is it.  These pressure cooker chicken and dumplings make a delicious and hearty meal that you can throw together quickly. In true southern fashion, they'd be great alongside some pressure cooker southern style green beans or some cast iron skillet cornbread. 😉
These Instant Pot chicken and dumpings are a tasty, frugal, and simple addition to your weekly meal plan.  That, my friends, is even better than Cracker Barrel!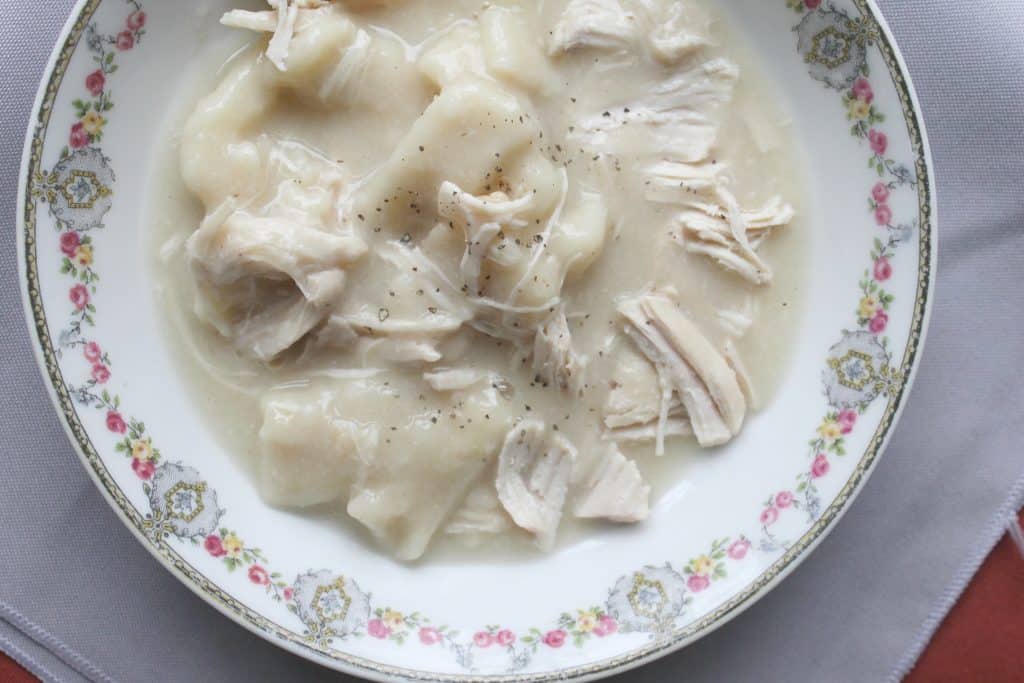 Recommended Equipment for Pressure Cooker Chicken and Dumplings:
Instant Pot (I have the IP DUO60 model and love it!)
Rolling pin
Dry and liquid measuring cups
You can find more easy pressure cooker recipes here!  Read about how to convert slow cooker recipes into pressure cooker recipes (including a FREE cheat sheet) here!
The Best Chicken and Dumplings in the Pressure Cooker
Ingredients
2 boneless chicken breasts
7 cups chicken broth
2 stalks of celery, broken in half
1/2 onion (chunk)
salt & pepper to taste
For the Dumplings:

3 cups all-purpose flour
1 Tbs baking powder
1 1/4 tsp salt
1 cup + 2 Tbs milk
Instructions
Cut each chicken breast in half and place pieces in insert pot of Instant Pot.
Add chicken broth, celery, and onion.
Place lid onto Instant Pot and set vent to "sealed."
Use the manual setting to select a 3 minute cook time.
While chicken is cooking, prepare the dumplings by mixing flour, baking powder, salt, and milk until combined.
Turn onto a floured surface and roll to about 1/4 inch thickness.
Use a pizza cutter to cut into strips about 1-2 inch strips or squares.
After the cook time has finished, perform a quick pressure release.
Once pressure has released and valve has dropped, carefully remove lid. Remove and discard chunks of onion and celery. Remove chicken to a plate.
Add dough strips to broth and stir well.
Use the Saute function to simmer the broth and dumplings. Simmer until dumplings are cooked and broth has begun to thicken, about 15-20 minutes.
(Broth will continue to thicken more as it cools, but you are welcome to add a slurry of cornstarch and water to thicken it even more if desired).
While the dumplings are cooking, shred the chicken and return it to the insert pot, stirring to combine.
Add salt and pepper to taste. Enjoy!
https://marginmakingmom.com/pressure-cooker-chicken-and-dumplings/
Copyright MarginMakingMom.com
Updated 11/11/17:
The previous version of this recipe involved adding all ingredients to the insert pot of the Instant Pot at the same time, and selecting a 3 minute cook time for everything to cook together, followed by a natural pressure release.  I've received feedback from some readers stating that when cooking their dumplings under pressure, the dumplings have clumped together. This is expected, since we can't stir the dumplings around while cooking under pressure. I personally haven't found this to be problematic, as I have been able to easily stir and break apart the dumplings after cooking. But since I know how frustrating it can be to have a recipe not turn out as expected, and since I don't want any of my recipes to be unreliable, I have updated the recipe. 
The new recipe version includes a different preparation method that involves cooking the broth and chicken under pressure, then adding the dumplings and using the Saute function to simmer them in the broth. For most consistent results, this is the recommended method. If you previously had success with the former method, feel free to continue using it.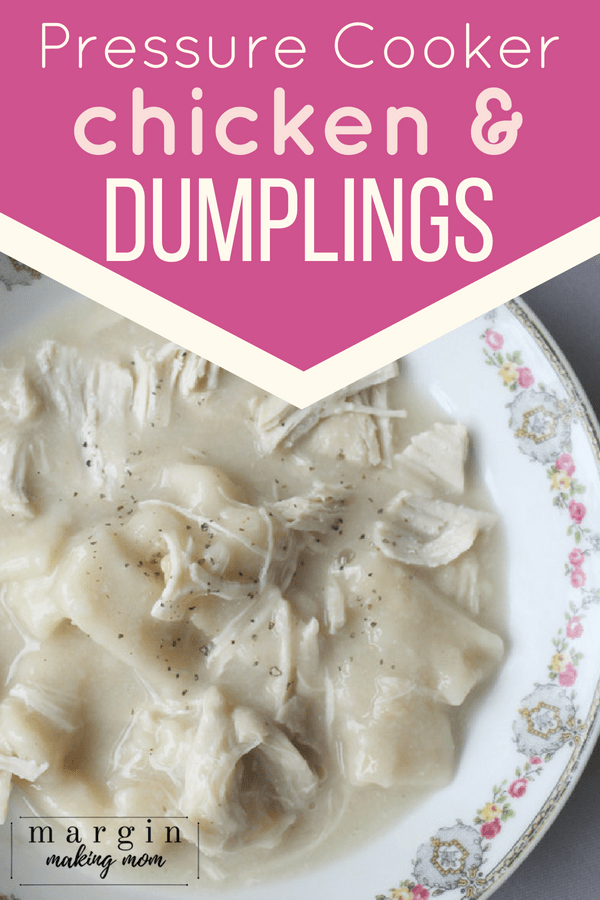 Save
Save
Save
Save
Save
Save
Save
New to Pressure Cooking?
Subscribe to the Margin Making Mom newsletter and get instant access to a FREE printable Beginner's Guide to Getting Started with Your Pressure Cooker, which includes a printable Conversion Cheat Sheet to help you convert your favorite slow cooker meals to pressure cooker meals!
We take your privacy seriously and won't send you spam. See our privacy policy here.

Free Resource Library
Enter my
free resource library
for my latest printables and resources! Password is 'IHEARTMARGIN' -- please copy and paste that in at the link above. Thanks for being a subscriber!!