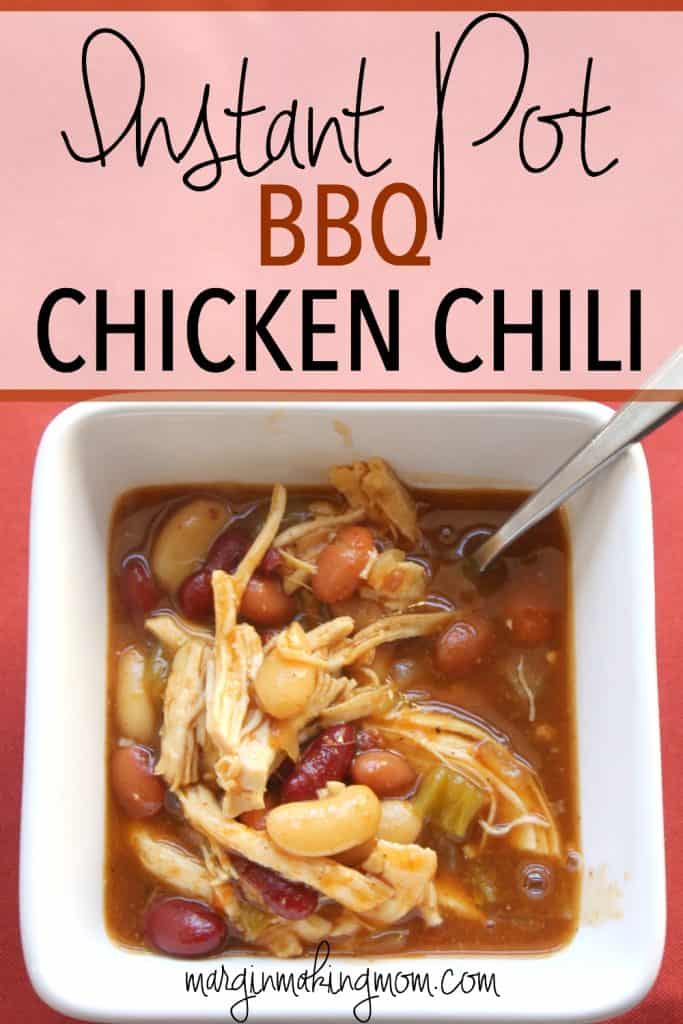 Instant Pot BBQ Chicken Chili is a quick, easy and frugal meal that you will want to make over and over again. It is sweet, smoky perfection!
Disclaimer: This post may contain affiliate links for your convenience.  You can read my full disclosure policy here.
I love making a big pot of soup or chili any time of year, but it especially feels right during the fall.  I have a bazillion different soup and chili recipes that I rotate through, making some more often than others, but they are all so tasty.  This Instant Pot BBQ Chicken Chili is one of our favorites!  It's hard to believe there was once a time when pretty much the only soup I ate was from a can.  Having a good arsenal of soup recipes comes in handy for making easy, frugal, and delicious meals.  I also love making a big pot of soup, as it tends to be a "make once, eat twice" kind of meal for our family.
I initially discovered this recipe on Carlsbad Cravings, a blog that you should be following if you aren't already.  Seriously, so many good eats!  The original recipe is written to be made in a slow cooker or, alternatively, on the stove top.  Previously, I've always used the slow cooker method of preparation, and we loved it!  However, since purchasing my Instant Pot a few months ago, I am always interesting in converting older recipes to prepare in the Instant Pot pressure cooker, because it's just so much faster in most instances.  I'm happy to report that this one was a huge success!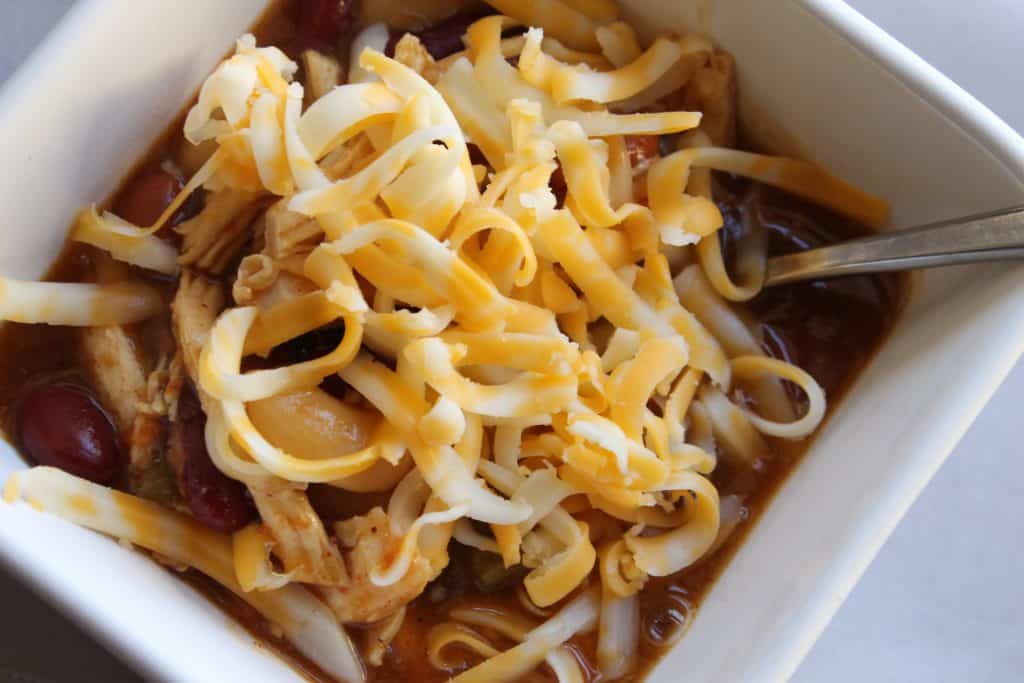 You'll love the sweet, smoky flavors of this Instant Pot BBQ chicken chili and the fact that it is a cinch to prepare!  I'm a bit of a minimalist and just love it topped with freshly shredded colby jack cheese (because cheese you shred yourself melts so much better!), but you can also top it with sour cream, avocado, tortilla chips, or whatever your heart desires.  With a handful of staple ingredients, dinner can be ready in a flash!  It only cooks for 10 minutes–serve it up with a piece of skillet cornbread and you are golden!
Recommended Equipment:
Instant Pot pressure cooker (I use the DUO60 model and LOVE it)
Box grater to shred your own cheese, if desired (it's worth it, in my opinion!)
If you want an easy, frugal meal to warm you this fall, give this recipe a try!  You'll want to add it to your weekly meal plan over and over again. 🙂
You can find more easy pressure cooker recipes here. Read about how to convert slow cooker recipes for the pressure cooker (with a FREE printable cheat sheet!) here.
Instant Pot BBQ Chicken Chili
Ingredients
1 medium onion, diced
4 cloves garlic, minced
2 boneless skinless chicken breasts
1/2 cup ketchup
3 Tbs brown sugar
2 tsp yellow mustard
2 Tbs apple cider vinegar
2 Tbs Worcestershire sauce
2 tsp chili powder
1 tsp cumin
1 tsp paprika
2 tsp liquid smoke
1 tsp salt
1/2 tsp pepper
1 can cannelini beans, undrained
1 can pinto beans, undrained
1 can kidney beans, undrained
1 4-oz can green chilies
1 14-oz can chicken broth
2 Tbs cornstarch mixed with 2 Tbs cold water (optional)
Instructions
Add diced onions to Instant Pot and set to Saute.
While onions are cooking, combine ketchup, brown sugar, yellow mustard, apple cider vinegar, Worcestershire sauce, chili powder, cumin, paprika, liquid smoke, salt, and pepper.
Add garlic to Instant Pot and stir to combine with onions. Turn off the Saute function.
Add chicken breasts to Instant Pot.
Pour ketchup mixture over the chicken.
Add beans (including their liquid), chicken broth, and green chilies to the Instant Pot, stirring to combine.
Place lid on Instant Pot and set the vent to "sealed."
Using the Manual setting, cook at high pressure for 10 minutes.
After cook time has completed, turn Instant Pot off and allow pressure to release naturally.
Once pressure has released and valve has dropped, open lid and remove chicken.
Shred chicken and return to Instant Pot.
If you desire a slightly thicker chili, combine cornstarch and water into a slurry, then pour into the Instant Pot and stir to combine. Allow a few minutes for thickening, then serve.
https://marginmakingmom.com/instant-pot-bbq-chicken-chili/
Copyright MarginMakingMom.com
Save
Save
Save
Save
Save
Save
Save