All it takes is a few simple modifications to adjust a recipe for the Instant Pot. Follow these tips for slow cooker to pressure cooker recipe conversion!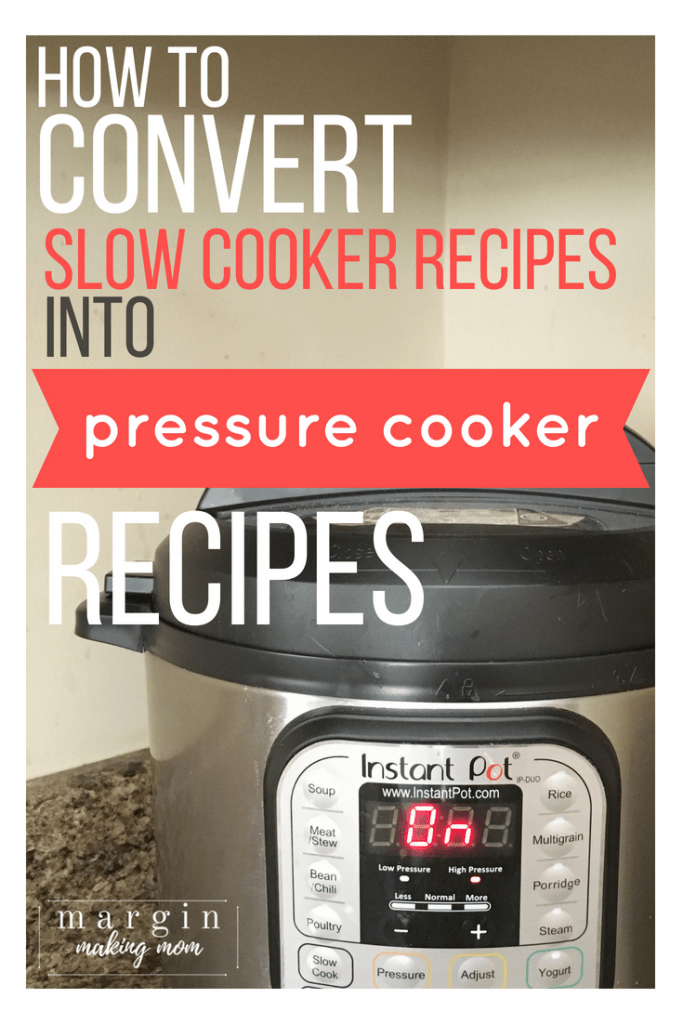 Disclaimer: This post may contain affiliate links for your convenience. You can read my full disclosure policy here.
If you are new to pressure cooking, you may be on the hunt for easy pressure cooker recipes to add to your weekly meal plan. Or, you may be wondering if you can convert some of your favorite slow cooker recipes to pressure cooker recipes. Good news! The answer is usually "yes," but with some adaptations.
Most slow cooker recipes convert pretty easily for the pressure cooker.
This was something I discovered out of necessity after purchasing my Instant Pot. I had intentions of making a slow cooker meal for dinner one day, but I forgot to throw everything into the slow cooker earlier in the day. As dinnertime neared, I wondered if I could make the same meal in my Instant Pot pressure cooker instead. Imagine my surprise when pressure cooker recipe conversion turned out to be so easy to do!
It's worth noting that the Instant Pot actually has a slow cooker function, which you can always use to make your favorite "slow and low" meals.
But, if you are like me and sometimes need a faster method of meal preparation, using the pressure cooker function of the Instant Pot is a great way to cut meal prep time way down.
And don't forget that you can program a timer on the Instant Pot, allowing you to put everything in it now and have it start cooking later at a predetermined time.
With just a few tweaks or adjustments, slow cooker recipes can be easily converted to easy pressure cooker recipes. This can allow you to make your family's favorite meals in a fraction of the time!
Tips for Making Crock Pot Recipes in the Instant Pot
Let's take a look at some of the most important things to consider when converting a slow cooker recipe to a pressure cooker recipe.
Things to keep in mind:
There is no magic formula for converting recipes for the pressure cooker. I recommend having at least some experience with your pressure cooker first before trying your hand at converting recipes.
It can be hugely helpful to find a similar pressure cooker recipe online prior to making your conversion. This will give you a ballpark of cook times and any other adjustments that will need to be made.

You must have some water.
Pressure cookers require a certain amount of water in order to achieve pressure–typically at least 1 cup. Changing the amount of water may be necessary if your slow cooker recipe requires very little water, such as 1/4 cup. In this case, increase the amount to 1 cup.
Pressure cookers and slow cookers both have very little evaporation, so most liquid amounts will probably be similar from one appliance to other other, as long as you meet the minimum requirement of 1 cup.
Don't overfill your pressure cooker.
Depending on the size of your pressure cooker, you may need to decrease the amount of liquid and food you place in it. The pressure cooker should never be filled more than 2/3 full.
If you are cooking foods that expand or create foam while cooking (such as rice, other grains, beans, and some fruits), you should not fill the pressure cooker more than 1/2 full.
Don't use wine or liquor under pressure.
If your recipe calls for the addition of wine, you will need to make some adjustments, as wine remains unchanged when cooked under pressure, resulting in a tart raw flavor. You should decrease the amount of wine by about half, then use the saute function of your pressure cooker first to reduce the wine over heat. After this step is complete, you can proceed with pressure cooking.
You should avoid using liquor under pressure. Because it is high in alcohol and doesn't actually evaporate during cooking, the alcohol is dispersed in the steam, making it highly flammable.

Adjust your cook time.
Pressure cookers cook much faster than slow cookers, so your cook time will need to be adjusted accordingly. It is important to note that it does take some time for the pressure cooker to reach pressure, at which point it then begins cooking for the specified cook time. The amount of time needed to reach pressure will vary based on the fullness of the pot and the temperature of the ingredients.
There are some excellent charts available online that are extremely useful when determining the cook times of your ingredients. A couple that I reference often are:
Instant Pot Cooking Times Chart
I also have found the book Pressure Cooker Perfection by America's Test Kitchen to be very helpful, both as a source of delicious recipes and for the cook time charts it contains.
Using a natural pressure release with meat will provide the best results as far as tenderness goes. This just means you let the pressure fully release on its own after the cook time is complete, waiting for the valve to drop before opening the lid.
If you are using a recipe that contains meat and other ingredients, such as grains or vegetables, you may want to cut the meat into smaller pieces so it will have a shorter cook time closer to that of the other ingredients. Otherwise, you can cook the meat for the recommended time and then add the grains or vegetables afterward, followed by a cook time appropriate for those ingredients.
Save milk and cheese until the end.
If your slow cooker recipe calls for milk or cheese, do not add these prior to pressure cooking. Cooking these ingredients under pressure can cause clumping. Instead, after pressure cooking, you can stir in these ingredients.
There are times when using cheese works in Instant Pot recipes, such as in this pressure cooker lasagna, but as a general rule of thumb, I try to save it for last whenever possible.

Add thickeners last.
If your slow cooker recipe uses thickening ingredients, such as flour or cornstarch, these should be added after pressure cooking. Thickening ingredients can thicken the liquid in the pot to the point that it is difficult to boil, which affects the cooker's ability to reach high pressure.
If you need to add thickener, consider making a slurry of flour and water or cornstarch and water and stirring that into the pot after pressure cooking is complete, while the contents are still hot. You can even use the saute function of the Instant Pot if needed.
Pre-packaged, processed ingredients that contain thickeners such as condensed "cream of" soups and many seasoning packets pose the same threat. It may not make sense to add these in at the end. In that case you will probably want to find an alternate recipe that does not require these ingredients.
Keep notes.
Once you've converted a slow cooker recipe to a pressure cooker recipe, jot down notes about what did or didn't work. You can keep a specific pressure cooking notebook or simply add notes to the original recipe that you were using. Keeping track of your techniques and adjustments will come in handy the next time you want to convert a recipe!
Converting your favorite slow cooker recipes to easy pressure cooker recipes can save you a lot of time. By following the above tips, your family's favorite recipes can be on the table in a flash.
To make it even easier to remember these tips, I've created a FREE printable recipe conversion cheat sheet for you! It's great for printing and adding to your recipe binder. Or, keep it handy in the kitchen for an at-a-glance reference for pressure cooker recipe conversion. It's included as part of my free guide to getting started with your pressure cooker. Get yours by signing up below!
See everything you need to know about getting started with easy pressure cooker recipes here!
Save
Save
Save
Save
Save
Save
Save
Save
Save
New to Pressure Cooking?
Subscribe to the Margin Making Mom newsletter and get instant access to a FREE printable Beginner's Guide to Getting Started with Your Pressure Cooker, which includes a printable Conversion Cheat Sheet to help you convert your favorite slow cooker meals to pressure cooker meals!
We take your privacy seriously and won't send you spam. See our privacy policy here.

Free Resource Library
Enter my
free resource library
for my latest printables and resources! Password is 'IHEARTMARGIN' -- please copy and paste that in at the link above. Thanks for being a subscriber!!