Turn frozen meatballs into delicious dinners using your pressure cooker!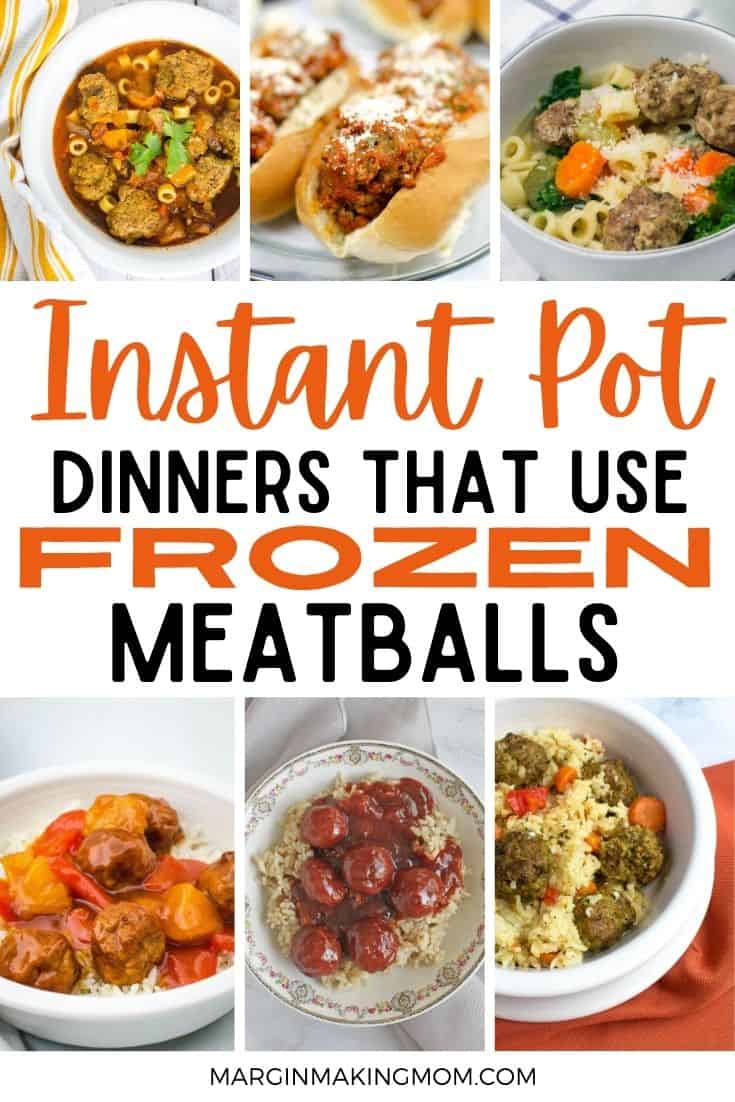 These Instant Pot frozen meatballs recipes put the affordable staple to work, allowing you to get an easy dinner on the table! You'll want to save this list of meals made with frozen meatballs in the Instant Pot for your busy nights.
Note: This post may contain affiliate links for your convenience. If you make a purchase, this site may receive a small commission at no additional cost to you. You can read my full disclosure policy here.
If your family is like most, spaghetti and meatballs are one of your favorite meals, and they regularly make the cut for the weeknight meal rotation.
To save yourself from dinnertime woes, I highly recommend that you keep a bag of meatballs in your freezer. Whenever you need a quick meal, it is easy to toss them into a pot along with a jar of sauce while the pasta water boils.
The only drawback with that method is the number of dishes required.
That's when I discovered you can cook frozen meatballs in the Instant Pot–often at the same time as the other ingredients needed for a full meal!
I know you are busy, and you want the ability to make several different meals with the same basic staple ingredients, providing some variety for your family.
I began to imagine all of the ways that I could use meatballs in a recipe–from sandwiches to soups, served with rice or pasta and, of course, the ever-favorite cocktail meatballs!
In addition to their versatility in recipes, frozen meatballs are relatively inexpensive, making them a frugal choice as well.
You can save even more money by making a large batch of homemade meatballs and freezing them yourself.
How Do You Cook Frozen Store Bought Meatballs?
Traditionally, most of us are probably accustomed to cooking frozen store-bought meatballs either in the oven, in a slow cooker, or in a pot on the stove.
Baking meatballs in the oven is easy and only takes about 10-12 minutes, but then you still have to cook the meatballs in their sauce or other ingredients.
Cooking meatballs in a Crock Pot is a great hands-off way to make a meal, but it usually takes hours to cook low and slow this way.
Sometimes it makes sense to cook the frozen meatballs on the stove, especially if you're cooking them in a pasta sauce, but this takes a bit of time to simmer and fully reheat the meatballs.
That's why I love to cook frozen meatballs in the Instant Pot!
Not only does the high-heat environment warm the meatballs quickly, but the pressure allows the flavors of the meatballs to meld with the other ingredients.
Can You Cook Frozen Meatballs in a Pressure Cooker?
Yes, you definitely can cook frozen meatballs in the pressure cooker–I've done it successfully many, many times.
It's important to note that since the meatballs are frozen, and therefore really cold, it will take the pressure cooker longer to heat up and achieve high pressure. This is true of any frozen ingredients and pressure cooking.
Whether you're making cheesy Italian meatballs and rice, sweet and sour cocktail meatballs, frozen meatball subs, Hawaiian meatballs, or Italian wedding soup, the pressure cooker is a great way to save time!
Pressure Cooker Frozen Meatball Recipes
Move over spaghetti! There's a new meatball in town!
Head to your freezer and grab that bag of frozen meatballs and make a quick and easy dinner tonight.
You can explore a world of flavors with this list of Instant Pot recipes made with frozen meatballs. From sweet to savory, you never knew a bag of frozen meatballs could be so versatile!
Instant Pot Frozen Meatball Recipes
Frozen meatballs are incredibly versatile. Keep them in your freezer for a quick and tasty meal any time. Grab one of these Instant Pot Frozen Meatball Recipes and dinner will be ready in no time.
How Long Does it Take to Cook Frozen Meatballs in the Instant Pot?
How long frozen meatballs need to cook in the Instant Pot depends on the size of the meatballs and whether they were fully cooked before freezing.
If you're using standard, fully cooked frozen meatballs from the grocery store, a cook time of 5 minutes at high pressure is usually sufficient.
The miniature frozen meatballs sold by some companies cook in less time, about 2-3 minutes.
If you're using larger frozen meatballs, perhaps that were made from scratch and then stored in the freezer, you'll need a longer cook time, especially if they weren't fully cooked prior to freezing.
You'll find that many Instant Pot recipes with frozen meatballs have differing cook times, and that's often due to the other ingredients that are included in addition to the meatballs.
How to Steam Frozen Meatballs in the Instant Pot
If you're just cooking the frozen meatballs by themselves, without sauce or pasta or other ingredients, you may choose to simply steam the meatballs.
In this case, you can add 1 cup of water to the Instant Pot and place the frozen meatballs on the trivet or in a steamer basket.
Either way, you'll want the meatballs to be up out of the water so they aren't boiled instead of steamed.
Once you have the frozen meatballs in appropriate position, select a cook time of 5 minutes at high pressure.
Check the meatballs to ensure they are heated all the way through. If not, add 2 more minutes of cook time.
Easy Instant Pot Frozen Meatballs Dinner Recipes
You don't have to sacrifice convenience to enjoy a semi-homemade meal, and there is no shame in using pre-packaged foods to help make dinnertime easier.
Because the reality is, we have other things to do besides spend all day in the kitchen.
When I choose an easy meal, I make space for other things, like spending time with my kids, reading a book, or going for a walk.
That's why I make Instant Pot Rice-a-Roni with chicken and Instant Pot Spanish chicken and rice, turning boxed rice mixes into a hearty meal.
It's why I don't feel guilty about making Instant Pot au gratin potatoes from a box instead of slaving over hand-slicing potatoes.
It's why I don't even balk at making chicken and dumplings with Bisquick.
With these easy Instant Pot recipes that use frozen meatballs, you can get dinner on the table without a lot of time or effort!
So don't feel bad, mama. Give yourself grace to pull out the convenience items, add your own flair to them, and serve them with pride!
More Easy Instant Pot Dinner Recipes: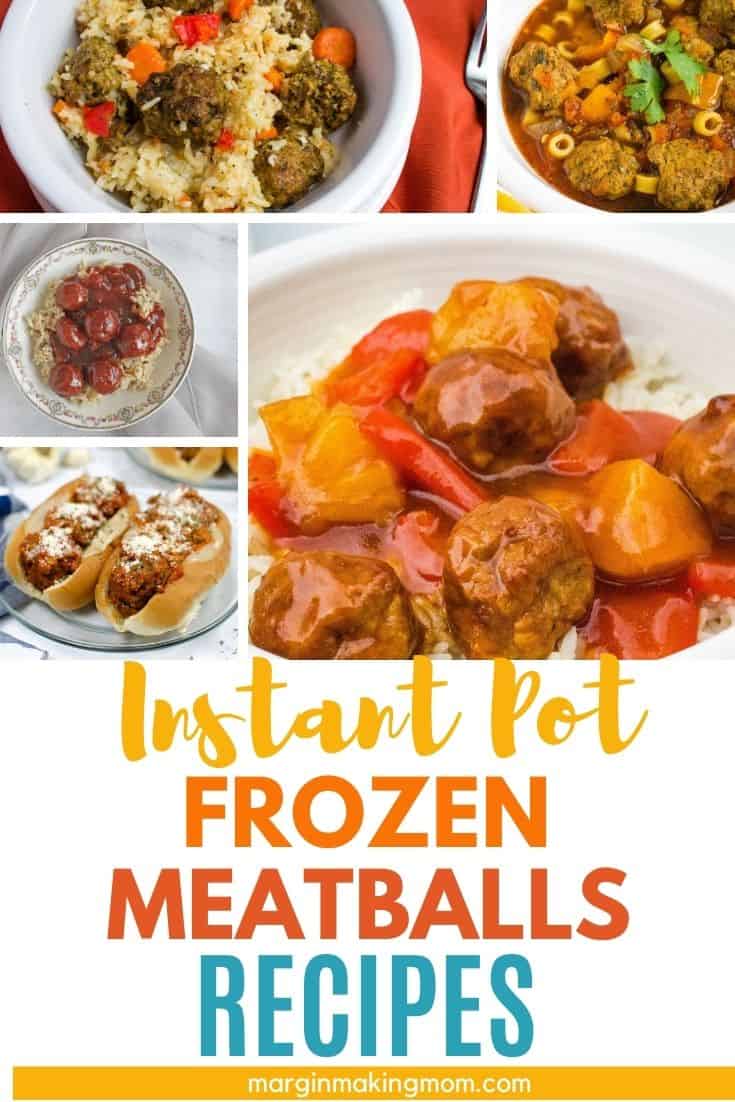 Get the Instant Pot Meal Plan Jumpstart
Join the free community and you'll learn simple ways to easily create tasty food for your family, as well as immediate access to the FREE Instant Pot Meal Plan Jumpstart to help you get a tasty dinner on the table in a flash!
"Thanks for sharing your knowledge and experience in such a friendly and delightful way!!! So far, I'm very impressed with the results...thanks again for your guidance into this new realm of cooking!" -Margaret
Free Resource Library
Enter my
free resource library
for my latest printables and resources! Password is 'IHEARTMARGIN' -- please copy and paste that in at the link above. Thanks for being a subscriber!!