These are the best Instant Pot soup recipes that are also quick and easy to make! Homemade soups are so much better than canned, and these recipes are sure to become favorites for your family.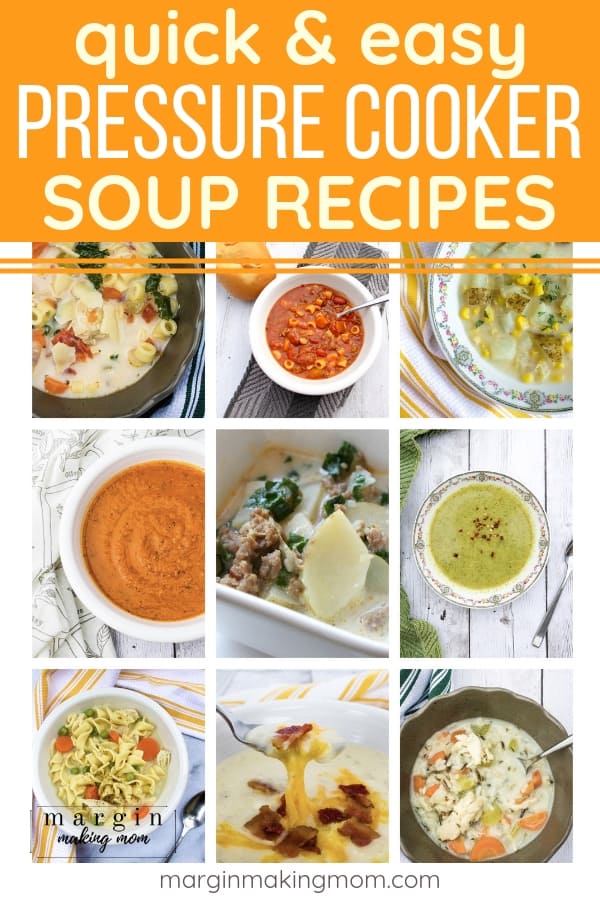 Instant Pot soup recipes are some of my favorite meals to make in the Instant Pot! They're easy and tasty–perfect for lunch or dinner!
Note: This post may contain affiliate links for your convenience. If you make a purchase, this site may earn a small commission at no additional cost to you. You can read my full disclosure policy here.
As a kid, my family most often ate soup from a can. Soup and sandwiches was a quick and easy meal my dad could serve us on the days when my mom was working.
But every so often, my mom would whip up a batch of homemade soup. While I liked canned soup just fine, I loved my mom's homemade soups.
Her specialties were vegetable beef soup, potato soup, and chili, often served alongside grilled cheese sandwiches or dinner rolls.
My mom was always very frugal, and she had a way of stretching food to feed our family of five. Soups were one of the easiest ways to clean out the fridge and put leftovers to good use.
Get my tips for how to make soup with leftovers to stretch your grocery budget and reduce food waste!
Now that I'm grown up and feeding my own family, I find myself making homemade soups a lot. In fact, we very rarely buy canned soups anymore.
Homemade soups are way less expensive than canned, plus they taste better and are almost always better for you!
It's also great that a batch of soup usually gives some leftovers that can be eaten another night! You can even reheat soup in the Instant Pot!
I love to serve soup alongside some warm bread, such as this easy no-knead Instant Pot bread!
Over the years, I've discovered and created many family favorite soup recipes that we love, and I regularly add those to our weekly meal plan.
If you're like me and you like the idea of having soup regularly, why not use a soup theme night when meal planning? Soup Sunday, anyone?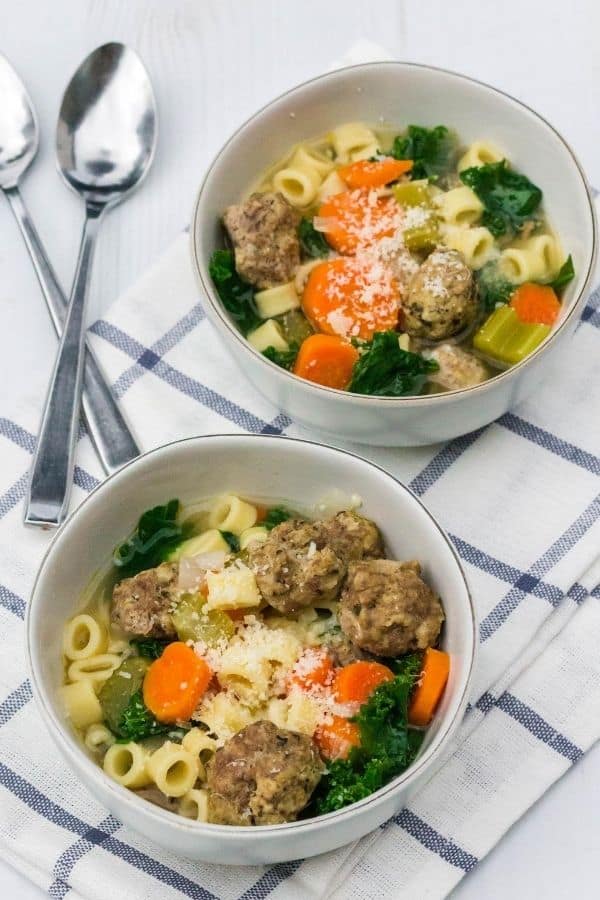 How Do You Make Soup in the Instant Pot?
When I first started making homemade soup, I always just used a pot on my stove or sometimes my slow cooker.
These days, I almost always make soup in my Instant Pot, because it's just so easy! It typically ends up being faster (always a win around here), and it's usually more hands-off.
To make soup in the Instant Pot, it's fairly similar to making it on the stove top. Some of these tips are similar to my guidelines for how to make your favorite slow cooker recipes in the pressure cooker, but with a specific focus on soups.
Use the Saute function first, if needed.
Do you need to brown some ground beef or stew meat? You can use the Saute function to do that prior to actually pressure cooking the soup.
If your recipe is using chicken, this can usually just be pressure cooked along with everything else.
If your soup recipe calls for onions or other aromatics, you can always Saute those first to soften them. I don't always do this step, because in reality, the onions will cook while the soup is pressure cooking. But if I have time, I'll sometimes saute them first to give them a head start.
Add most of the other ingredients next.
Add in your vegetables, broth or water, and seasonings along with any meat. In general, I avoid adding dairy (like cream cheese or heavy cream) at this point, and I avoid adding any thickeners (such as flour or cornstarch) until after cooking.
Select a cook time.
Finding the right pressure cooking time is the most difficult part for most people. Usually for soup recipes, I scan the ingredients and try to determine which item will take the longest to cook, then use that as a starting point.
Maybe that's the chicken breast that's in the soup, maybe it's potatoes, etc. But figuring out which ingredient will take the longest to cook will help you determine how long to cook the soup.
A Couple of Instant Pot Soup Cook Time Tips:
I often cut the meat I'm using into smaller pieces so it will cook faster, which helps to avoid overcooked vegetables. So I'll cut a chicken breast into three pieces, which will allow its cook time to more closely match that of the other ingredients in the soup.
If you are adding pasta to your soup, the general rule of thumb I follow is to first see what the recommended boiling time is on the box. I take that number, divide it in half, then subtract one minute. That gives me my Instant Pot cook time for that pasta. So if a box says to boil the pasta on the stove for 10 minutes, I'll divide that in half (getting 5 as the result), then subtract one minute, which results in a cook time of 4 minutes for that particular type of pasta in the Instant Pot.
In general, for most soups, 3-8 minutes should be long enough, depending on the types of ingredients.
If you are using beef stew meat or other cuts of meat that require more time to achieve tenderness, you'll need a longer cook time. But for things like chicken or ground beef, which cook faster, a shorter time is adequate.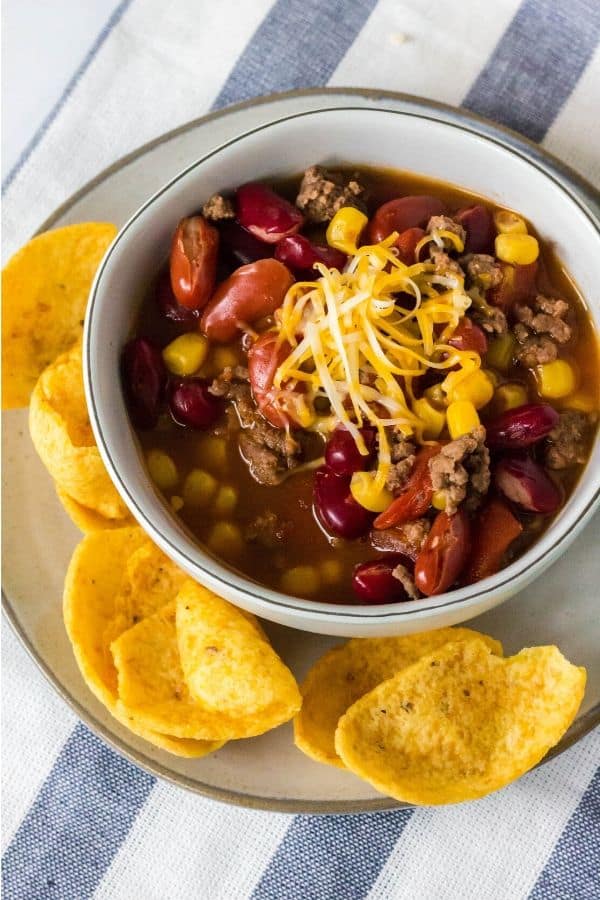 Soup Ingredients to Add Last
Some soup recipes involve ingredients that I save to the end to add. I'll wait until after the pressure cooking is complete, then add those ingredients.
Once the soup is done, I'll add these ingredients to the piping hot soup, then set the lid back on top of the Instant Pot to lock in some steam while the final ingredients heat through or melt.
For instance, if it's a creamy soup that uses heavy cream or half-and-half, I save that until the end.
If the soup calls for greens, such as spinach or kale, I'll add those in after the cook time is complete to avoid them getting too mushy. The heat from the soup will wilt them to perfection.
For recipes that call for cream cheese or shredded cheese, I add those in at the end as well. They will quickly melt in the hot soup.
If a soup requires a thickener, such as a cornstarch slurry or flour slurry, I will add that last.
Usually the residual heat from the soup is enough to activate the thickener, but if needed, you can press the Saute button to get the soup boiling again, which will thicken it up a bit more.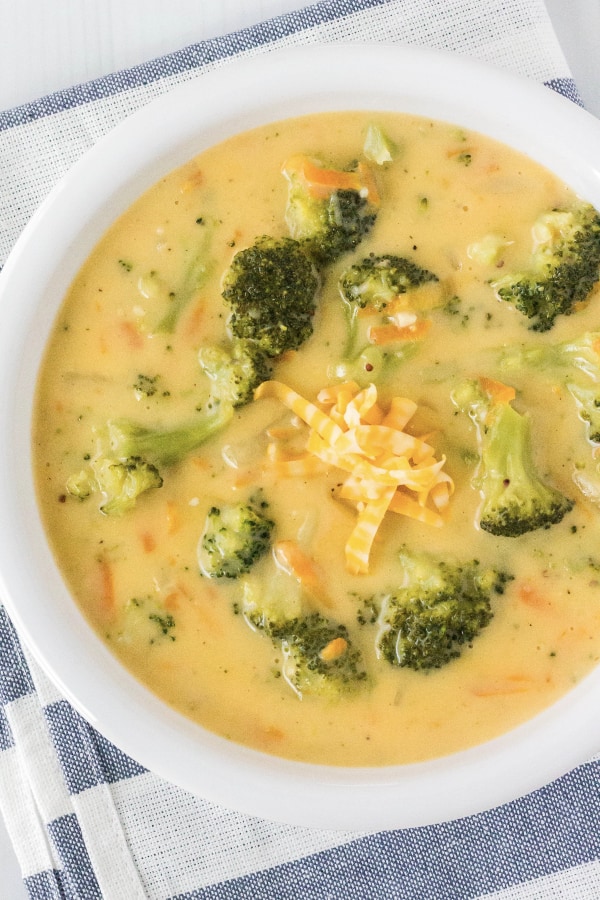 What About the Instant Pot Soup Setting?
One thing that often confuses new Instant Pot users is all of the buttons. It's important to know that most of these buttons use high pressure, they are simply programmed with a specific cook time.
With all of these settings, you can adjust the cook time as well as the pressure, choosing high or low.
The Instant Pot Soup/Broth setting is programmed with a cook time of 30 minutes at high pressure. If you adjust it to "More," it sets a 40 minute cook time. If you adjust it to "Less," it gives a 20 minute cook time.
In my experience, I've found that soups can cook in MUCH less time than that, so I personally don't use the Soup setting.
Instead, I use the Manual/Pressure Cook button and select the desired cook time at high pressure.
Not sure about your particular Instant Pot's buttons? Barbara at Pressure Cooking Today has a fabulous resource that gives the details of all of the buttons for each specific model of Instant Pot.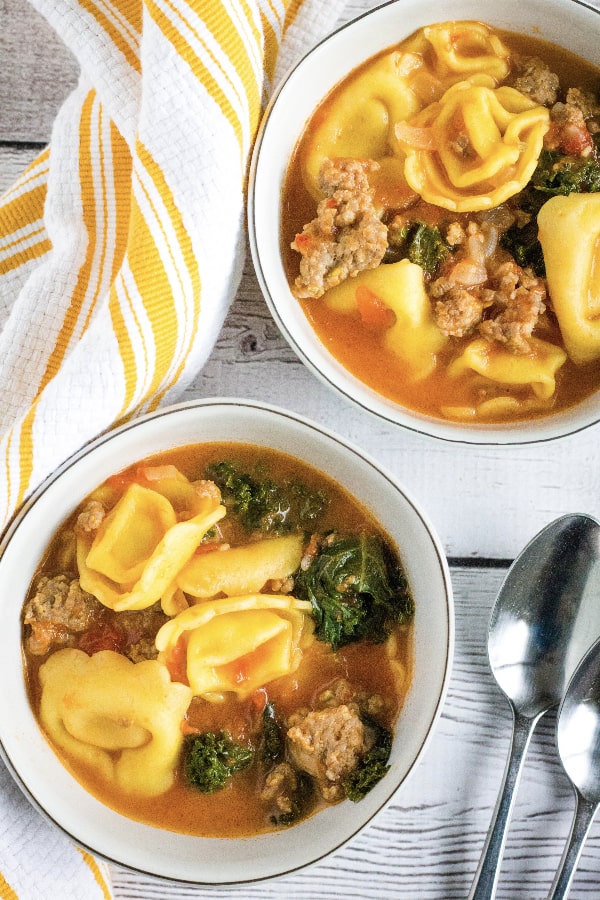 Best Instant Pot Soup Recipes that are Easy to Make
Now that you feel confident making soup in your Instant Pot, let's talk about soup recipes! I'm sharing some of my absolute favorite soup recipes to make in the Instant Pot!
In general, these are all fairly frugal recipes to make and they are great for feeding a crowd. These soup recipes are easy (great for beginners and pressure cooking pros alike!) and they're a wonderful way to pack in some nutrients in the form of hearty, soul-warming comfort food.
In my opinion, these are some of the best Instant Pot soup recipes for busy moms–I hope you enjoy them as much as I have!
The Easiest and BEST Instant Pot Soup Recipes
These are the best Instant Pot soup recipes that are also quick and easy to make! Learn how to make soup in the Instant Pot with ease and confidence. Homemade soups are so much better than canned, and these recipes are sure to become favorites for your family.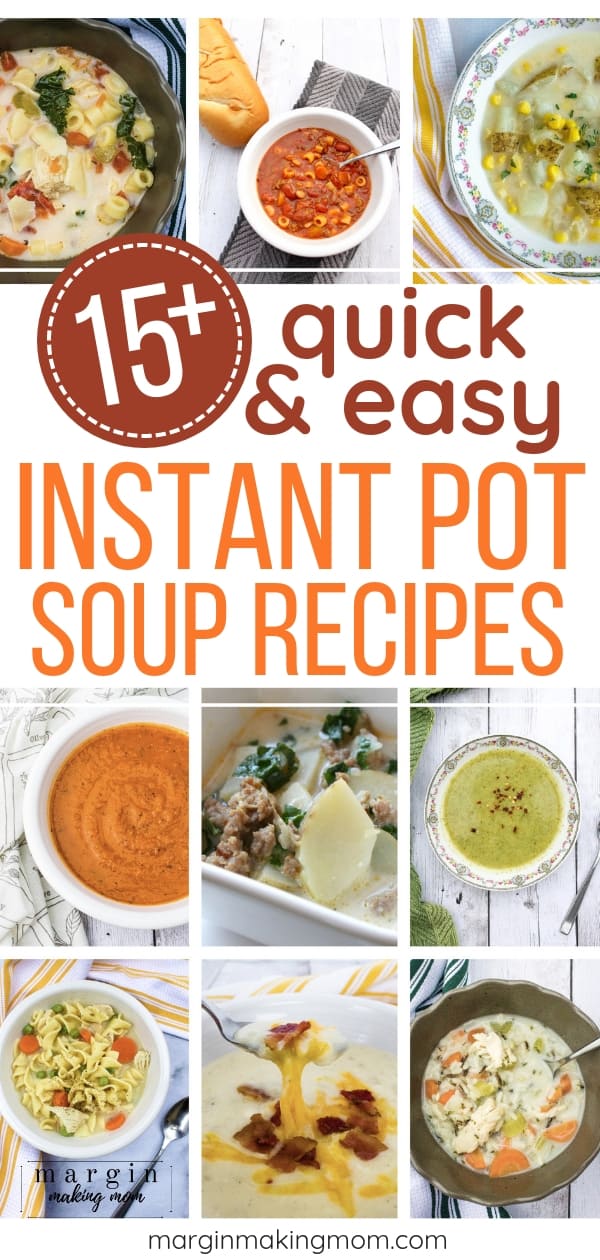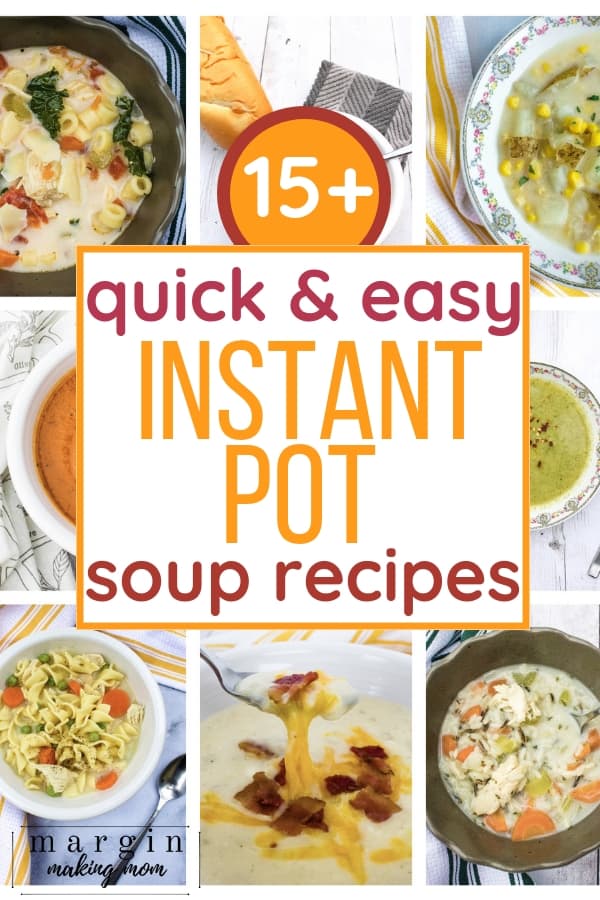 Get the Instant Pot Meal Plan Jumpstart
Join the free community and you'll learn simple ways to easily create tasty food for your family, as well as immediate access to the FREE Instant Pot Meal Plan Jumpstart to help you get a tasty dinner on the table in a flash!
"Thanks for sharing your knowledge and experience in such a friendly and delightful way!!! So far, I'm very impressed with the results...thanks again for your guidance into this new realm of cooking!" -Margaret
Free Resource Library
Enter my
free resource library
for my latest printables and resources! Password is 'IHEARTMARGIN' -- please copy and paste that in at the link above. Thanks for being a subscriber!!