Learn how to make soup with leftovers so you can stretch your budget and decrease food waste!
By following just a few simple suggestions and tips, you can easily turn leftovers into soup that you and your family will actually enjoy!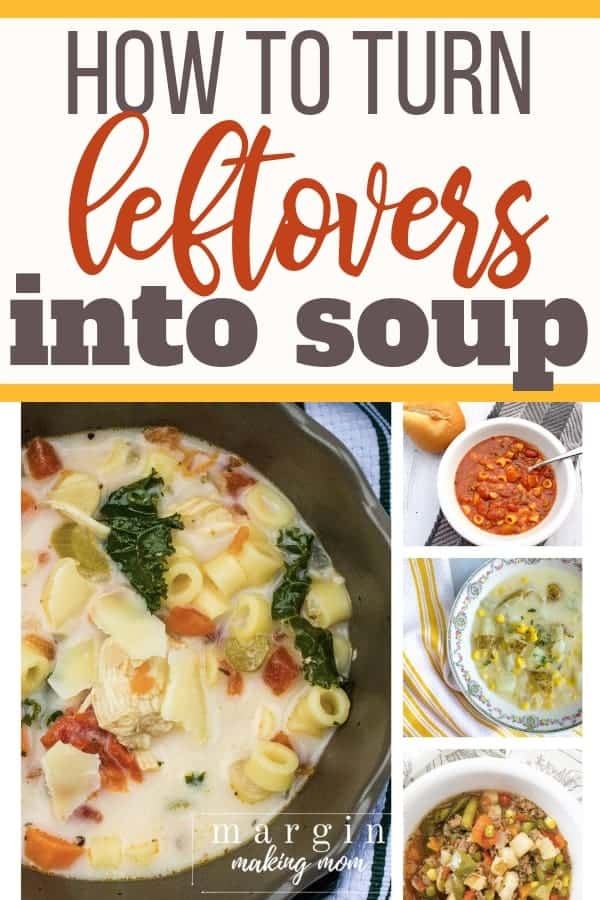 Note: This post may contain affiliate links for your convenience. If you make a purchase, this site may receive a small commission at no additional cost to you. You can read my full disclosure policy here.
Recently, someone asked me about the best way to use up leftovers and the random items in their pantry. She had lots of random pasta, rice, canned goods, seasoning mixes, and so forth that had been taking up space in her pantry.
My first response was, "Soup, soup, and more soup!"
But she said she needed a roadmap, because she wasn't sure how to make soup or how to put everything together into something that she and her kids would actually want to eat.
How to Make Soup from Leftovers and Ingredients You Have On Hand
I make soup for my family a lot, and sometimes I follow a recipe, but sometimes I just throw things together. It's something I've done for so long now that it's become kind of second-nature.
One of the things I love about soup is that it's a fabulous way to use up leftovers or the ingredients you have on hand, which can really stretch your grocery budget and decrease food waste.
In fact, have you ever heard of "Thursday Night Soup?" It's a term that was coined back in the day–factory workers would get paid on Friday, so Thursday night's dinner was a soup that included whatever ingredients they could scrape together.
Consider creating your own Soup Night with themed meal planning!
Her question caused me to really think about the steps I follow or the things I take into consideration when making soup. If you struggle with using up leftovers or making a soup from random pantry ingredients, here are some things to consider:
The Basics of Making Soup from Scratch

All you really need is some broth or stock, some seasonings, and something to put into the broth (think meat, veggies, noodles, or grains).
It doesn't take much to make a tasty soup!
Types of Leftovers that Work Well in "Thursday Night Soup"
You can easily include things like cooked meat, vegetables, noodles, and rice in your homemade soup.
Even unexpected items like gravies and sauces can be repurposed to bring your delicious soup to fruition!
For instance, gravy can add flavor and serve as a thickener. Sauces like pasta sauce or enchilada sauce can also add flavor and color. Cheese sauce or cans of creamed soup can also be good thickeners and flavor enhancers.
Mashed potatoes (or even dried instant potatoes!) can work as a thickener and also add some flavor–just whisk them in!
You can chop up cooked meat or veggies and add at the end of the cooking time so they don't get too mushy (since they've already been cooked). Same thing with cooked pasta or grains!
And it goes without saying–make sure your leftovers are fresh (generally used within a 4-day time limit, if stored properly) if you're going to be using them in homemade soup.
Stick with Flavor Profiles Your Family Likes
If your family didn't particularly like the flavor of the meal the first time around, they may not enjoy it as soup, particularly if it's a stronger flavor that's hard to hide in a soup.
Likewise, if they tend to like certain flavor profiles, such as Mexican or Italian, chances are pretty good they'll like those same flavors if you use the leftovers in a soup.
Add in What You Have
In addition to leftovers, consider what else you have on hand.
Do you have half a box of uncooked pasta? A bag of rice? Some barley?
Maybe some fresh, frozen, or canned veggies to include? Do you have some potatoes you could dice up?
All of these are perfect in soup!
The Basic Method of How to Turn Leftovers into Soup:
Once you've gathered the leftovers and other ingredients, here's the basic method I follow for actually making the soup.
Create a base.


Heat some olive oil (you could also use butter or coconut oil or whatever oil you have on hand) in a pot. Add some aromatics for flavor, if you have them–things like onions, garlic, celery, and carrots (if not, just skip this part!). Cook those for a few minutes until they start to soften.

Add broth or stock.

Add in the broth or stock you're using, or in some cases, even just plain water is sufficient (provided you have plenty of seasoning or flavorful ingredients).

You can also use bouillon cubes if you don't have broth or stock on hand!

Add in more ingredients.

At this point, if you have any ingredients that take longer to cook, such as raw potatoes, you can add those and let them start cooking in the broth.

After they've cooked a bit, add in vegetables, cooked meats, and any other leftovers you're using. Also add in any grains or pasta you're planning to use.

Add seasonings.

To make sure your soup has plenty of flavor, you'll want to add some seasonings. You can use seasoning packets you have on hand or just standard seasonings from your spice cabinet. Some options you may want to consider are Italian seasoning, Cajun seasoning, garlic powder, onion powder, chili powder, cumin, etc., depending on the flavor profile you want.

And of course, good ol' salt and pepper are always an option.

If you have any sauces on hand (pizza sauce, pasta sauce, enchilada sauce, cheese sauce), you can use those to add flavor! I recommend adding those first, and then adding more seasonings if needed.

I always start light on seasonings and add more as I go, tasting along the way.


Simmer.

Let the soup simmer long enough for the ingredients to warm or cook through and for the seasonings to meld together.

Thicken the Soup or Make it Creamy.


If you want the soup to be creamy, you can simply add some cream, milk, or half-and-half. You could also add mashed potatoes or instant potatoes.

You can also create a simple white sauce (cook butter and flour together to make a paste, then whisk in some milk and cook until it thickens into a creamy sauce) to add to the soup.

Or, if you have a can of "cream of" soup in your pantry, you can add that as well!
You can also learn all about how to make soup in the Instant Pot!
How to Store Leftover Soup
When soup is already made from leftovers, its life is a little more limited. In this case, if you aren't going to eat all of the soup within a day or two, I'd recommend freezing the leftovers!
You can use freezer storage containers or freezer storage bags, or you can freeze in smaller portions using a muffin pan.
Some ingredients don't freeze as well as others, or their consistency may change after freezing (such as pasta and potatoes).  In general, meat and most vegetables in soup freeze well!
You can also reheat soup in the Instant Pot when you're ready to eat the leftovers!
Stretch Leftovers by Repurposing Them Into Soup!
By repurposing your leftovers into soup, you can stretch your food budget and limit food waste at the same time.
Not only that, but you can gain confidence in the kitchen as you learn to put different ingredients together into a tasty creation!
When it comes to making homemade soup, the possibilities are endless!
Here are a few of my favorite homemade soup recipes to get you started, which you can adjust or adapt based on what you have on hand!
Easy Homemade Soups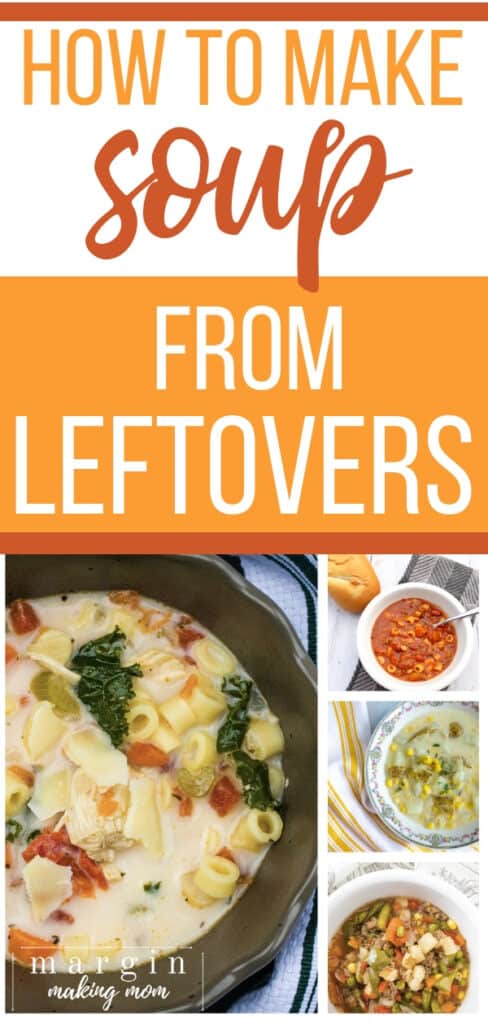 New to Pressure Cooking?
Join the free community and you'll learn simple ways to easily create tasty food for your family. Plus, you'll get instant access to a FREE printable Beginner's Guide to Getting Started with Your Pressure Cooker!
Free Resource Library
Enter my
free resource library
for my latest printables and resources! Password is 'IHEARTMARGIN' -- please copy and paste that in at the link above. Thanks for being a subscriber!!