Themed Meal Planning uses theme nights for dinner, simplifying the process of coming up with dinner ideas for your meal plan. Learn how it works and get your own free printable themed menu planning kit below!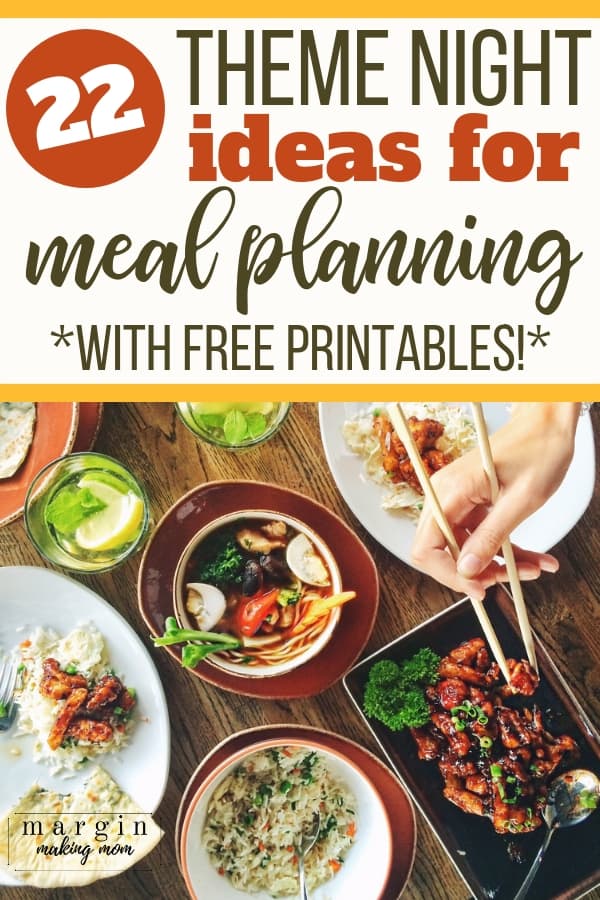 Using a themed meal plan template to come up with your weekly menu is a great way to get out of a meal planning rut. Find out how to create one and get your free printable pdf themed meal plan worksheets!
Note: This post may contain affiliate links for your convenience. You can read my full disclosure policy here.
Ah, yes. I know you've been there. 5:00 rolls around, and along with it comes the dreaded dinnertime panic. What on earth are you going to make that won't take all day, especially considering all of your meat is frozen?
The truth is, you want to meal plan, but you've never been successful with it. You've tried before, but you draw a blank when you sit down to come up with ideas. You feel like it's a waste of time.
It just feels like a lot of work to magically dream of a week's worth of meals, especially when there is already SO MUCH on your mind, and so much begging for your attention.
Maybe you can relate?
The reality is, we moms have a heavy mental load. Most of us don't have hours to spend perusing Pinterest for lots of new recipes to put on our meal plan.
And even though we've made countless meals for our families in the past, our brain seems to have a temporary short circuit when we need to actually create a meal plan.
Thematic Meal Planning Can Simplify Everything
Sometimes, you just have to find out which method of meal planning is best for YOU.
What works for one person may not work for another, and what works during one season of life may not work during another.
Maybe you struggle with coming up with ideas for your meal plan, and it feels like a time-sucking drudgery.
Perhaps you like the idea of the structure a meal plan provides, but you want to have variety instead of defaulting to the same three meals over and over.
Maybe you really want to enjoy the benefits of meal planning, but you need a framework to jumpstart your ideas and make sure meal planning doesn't take you hours of recipe research.
In that case, themed meal planning could be just the ticket for you.
How Does Themed Menu Planning Work?
In short, themed meal planning means that you choose "theme nights" for your meal plan.
You can choose themes by ethnic flavor profile (Asian-inspired, Mexican-inspired, Italian, etc.), protein type (chicken, beef, pork, beans, etc.), prep method (Instant Pot, slow cooker, sheet pan, skillet), and so on.
Or, you can simply choose the theme ideas that appeal most to you.
Meal planning with dinner themes allows a lot of customization according to your family's preferences, your schedule, and more.
For instance, if you know Thursdays are really busy for your family, you may want to choose to make that your Instant Pot night or slow cooker night.
Maybe you want to cut back on your grocery budget, so you choose to have one meatless meal each week.
Thematic Meal Planning Allows Variety
Once you have your nightly dinner themes set up, you use that as a framework to plan your meals. The good news is, there are countless meals that fit into each theme, so you won't get bored by having the same thing over and over again.
For instance, for Pasta Night, you don't have to do spaghetti each week. You can have fettucine alfredo, bacon chicken ranch pasta, chicken cacciatore, tortellini with pesto sauce, macaroni and cheese with smoked sausage, and the list goes on and on.
When you sit down to meal plan, the theme of "pasta night" helps guide your thinking, but you aren't limited to the same pasta meal each week.
Unless of course, you like that sort of routine, in which case you can certainly choose the same pasta dinner each week. That's one of the great benefits of thematic meal planning–it can be as varied or as consistent as you wish.
Change Up Your Formula for Themed Food Days of the Week
You may want to switch up your family dinner theme nights periodically, and you can do this as often as you want. Seasons change, so you may want more soups and comfort foods in the fall and winter, and more grilling in the spring and summer.
Maybe you just need even more variety, so you create a different rotation of theme nights each month.
One amazing thing about theme dinner nights is that you can use them for structure, but you aren't married to the schedule of themes. You can change them whenever you'd like!
Dinner Theme Nights Allow for Inspiration And Get You Out of a Mealtime Rut
For many of us, the hardest part of creating a meal plan is actually coming up with meal ideas without getting in a rut. I know I've been guilty of making the same handful of meals over and over again, until we are tired of them.
When you feel sick and tired of the meal you planned to cook, you aren't likely to stick to the meal plan.
That's why thematic meal planning can be SO useful. Not only does it help you come up with dinner ideas faster, but it also helps to ensure you don't get in a rut.
Themed Meal Plan Ideas
The following is a list of 22 theme days for dinner, which you can select from for your own meal plan. Each dinner theme has some recipes with it to get you started if you need inspiration–just click on the links to go straight to the recipes.
BUT THAT'S NOT ALL!!
Get your own free printable thematic meal planning templates, which includes:
Weekly and monthly theme night meal planning worksheets
A printable list of theme night ideas for your future planning
A brainstorming sheet where you can record your own dinner ideas for various theme nights
A done-for-you list of dinner ideas for each of the themes
Sign up below to get your free copy!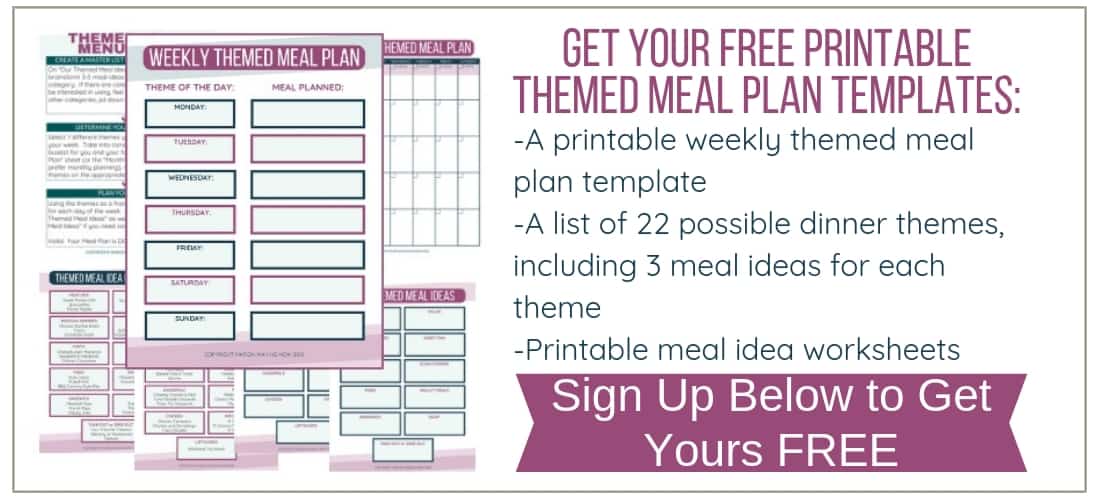 ASIAN-INSPIRED
Sweet and Sour Chicken with Rice
BEEF
Cheesy Italian Meatballs and Rice
BREAKFAST FOR DINNER
CASSEROLE
CHICKEN
CHILI
FISH/SEAFOOD
GRILL
Hotdogs/Hamburgers
PIZZA
INSTANT POT
LEFTOVERS
Whatever you have on hand!
MEATLESS
Sweet Potato Chili
MEXICAN-INSPIRED
PASTA
PORK
SANDWICH
SALAD
SHEET PAN
SLOW COOKER
SKILLET MEALS
Cheesy Smoked Sausage and Pasta
SOUP
TAKE-OUT
Your favorite local take-out or delivery options!
Simplify Your Meal Plan with Theme Nights–Get Your Free Printable Template Worksheets!
Having a meal plan template to follow can simplify the process of creating your weekly (or monthly!) meal plan. When you have theme nights already set up, it's easier to come up with meal ideas.
Save time by using the structure of themed food evenings, and you'll enjoy the variety of meals you prefer!
Get your FREE printable themed meal planning kit by signing up below!
More Dinner Ideas for Your Meal Plan: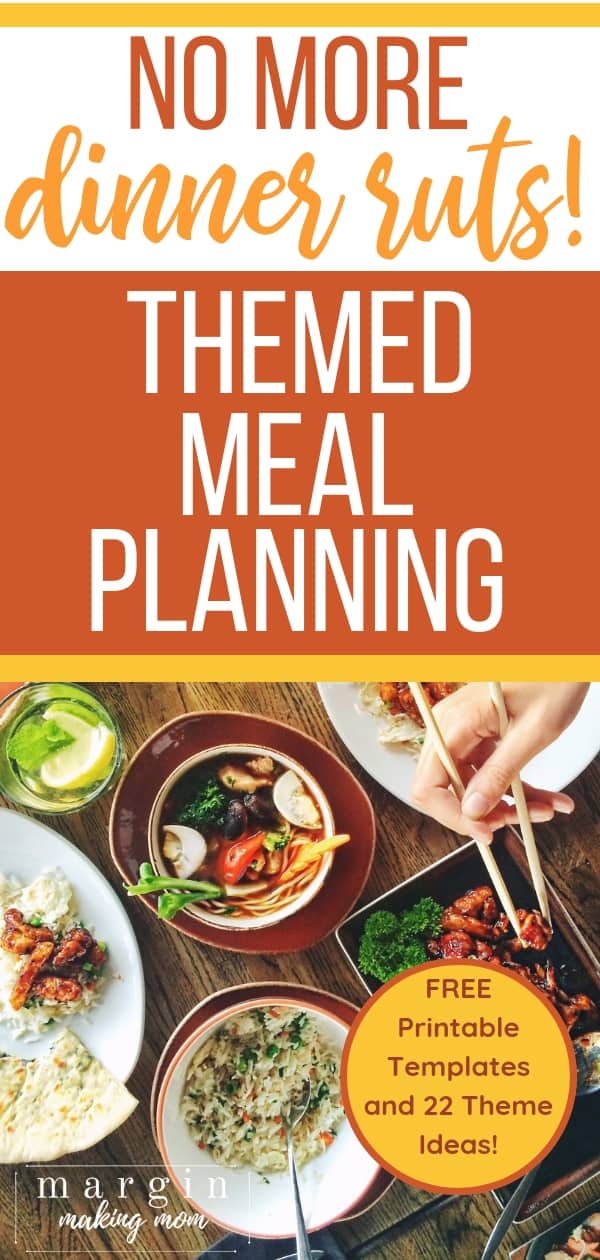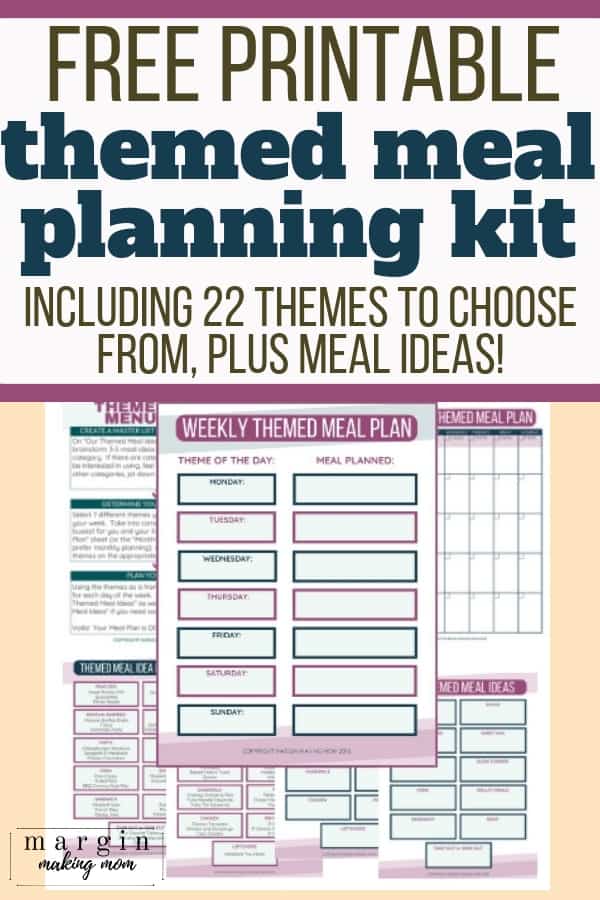 Get the Instant Pot Meal Plan Jumpstart
Join the free community and you'll learn simple ways to easily create tasty food for your family, as well as immediate access to the FREE Instant Pot Meal Plan Jumpstart to help you get a tasty dinner on the table in a flash!
"Thanks for sharing your knowledge and experience in such a friendly and delightful way!!! So far, I'm very impressed with the results...thanks again for your guidance into this new realm of cooking!" -Margaret
Free Resource Library
Enter my
free resource library
for my latest printables and resources! Password is 'IHEARTMARGIN' -- please copy and paste that in at the link above. Thanks for being a subscriber!!