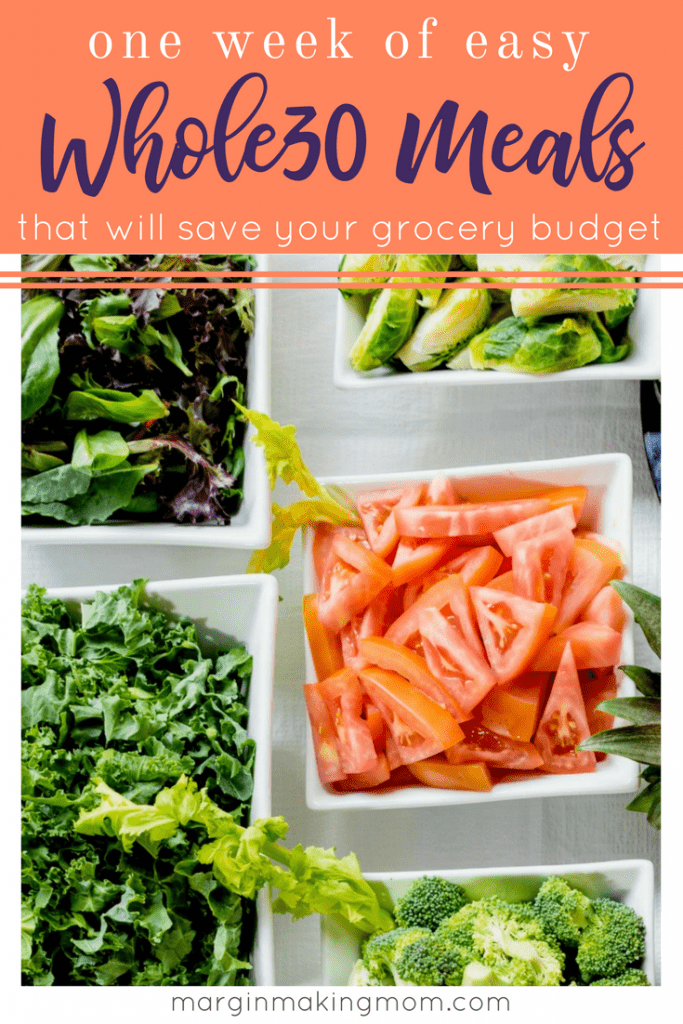 Planning Whole30 meals can be expensive and time-consuming. Save time and money by checking out these frugal Whole30 meals!
Note: This post may contain affiliate links for your convenience. You can read my full disclosure policy here.
One thing is for sure when it comes to the Whole30—preparation is key. Because there are so many foods that you can't eat, you have to have some good ideas about what you can eat.
So when I decided to try the Whole30, I knew it would take some effort.
Since I love meal planning, I set out to plan our meals for the week. Planning meals was way more time-intensive than I expected.
One thing that I discovered very quickly is that a lot of Whole30 recipes use expensive ingredients that just aren't in my budget. The following meals are relatively inexpensive (I say relatively because, if I'm honest, they cost more than the typical meals my family eats, but they cost WAY less than many meal ideas I came across on the Interwebs).
They're also fairly simple to prepare. Now, they do require preparation, unlike a bowl of cereal or microwave dinner. But compared to many Whole30 recipes, these are pretty easy.
I will note that some of the recipes I made may not be considered hard core Whole30. For instance, the flourless banana pancakes I made might be considered non-compliant by the hard core folks. While they use only compliant ingredients, they are still "pancakes," which some people would consider to be a mimic of a food you should avoid.
But ya know what? I decided if I was going to give up dairy, sugar, legumes, grains, and more, there would need to be some give and take here. So I made pancakes.
Even though I didn't finish the Whole30, I thought I would share the meals that I planned in hopes that it might save you the time and energy of finding these meals, should you decide to embark on your own Whole30 journey!

One Week of Our Frugal Whole30 Meals
Breakfasts:
Sweet potato hash topped with fried eggs (made easy with frozen, chopped sweet potatoes) x2
Easy frittata (I used leftover potatoes and veggies from dinner, plus chopped Aidell's chicken and apple sausage) x3
Flourless banana pancakes topped with almond butter and sliced strawberries, paired with scrambled eggs x2
Lunches:
Egg salad (made with homemade mayo) on top of greens x2
Chicken salad (made with homemade mayo and leftover roasted chicken from dinner) on top of greens x2
Leftover Instant Pot hamburger soup (or stove top hamburger soup)
Tossed salad (greens with veggies, hardboiled eggs and avocado) with Tessemae's Balsamic Vinaigrette dressing x2
Dinners:
Weeknight roasted whole chicken with roasted potatoes and roasted broccoli
Leftovers
Leftovers
Pressure cooker pot roast with potatoes, carrots, and sauteed green beans
Leftovers
Sausage with peppers and pineapple (using Aidell's Chicken and Apple sausages)
Snacks:
Celery with almond butter and raisins (aka Ants on a Log)
Larabars (I loved the Apple Pie and Cherry Pie varieties)
Raw veggies with Tessemae's Ranch Dressing
Fresh fruit
So there you have it! If you are going to embark on a Whole30, I hope you'll find some inspiration from these meals. Having this list of meals from the get-go can reduce the amount of time you spend researching meal options for your week. Take advantage of the time-consuming work I already did and simplify your meal planning process! 🙂
If you need more ideas, I recommend checking out the Whole30 Meal Plan ebook from Our Paleo Life. I just recently had the opportunity to look through this resource, and I wish I'd had it when I was doing the Whole30.
It has meal plans laid out for the entire 30 days, including shopping lists and recipes. I would not personally consider all of the meals to be frugal, but if you have a little extra wiggle room in your grocery budget, the ebook definitely simplifies everything for you. I'm not an affiliate for the product, I just think it's a great resource at a fabulous value. You can check it out here!
What are your favorite frugal Whole30 recipes?
Need to cut your grocery budget without clipping coupons? Check out this super helpful FREE video series!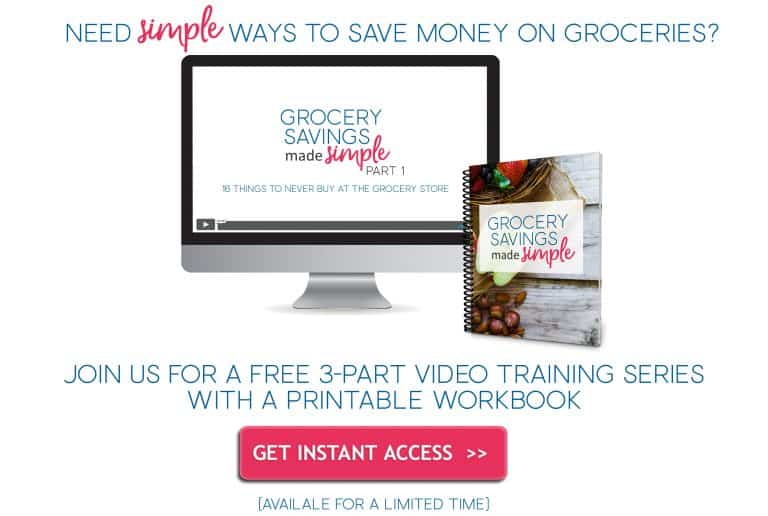 Save
Save
Get the Instant Pot Meal Plan Jumpstart
Join the free community and you'll learn simple ways to easily create tasty food for your family, as well as immediate access to the FREE Instant Pot Meal Plan Jumpstart to help you get a tasty dinner on the table in a flash!
"Thanks for sharing your knowledge and experience in such a friendly and delightful way!!! So far, I'm very impressed with the results...thanks again for your guidance into this new realm of cooking!" -Margaret
Free Resource Library
Enter my
free resource library
for my latest printables and resources! Password is 'IHEARTMARGIN' -- please copy and paste that in at the link above. Thanks for being a subscriber!!