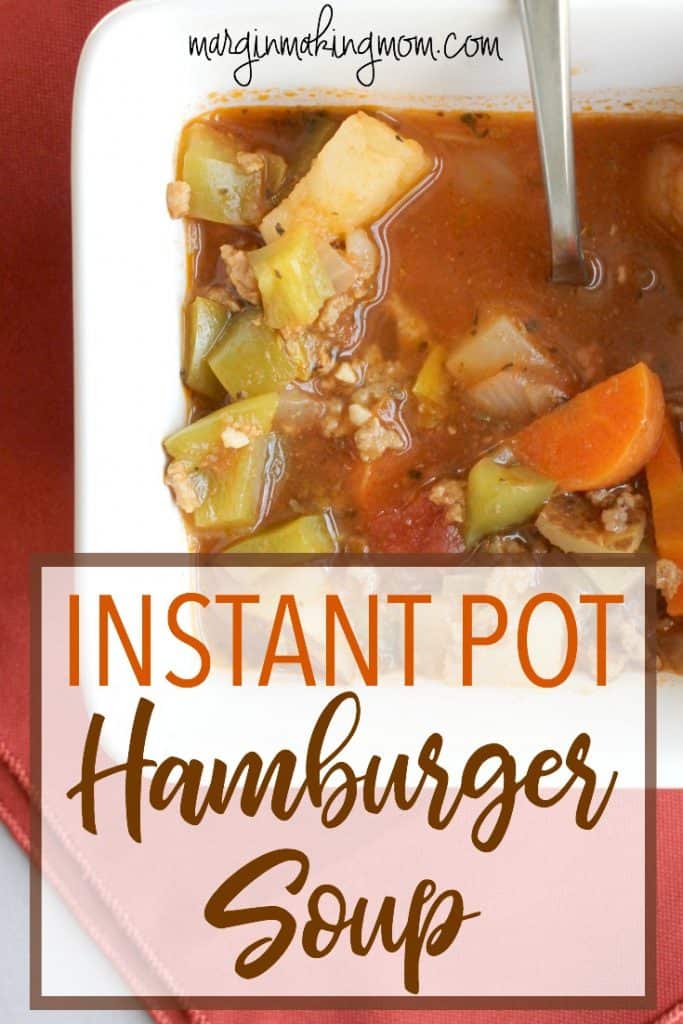 This Instant Pot Hamburger Soup is a quick and easy meal that uses frugal ingredients. As a bonus, it makes a great Whole30 Compliant meal!
Disclaimer: This post may contain affiliate links for your convenience.  You can read my full disclosure policy here.
So I decided to give the Whole30 thing a try.  I'm really not one for fad diets.  In fact, I don't think I've been on an actual diet at all in my adult life.  I sort of live by the motto, "Everything in moderation."  And in general, we eat a pretty healthy variety of foods regularly anyways.
But I've been so tired lately.  Now, a big part of that is probably the fact that my 15-month old still doesn't sleep through the night.  And I take care of three kids ages 4 and under every day.  So I know I have good reason to be tired.
However, I also have a sneaking suspicion that the refined sugar and carbs in my diet probably aren't doing me a whole lot of favors in the energy level department.  So the main reason I decided to try the Whole30 plan was to eliminate processed sugars from my diet to see if I noticed a change in energy levels.
Well, I made it a week.
Haha!  Seriously.  A week.  Which, if I'm being honest, I am actually pretty proud of.  A week with no dairy, beans, added sugar or artificial sweeteners, grains, alcohol, etc.  And honestly, I didn't really mind it too much. 
I loved the majority of the food I was eating and I was surprised to not have a lot of cravings for non-compliant foods.  I didn't feel horrible symptoms that are apparently pretty common in the first week.  The main reason I chose to stop was because it was just SO MUCH WORK.
You have to understand, I am the person who meal plans on a regular basis already (I wrote a whole post about simple menu planning!).  I make the vast majority of our meals at home.  I enjoy cooking.
But it still took me FOREVER to plan three meals a day full of compliant foods that would fit in our budget and that had enough variety.  And it took a lot of time to prepare these three meals every day and then wash all of the dishes.
Side note: There is sugar in everything.  I had to make my own mayo, find chicken broth without sugar (yes, really), and the list goes on.
I think planning and prepping for the Whole30 just made me even more tired, ha!
So while I know I could have kept going for the full 30 days, I realized it was a lot more work than I bargained for.  Major kudos to those of you who stick with it for the full 30 days!
Anyways, I digress…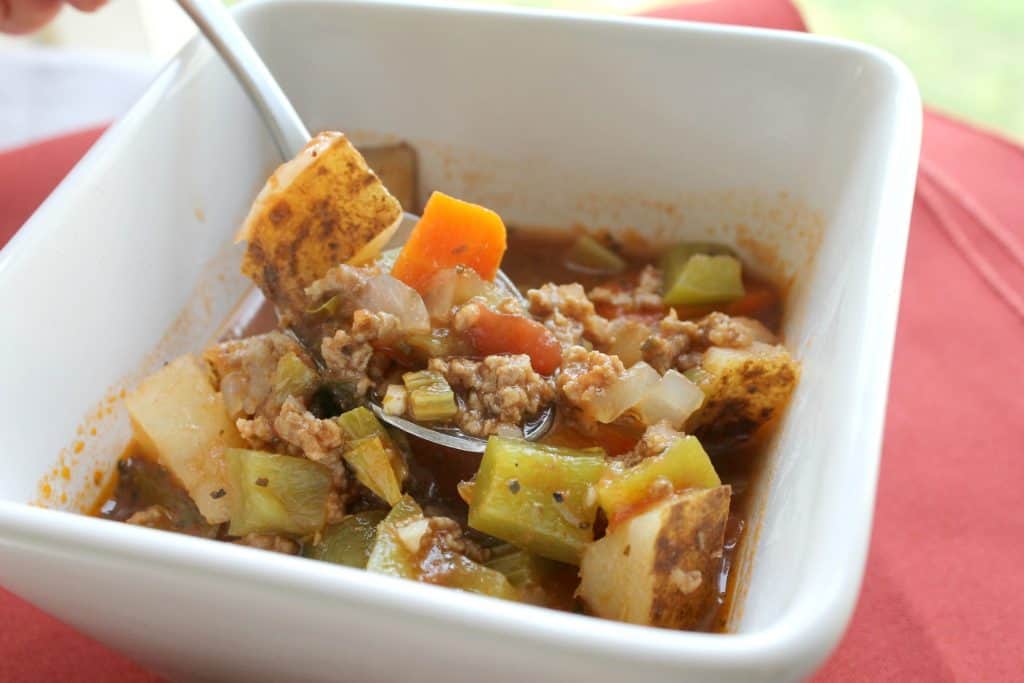 One great outcome of my Whole30 experience is this soup!  In my quest to find compliant recipes, I noticed several people mentioned the Pioneer Woman's hamburger soup.
Now, because I love all things P-Dub, I knew this would immediately go on my menu plan.  And because I love my Instant Pot, I decided to adapt it to be prepared in my beloved pressure cooker.
The result is a really easy, really tasty recipe that you'd never know is compliant with some crazy special eating plan.  It's something I would totally make even if I weren't doing the Whole30. Which I'm not anymore!
One of the best things about this Instant Pot hamburger soup is that it doesn't require any strange ingredients.  So it doesn't cost an arm and a leg to buy the ingredients, like A LOT of Whole30 meals.  Give me fast, frugal, and fabulous meals and I'm happy!
Ground beef is browned right in the insert pot.  Then some veggies, potatoes, broth, and seasonings are added.  It only requires a 5 minute cook time and, voila!  Dinner (or lunch!) is served!
Whether you're looking for Whole30 meals or not, this Instant Pot hamburger soup is one of those easy peasy soups that should be in your regular rotation.
Enjoy!

Recommended Equipment:
How to Make Easy Instant Pot Hamburger Soup
Ingredients
1 lb ground beef
1/2 onion, diced
2 stalks of celery, diced
2 cloves of garlic, minced
1 14.5-oz can of diced tomatoes
2 cups of vegetable or beef broth
2 bell peppers, diced
2 whole carrots, sliced
2 medium russet potatoes, cubed
1 Tbs tomato paste
1/4 tsp salt
1/4 tsp pepper
1 tsp dried basil
1/4 tsp dried oregano
Instructions
In the insert pot of the Instant Pot, brown the ground beef using the Saute function, breaking up the meat into small pieces as it cooks.
Once meat is mostly browned, drain grease if necessary.
Add remaining ingredients and stir well to combine.
Place lid on Instant Pot and set vent to the sealed position.
Using the manual setting, select a 5 minute cook time.
Once the cook time is complete, allow a natural pressure release for 10 minutes, followed by a quick release.
Adjust seasonings to taste, if needed.
https://marginmakingmom.com/instant-pot-hamburger-soup/
Copyright MarginMakingMom.com
To learn more about pressure cooking and to get more easy pressure cooker recipes, click here!
Find out how to convert your favorite slow cooker recipes to pressure cooker recipes (including a FREE cheat sheet) here!
Save
Save
Save
Save
Save
Save