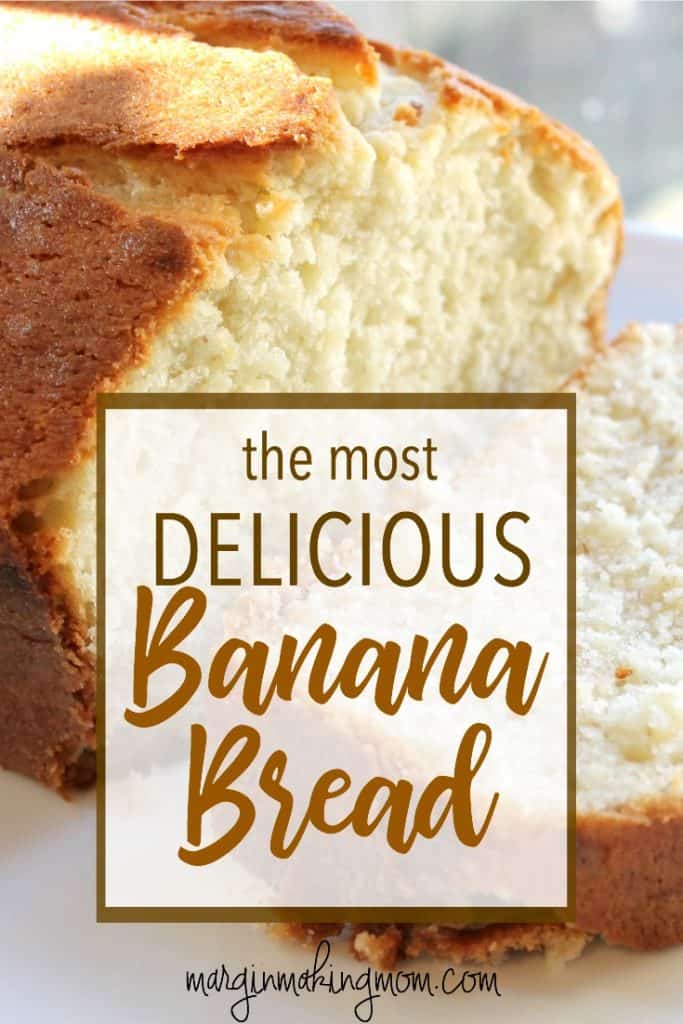 Banana bread should never be dense and gray. Instead, the most delicious banana bread should be light, fluffy, velvety goodness. This version is the best!
This post may contain affiliate links for your convenience.  You can read my full disclosure policy here.
One time when I was visiting San Francisco with my husband, we were eating brunch at a delightful little restaurant when I saw something potentially life-changing on the menu: banana bread french toast.  It seemed like a dream come true.  I think I was envisioning a brioche-textured french toast with some bananas and a caramel drizzle on top or something like that.  Heavenly, right?
Wrong.
When the plate arrived, I almost laughed to myself.  Silly me.  They literally meant french toast made with banana bread.
Which wouldn't necessarily be a bad thing.  I mean, a good piece of banana bread battered and fried, then topped with syrup?  Yes, please, and thank you.
Except that wasn't the case here.  You know how some banana bread is really dense and almost grayish in color?  That's sort of how this was.  A piece of thick, dense and gray banana bread that had been dipped in eggs and then cooked.
It wasn't horrible by any means, but it definitely wasn't the deliciousness I had expected.  It was just…"meh."
If you ask me, banana bread shouldn't be dense.  And it should never be gray.
Banana bread should be soft, fluffy, and light in color.  Just like this perfect version that I make on the regular.  This recipe for the most delicious banana bread has been my go-to for years now, and it always gets rave reviews.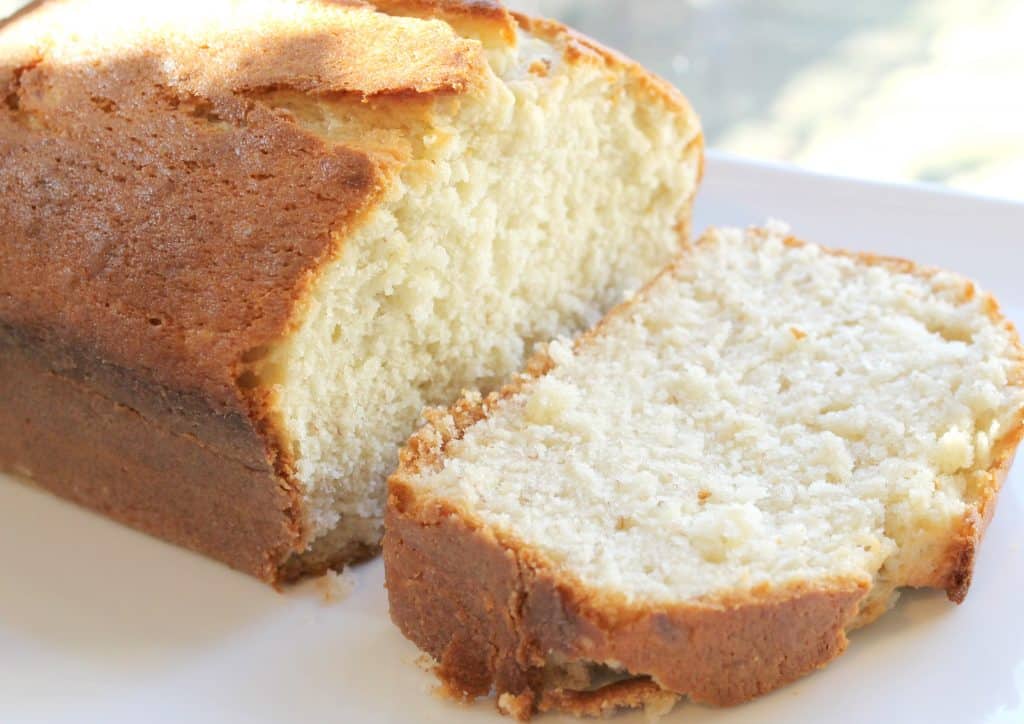 The original recipe comes from Two Peas and Their Pod (who, if you don't already follow, you definitely should!  SO MANY amazing recipes!), but I make a simple adaptation of using sour cream instead of buttermilk, simply because I never actually have store-bought buttermilk on hand.  I used to mix my own buttermilk for this recipe by combining milk and vinegar or milk and sour cream, but then I got lazy one day and just stirred plain sour cream into the batter.  And I haven't looked back. 🙂
I have been known to buy extra bananas just so that I can let some get over-ripe so I'll have an excuse to make this banana bread.  My kids can practically inhale it, and who can blame them? It really is the most delicious banana bread.  Seriously.
Now, I'll admit that I've never made french toast with it.  But I can definitely say that its creamy color and velvety softness not only make it the perfect breakfast, but also a fantastic snack or dessert.
Because let's be honest–life is too short to be disappointed by sub-par banana bread, friends.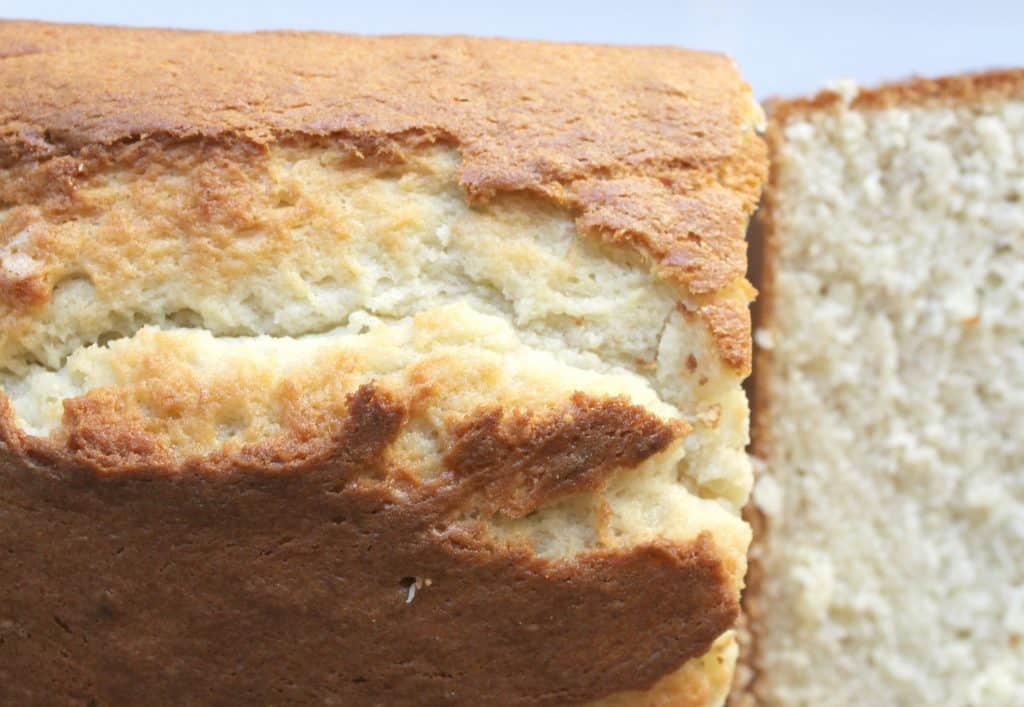 Recommended Equipment:
How to Make the Most Delicious Banana Bread
Ingredients
1/2 cup butter, softened
1 cup white sugar
2 eggs
4 Tbs sour cream
2 large or 3 medium bananas, mashed well
1 3/4 cups all purpose flour
1 tsp baking powder
1/4 tsp salt
1/8 tsp baking soda
Instructions
Preheat oven to 350. Grease and flour a 9x5" loaf pan.
Add butter and sugar to the bowl of a stand mixer and cream together.
Add eggs and sour cream, mixing well to combine and scraping down the sides of the bowl as needed.
In a separate bowl, combine flour, baking powder, salt, and baking soda.
Alternate adding mashed bananas and flour mixture, beginning and ending with flour mixture (1/3 of flour mixture, 1/2 of mashed bananas, 1/3 of flour mixture, remaining bananas, remaining 1/3 of flour mixture).
Pour batter into prepared pan.
Bake for 50-55 minutes, or until a toothpick inserted in the center comes out clean.
https://marginmakingmom.com/most-delicious-banana-bread/
Copyright MarginMakingMom.com
New to Pressure Cooking?
Subscribe to the Margin Making Mom newsletter and get instant access to a FREE printable Beginner's Guide to Getting Started with Your Pressure Cooker, which includes a printable Conversion Cheat Sheet to help you convert your favorite slow cooker meals to pressure cooker meals!
We take your privacy seriously and won't send you spam. See our privacy policy here.

Free Resource Library
Enter my
free resource library
for my latest printables and resources! Password is 'IHEARTMARGIN' -- please copy and paste that in at the link above. Thanks for being a subscriber!!