Moist and tender Southern pound cake with peaches is like a slice of heaven on a plate.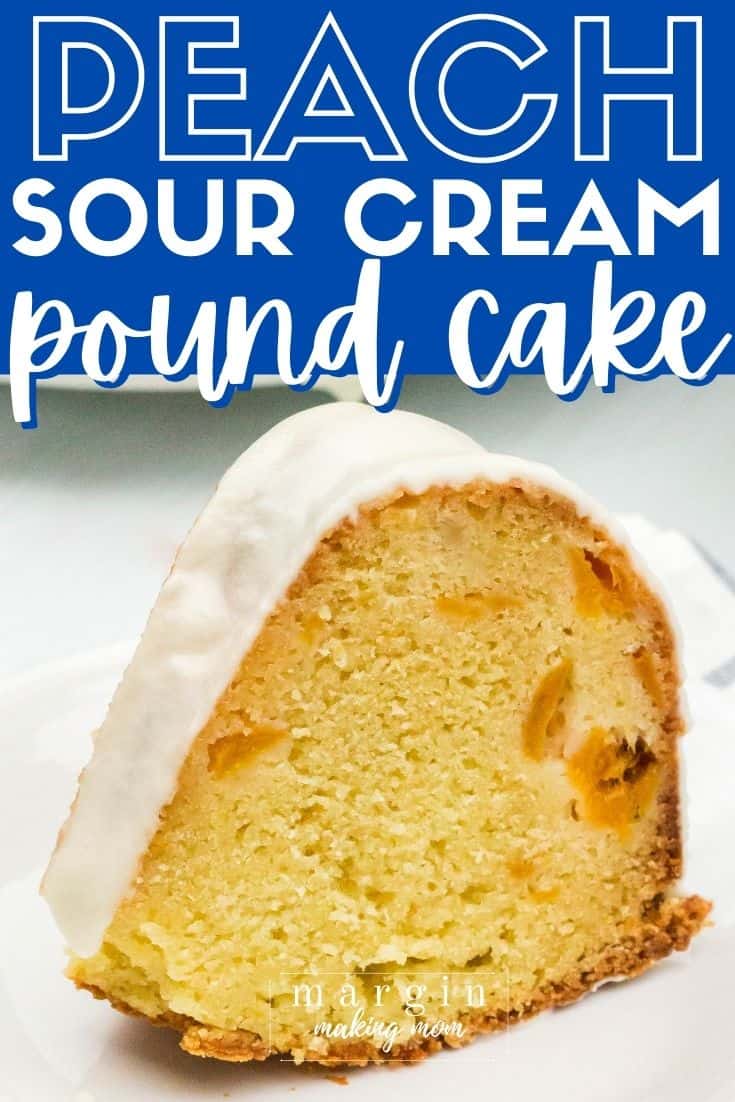 You won't believe how simple it is to make this flavorful peach sour cream pound cake.
Note: This post may contain affiliate links for your convenience. If you make a purchase, this site may receive a small commission at no additional cost to you. You can read my full disclosure policy here.
Both pound cakes and peaches are staples in down-home southern baking, and this flavorful peach pound cake would be right at home next to the peach cobbler and peach pie at the county fair or community bake-off.
I love that this cake is not overtly peachy in the same way a peach cobbler or peach pie would be. Instead, it's a southern-style pound cake dotted with bits of peaches. The peaches are morsels of sweetness that accent the richness of the cake.
This decadent pound cake is simple to whip up in about 15 minutes, then you can pop it in the oven and make the sweet vanilla drizzle that takes the cake to a whole new level.
Serve it with a cup of coffee and enjoy a few moments of a guilty pleasure!
More Summery Peach Recipes to Try: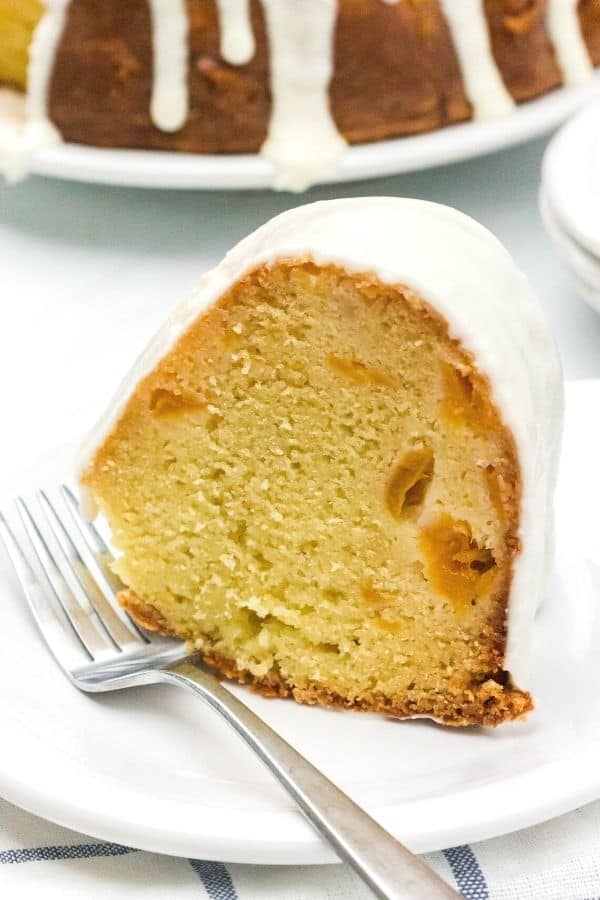 Homemade Pound Cake with Fresh or Canned Peaches
I love the simplicity of making a sour cream peach cake with canned peaches. I usually have a can in my pantry so I can whip up this recipe any time, even when peaches aren't in season.
Just drain the peaches and dry them well by blotting them with a kitchen towel, and your cake will come out perfect every time.
When peaches are juicy and in season, they make a great substitute for canned peaches. Dice up about 2.5 cups of fresh peaches and proceed with the recipe as written.
But it turns out that the secret ingredient in this peach pound cake is actually the sour cream.
It doesn't matter whether you used canned or fresh peaches because using sour cream in baking makes the cake perfectly moist and tender every single time. (Pssst…It's also really yummy in Chocolate Sour Cream Pound Cake! Give it a try.)
How to Make Sour Cream Pound Cake with Peaches
It's really easy to make this decadent southern peach pound cake.
Ingredients You'll Need:
Butter
Granulated sugar
Eggs
Vanilla extract or Lemon extract
All-purpose flour
Baking soda
Salt
Sour cream
Hot water
Diced peaches (canned or approx. 2.5 cups fresh peeled and diced peaches)
Powdered sugar
Milk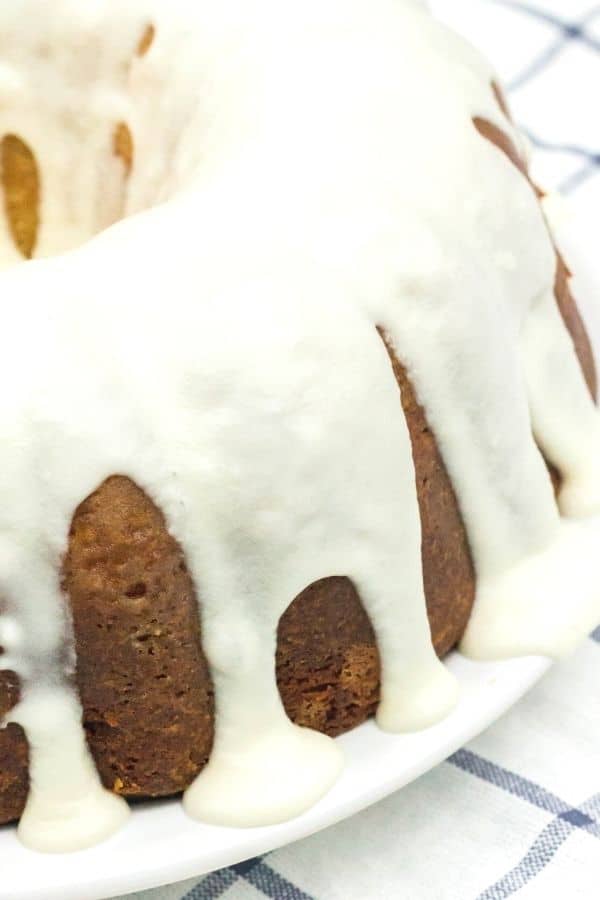 How to Make It:
(Full printable recipe is available below)
Mix the Cake Batter. First, you'll cream the butter and sugar and then add the eggs one at a time until you have a fluffy mixture. Mix the dry ingredients and alternate adding them into the wet ingredients with the sour cream. Finish by adding the hot water until the batter is smooth.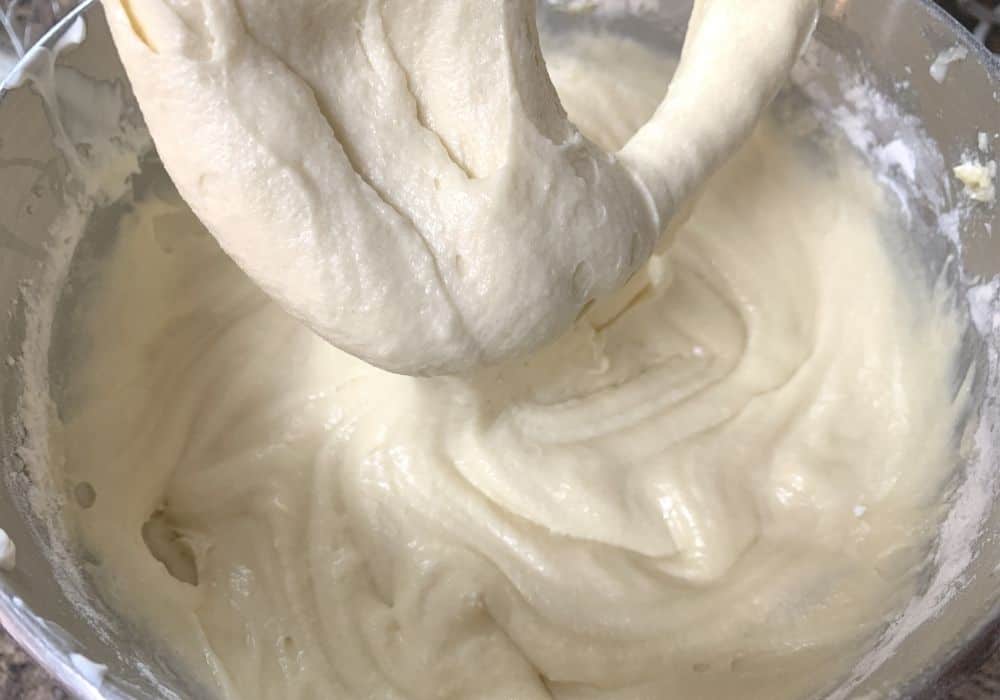 Add the Peaches. Next, you'll gently fold in the diced peaches. If using canned peaches, be sure to drain them and pat them dry before adding them to the batter. Pour the batter into a prepared pan.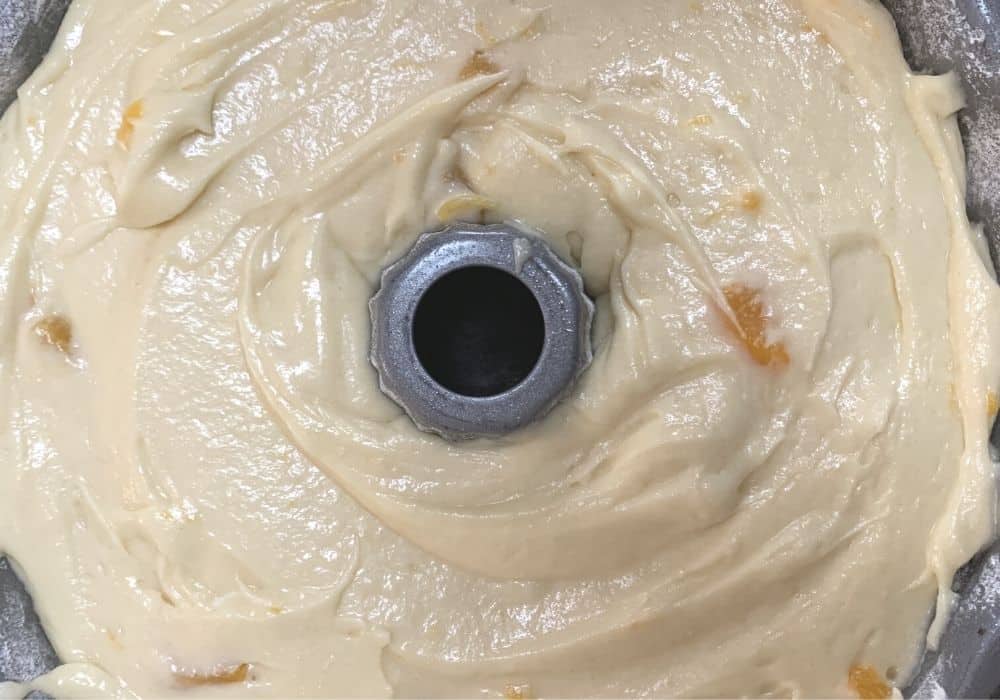 Bake the Cake. Then, you'll bake the cake for 1 hour 20 minutes, or until a toothpick inserted in the center comes out clean. While the sour cream peach cake cools prepare the vanilla frosting by whisking together the ingredients until nice and smooth.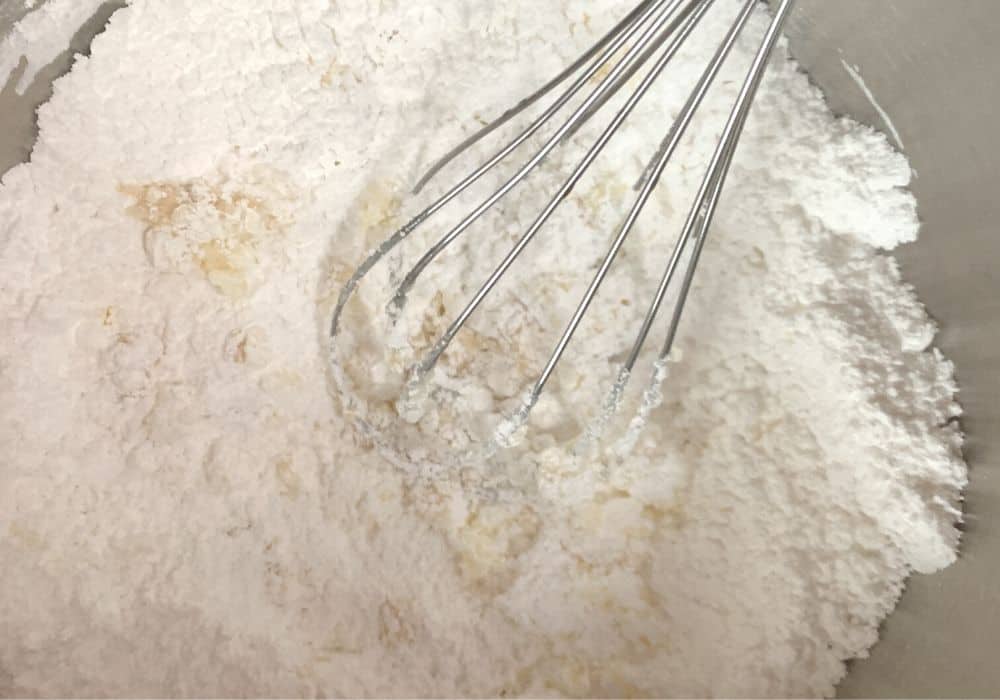 Frost and Serve. Last, you'll drizzle the peach pound cake with the vanilla frosting before serving.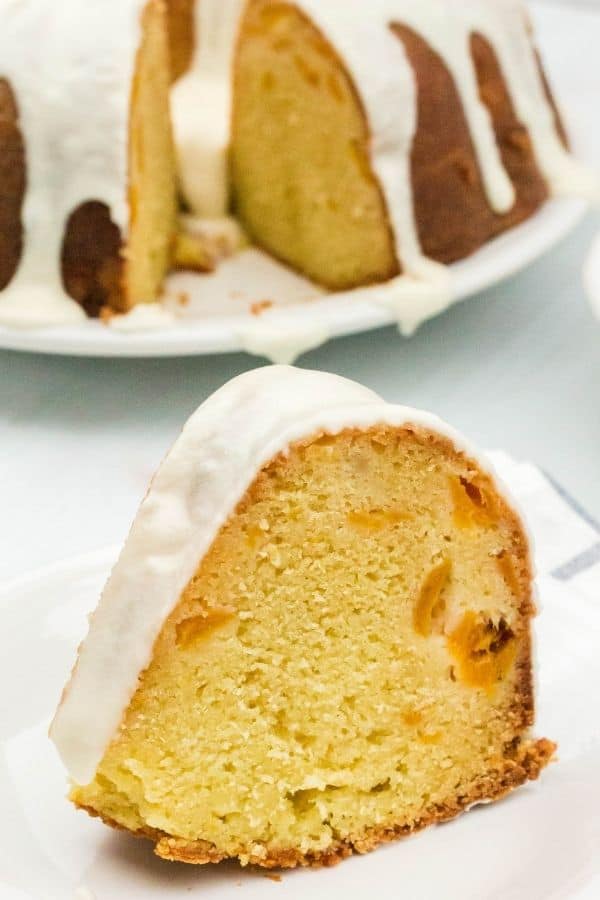 Notes and Adaptations for Making Peach Sour Cream Pound Cake:
Using lemon extract instead of vanilla extract will give a "brighter" flavor to the cake, if preferred. Vanilla extract gives a richer flavor. Take your pick! 🙂
Recommended Equipment: