Whether you buy canned peaches or can your own, there are so many things to make with canned peaches you can enjoy the flavors of summer the whole year.
Fresh peach season is fleeting, but these recipes using canned peaches are perfect for enjoying any time you crave that juicy, sweet flavor of peaches.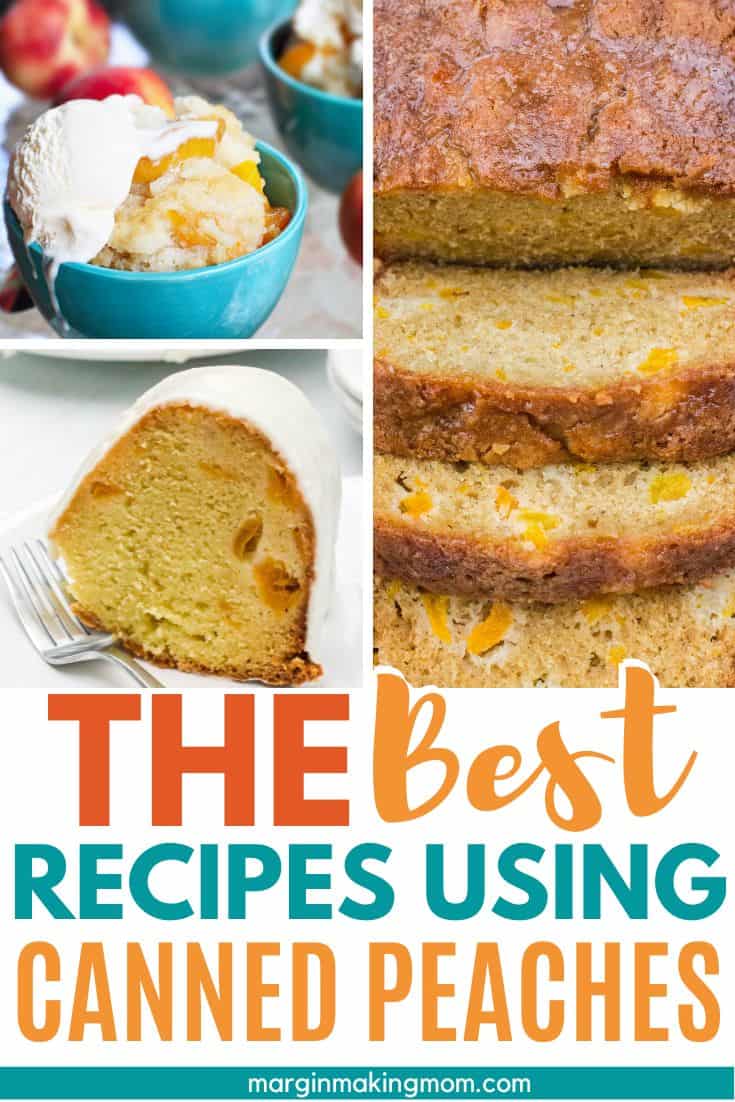 Note: This post may contain affiliate links for your convenience. If you make a purchase, this site may receive a small commission at no additional cost to you. You can read my full disclosure policy here.
Summer is the season for one of the greatest culinary joys–fresh peaches! But sadly, these juicy peaches seem to disappear almost as soon as they arrive.
I always make the most of fresh peaches by eating them whole, slicing them in salads, grilling them or chopping them to use in various recipes.
For a few short weeks, I put peaches into as many meals as possible.
Summer is the perfect time to eat fresh peaches, but you don't have to stop enjoying these juicy golden orbs when the seasons change, thanks to the wonder of canned peaches.
What to Do with Canned Peaches
Canned peaches are often underappreciated, but this incredible fruit is versatile and can be served at any meal, any time of year.
The best part about using canned peaches is that it's less work for you, since the peach skin has already been removed and the peaches have been sliced.
From main dishes and sides to dessert recipes made with canned peaches, there are so many ways to use canned peaches so you can enjoy a tasty reminder of summer all year round.
If I had my little way, I'd eat peaches every day, and these recipes using canned peaches are sure to bring a smile to your face.
The Best Things To Make With Canned Peaches
Whether you preserve your own peaches or purchase canned peaches from the store, you can enjoy them in all their goodness in these fantastic recipes using canned peaches.
Maybe you need an easy peach cobbler recipe that doesn't require peeling and chopping.
Perhaps you need the easiest way to whip up peach desserts for a crowd.
Maybe you want to make your favorite peach recipes, but need to use canned peaches instead of fresh.
From peach crisp to peach bread to peach salsa to peach pound cake (a favorite peach dessert in my home!), peach dump cake made with yellow cake mix, and peach filling for pies, there's no shortage of options.
Next time you need some ideas for ways to use up canned peaches, choose an easy recipe or two from this list to try!
Recipes Using Canned Peaches
What Kind of Canned Peaches are Best?
The type of canned yellow peaches you use will depend on the recipe.
In general, I prefer to purchase canned peaches in juice, rather than the variety in heavy syrup. This is personal preference, though, especially since many recipes require you to drain the liquid.
Peach slices are usually easiest, but you can buy peach halves and cut them (you can also cut sliced peaches into smaller pieces, if needed). You can sometimes find diced canned peaches, too.
In most cases, you can use whatever cans of peaches you already have on hand.
Can I Use Fresh Peaches Instead of Canned Peaches?
Canned peaches are convenient, but you may want to use fresh peaches in your recipes during the peach season.
Whether you can swap fresh peaches for canned peaches depends a bit on the recipe.
Canned peaches have a lot of liquid, so you can usually use fresh peaches if the recipe requires you to drain the peaches first. If the peach juice in the can is essential to the recipe, you'll want to stick with canned peaches.
If you're draining the juice, save it to use in a peach smoothie, or blend it with a scoop of vanilla ice cream for a milkshake.
When substituting fresh peaches, you will want to use approximately three peaches for every 16-ounce can of peaches.
More Delicious Recipes You'll Love: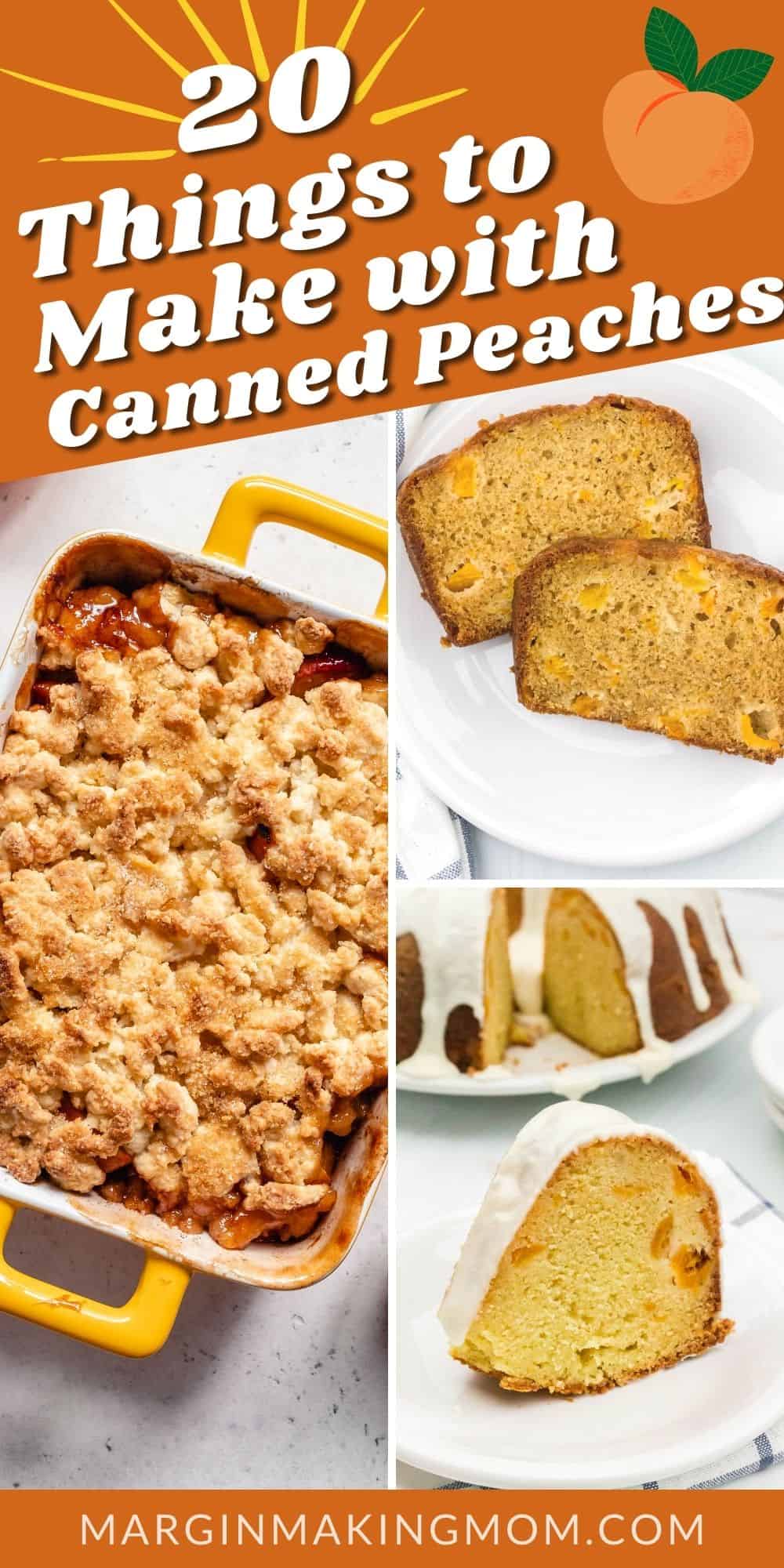 Get the Instant Pot Meal Plan Jumpstart
Join the free community and you'll learn simple ways to easily create tasty food for your family, as well as immediate access to the FREE Instant Pot Meal Plan Jumpstart to help you get a tasty dinner on the table in a flash!
"Thanks for sharing your knowledge and experience in such a friendly and delightful way!!! So far, I'm very impressed with the results...thanks again for your guidance into this new realm of cooking!" -Margaret
Free Resource Library
Enter my
free resource library
for my latest printables and resources! Password is 'IHEARTMARGIN' -- please copy and paste that in at the link above. Thanks for being a subscriber!!