Find out how to use sour cream to make your baked goods even better!
If you're wondering, "what does sour cream do in baking?," look no further than this simple explanation for the sometimes unexpected secret ingredient!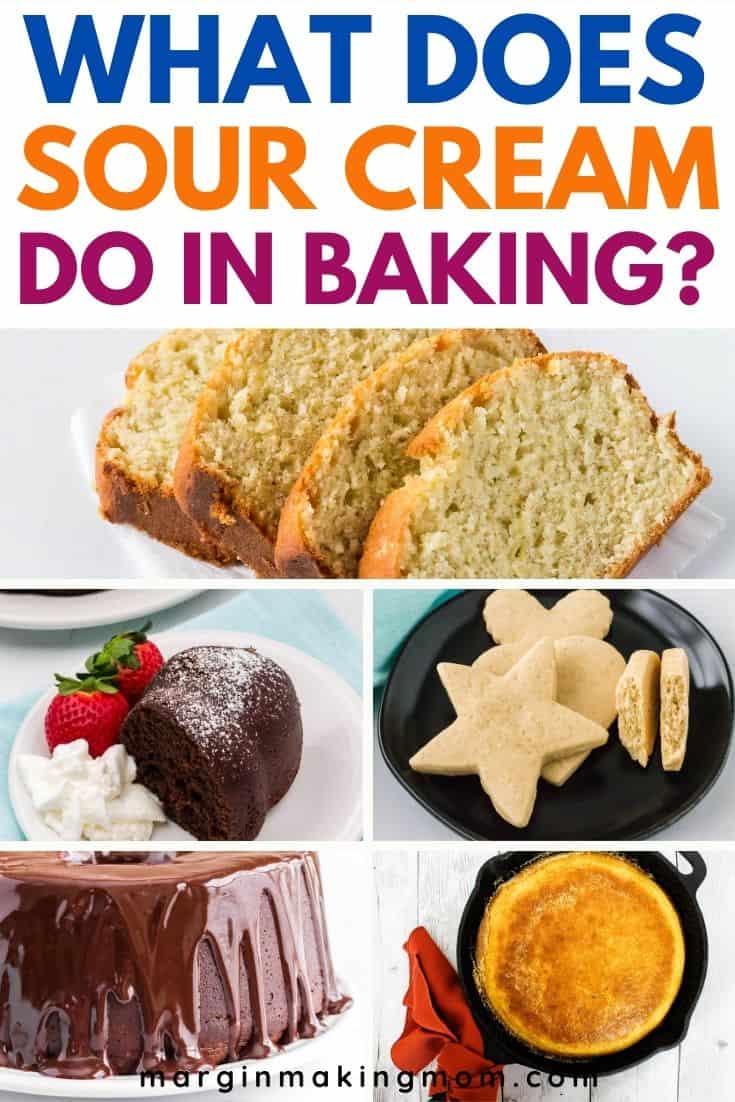 Note: This post may contain affiliate links for your convenience. If you make a purchase, this site may receive a small commission at no additional cost to you. You can read my full disclosure policy here.
Take a look at any vintage cookbook and you are likely to find a handful of baking recipes that use sour cream.
Using sour cream in baking wasn't an accident. It was done as a way to use readily available ingredients. In the late 1800s, many families had cows, and cows make cream and milk.
Traditionally, cream skimmed off the top of milk was allowed to ferment–either on its own or by adding acid-producing bacterial culture. It can also be made by adding lemon juice or vinegar to cream, similarly to how you can make buttermilk by adding lemon juice or vinegar to milk.
Cultured sour cream was readily available at grocery stores by the early 1900s. It was only a matter of time before sour cream found its way into baked goods. Fortunately, the results were delicious!
I've used it in everything from chocolate cake to cornbread, and once you give it a try–I'm sure you'll be adding it to everything, too!
What Does Sour Cream Do In Baking?
Sour cream is full of acid and fat, so it adds lots of moisture to baked goods and will make them tender and rich. If you have ever eaten a cake and wondered how the baker got it so moist, it was probably sour cream.
I'm going to dust off my science degree and give a little explanation of how sour cream is useful. Here's how it works:
Moisture – Sour cream adds lots of moisture, because it's so thick and has high fat content, and it doesn't thin out the batter as milk or cream would.
Richness – Cup for cup, a full-fat sour cream has over five times the amount of fat found in whole milk, so it adds an incredible richness to baked goods.
Acidity – There is a lot of baking science behind the acid in sour cream, but basically, as an acid, it reacts with more alkaline ingredients such as baking soda, helping to activate those ingredients. Not only that, but the acids help to shorten and tenderize strands of gluten, which gives a better texture.
How To Use Sour Cream in Baking
Typically sour cream is used in place of milk, buttermilk, or cream. It's often mixed in with butter, flour, sugar, and eggs to create a smooth and silky batter.
If you aren't usually a fan of sour cream, you may be wondering can you taste sour cream in baking? Have no fear; when baked, the flavor *might* be very mildly tangy, but definitely not sour.
Most likely, you won't even taste the sour cream–but you will taste a sweet and delicious cake.
Can I Use Low-Fat or Fat Free Sour Cream in Baking?
Technically, you can use low-fat or fat free sour cream in your baking recipes. However, I personally don't recommend it!
Since the fat is one of the important components that improves the texture of baked goods, using a version with less fat sort of defeats the purpose.
Not only that, but the fat free varieties often contain fillers that change consistency when heated, so the texture won't be quite as moist and the flavor won't be as rich.
Can I Use Greek Yogurt Instead of Sour Cream in Baking?
If you're looking make healthier choices with your baked goods, Greek yogurt can be a good substitute for sour cream.
Similar to sour cream, Greek yogurt is acidic. For the best texture, I recommend full-fat or low-fat Greek yogurt options instead of fat free, but many people are satisfied with the results of baked goods when using fat free varieties.
How To Use Up Extra Sour Cream
If you happen to have some extra sour cream in your fridge, toss it in next time you are baking.
Now that you know how to use sour cream in baking, you're going to find yourself looking for recipes to use this almost magical ingredient.
I've done the work for you and gathered up a list of some of my favorites to get you started.
Recipes for Baking with Sour Cream
These are some of our favorite ways to use this secret ingredient for moist and tender baked goods!
How much sour cream?
Have a favorite recipe that you'd like to convert to use sour cream? Check out these articles from Livestrong and Martha Stewart for advice on how much sour cream to use to make cake moist.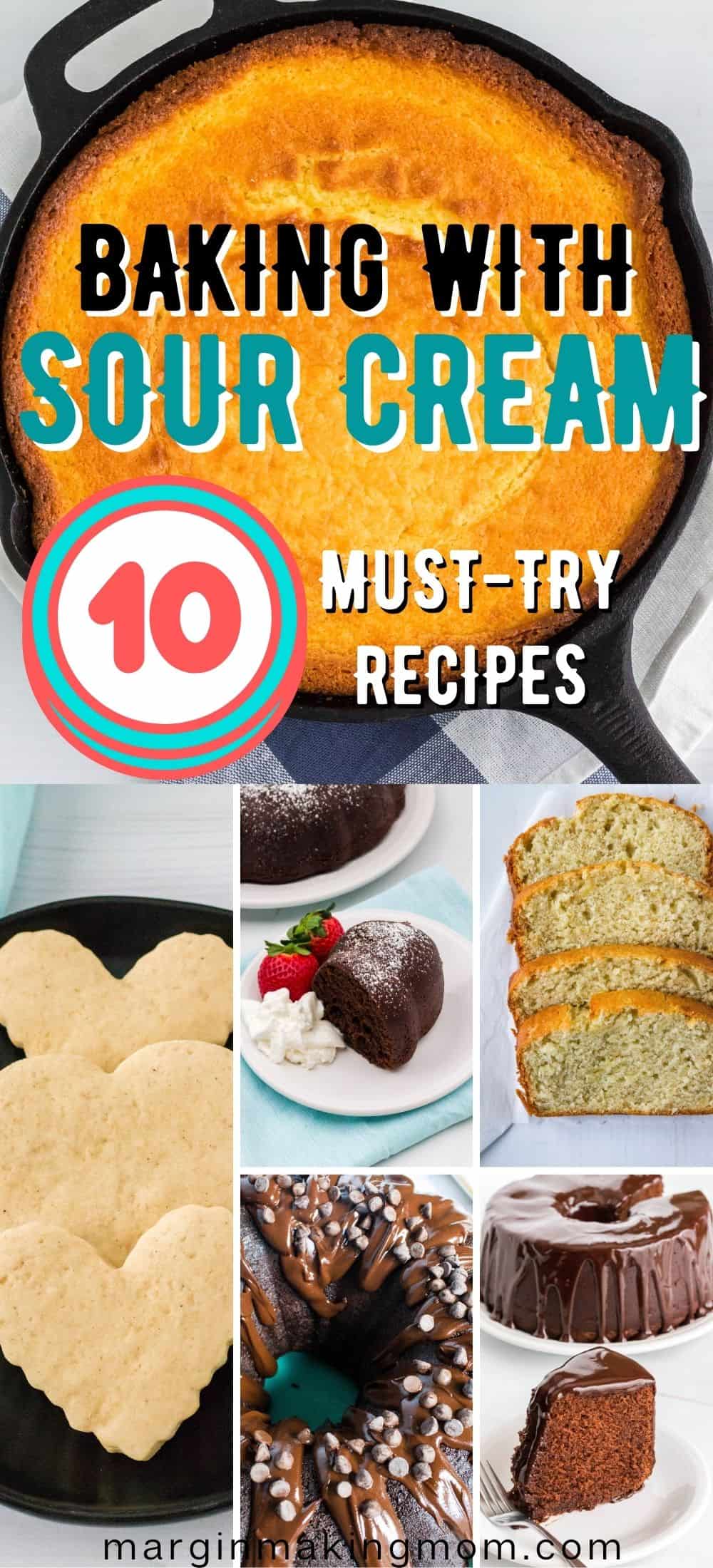 Get the Instant Pot Meal Plan Jumpstart
Join the free community and you'll learn simple ways to easily create tasty food for your family, as well as immediate access to the FREE Instant Pot Meal Plan Jumpstart to help you get a tasty dinner on the table in a flash!
"Thanks for sharing your knowledge and experience in such a friendly and delightful way!!! So far, I'm very impressed with the results...thanks again for your guidance into this new realm of cooking!" -Margaret
Free Resource Library
Enter my
free resource library
for my latest printables and resources! Password is 'IHEARTMARGIN' -- please copy and paste that in at the link above. Thanks for being a subscriber!!