Instant Pot Pizza Joes are a fun twist on a simple weeknight meal. This one-pot meal is sure to be a big hit.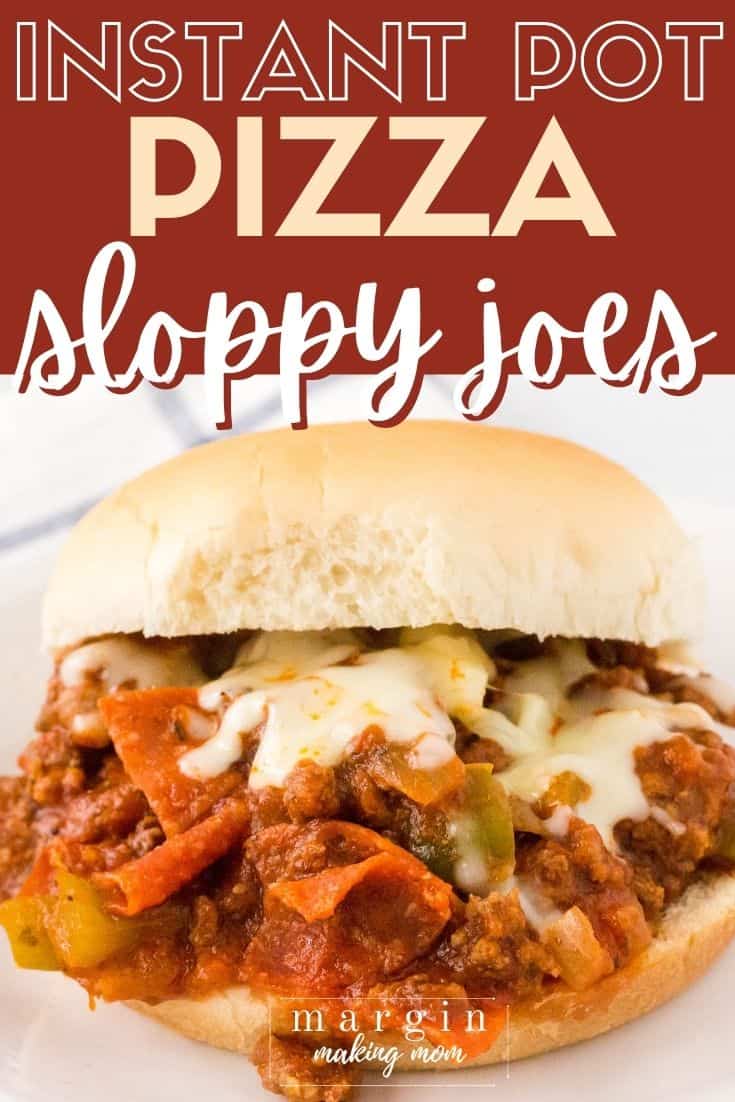 Instant Pot Pizza Sloppy Joes are a flavorful marriage of pepperoni pizza and classic sloppy joes–that your whole family is going to love.
Note: This post may contain affiliate links for your convenience. If you make a purchase, this site may receive a small commission at no additional cost to you. You can read my full disclosure policy here.
I have an old church cookbook that belonged to my husband's grandmother, and it includes a recipe for the local public school's beloved pizza burgers.
Honestly, I'd never heard of pizza burgers before, but as I looked through the recipe, I realized it was basically a sloppy joe sandwich made with an Italian flair.
I love a good classic homemade sloppy joe sandwich, and I've even made Instant Pot Hawaiian Sloppy Joes before, plus a meatless version with my Instant Pot lentil Sloppy Joes, so I decided to make my own version of the pizza burgers.
I incorporated aspects of my Instant Pot pepperoni pizza tortellini to make these quick and easy, and I think you'll love them!
Related: Homemade School Cafeteria Pizza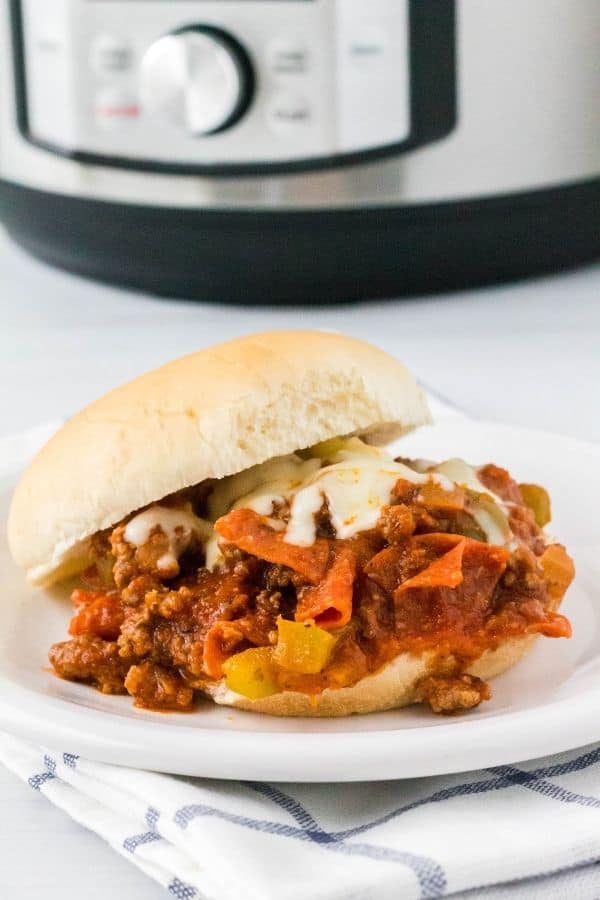 Pizza Joes Are Perfect For Busy Nights
In addition to being super tasty, I love these pizza burgers because they are SOOOO easy to make. It's almost embarrassing how easy this recipe is!
If you can brown beef and chop a few ingredients, you can make these Pizza Joes. Older kids can easily make this on their own. The beef and veggies can even be prepped ahead to make this a simple dump-and-go recipe that will be ready in minutes.
So if your family seems to be running in a hundred different directions, you're going to want to add this Instant Pot Pizza Sloppy Joes recipe to your rotation.
No Instant Pot? No problem. You can easily cook this on the stove top! Just brown the meat and add the other ingredient and cook until the onions and peppers are tender and everything is heated through.
Be sure to also check out my list of ideas for what sides to serve with Sloppy Joes!
How to Make this Sloppy Joe Pizza Burger Recipe
Also sometimes known as Sloppy Guiseppe sandwiches, these Pizza Joes are super easy to make!
Ingredients You'll Need:
Ground beef
Onion
Bell pepper
Pepperoni
Pizza sauce
Water
Garlic powder
Dried oregano
Buns or rolls and mozzarella cheese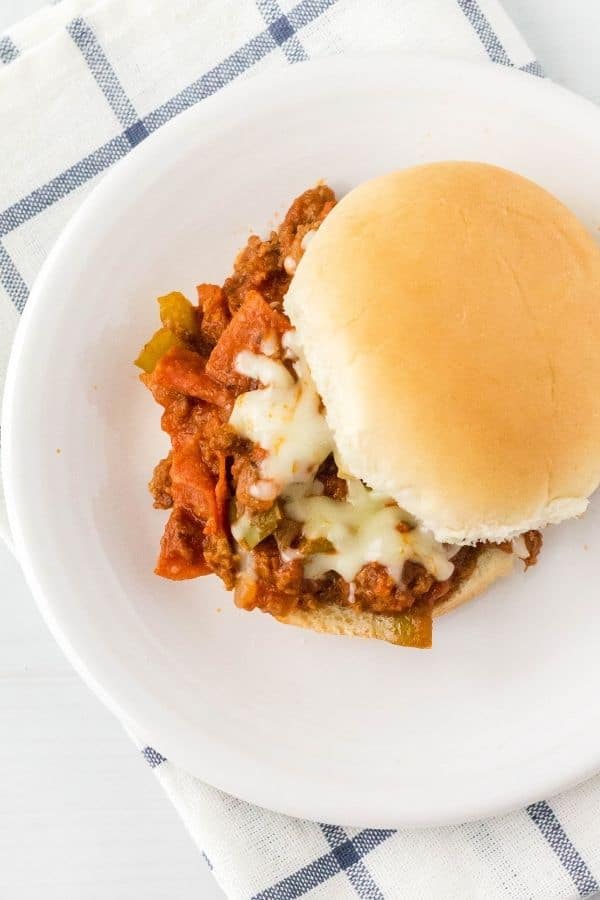 How to Make It:
(Full printable recipe is available below)
Brown the Beef. First, you'll use the saute function on the Instant Pot to brown the ground beef. Drain the excess fat if needed.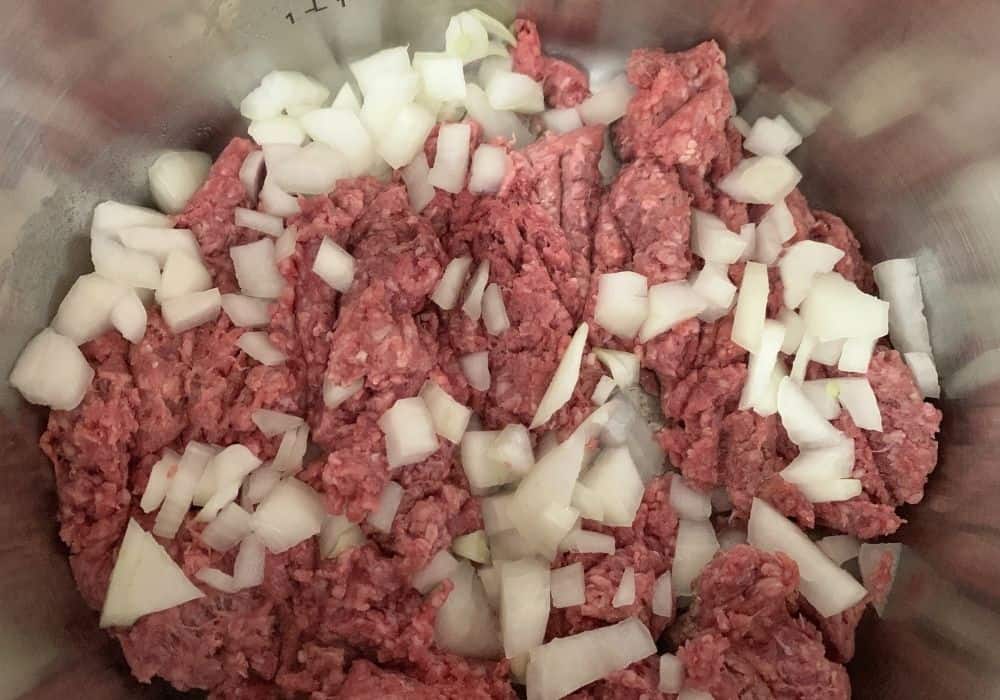 Make the Sauce. Next, you'll add in bell pepper, pepperoni, pizza sauce, water, garlic powder, and oregano to the insert pot and give it a good stir.
The reason we add a little bit of water is to thin the pizza sauce. On its own, it's a little too viscous to boil well, and we don't want it to scorch.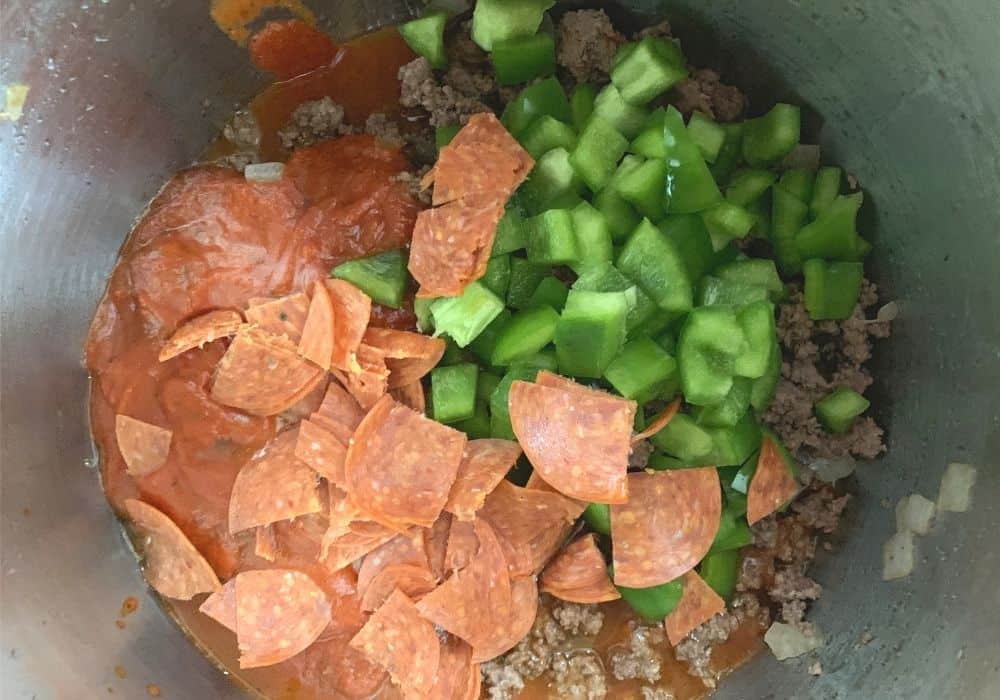 Cook. Then, you'll seal the Instant Pot and cook on high for 2 minutes.
Serve. After cooking, you can do either a natural pressure release or a quick release, depending on if you're in a hurry or not. Last, if the sauce is too runny for your preference, set the Instant Pot to saute to reduce the liquid for a couple of minutes. Serve the filling on buns or rolls, topped with mozzarella cheese.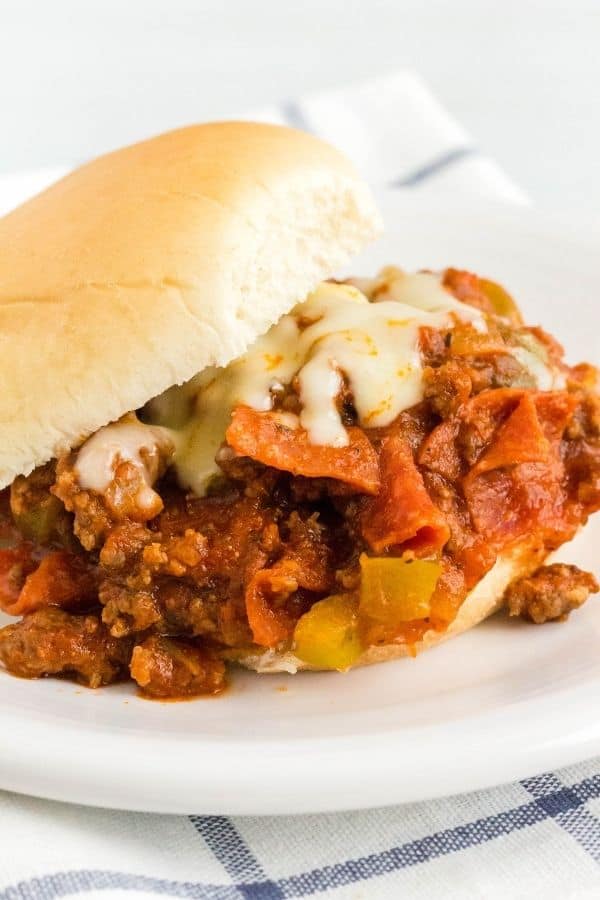 Notes and Adaptations:
If you prefer a chunkier sauce, you can add in some drained petite diced tomatoes.
Feel free to use ground Italian sausage instead of beef if preferred (or half beef, half Italian sausage).
Add your favorite pizza topping like mushrooms, olives, or crumbled bacon.
Recommended Equipment: