This pepperoni pizza tortellini casserole cooks in the Instant Pot, for a cheesy, delicious, and easy meal!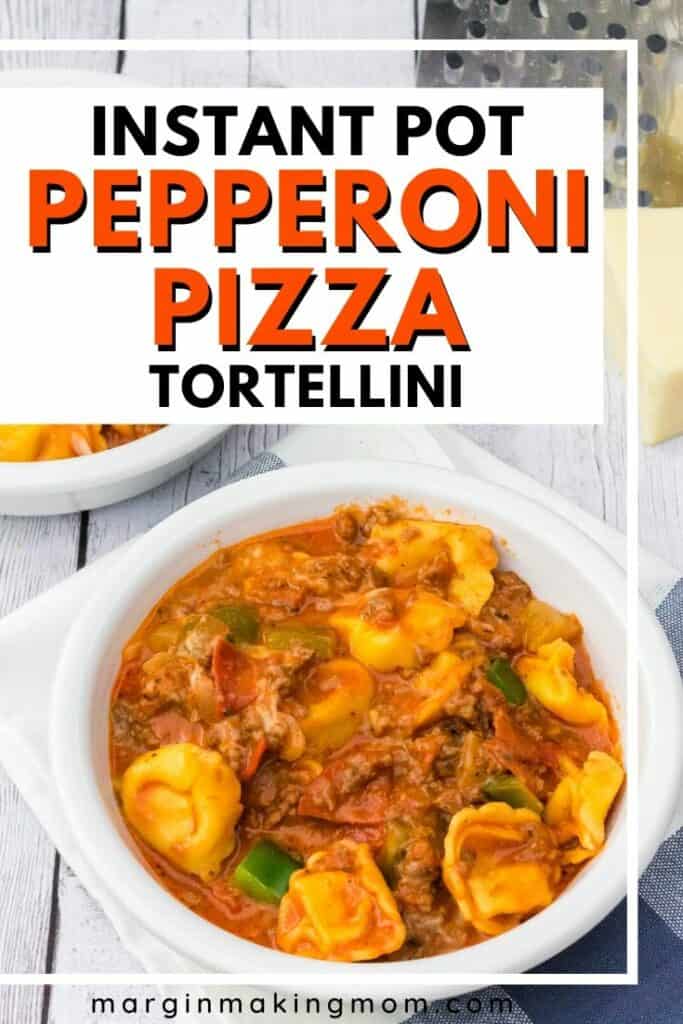 You'll love how simple it is to make this amazing Instant Pot pepperoni pizza tortellini! Cheesy, saucy, and layered with ground beef and pepperoni, it's a super easy one-pot meal!
Note: This post may contain affiliate links for your convenience. If you make a purchase, this site may receive a small commission at no additional cost to you. You can read my full disclosure policy here.
As a busy mom, I know you are trying to maximize your limited time in the kitchen (aren't we all??).
The reality is, you want a tasty and hearty meal, but you need it to be quick and easy and something your family will actually eat!
That's one reason why I love using my Instant Pot to make dinner, and why I love using frozen tortellini as a simple mealtime shortcut!
Did you know you can cook tortellini in the Instant Pot? A lot of people assume it's too delicate of a pasta for the pressure cooker, but it actually works great as long as you don't overcook it.
The method is similar to how I cook frozen ravioli in the Instant Pot--and how I make Instant Pot ravioli lasagna–and it's easier than you think.
If your family loves pepperoni pizza, they're going to love this amazing pepperoni pizza tortellini dish!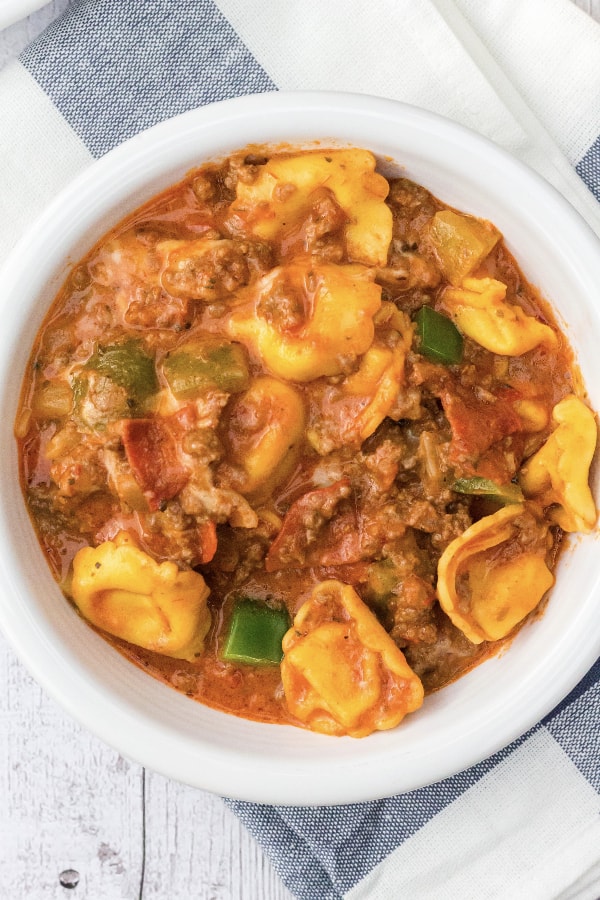 Cheesy Pepperoni Pizza Tortellini with Frozen Tortellini
I got the idea for this pepperoni tortellini dish when I wanted to make something similar to my Instant Pot lazy lasagna, but I didn't have enough dry pasta or ricotta on hand. I could have made Instant Pot Pizza Sloppy Joes, but I didn't have any buns or rolls.
I am so glad necessity is the mother of invention, because this meal is a winner!
Ground beef and pepperoni make this a meat-lover's dream, while mozzarella cheese and cheese-filled tortellini satisfy the cheese-lovers among us.
Did I mention it's super easy?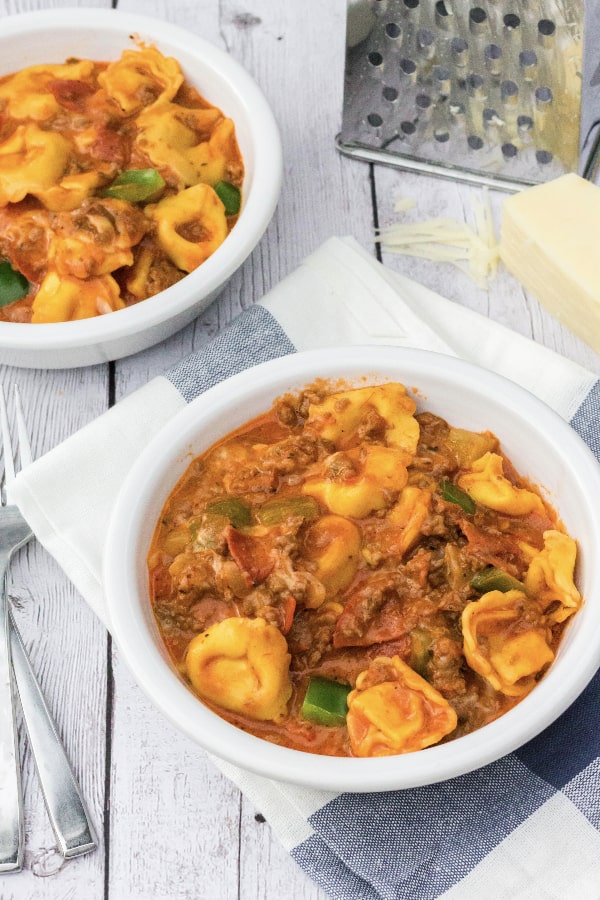 More Instant Pot Tortellini Recipes:
How to Make Pizza Tortellini in the Instant Pot
The great thing about making this tortellini casserole in the Instant Pot is that you only have one pot to clean afterward!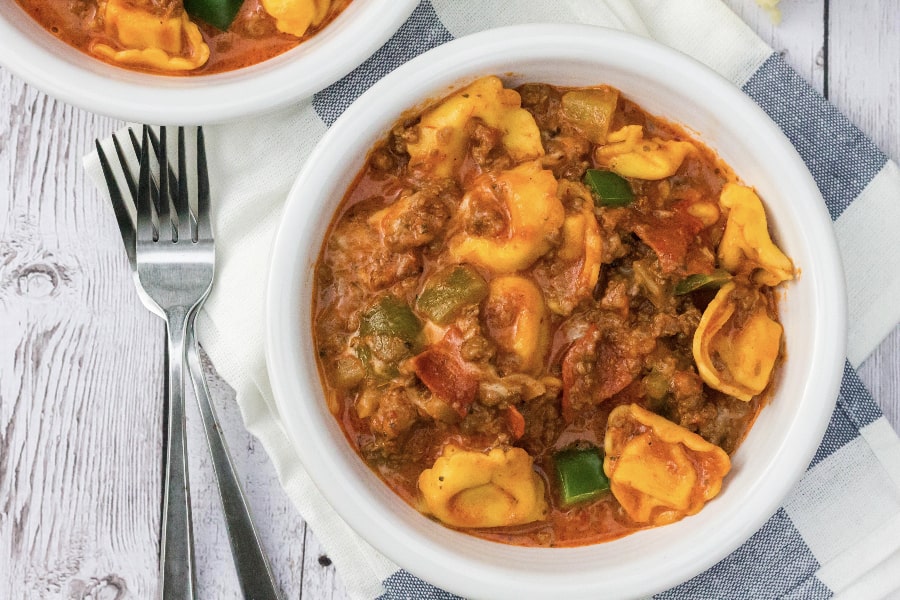 Ingredients You'll Need:
1 lb ground beef
1/2 medium onion, diced
2 cups beef broth
1 green bell pepper, chopped
1 tsp garlic powder
1 tsp dried oregano
19-oz jar spaghetti sauce
20 slices of pepperoni, cut into fourths
19-oz frozen cheese tortellini
3 cups shredded mozzarella cheese, divided
How to Make It:
(Full printable recipe is available below)
Cook the beef and onions. First you'll brown the beef and cook the onions using the Saute function. Then drain off any excess grease. Be sure to scrape up any browned bits on the bottom of the pot!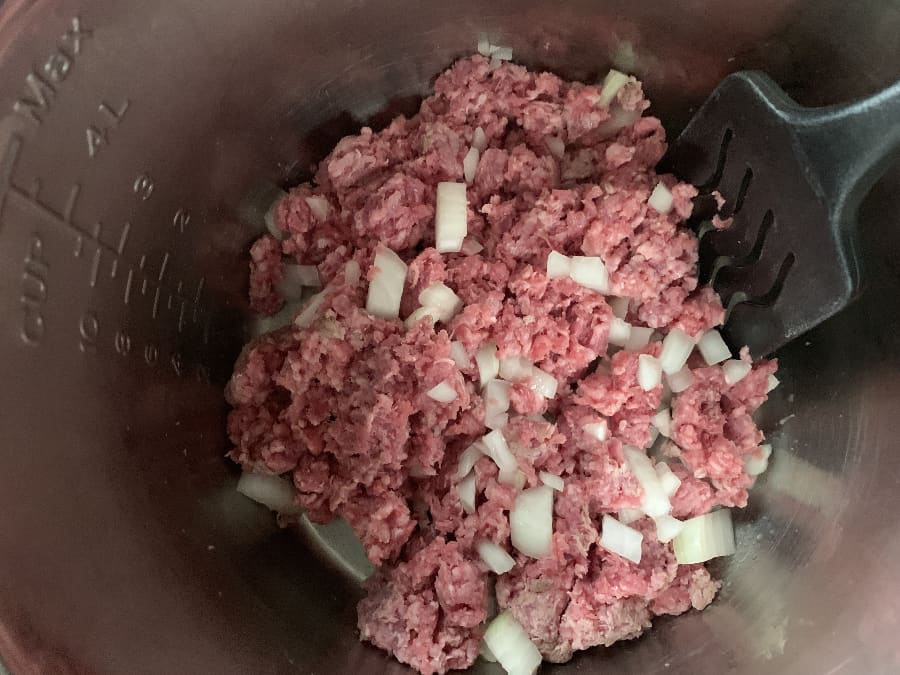 Add everything else except cheese. Next you'll add the broth, bell pepper, garlic powder, oregano, spaghetti sauce, and pepperoni.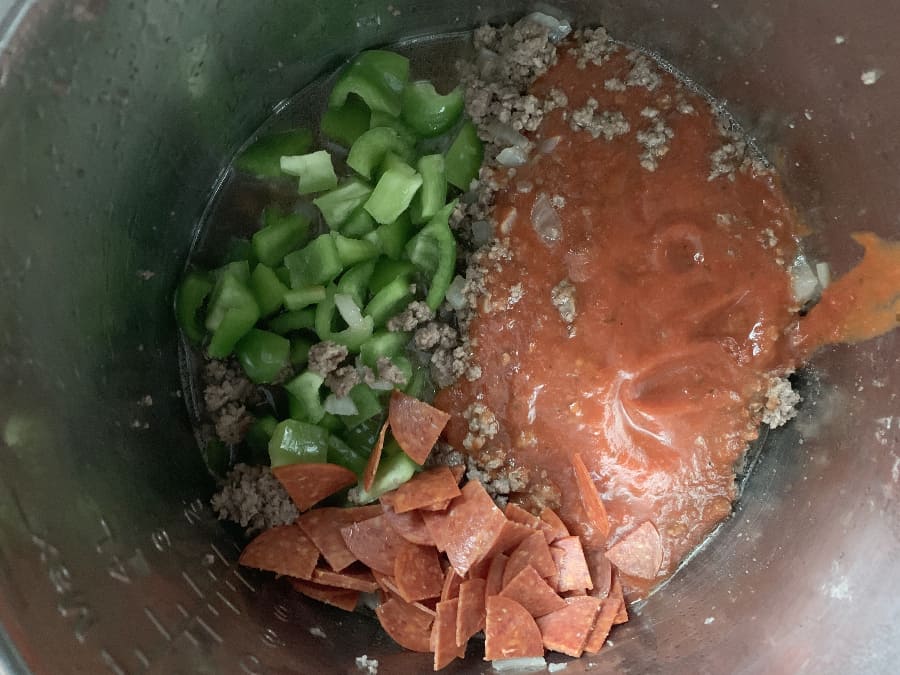 Stir to combine. Then, add the frozen tortellini on top and close the lid.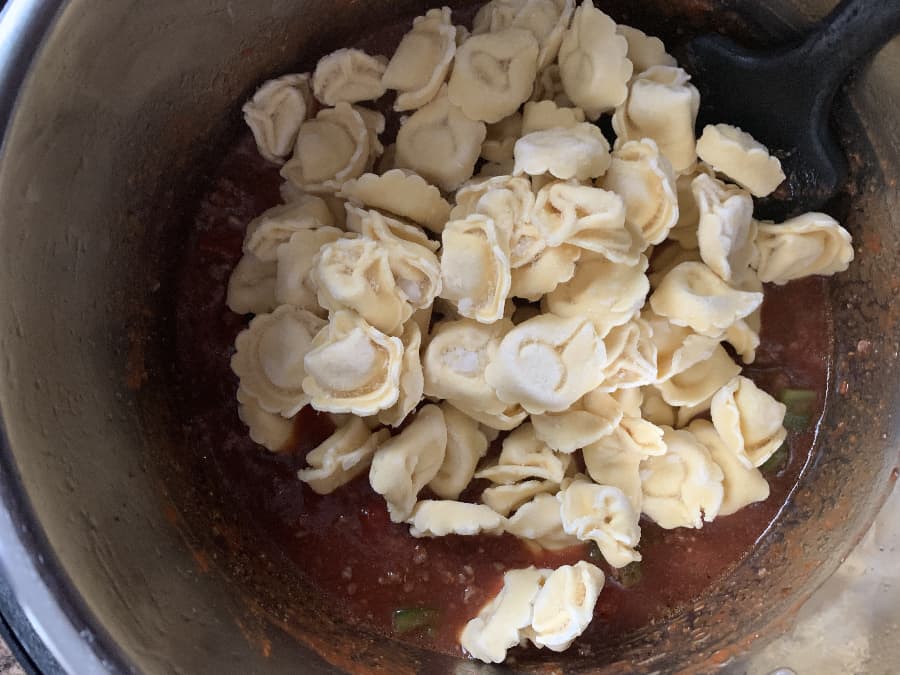 Pressure cook. You'll cook everything for just 1 minute, followed by a 5 minute natural release, then a quick release.
Add cheese. Stir in a couple cups of cheese until melted and incorporated into the sauce. Then, sprinkle the final cup of cheese on top.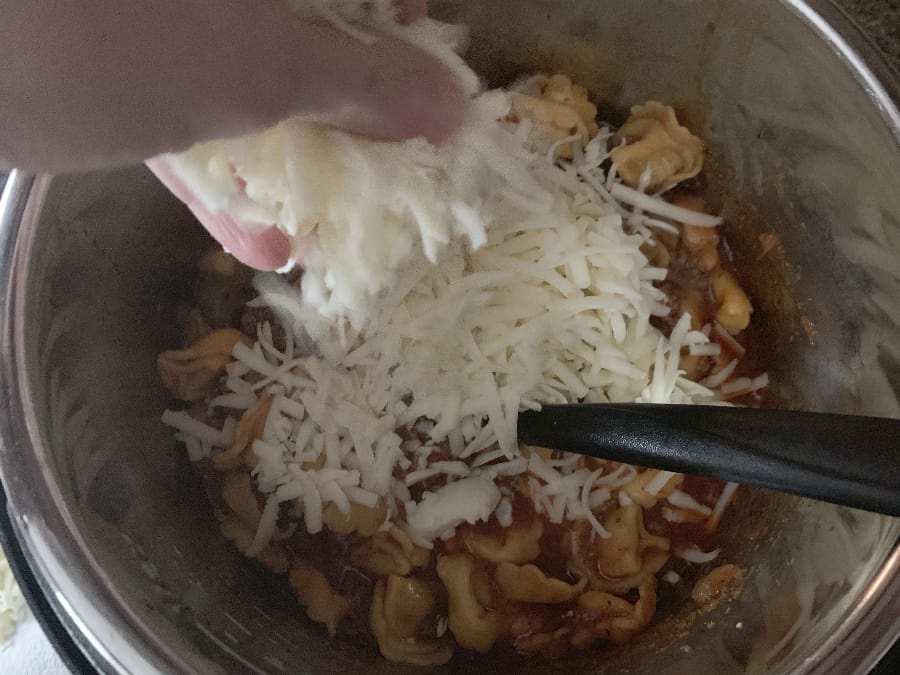 Melt the cheese. You can place the lid back on the Instant Pot and let the residual heat melt the cheese.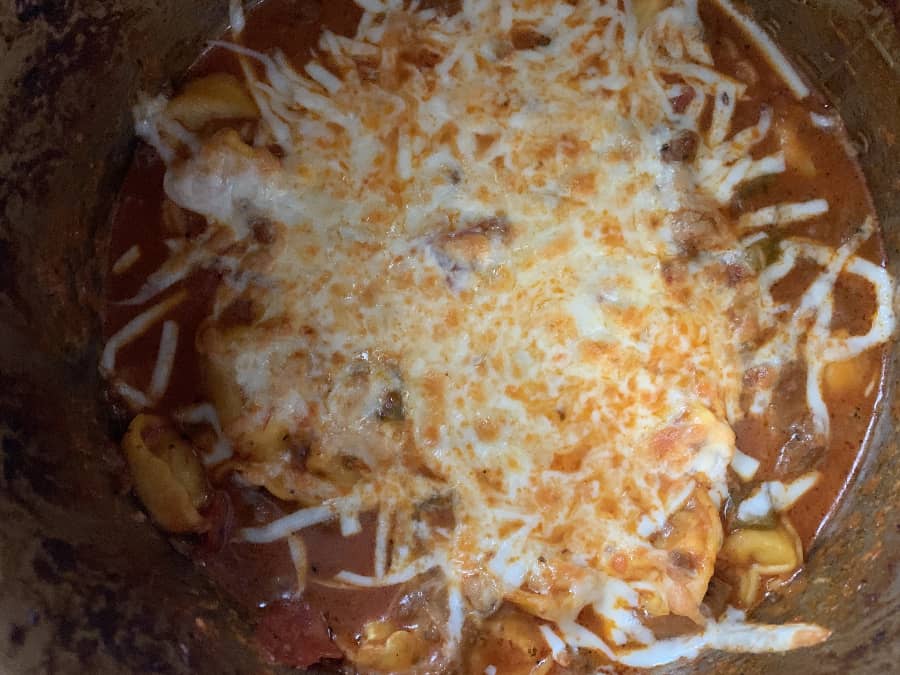 I used my Mealthy CrispLid to melt and brown the cheese.
You don't have to have an air fryer lid for your Instant Pot in order to melt the cheese, but if you have one, go ahead and use it for this!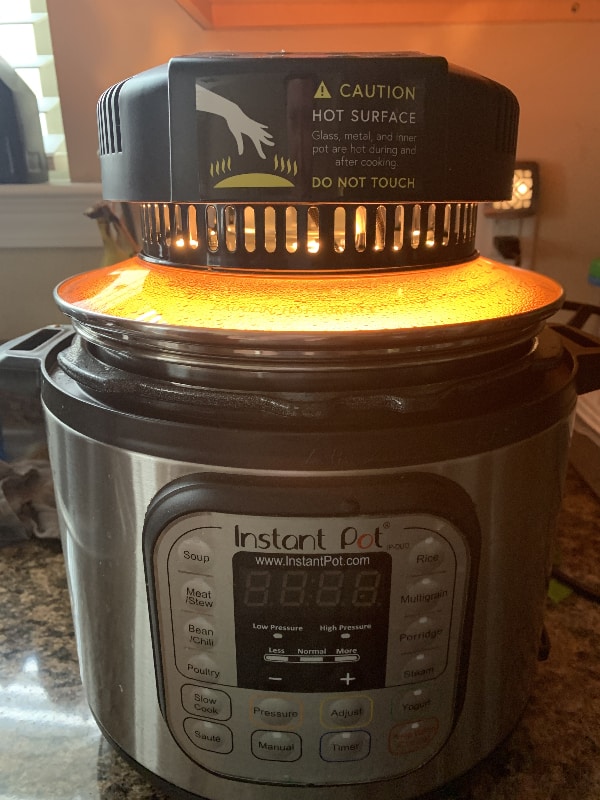 You'll end up with a cheesy, delicious casserole chock full of beef, pepperoni, tortellini, and sauce!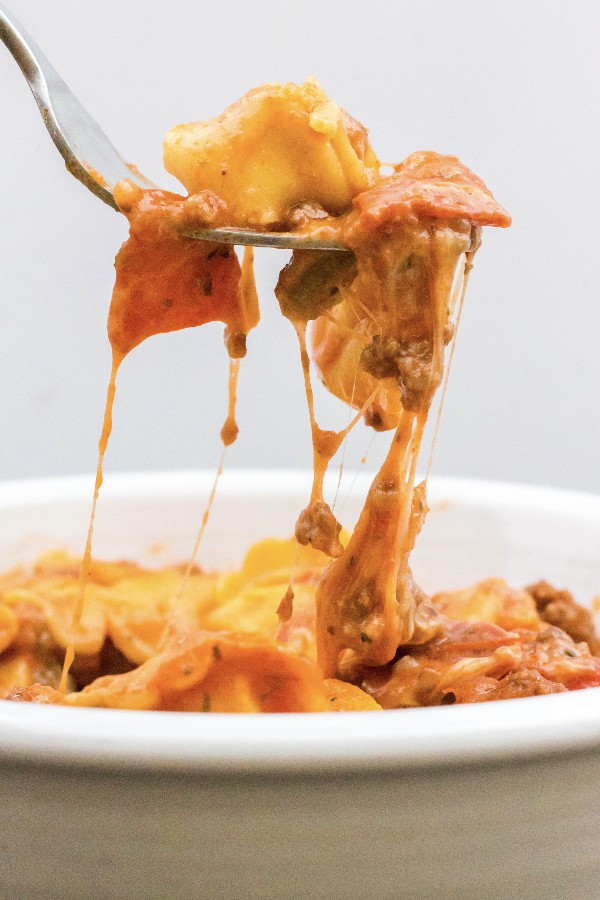 Notes and Adaptations:
Feel free to add more pepperoni if you'd like! You can also use turkey pepperoni if you want to cut some calories.
This is an easily customizable recipe–you can adjust based on what you prefer. Not a fan of bell peppers? Leave them out! Like Italian sausage? Use that instead of ground beef.
I have not tested this recipe with refrigerated fresh tortellini, as it is a more delicate pasta that would require a shorter cook time. If you'd like to try refrigerated tortellini, I'd recommend trying a 0 minute cook time.
Recommended Equipment: