It's easy to make Frozen Ravioli in your Instant Pot in just minutes following these simple tips and tricks.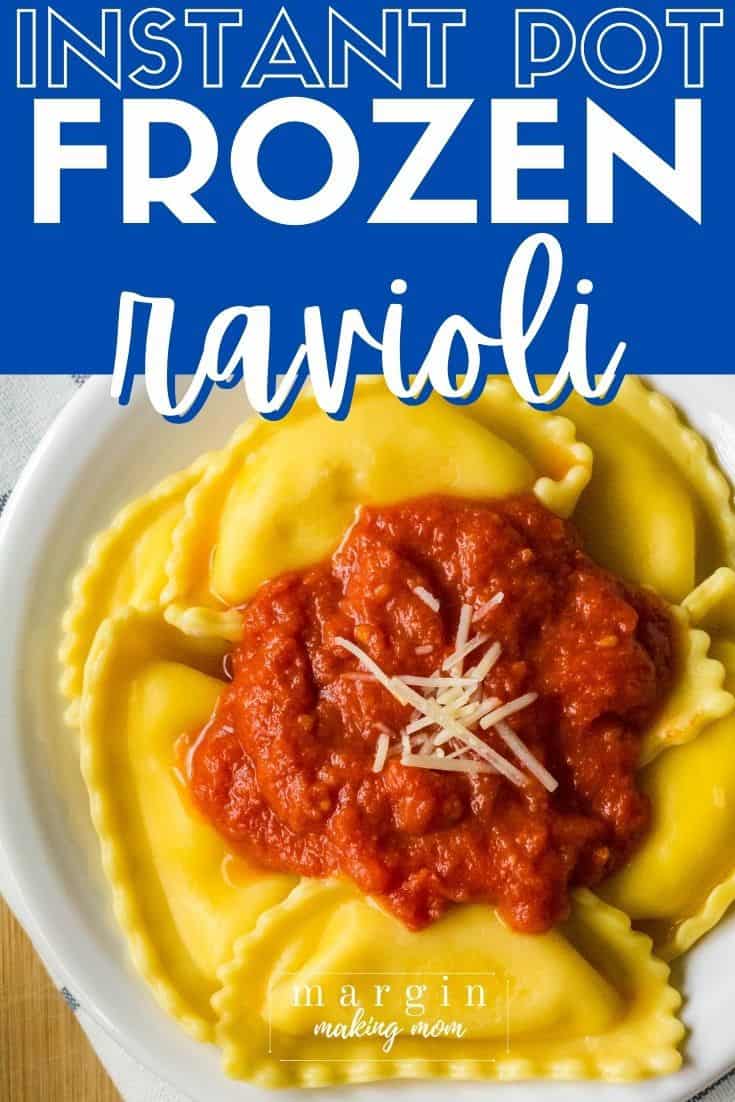 Follow these fool-proof instructions to make Instant Pot frozen ravioli for your family in just minutes.
Note: This post may contain affiliate links for your convenience. If you make a purchase, this site may receive a small commission at no additional cost to you. You can read my full disclosure policy here.
My only childhood experience with ravioli was the meat-filled pockets of dough that came in a can.
Sure, canned ravioli was a favorite childhood comfort food. But as I got older and had more experience with pasta and sauces, I began to realize that fresh (or frozen) ravioli was much more flavorful, while still SUPER easy.
Not to mention, the sauce options are practically limitless (one of my favorites is this roasted pepper and cherry tomato sauce).
Fortunately, ravioli is now available in the deli or freezer sections of most grocery stores and comes in a wide variety of flavors like meat, cheese, spinach, and even lobster!
Pair frozen ravioli with the modern Instant Pot and you are on your way to one of the quickest and tastiest meals you can serve your family for dinner.
Forget making and rolling pasta dough, filling it, and then waiting for water to boil–put your pressure cooker to work instead.
I have a full guide for how to cook pasta in your Instant Pot and also how to cook frozen tortellini in the Instant Pot. So today, we're taking ravioli straight from the freezer to the dinner table in just minutes–by cooking frozen ravioli in the Instant Pot!
More Instant Pot Frozen Pasta Dishes to Try: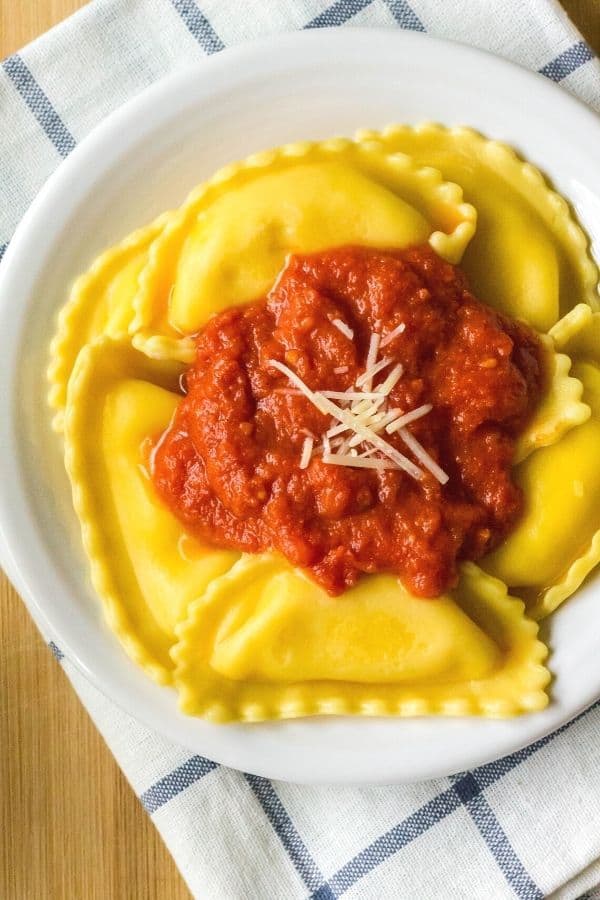 What Kind Of Ravioli Can I Cook In The Instant Pot?
Fresh ravioli is quite delicate, and you don't want to risk everything turning to mush in the Instant Pot, so I don't usually use fresh ravioli in the pressure cooker. However, you could try it with a 0 or 1 minute cook time and see how it turns out.
Instead, this method is best for using with frozen ravioli–and there are so many frozen ravioli options on the market these days. I almost always use a cheese ravioli (four cheese agnolotti from Kroger is my fave!), but you could also use spinach-filled or meat-filled if desired.
I also love that ravioli is usually flash frozen in individual pieces, so you can make a portion of a package if you are cooking for yourself or if you have a small family. This is one of my favorite easy lunch options!
How Long To Cook Ravioli In Instant Pot
The Instant Pot ravioli cook time is actually shorter than you might think, because ravioli is a quick-cooking pasta.
Most frozen ravioli needs 2 minutes at high pressure to cook to tender. That's it. If you are using mini ravioli that are a good bit smaller, I'd suggest a 1 minute cook time. Or, if you prefer a firmer ravioli, you may want to go for a 1 minute cook time.
Although it will take a few minutes for the Instant pot to come up to pressure, once there, you only need two minutes, followed by a quick release of pressure.
You've freed up space on the stove so you can use the time it takes your IP to come up to pressure to make a flavorful sauce to serve over your Instant Pot Ravioli.
The key is to release the remaining pressure as soon as the 2 minutes are up. If you don't, you may end up with mushy ravioli. It will still taste delicious, but it won't look quite as lovely.
Can I Add Sauce While Cooking Instant Pot Frozen Ravioli?
While you technically can cook Instant Pot ravioli with some sauce, I don't typically do that myself unless I'm making a casserole-type dish.
If you just want ravioli and sauce, you're better off cooking the ravioli and adding the sauce afterward. But if you want to cook them together, here are a few things you'll want to take into consideration.
First, jarred sauces are too thick and viscous to use by themselves in the Instant Pot. You'll get a BURN warning and the ravioli won't end up cooking through.
So to make it work, you'll have to add enough water to thin your sauce–or you can add water to the bottom, top with pasta, then layer the sauce on top.
Either way, the water does make the sauce thinner. Frozen pasta isn't dried like shelf-stable pasta, so it won't absorb much water during cooking–which will leave the sauce runny.
To thicken it after cooking, you'll either need to add a few handfuls of shredded cheese, a cornstarch slurry, or simply simmer it for a few minutes to let some liquid evaporate (though this will continue cooking your pasta–which could get mushy).
So in most cases, if you just want tortellini and sauce, I'd recommend cooking the ravioli by itself.
How to Make Instant Pot Ravioli
It's really easy to cook frozen ravioli in the Instant Pot.
Ingredients You'll Need:
Water
Frozen Ravioli
Sauce of choice
How to Make It:
(Full printable recipe is available below)
Add Water. First you'll pour one cup of water into the insert of your instant pot.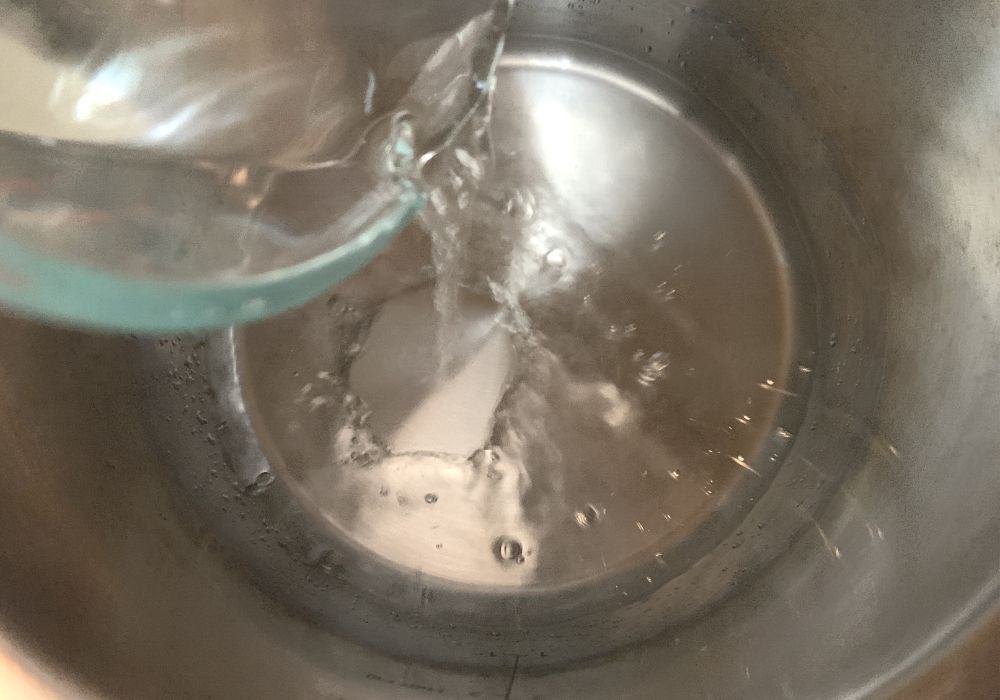 Add Ravioli. Next, you'll add the frozen ravioli to the pot.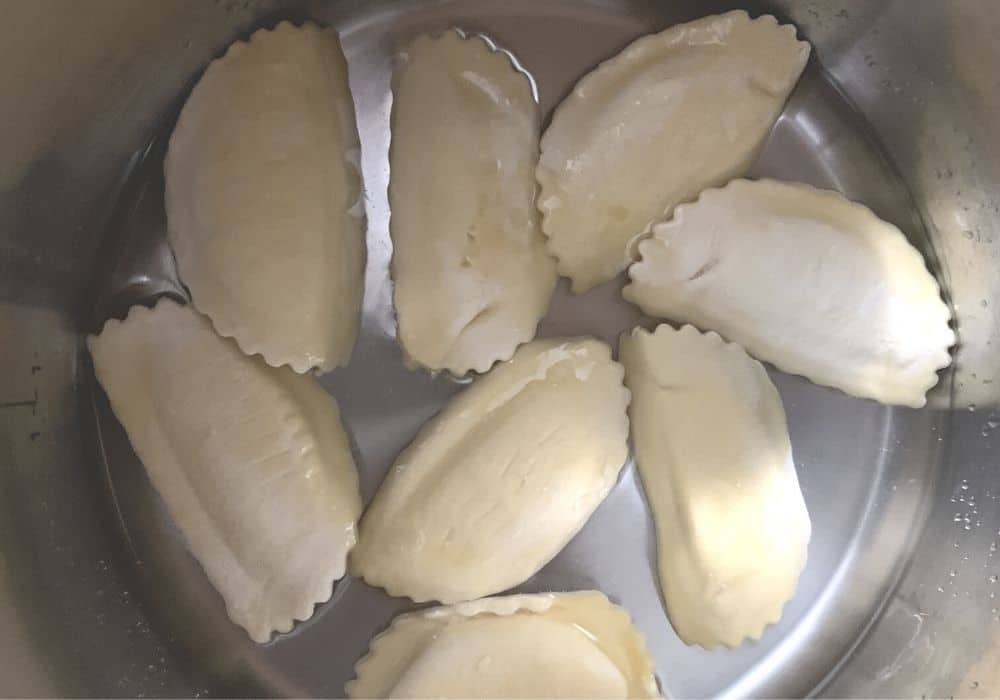 Cook and Serve. Last, you'll cover the Instant Pot and cook the ravioli at high pressure for 2 minutes, followed by a quick release of pressure.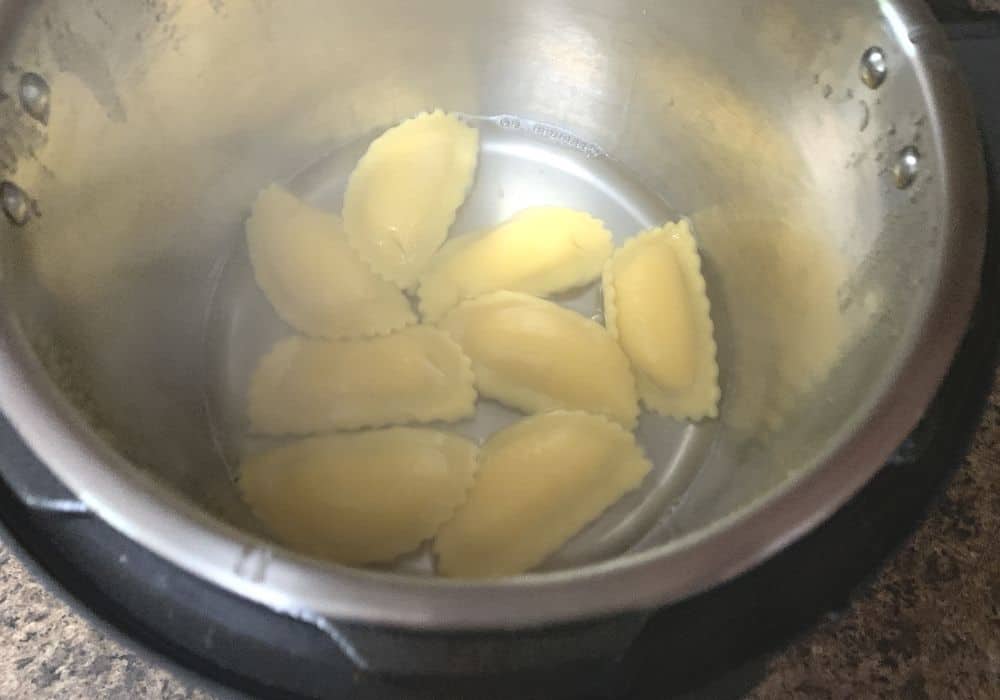 Scoop out the tender ravioli and serve it with your favorite sauce.
It really is that easy! Just add a salad and some of the easiest french bread and you have a tasty Italian dinner.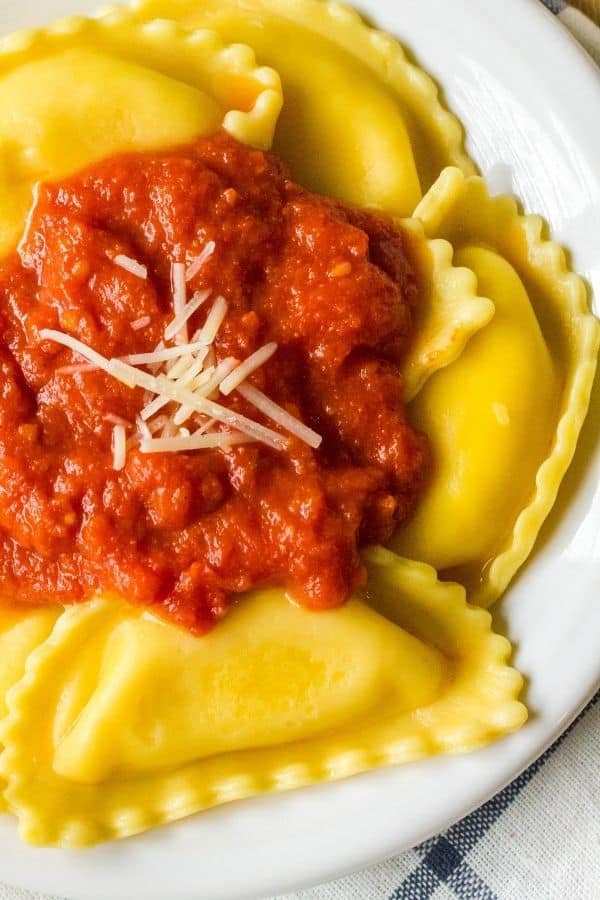 Notes and Adaptations:
Feel free to adjust the number of ravioli you are cooking. I will often cook just a single-serving for myself for an easy lunch. The cook time remains the same.
Serve the ravioli with your topping of choice, such as marinara sauce or Alfredo sauce, or even a simple drizzle of garlic-infused olive oil and a sprinkling of shaved parmesan.
If you prefer firmer pasta, you may prefer a 1 minute cook time.
The 2 minute cook time produces pasta that is slightly softer, but definitely not mushy. I personally prefer to use a 2 minute cook time.
If you notice starchy water spewing from the valve during your pressure release, use an intermittent pressure release.
Recommended Equipment: