It's really easy to cook pasta in the Instant Pot! Get my helpful tips and tricks for making perfect pasta with your pressure cooker!
Forget about starchy water boiling over onto your stove, babysitting a pot while you stir–instead, make pasta in your Instant Pot!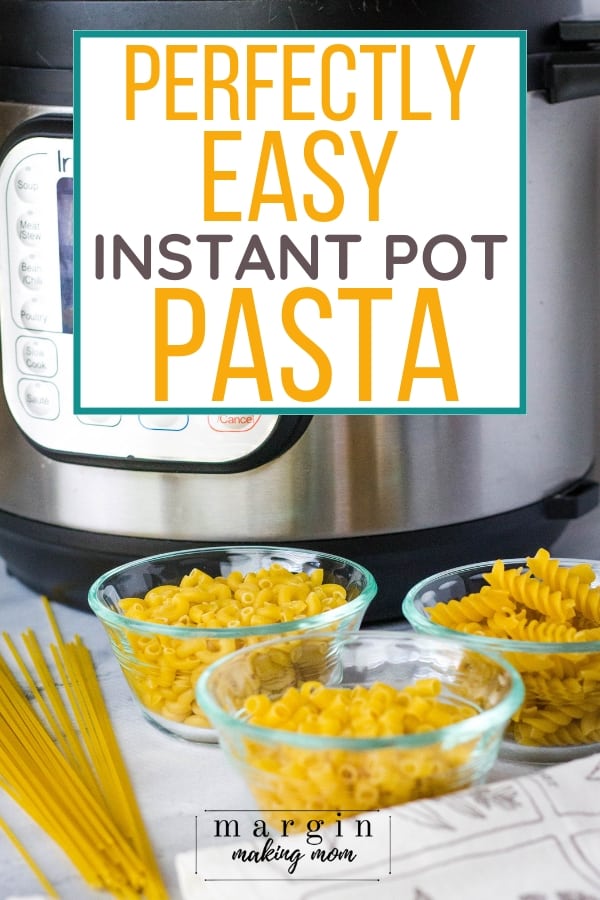 Note: This post may contain affiliate links for your convenience. If you make a purchase, this site may receive a small commission at no additional cost to you. You can read my full disclosure policy here.
A lot of people are surprised to find out that you can cook pasta in a pressure cooker! And it's true–the Instant Pot is a great tool for making pasta.
Why Would You Want to Make Pasta in the Instant Pot?
It's not that cooking pasta on the stove top is difficult, but using the Instant Pot has a lot of benefits.
For starters, it's a mostly hands-free way to cook pasta, which is perfect for busy moms who have little kids running around!
There's no need to babysit a pot on the stove, stirring and trying to keep it from boiling over.
This means you can start the batch of pasta and forget about it for a few minutes while you go do something else, like tackle the mountain of laundry that needs to be folded.
You can also reheat leftover pasta in the Instant Pot!
However, making pasta in the Instant Pot does require a little bit of know-how. It's actually quite simple, once you lean a few tips and tricks!
I'm going to share some of my suggestions for making perfect pasta in the Instant Pot, as well as some of my favorite Instant Pot recipes that use pasta!
Instant Pot Pasta to Water Ratio
When making pasta in the pressure cooker, you need to at least have enough water to just barely cover the pasta. Regardless of how many servings you are making, you need to make sure the pasta is covered.
Make sure you have enough water to meet the minimum liquid requirement of your particular model of Instant Pot–I usually aim to have at least 1 cup of liquid.
There are a lot of specific ratio suggestions floating around the internet, but honestly, I just make sure the pasta is just barely covered with water, and that always works splendidly for me.
How to Calculate Cook time for Pasta in the Instant Pot
Cook time varies depending on the type/shape of pasta. So I use a general rule of thumb to determine the cook time.
I follow this simple formula for calculating the cook time: Take the recommended standard cook time printed on the box and divide that in half. Then, subtract one minute.
The resulting number is your cook time for high pressure in the Instant Pot!
For example, if the box says to boil the pasta for 10 minutes, then divide that in half to get 5 minutes. Subtract one minute and you get 4 minutes, which is the cook time for that pasta at high pressure.
If your box gives you an odd number for the suggested cook time, just round down to the nearest even number. So if the cook time is 11 minutes, round down to 10 and go from there.
I realize everyone's preference for how firm or tender pasta should be is a little different, so if for some reason your pasta doesn't seem tender enough for your liking, just cook it for one more minute.
Likewise, if you prefer a firmer pasta, subtract one more minute from the cook time.
Easy peasy!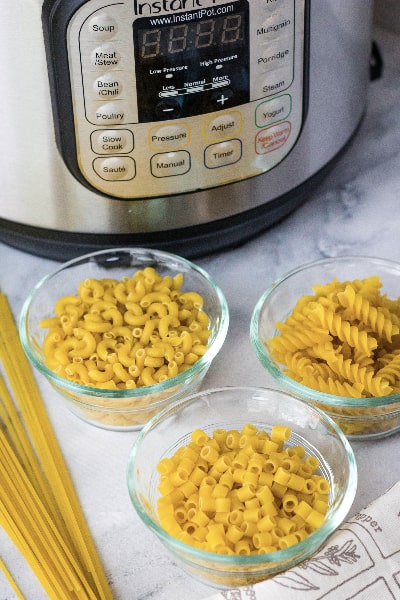 How to Cook Plain Pasta in the Instant Pot
If you're cooking plain pasta in the Instant Pot, the process is oh so simple.
Add your pasta to the insert pot of the Instant Pot, followed by enough water to just barely cover the pasta. You want all of the pasta to be submerged in the liquid.
Close the lid and set the vent to the sealed position. Program the Instant Pot with the cook time you calculated using the formula above.
Releasing Pressure After Cooking
Once the cook time is complete, you have a couple of different options for releasing the pressure. I generally don't recommend using a natural release in this instance, because the pasta will continue to cook and soften even more, potentially becoming mushy.
You can allow a natural release for about 5 minutes, followed by a quick release (the pasta will soften a bit more with this method, but it shouldn't fully turn to mush).
Or, you can perform an intermittent release of pressure. To do this, you'll quickly open the vent to release some steam. If starchy water or large drops of water come out (as opposed to plain steam), close the vent again and wait about 30 seconds.
Then, follow the same steps until only steam is coming out (instead of starchy water), at which point you can allow the pressure to fully release.
Usually, it only takes one or two times of switching the vent back and forth to accomplish this.
Instead of an intermittent release, you can also do a "slow" release. In this case, you only open the vent ever so slightly, so the pressure is releasing more slowly.
After the pressure has released and the valve has dropped, carefully open the lid and drain the pasta.
Cooking Pasta in the Instant Pot with Sauce
I often choose to cook my pasta in a sauce, making a one-pot meal for a quick and easy dinner.
If you prefer to cook the pasta in sauce, you'll want to make sure the sauce is thin enough to boil well.
Sauce that is too thick or viscous won't boil well enough to create enough steam to generate pressure within the pot, and it can lead to scorching on the bottom of your insert pot and the dreaded BURN error on the Instant Pot.
Once you have thinned the sauce and you have enough liquid to cover the pasta, you'll follow the same general instructions listed above for cooking plain pasta in the Instant Pot!
If the Sauce is Runny
After the cook time is complete and the pressure has been released, take a peek at your sauce. If it seems too runny, you can allow the pasta to set for a bit before serving, which will allow it to absorb some of the excess water.
You can also use the Saute function to boil off some of the additional liquid.
Depending on the type of sauce, you may also be able to add a cornstarch slurry to thicken it up a bit.
How to Reduce Foam When Making Pasta in the Instant Pot
You know how when you're boiling pasta on the stove top, you'll see a foamy bunch of bubbles forming at the top of your pot? Often this is what bubbles over and makes a mess.
Well, the same thing happens even when you're cooking pasta in the Instant Pot. This is because starchy foods tend to foam when they're cooking.
Ordinarily, when you're pressure cooking starchy foods, I recommend doing a natural release of pressure to allow the foam to subside. But because pasta can so easily become overcooked, the natural release isn't the best choice.
This is why I tend to recommend using the intermittent release or "slow" release in many cases.
However, you can also add a little bit of fat to the water before cooking, which helps to decrease the foaming. Adding a pat of butter or a bit of oil can be useful in this instance.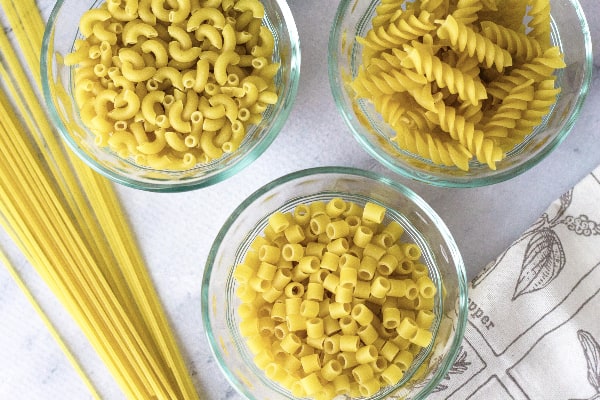 Best Types of Pasta to Cook in the Instant Pot
I generally prefer using short pastas, such as rotini, penne, macaroni, and farfalle. I often use small pasta, like ditalini, in soup. You can also cook orzo in the Instant Pot!
I generally don't use itty bitty pasta shapes, like those little pastina stars, since their shorter cook time makes it easier to over-cook in the Instant Pot (if you do pressure cook smaller pastas, pay attention to the cook time!).
I have used longer pastas, like spaghetti and fettucine. While these can work well, they are more likely to clump together when cooking.
If you're going to use long noodles, I suggest breaking them in half first and adding a little bit of oil to the water so they aren't as likely to stick together.
I've also had success cooking frozen, filled pasta, such as tortellini (such as in this Instant Pot creamy tortellini with sausage, this Instant Pot pepperoni pizza tortellini, this Instant Pot enchilada tortellini casserole, and this Instant Pot tortellini and sausage soup).
I wrote separate instructions for how to cook tortellini in the Instant Pot and how to cook frozen ravioli in the Instant Pot, because both of those are a little bit different than plain, dried pasta.
And although gnocchi isn't technically a pasta, it sort of falls under the same umbrella, so I'll include it here as a variety I've cooked in the Instant Pot (in this Instant Pot bacon chicken ranch gnocchi)!
Since tortellini and gnocchi aren't as dry as the typical boxed pasta, they cook a little bit faster (in these cases, usually 1-3 minutes is sufficient).
Easy Instant Pot Pasta Recipes to Try:
Check out some of my favorite Instant Pot pasta meals that come together quickly and easily!
Best Instant Pot Pasta Recipes
These are some of my favorite, tried and true pasta meals that can be cooked in the Instant Pot.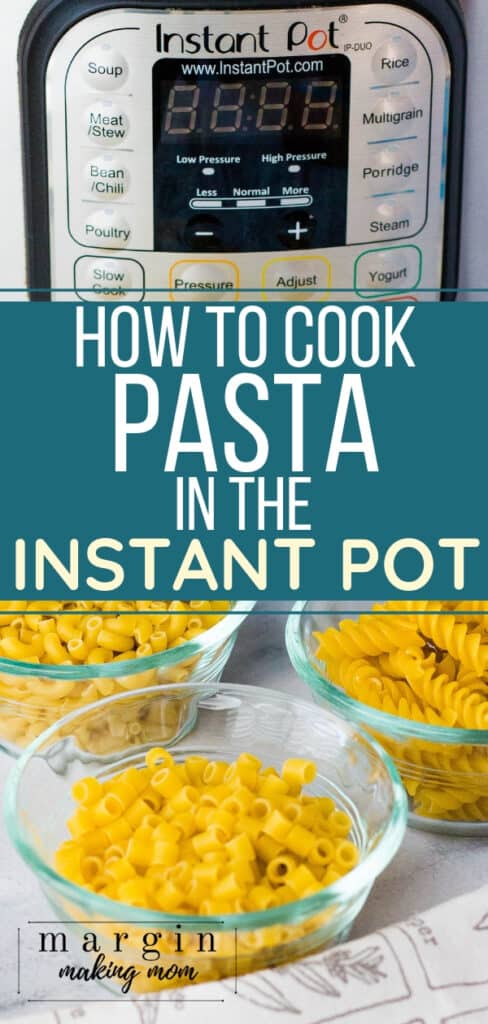 New to Pressure Cooking?
Join the free community and you'll learn simple ways to easily create tasty food for your family. Plus, you'll get instant access to a FREE printable Beginner's Guide to Getting Started with Your Pressure Cooker!
Free Resource Library
Enter my
free resource library
for my latest printables and resources! Password is 'IHEARTMARGIN' -- please copy and paste that in at the link above. Thanks for being a subscriber!!