Making bacon chicken ranch gnocchi in the Instant Pot is so easy to do! It's a one-pot meal that allows you to feed your family a tasty dinner, even on your busy weeknights!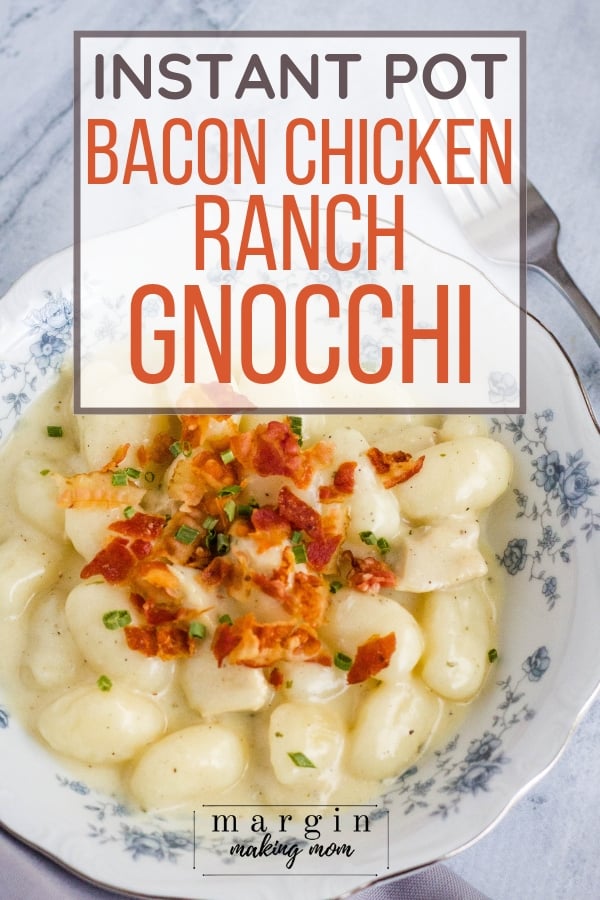 Instant Pot bacon chicken ranch gnocchi is full of flavor, with tender, pillows of gnocchi and chunks of chicken in a creamy, cheesy ranch sauce, topped with crispy bacon!
Note: This post may contain affiliate links for your convenience. If you make a purchase, this site may receive a small commission at no additional cost to you. You can read my full disclosure policy here.
"Bacon chicken ranch" is such a popular flavor combo, and for good reason! From sandwiches to pasta to dips and more, it's clearly well-loved.
One of my personal favorites is the bacon chicken ranch pizza from Papa John's. It's so good!
So recently, I thought I'd make a meal that incorporates these flavors, but that could be made easily in the Instant Pot!
I had some gnocchi on hand and thought that would be a nice pairing for the flavors.
There are so many recipes for Instant Pot gnocchi soups, but I decided to make something a little different.
Ultimately, I wanted this to be a meal that didn't require a lot of effort, that used a couple of shortcuts, and kept things simple.
The result was a tasty dish of this Instant Pot bacon chicken ranch gnocchi!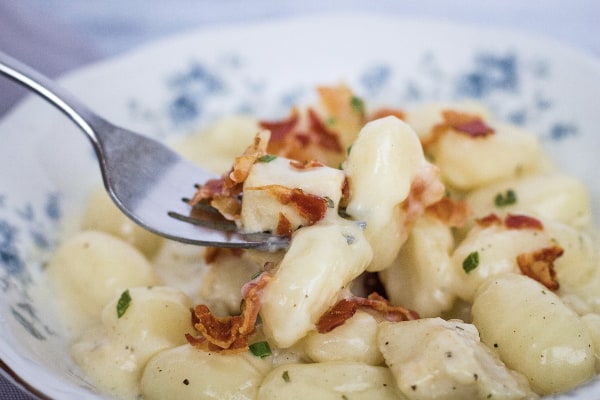 To simplify everything, I used storebought packages of gnocchi, which you can find in the pasta aisle. (Once upon a time, I made homemade gnocchi by hand, which was really a fun process–but it was a PROCESS. So now I just buy gnocchi from the store!)
I also used dry ranch seasoning mix from a packet. If you prefer, you can make your own ranch seasoning mix.
The resulting meal is a combination of tender gnocchi and chunks of chicken in a cheesy, creamy ranch sauce. Then, topped with BACON!
I know you need quick and easy meals, just like me, so you'll love the fact that this is a one-pot meal!
New to Pressure Cooking? Check Out These Helpful Resources:
How to Make Bacon Chicken Ranch Gnocchi in the Instant Pot
The process is really SO easy!
You'll start with a boneless chicken breast that's been cut into bite-size pieces. Add those to the insert pot of the Instant Pot.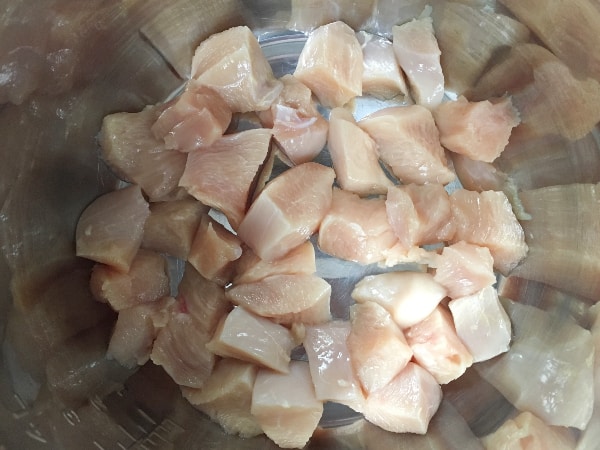 Next, add in some chicken broth and cream, ranch seasoning, garlic powder, black pepper, and of course–gnocchi. Stir it together well. It's okay if the gnocchi isn't all completely submerged in the liquid.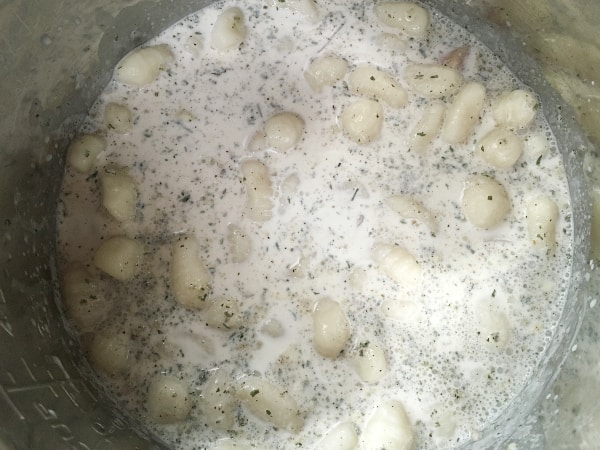 That gets cooked at high pressure for 3 minutes.
After the cook time is complete, you'll allow a 5 minute natural pressure release, followed by a quick release of any remaining pressure.
Once you open the lid, you'll notice it looks kind of soupy. That's normal!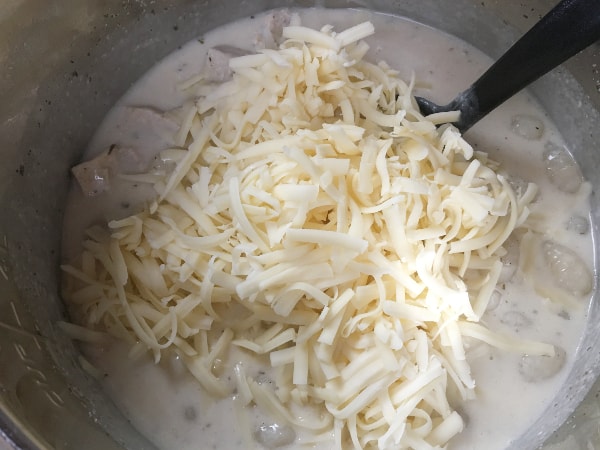 Stir in some shredded cheese until it's melted. The cheese will help thicken up the sauce. Also, the sauce will continue to thicken as it cools, so if you want the sauce to be even thicker, just let it stand for a bit.
Last, top with crumbled bacon, and dinner is served!
Tips for Cooking Gnocchi in the Instant Pot
Cooking gnocchi in the Instant Pot is similar to making pasta with the Instant Pot.
Gnocchi is still a starch, which is why we used a 5-minute natural release before performing a quick release.
However, gnocchi doesn't absorb as much liquid as dried pasta does, so it doesn't have to be fully covered with liquid when cooking like pasta does when cooking it in the Instant Pot.
I found a 3 minute cook time was sufficient for cooking the gnocchi (and the chicken) without the gnocchi becoming too mushy and falling apart.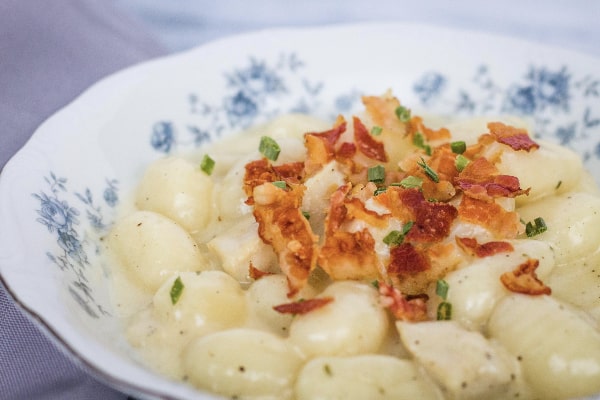 Notes and Adaptations for Instant Pot Bacon Chicken Ranch Gnocchi:
You can use milk or half and half instead of heavy cream, if you prefer, though milk or half & half are more likely to curdle under pressure. In this case, I'd suggest adding the dairy after pressure cooking.
I used Monterey Jack cheese, but feel free to substitute cheddar, Colby Jack, or your cheese of choice. I like to shred my cheese by hand, because it melts best that way, but you can use packaged shredded cheese to save time!
If you prefer to have the bacon mixed in, you can do that. I simply added it on top so it wouldn't get soft.
I only used 2 TBS of the dry ranch seasoning mix, but you can use the entire packet if you want to intensify the ranch flavor.
Do yourself a favor and buy the pre-cooked bacon that you can just heat up in the microwave. It's a great timer saver on a busy evening!
Recommended Equipment
Instant Pot (I have the DUO60 model) or other electric pressure cooker
Box grater if you are shredding your own cheese