You can easily make boxed au gratin potatoes in the Instant Pot! Find out just how simple it is!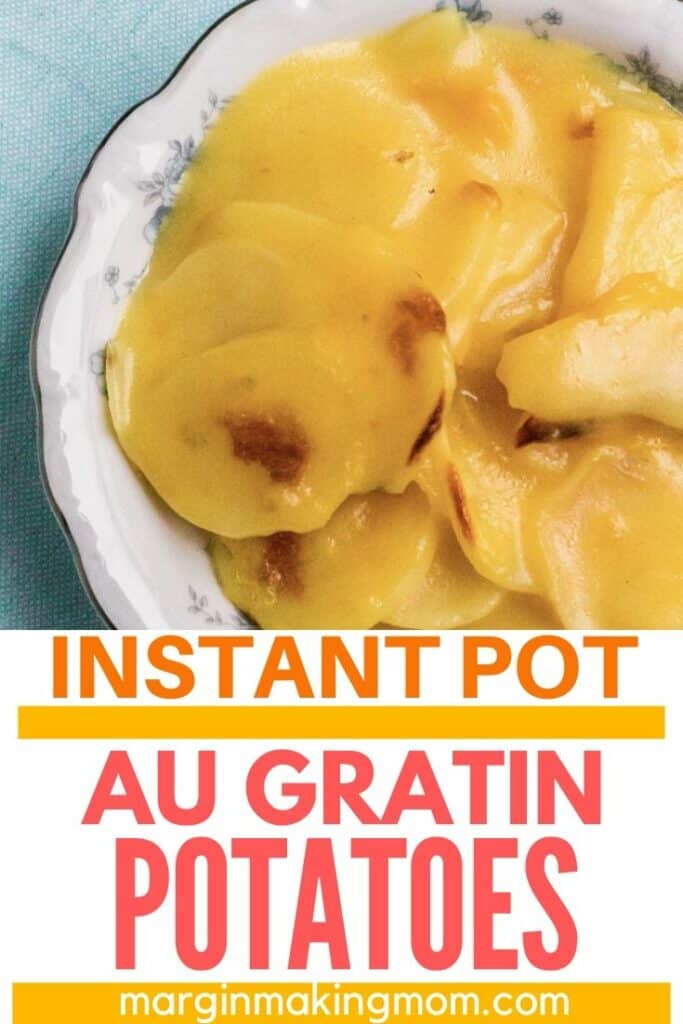 No need to heat up the stove or oven–you can make Instant Pot au gratin potatoes from a box in a matter of minutes!
Note: This post may contain affiliate links for your convenience. If you make a purchase, this site may receive a small commission at no additional cost to you. You can read my full disclosure policy here.
Listen, I know you're busy, just like I am. You don't have all day to spend in the kitchen, even if you wanted to.
And while I fully believe there are some things that are best to make from scratch (Instant Pot mashed potatoes, anyone?), I also acknowledge the reality that time is limited.
And when you're tackling a mountain of laundry so the kids will have something clean to wear tomorrow, settling sibling squabbles for the 956th time today, practicing multiplication tables with your third grader and taxiing kids to and fro, you don't always have time to make everything from scratch.
I get it.
That's why I think it's totally fine to include convenience foods in your diet from time to time.
This is one of those times.
Because, let's be honest–the likelihood of me having time to hand-cut a bunch of potatoes into paper thin slices is pretty slim these days.
While my family does try to limit boxed convenience foods, I am totally okay with turning to boxed au gratin potatoes every now and then!
More Convenience Foods You Can Make in Your Instant Pot: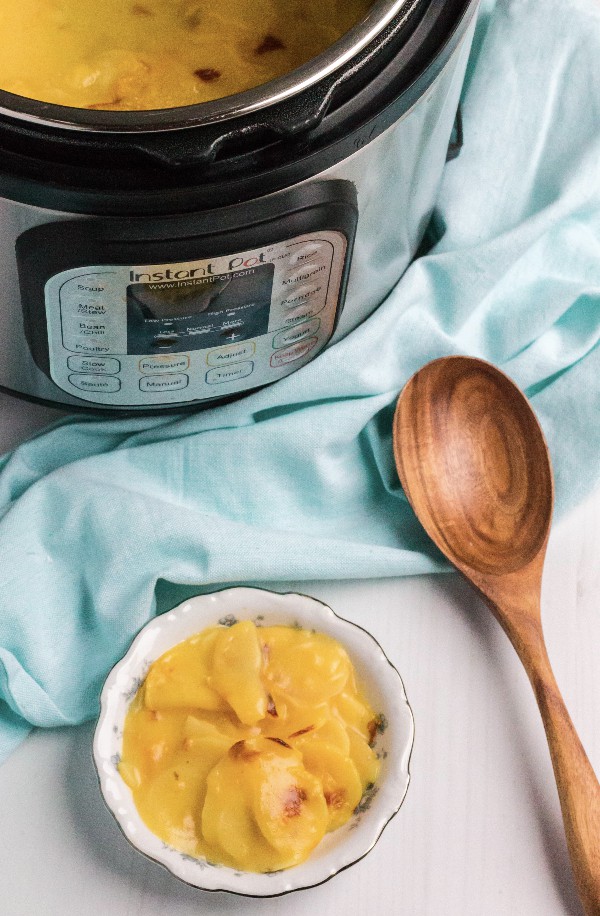 Can You Make Boxed Au Gratin Potatoes in the Instant Pot?
I'm happy to report that yes, you can make au gratin potatoes in the Instant Pot!
I was trying to multitask the other day and wanted a hands-free way to make some potatoes, so I tried making these boxed au gratin potatoes in the Instant Pot. It worked beautifully!
More Instant Pot Side Dishes:
How to Make Boxed Au Gratin Potatoes in the Instant Pot
It's really easy! This method would also work for making boxed scalloped potatoes in the Instant Pot.
These would be the perfect addition to Easter dinner, alongside a ham!
Check out my list of more delicious Instant Pot Easter recipes!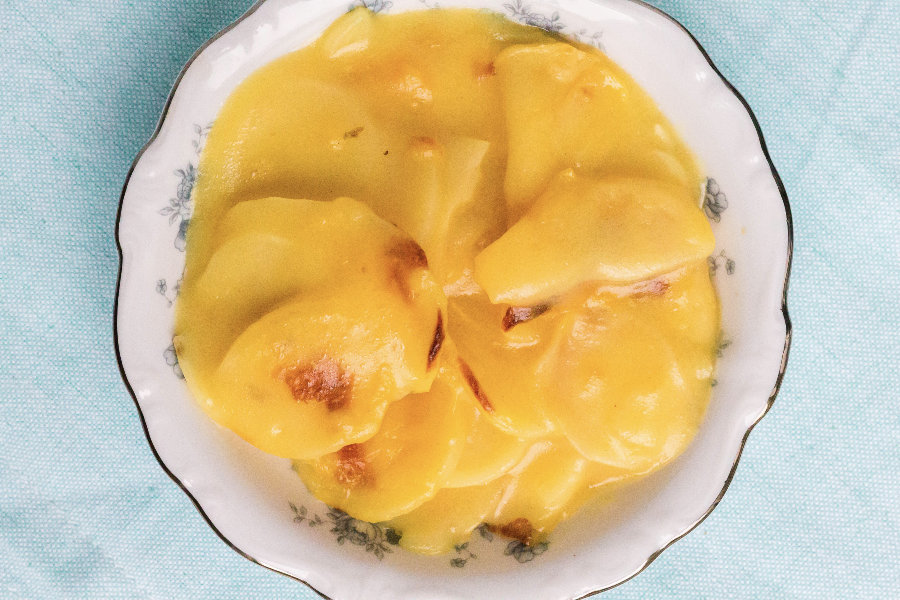 Ingredients You'll Need:
1 Box of Au Gratin Potatoes and included seasoning packet (I used Betty Crocker)
1 3/4 cups water (the box called for 2 cups, but I decreased it a bit since there wouldn't be much evaporation in the Instant Pot)
1/2 cup milk
2 Tbsp butter
How to Make It:
(Full printable recipe is available below)
Combine ingredients. Add the potatoes, seasoning mix, butter, water, and milk to the insert pot of the Instant Pot.
Note: I normally avoid pressure cooking dairy, because it can sometimes curdle under pressure. However, in this case, it works just fine–I've tested it multiple times and have never had an issue with curdling.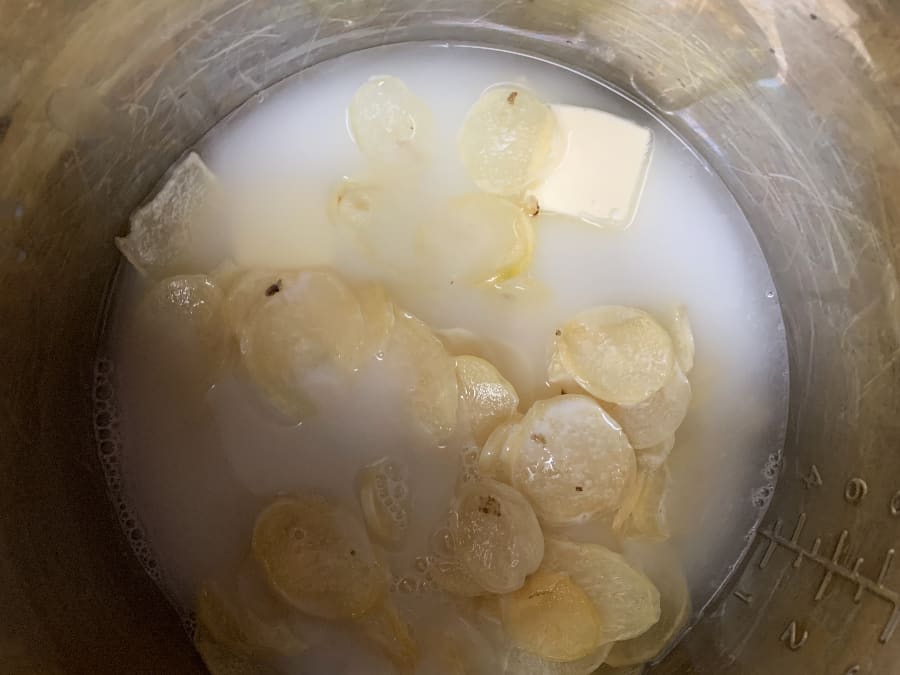 Pressure cook. Next you'll set a cook time of 5 minutes at high pressure. Once the cook time is over, perform a quick release of pressure.
After the pressure has released and the valve drops, carefully remove the lid.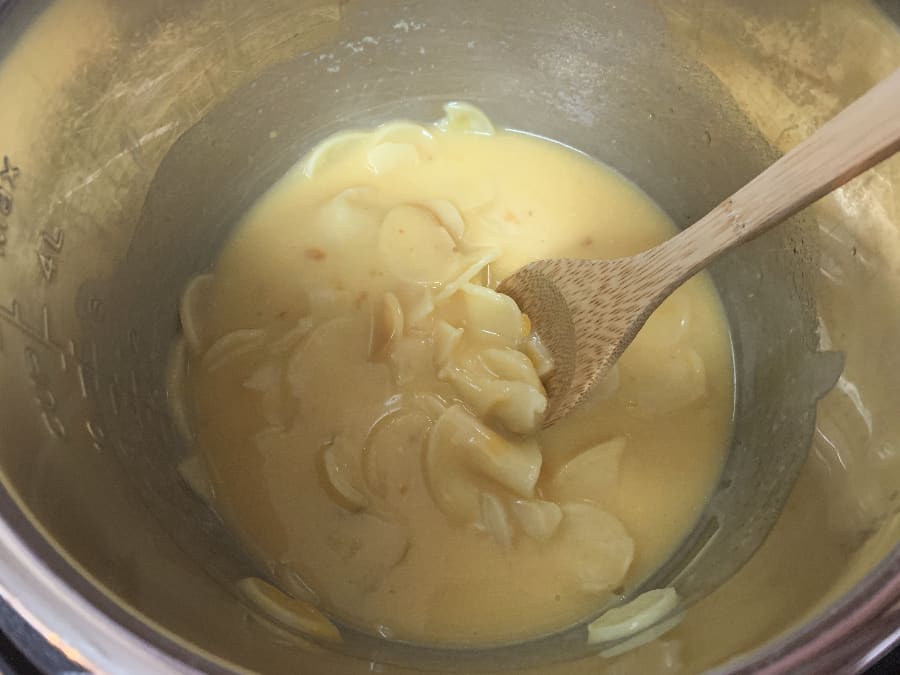 Brown, if desired. If you want, you can transfer the potatoes to a shallow dish and pop them in the oven under the broiler for just a few minutes to brown the top a bit. Totally optional!
If you have a Mealthy CrispLid or other air fryer lid for the Instant Pot, you can also use it to brown the tops a bit, which is what I did. Again, totally optional!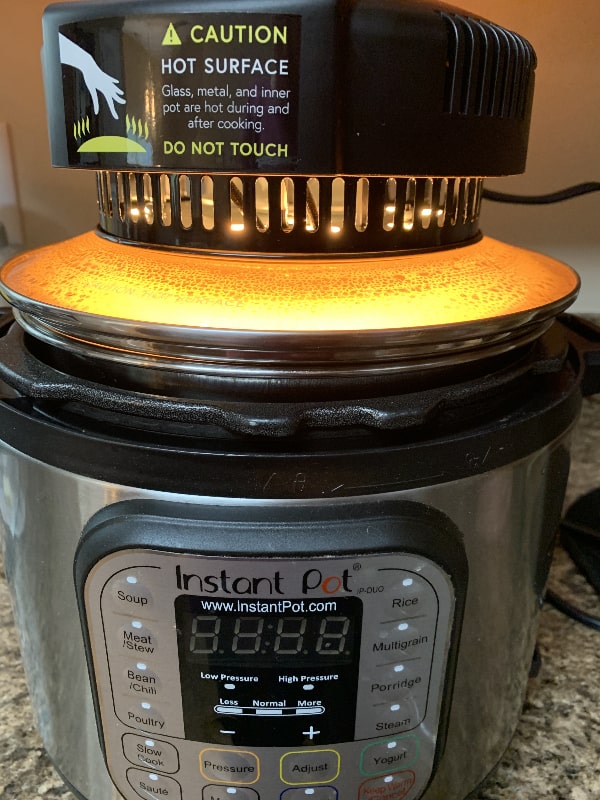 Notes and Adaptations:
You can use this same method and same cook time to prepare two boxes of potatoes, if you need more servings.
The cheese sauce will thicken slightly as it cools.
Feel free to add some chopped, cooked ham to this dish if you want, and enjoy a meal of au gratin potatoes and ham!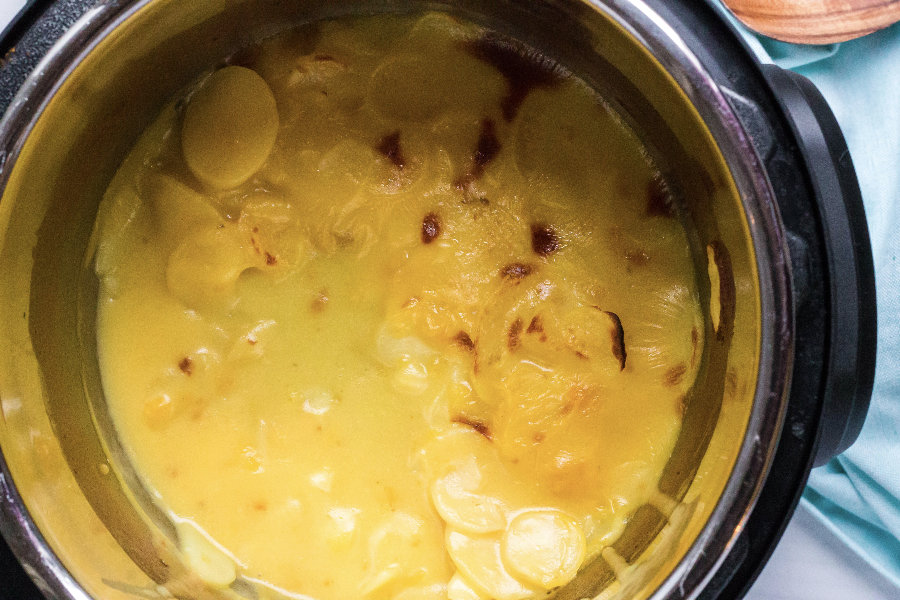 Recommended Equipment:
Instant Pot (I have the DUO60 model) or other electric pressure cooker
Mealthy CrispLid or other air fryer lid for the Instant Pot (optional)